---
NOVEMBER 23
Rafa wants Gerrard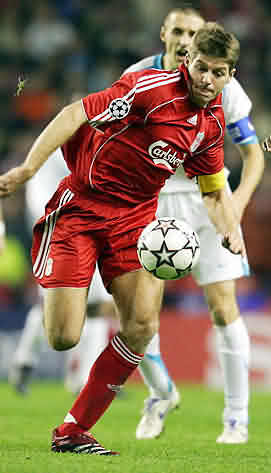 to lead by example

TEAMtalk

Rafael Benitez has called on Steven Gerrard to shoulder the responsibility of leading Liverpool to glory despite the club's injuries.

Gerrard, now back in his favoured central midfield role, could be forgiven for thinking he has proved a point to the Liverpool boss over where best to utilise his considerable talents, especially after the England midfielder's goal and all-round performance helped the Reds clinch top spot in the Champions League Group C with a 2-0 win over PSV Eindhoven.

Steven Gerrard leading Liverpool
to a comfortable win. (Photo: AFP)
It was Gerrard's best display of a disrupted season, in which he has been at pains to insist he is prepared to play in a right-sided midfield role for the good of the team.

But he has rarely missed a chance to state a preference and was quick to point out after the victory against the Dutch champions: "It goes without saying that I enjoy playing in central midfield.

"It's my favourite position and where I like to play."

But now he is back in the role he wants, Benitez will demand even more from him.

The Spaniard said: "Now it is clear that he must take more responsibility in midfield with Momo Sissoko and Xabi Alonso both out injured.

"He must take that responsibility and say 'I'm here, give me the ball and I will score'.

"Now we hope for all these things from our captain."

Liverpool paid a high price for their group-topping victory which ensured their best points haul ever at this stage of the competition.

Mark Gonzalez will miss at least three weeks with a torn hamstring while Alonso has a thigh muscle injury and Jermaine Pennant is struggling with a hamstring strain. Alonso and Pennant are major doubts for Saturday's home match against Manchester City.

Benitez also has Sissoko out until well into next year with a dislocated shoulder, so the emphasis is on Gerrard to show leadership.

The manager added: "It is clear that we will be without Xabi and Momo, two very different players to Stevie.

"Now we have Bolo Zenden in midfield, a player who can maintain his position and pass the ball and support.

"But with Stevie we have a player who can get into the box and score goals. It is something we must have from our midfielders.

"Against PSV it was important to see Stevie score another goal, that was good for him and for the team.

"He played well, but he's a very good player and knows he can play better. But it is important to see him with confidence and the team was really happy to see him running forward and scoring goals.

"We knew PSV had weaknesses in the gaps behind their defenders, and Stevie is a player who can run powerfully into those spaces. I was really pleased for him and for the team.

"It was good for the whole team because we know that if he plays well then we can win more games."

Gerrard, who has now equalled Ian Rush's record of 14 home goals in the European Cup, scored only his second of the season with that outstanding strike against PSV.

He said: "I've been a bit frustrated in front of goal of late so it was nice to see one go in. But the main thing was to get the three points and top the group.

"I've been working hard in training, trying to get my form back. It's not altogether there but I can feel it coming."

Liverpool could yet find themselves drawn against the likes of Inter Milan, Werder Bremen, Roma, Real Madrid, Porto and AEK Athens in the last 16.

They cannot face Arsenal, Manchester United or Chelsea at this stage but Celtic could come into the equation by the end of the group matches.

Benitez added: "Now we must concentrate on the Premier League and to wait to discover who we play next in Europe.

"Being top of the group is important for our own confidence, but it may not produce any easier tie in the next round.

"But being group winners does mean that we will be at home for the second leg of the last-16 round, and that is very important for us.

"Now our form generally is better, we are improving with every game and all we need now in our league campaign is a bit more luck."
---
NOVEMBER 23
Crouch: Gerrard will thrive in middle

TEAMtalk

Liverpool striker Peter Crouch is backing skipper Steven Gerrard to hit top form after returning to his goalscoring ways from central midfield.

England's vice-captain broke the deadlock in last night's Champions League tie against PSV Eindhoven at Anfield in typical fashion, bursting into the penalty area to stroke home Dirk Kuyt's lay-off.

It contrasted sharply with a number of distinctly ordinary performances from Gerrard playing out of position on the right.

The 26-year-old seems set for an extended run in the centre with Mohamed Sissoko out until the new year after surgery on a dislocated shoulder and Xabi Alonso sustaining a leg injury against PSV.

And Crouch believes it will inspire Gerrard to score more goals.

"He is a top-class player and it was only a matter of time before he started scoring goals and he has proved that now," said the England striker, who scored a late second in Wednesday night's 2-0 victory.

"He is the driving force and, I think when he gets forward like he did last night and gets on the end of things, he is a class act.

"Certainly, when he is in the middle, he likes to join in more. When he is out on the right, he can be isolated a touch but in the middle he likes to get in amongst it and play off balls from me.

"He is comfortable playing in the middle but he is such a good player he could play on the right and still be the best player on the pitch.

"The manager puts him where he sees fit but, obviously, with Xabi getting injured and Momo being out we haven't got many [central midfielders] left and I'm sure he will get more [chances] in his favoured role."

Crouch's goal against the Dutch was his first for almost a month but took his club tally to nine for the season.

He nodded in from close-range in the dying minutes, having been set up by Kuyt's header back across goal and the Holland international believes theirs is a partnership worth pursuing.

"I think we have scored a lot of goals already so early in the season," Kuyt said.

"We have done well and the second goal was a great goal because it was a good understanding with each other.

"Against Reading, we made almost exactly the same goal. It is good and is getting better and better."

Crouch agreed with his strike partner, saying: "I certainly enjoy playing with Dirk. He is a good player and likes to drop off deep and bring others into play and it is a fruitful partnership.

"Whenever we have played together, we have both scored goals and it seems to be going well.

"I like to play high up the pitch but I think we did link well at times against PSV."

Crouch also hopes his goals will help establish him in the starting line-up, although he accepts competition is tough and Rafael Benitez's rotation policy makes a permanent berth unlikely.

"I've shown what I can do - score goals - and given a chance I'm sure I will," he added.

"We have got strikers here who are willing to take your place and you have to keep on your toes.

"Hopefully, the goals I have been getting will keep me in the side. I think it is a good return.

"As a striker, you are hungry to get more and I certainly won't be resting on my laurels.

"I will be looking to get more goals and hopefully I can do that before the season is out."
---
NOVEMBER 23
Double Dutch but Kuyt
doing talking on pitch

Champions League Comment by Christopher Beesley - Daily Post

Liverpool's 2-0 victory over PSV Eindhoven last night was a tale of two Dutchmen who have enjoyed varying degrees of fortune at Anfield.

Striker Dirk Kuyt has only been around the place for three months but already he's done far more for the Liverpool cause than compatriot Jan Kromkamp, now back home with PSV.

While it might be a sweeping statement about a nation of some 16million people, it's fair to say that the Dutch like to talk.

On the whole, they're well-known as liberal and articulate people and they're seldom short of an opinion.

While this makes for a good read for all of us - it also means that their big mouths sometimes get Dutch footballers into hot water.

That's exactly what happened to a certain Jan Kromkamp this week.

Despite being virtually anonymous for his entire eight-month stay at Liverpool, the PSV player was forced to spend the build-up to this game attempting to backtrack on comments supposedly claiming that his former side were over-reliant on long balls up to Peter Crouch.

How particularly choking it must have been for him to see Crouch nod in Liverpool's killer second goal then.

But no matter how much Kromkamp actually said was true, his contribution to the Liverpool cause was so unmemorable that many in the home crowd found it hard to summon up the energy to boo him on his return with voices of dissent few and far between.

Instead the Kop reserved its voice for hailing their new star from the Netherlands, Dirk Kuyt who in contrast to Kromkamp, was anything but anonymous.

It was Cruyff's Holland team in the 1970s whose play helped coin the phrase 'total football' but on this occasion it was Liverpool's own Dutch Master Kuyt who undid his countrymen by turning from his usual role as goal-taker to goal-maker.

The former Feyenoord striker set up both Liverpool's goals in splendid fashion, firstly pivoting around Alex to pick out Steven Gerrard and then setting up Crouch for the second.

There's been a lot of talk about negativity at Anfield this week as Liverpool's squad assess their chances for the rest of the season but Kuyt's enthusiasm is positively infectious and he continued to show his versatility at the post-match Press conference, chatting cheerily at length to reporters in both English and his native tongue.

Like all of his teammates, he's still lacking a few goals away from Anfield but with Champions League qualification in the bag, there's now plenty of time to work on that in the winter months ahead.

For now, Liverpool can concentrate on what they do best and that's winning at Anfield.

With Manchester City and Portsmouth arriving in the next six days, there's a golden opportunity to build on this result with a quickfire six points to help climb the table.
---
NOVEMBER 22
Koeman: Gerrard the difference

By Chris Stanton - Sky Sports

PSV Eindhoven coach Ronald Koeman believed Liverpool's Steven Gerrard was the difference between the two teams
at Anfield.

Gerrard opened the scoring for Liverpool in The Reds' 2-0 victory and Koeman admits his performance was the decisive factor in the match.

The win ensures Liverpool will top UEFA Champions League Group C, while PSV were already assured of their own qualification.

"The quality of Gerrard was outstanding, it was an excellent midfield performance and was something we could not match," said Koeman.

However, Koeman admits his own's side display left considerable room for improvement.

"We did not do too badly, we did not give away possession but our build up play from the back let us down," added Koeman.

"We have dangerous players up front but if we do not get the ball to them properly, we will not score goals.

"A lot of our play was really sloppy, if you do that you do not create much up front."
---
NOVEMBER 22
Gerrard: I'm getting closer

TEAMtalk

Steven Gerrard believes he is closer to his best form after hitting Liverpool's opener in their 2-0 Champions League win over PSV Eindhoven.

The Reds captain struck from 18 yards in the second half before Peter Crouch wrapped up a victory which ensured the Reds will finish top of
Group C.

Gerrard told Sky Sports: "I've been a bit frustrated in front of goal of late so it was nice to see one go in. But the main thing was to get the three points and top the group.

"Of late I've been working hard in training, trying to get my form back. It's not altogether there but I can feel it coming."

Gerrard lined up in central midfield and enjoyed the role having spent much of the season to date on the right.

"That goes without saying, it's my favourite position and where I like to play," he added.

"But I've got to do a job for the team - I'm the captain of the team."

Liverpool won the competition two seasons ago and Gerrard was delighted they will top their group.

But he warned: "It doesn't mean you will automatically get a weaker team.

"We get the second leg at home now, so that's a big plus."
---
NOVEMBER 22
Benitez fears for Xabi and Speedy

TEAMtalk

Liverpool boss Rafael Benitez admitted Wednesday night was tainted by injuries to Xabi Alonso, Mark Gonzalez and
Jermaine Pennant.

The Reds beat PSV Eindhoven 2-0 at Anfield to ensure they finish top of Champions League Group C, but Benitez saw three of his midfielders limp out of thr action.

"The first injury to Xabi was a big problem for us, (being already) without Momo Sissoko especially. Then Mark Gonzalez and Pennant went too," he told Sky Sports Xtra.

"The players worked really hard after that.

"Xabi had a leg injury which could be serious, Gonzalez felt something, hamstring maybe, which could be more serious and Pennant had a spasm which is not serious."

Benitez took heart from Steven Gerrard's strike, which paved the way for victory.

"I was really pleased to see Steve scoring again, it could be a boost for his confidence," said Benitez.

"He likes to play there, today it was a difficult game without Xabi and we needed to see how it went with Bolo (Zenden) who didn't have a warm-up."
---
NOVEMBER 22
Captain Marvel puts Reds on top

TEAMtalk

Steven Gerrard led the way as Liverpool clinched top spot in Champions League Group C with a 2-0 home win over
PSV Eindhoven.

The England midfielder, restored to his preferred central midfield role with Mohamed Sissoko sidelined, produced a goal and leadership which means the match in Istanbul against Galatasaray will not affect their current standing at the head of the group.

Liverpool's European campaign has been in sharp contrast to their domestic league combat, unbeaten after five matches and heading into the last 16 hoping for decent draw which will have them dreaming of the quarter-finals.

Gerrard broke the deadlock when he swept onto a Dirk Kuyt pass, and it was Kuyt who produced the header for Peter Crouch to nod home the second goal in the dying minutes.

PSV saw a 15-match unbeaten run come to an end, and will now have to wait to see which of the group winners they will be paired with in the next stage.

Liverpool's first half was one of frustration and injuries. They ended that period having seen plenty of possession and chances but without the cutting edge to go with it.

Worst, though, were the losses of Xabi Alonso and Mark Gonzalez.

Alonso was the victim of a fierce tackle from Csaba Feher on 14 minutes, caused really by Gonzalez's loss of the ball and a frantic lunge by both players for the loose ball.

The former Real Sociedad midfielder limped on for a few minutes with an obvious ankle problem before making way for Bolo Zenden.

Soon after, Gonzalez was carried off on a stretcher after a high speed run on the left and cross at full stretch.

That exertion from the Chile winger left him in agony in front of the Kop, with what was later revealed as a torn hamstring. Luis Garcia took over.

PSV employed captain Timmy Simons ahead of his back line, with Edison Mendez and Ibrahim Afellay just ahead of him in a tight midfield trio.

It left Steven Gerrard, initially Alonso and then Zenden outnumbered at times - but did not stop the England midfielder imposing himself on the game.

Gerrard's driving runs and hunting down of opponents - such a feature of his game - returned as he returned to centre stage.

Early on Kuyt created a chance with a clever touch, before flicking wide, then Gonzalez headed off target from Jermaine Pennant's cross.

Zenden saw a 20-yard effort pulled down by Heurelho Gomes before Steve Finnan crossed for Crouch to head wide.

The hosts were still on top when they took the lead in the 65th minutes.

Jose Reina's ball out to Steve Finnan saw an instant pass forward from the Irish defender into Kuyt's feet.

The Dutchman managed to wriggle into a yard of space before slipping the ball to Gerrard, who took a couple of strides before netting his second goal of the season - both have come in the Champions League.

This should have been the signal for Liverpool to impose themselves on the game, but PSV fought back, getting more men forward than at any time in the match.

And it was the defiance of Jamie Carragher and growing maturity of Daniel Agger which were the key elements now for Liverpool.

Kuyt and Crouch were working hard up front but Pennant's touch did not improve as the game wore on and his involvement became almost non-existent.

One run on the right left him down and clutching his face, before another challenge seconds later saw him carried off on what was by now an overused stretcher.

Craig Bellamy came on to play on the right, his scampering pace a welcome addition for the hosts as the clock ticked down.

Reina needed all his sharp instincts to pull down a fierce, deflected drive from Arouna Kone, as PSV sought an equalising goal.

But their hopes ended in the 89th minute when Crouch headed home easily from close range, after Luis Garcia's cross from the left had been headed back across goal by Kuyt.
---