---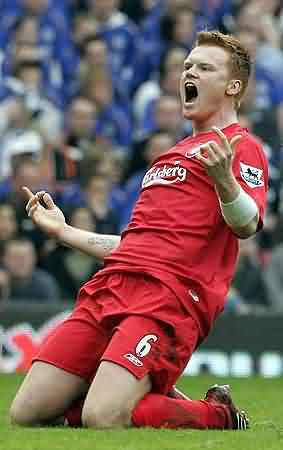 John Arne Riise celebrates his opener. (Photo: Reuters)
APRIL 24
Gerrard: Show us respect Jose

By Mark Buckingham - Sky Sports

Steven Gerrard has hailed Rafa Benitez for outsmarting Jose Mourinho and believes the Chelsea manager should start showing Liverpool respect.

Liverpool won the battle of the Premiership big guns on Saturday by beating the champions 2-1 in the FA Cup semi-final.

The Reds were the better side for much of the Old Trafford showdown, as Chelsea struggled to break through an organised opposition.

Winning captain Gerrard believes Benitez deserves plenty of the credit for the victory due to the tactics he instructed his players to adopt.

"All week we've prepared for them playing the diamond," said Gerrard. "They've been doing that for the last few games.

"We knew our full backs would get a lot of the ball and that's where we tried to hurt Chelsea - on the flanks.

"Their idea was to hit the two front men and allow Frank Lampard or Michael Essien up there to collect the bits.

"But I thought we controlled the middle of the park for 60 minutes. Actually, our game-plan worked to perfection."

After the match, Chelsea boss Mourinho was dismissive of his side's conquerors, claiming Liverpool were not the better team.

Mourinho also wrote off The Reds' chances of catching The Blues in The Premiership, but Gerrard disputed the Portuguese's comments.

The PFA Player of the Year added: "This result proves we are not miles behind Chelsea.

"Obviously they have a better record against us over the last 10 games, but we've won the two big matches.

"We're progressing. We know Chelsea are a fantastic side with a lot of money behind them and they can go out there and buy whoever they want.

"But Rafa's building something here. We're a very strong team and I think Mourinho should stand up and give us a bit of respect.

"And I still think we can improve more, both individually and as a team. We can all improve."
---
APRIL 23
Carra: Reds closing on Chelsea

By Paul Walker - PA Sport

Jamie Carragher heads for the FA Cup Final agreeing that Chelsea are a better side than Liverpool but believing that the Anfield club are beginning to bridge the gap between themselves and the champions.

The Liverpool defender played a major role in the defiant rearguard action in the final half hour of the semi-final showdown at Old Trafford, when desperate Chelsea battled unsuccessfully to save their double dream.

Liverpool were under relentless pressure by the champions-elect, but clung onto the lead given them by John Arne Riise and Luis Garcia.

Carragher said: "We can beat them in cup competitions. But they are the best team in the league and they are a better team than us, we are not going to argue about that because the table doesn't lie.

"But we have cut the gap on them this season and we aim to cut it again next season, and we are closer. But it is only in one-off games.

"We haven't got a great record against them, we have only won two out of 10 but those two wins are the most important ones. We have won the very big ones, the Champions League semi and now this FA Cup semi."

Carragher insists that Liverpool were the underdogs, and added: "We have had a lot of tight games with them, but they have a bigger squad than us and have more quality. Their bench is better than ours and that makes a big difference.

"They are ahead of us but we believe we can bridge that gap. About three teams behind Chelsea are at a stage of re-building, Arsenal are looking very good, and with the addition of a few players they could be right back up there.

"Everyone can see that with a couple of new players, just the same with Manchester United - high class players - we can all be much closer to Chelsea next time around.

"Hopefully we have laid down a marker for next season. We want to go closer to Chelsea in the league. It is achievable but they will bring in a few more players so it will be hard.

"I'm not having a go at them because of their money, if we were in the same position we would be delighted.

"Beating Chelsea is bigger now for us than beating Manchester United, because Chelsea are the best team.

"If we can all get these players in it will be a very interesting Premiership next season."

Carragher also revealed that Liverpool were surprised by the Chelsea team selection without any width that failed to work in the first half and allowed Liverpool to grow in confidence and grab their goals.

He said: "Chelsea have been playing a similar style over the last few weeks, a diamond shape in midfield. But we were a bit surprised to see Ferreira in midfield, we thought it would be Geremi.

"But they did cause us a lot of problems at the end with the wide men on. They seemed to have six forwards out there.

"We like a bit of width but they've done well with the way they are playing. It was crazy in the last half hour, it was very much like the end of the Champions League semi-final against them last season.

"They even had a great chance from Joe Cole at the death, just like (Eidur) Gudjohnsen did last season in the European semi.

"But now we are there in the final there is no danger that we will start to think we have done the hard part, it's always tough in a final.

"We won the first final in Cardiff and we now want to go back there and win the last final there."

John Arne Riise, who suffered the agony of scoring a cracker against Chelsea in last season's Carling Cup final in Cardiff only to finish on the losing side, made up for all that with a clever first goal in the 2-1 FA Cup semi-final victory at Old Trafford.

With potential new Norwegian backers considering a move to buy into Liverpool, a goal and Cup final appearance from one of their most famous-ever players hit just the right note.

News of a potential move by a group of Norwegian businessmen broke on the morning of the semi-final against the West Londoners.

Riise said: "That goal went a long way to making up for the fact that I scored in a final against Chelsea last season and didn't finish on the winning side.

"Jamie Carragher and some of the lads asked me before the game if I knew anything about the Norwegian takeover speculation, but I don't.

"I was interested to read about it, but I know how big Liverpool are in Norway and it is not surprising for me to read that there are people interested in buying into the club from Norway.

"There are 20,000 members of the Norwegian Liverpool supporters' club, so they would all be very happy if a group from my country got involved."

Liverpool have declined to comment on the speculation, but are believed to be aware of the plans being put together in Norway.

Anfield sources reckon that such a move has far more financial credibility than the recent failed moves by a Spanish group, but there are genuine doubts that the Norwegians could raise the £500m needed to finance the new stadium, buying shares and five years of Rafael Benitez's team building.

The move is believed to be led by a financial investor, Oystein Stray Spetalen with the backing of hotel chain owner Petter Stordalen.

Riise then showed that Norwegians could produce goals as well as money.

He explained how he outwitted the Chelsea wall, driving his shot between Paulo Ferreira and Frank Lampard.

He said: "We had been working on the free-kick for the last couple of days. I said to Steven I wanted to take it.

"I could see that Ferreira thought I was going to put it round the wall, I could see him moving to his right to anticipate what he thought was going to be a curled effort.

"So it was a fantastic feeling to score after putting my effort between the two players on the end of the wall.

"I felt in the hotel before the game that I would score in the semi-final.

"Now it will be my first FA Cup final and I can't wait. I joined the club after the 2001 final victory and have always wanted to figure in a final because so many of the other lads have."

Riise revealed Liverpool's surprise at Chelsea's tactics, saying: "We were really surprised that they did not play with wingers. That was good for us.

"But we knew that when they went in for half-time they would have to change things because it was not working.

"But in the last 20 minutes Chelsea proved how good they are, and I was really tired. But now we are in the final, and we have certainly done it the hard way, beating Manchester United and now Chelsea."
---
APRIL 23
No arguments over Garcia goal

TEAMtalk

Luis Garcia laughed loud and long because he had scored a goal against Chelsea that Jose Mourinho could not claim had not crossed the line.

The little Spaniard, who has a habit of scoring in high-profile games for Liverpool, memorably netted a winner against Chelsea last season in the Champions League semi-final that the Stamford Bridge boss to this day insists did not go over the line.

Now the former Barcelona man has hit Mourinho where it hurts again with a stunning goal that proved to be the eventual winner in the FA Cup semi-final at Old Trafford.

A grinning Luis Garcia said: "All I can say is there was no doubt that one was over the line, for sure.

"It has been a little disappointing that the issue of that goal keeps coming up, but I have not let it bother me. Now I've got another against Chelsea."

The 27-year-old missed several easier chances before his second-half cracker, and he said: "We knew it would be a really tough, it is always like that against Chelsea. But we are in the final and we aim to win another important trophy.

"I was delighted with the finish for the goal I scored, and it was important because I had missed a few chances before that.

"All the games we have with Chelsea are close, we lost once 4-1, but the rest are always close and difficult. It all comes down to scoring when the chances come.

"I must admit when Joe Cole had that chance and missed, it reminded me of last season in the Champions League semi-final when (Eidur) Gudjohnsen missed one very late in that match."

Liverpool skipper Steven Gerrard insists that he will be happy to forgive Garcia for missing sitters as long as he keeps bagging crackers like the one that eventually beat Chelsea.

Gerrard, who also feels it is about time that Chelsea start "respecting" Liverpool more, led his side to a famous victory at Old Trafford in which the Anfield midfield of himself, Xabi Alonso and Mohamed Sissoko out-played Chelsea's trio of Frank Lampard, Michael Essien and Claude Makelele.

Gerrard is well aware that Garcia has a reputation for scoring vital big match goals, like those against Chelsea and Juventus in last season's Champions League glory run and also a Merseyside derby strike against Everton.

He missed two sitters at Old Trafford, but then launched a 30-yarder past Carlo Cudicini to put Liverpool 2-0 ahead and gave them the platform to survive the West Londoners late siege.

Gerrard said: "The funny thing about Luis is that he misses the easy ones and then scores from 30 yards.

"But that doesn't bother me, not as long as he keeps scoring goals like he did in this semi-final.

"He has scored a lot of great goals for us in very important matches, I can put up with that."
---
APRIL 22
Benitez praise for stubborn Reds

BBC Sport Online

Liverpool boss Rafael Benitez believes his side's lack of mistakes was crucial in their 2-1 FA Cup semi-final victory over rivals Chelsea.

"They like to play with the mistakes of the other team and normally punish them," said the Spaniard.

"In this case, we made one, then they scored and we were under pressure.

"At the end we worked really hard, created our chances and, with a little bit more luck, maybe we could have got another goal."

The Reds contained Chelsea's threat for the first hour of the game as John Arne Riise and Luis Garcia put the ahead.

But Arjen Robben was shortly followed on by Joe Cole and Damien Duff for the Blues who desperately tried to equalise after Didier Drogba had pulled a goal back for them.

"Chelsea are one of the most expensive teams in the world and they have a lot of good players," added Benitez.

"They played well and we were trying to control them but it is really difficult to control Duff, Cole, Lampard and Drogba and all the players that they have."

The Reds boss is now looking forward to savouring the victory over Chelsea and then trying to win his first FA Cup final at Cardiff's Millennium Stadium on 13 May.

"I am really happy and delighted for the players, the club and the supporters. It was an amazing game for us," he said.

"The big clubs are always thinking about winning the big trophies and we are in the most famous Cup in the world. It is really important for us to win."

Benitez and Chelsea counterpart Mourinho did not shake hands after the game but the Anfield manager played down the incident.

He explained: "I haven't seen him because I was saying thank you to our supporters. I have no problems."
---
APRIL 22
Mourinho 'can't wish' jubilant Reds well

TEAMtalk

Jose Mourinho fuelled his feud with Rafael Benitez after Liverpool beat Chelsea 2-1 at Old Trafford to reach the final of the FA Cup.

The rival managers did not shake hands after the match and Mourinho once more refused to acknowledge that Liverpool were worthy winners, just as he had done after the Merseysiders knocked Chelsea out of the Champions League last season.

John Arne Riise and Luis Garcia gave Liverpool a 2-0 lead before Didier Drogba pulled one back for Chelsea in a frantic finale.

Mourinho said: "Did the best team win? I don't think so. In the last 30 minutes we deserved extra time.

"In the first half nobody was better. They had a good start to the second half but then we dominated the game. I cannot wish them luck in the final. Middlesbrough and West Ham will be there and I must respect them."

There was precious little respect for Liverpool, however, who have now won two of their last 10 matches against Chelsea, crucially both semi-finals in the Champions League and the FA Cup.

Mourinho, however, does not believe it is a sign that Liverpool can challenge for the Premiership title next season.

He said: "In the Premiership they have no chance. Over 40 matches no chance. Maybe they will surprise me and they can do it.

"But in 10 matches against us they have won twice. In the Premiership the distance between the teams is 45 points over two seasons. We beat them in a final, they beat us in two semi-finals. A psychological advantage? I don't think so.

"In four matches in the Premiership we beat them four times."

He added somewhat mischievously: "I wish them luck for their qualification match in the Champions League."
---
APRIL 22
Gerrard: Now let's go and win the cup

By Paul Eaton - LFC Official Website

Steven Gerrard reflected on Liverpool's brilliant semi-final victory over Chelsea and declared:
"Now let's go and win the Cup."

Goals in each half from John Arne Riise and Luis Garcia were enough to send the Reds through to the final where they will face the winners of Sunday's clash between Middlesbrough and West Ham United.

Gerrard was thrilled with the spirit his team-mates showed to secure a famous victory, but he has warned it will count for nothing if they don't now go on to win the final.

He said: "This job isn't done yet. We've another massive game to play on May 13 and we've got to go and win this Cup now. It's going to be another tough game but if we perform as we can then we can win it.

"I thought we deserved our victory over Chelsea. We were the better side in the first half, in fact I think we were better for the first hour.

"Then the onslaught came and we were expecting it because they are a class side. It was disappointing to concede a goal because that made the job even harder, but we hung in there.

"We were all feeling it at the end when we went into added time but the rallying call came from Carra that we all had to stick together."
---
APRIL 22
Liverpool through to FA Cup final

BBC Sport Online

Liverpool ended Chelsea's hopes of a domestic Double with victory at Old Trafford in their FA Cup semi-final.

Didier Drogba missed two gilt-edged chances for Chelsea before John Arne Riise's free-kick put the Reds ahead.

Luis Garcia brilliantly half-volleyed in from 20-yards to extend Liverpool's lead but Drogba headed in to set up an enthralling end to the game.

Chelsea then put their rivals under siege and Joe Cole blazed a late chance over as Liverpool clung on for the win.

There was some gentle sparring between the two sides at the start of the match before Chelsea seized the early initiative and should have taken the lead.

Drogba had a header after eight minutes when Hernan Crespo flicked on a Frank Lampard corner but the Blues striker headed disappointingly wide.

Drogba was again the culprit for the Premiership leaders when, despite a strong suspicion of offside, he was one-on-one with Reds keeper Jose Reina only to shoot wide after chesting down Lampard's lofted ball.

Chelsea were made to pay for their profligacy almost immediately when Liverpool won a dubious free-kick for a high John Terry foot as he went for a bouncing ball with Garica.

But the Reds made the most of any fortune with Riise curling a 20-yard free-kick through the Chelsea wall and past keeper Carlo Cudicini.

Chelsea struggled to break down the Reds at a packed Old Trafford while Liverpool threatened to add to their lead.

And the Merseysiders were almost helped in their cause by a rare Terry error when he sold Cudicini short with a header back to his keeper.

Cudicini and Reds striker Crouch were injured as they both challenged for the loose ball before picking themselves up to carry on.

Steven Gerrard pulled a ball back from the byline for Garcia on the stroke of half-time and he should have done better than to blaze high.

Chelsea brought on winger Robben after the break and he almost had an immediate effect when he swung in a free-kick which Terry headed in at the far post.

But the effort was ruled out for Terry holding down Riise and it got worse for the Blues when the Reds added a second.

Garcia seized on a poor header by William Gallas and expertly half-volleyed in from 20-yards.

The Reds were dominant against their off-colour rivals and a Garcia volley forced Cudicini into a scrambling save.

Chelsea upped their game and started to put their opponents under more and more pressure with Joe Cole and Damien Duff coming on.

And they pulled a goal back when Riise mistimed a headed clearance and Reina failed to punch the ball clear to allow to Drogba to nod home.

Robben shot straight at Reina from six yards during an enthralling spell in the game with Liverpool pinned back in their own half.

Liverpool had to endure some scary moments with Cole's late effort but some desperate defending helped book their place in the FA Cup final on 13 May.
---