---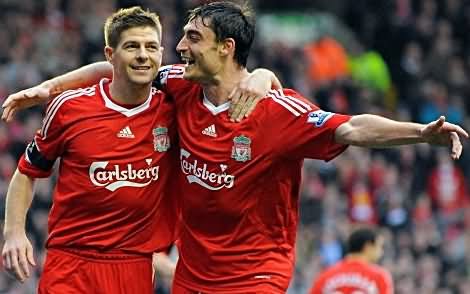 Gerrard celebrates with Riera after his third goal. (Photo: AFP)
MARCH 24
MARK LAWRENSON:
Title momentum has
switched to Liverpool FC

By Chris Beesley - Liverpool Daily Post

The advantage remains with Manchester United in the Premier League title race but the momentum has now firmly shifted away from Old Trafford and towards Anfield.

Over the past three games, Liverpool have just looked better and better and on Sunday they totally dismantled Aston Villa, taking them apart in every single department.

Although I saw Martin O'Neill's side similarly outclassed at Stamford Bridge earlier this season, the final score on that occasion was just 2-0 to Chelsea.

If Liverpool had kept pressing after Brad Friedel's sending off who knows what the final score might have been but why overexert yourself too much in such circumstances.

The points had already been secured in emphatic fashion with just an hour on the clock and if you can manage that in any Premier League fixture then it's happy days!

I honestly didn't think United were ever going to win again at Fulham either.

They've been tested for the first time this season and have started to buckle under the pressure.

You can't just turn form on or off and United have lost their way somewhat over the past few weeks.

Whereas Liverpool will have wanted to keep going, the upcoming international break will be welcomed by the United camp.

They now have a chance to regroup and there won't be a full week of pressure building up ahead of their next match.

Back at Anfield it seems strange to think that it is only a few weeks since we had all the glorious uncertainty over Rafael Benitez and his stalling on a new contract.

Amazingly, going into the first leg at Real Madrid there was all the talk that he was going to walk and rumours that if the Spaniards triumphed by two goals or more then George Gillett was going to withdraw Benitez's contract offer anyway.

It's bizarre really, I don't know of any other club who have had anything like this kind scenario going on.

Now that his own future has been sorted out, I imagine that Rafael Benitez is very comfortable.

Of course we're not privy to what is said behind the scenes but I wouldn't be surprised if it turned out that Tom Hicks has had a word with Benitez and reassured him that if the club is sold it won't be a problem. In fact, if the club does end up being sold it will probably be a plus point for Benitez and it could work out well for him.

The three games in less than a fortnight against Real Madrid, Manchester United and Aston Villa were always earmarked as being crucial for Liverpool and they couldn't really have done any more.

With 13 goals netted in those matches I just hope Benitez's side haven't wasted their 'goals quota' for the run-in.

But while it's ok to beat the big teams, Liverpool have struggled against some of the lesser sides and that's something they'll have to remedy in the coming weeks.

But with Albert Riera coming back to form and the full-backs starting to look good they seem to have a lot more in their locker now.

Mark Lawrenson was talking to CHRISTOPHER BEESLEY
---
MARCH 23
Riera: Utd under pressure

Sky Sports

Liverpool winger Albert Riera claims Manchester United are beginning to feel the pressure in the Premier League title race.

The Reds followed up their 4-1 Old Trafford success with a 5-0 Anfield rout of Aston Villa to take full advantage of the leaders' shock 2-0 defeat at Fulham 24 hours earlier.

Sir Alex Ferguson's side now only hold a one-point lead over Rafa Benitez's men but still have the added benefit of a game in hand over the Merseysiders.

Former Manchester City loanee Riera believes that the reigning Premier League and European champions now know that they will not be allowed to walk away with the title.

He said: "After the game against United last week when we won at Old Trafford, we showed them that we are still fighting and that we will be until the very end.

"Now after winning against Villa and with United losing (at Fulham) I think that they can feel us near to them.

"There are a lot of matches to be played in the Premier League and the Champions League and there will be a lot of pressure and I believe that they can feel this."

Riera believes Sunday's thrashing of Villa, in which he found the net and captain Steven Gerrard hit a hat-trick, proves Liverpool can handle the intensity of the end-of-season run-in.

He added: "It was a great performance from everybody in the team and the most important thing is that we had to win, and we did."

Full-back Alvaro Arbeloa believes that Liverpool's blistering start to matches is now becoming decisive.

He said: "We had a really good start to the Villa game, and that kind of first-half display is the key to improving our home form. If we can start really well at Anfield it can be important because an early goal can open up a tight match.

"You saw what it was like against Real Madrid in the Champions League and they could not cope with us, so I think we have to do the same in all of our home matches.

"We are closer to the top but it is best to just focus on how well we are playing. We have a lot of confidence now and I think we are performing at our best level.

"We have to keep going, build on the momentum of the past week or so and make sure we fight right up until the end of the season."

And the Spain international was quick to praise Gerrard's contribution, adding: "He was excellent and he deserves all the credit he gets because he is a key player for us and performs like a true captain.

"He is having an amazing season, and he deserves to be considered the best there is."
---
MARCH 23
Benitez has stomach
for title fight

Comment by Ian Doyle - Daily Post

So, the fact is clear. Any doubts that Liverpool possess the stomach for a title fight have now been comprehensively banished. Another significant weekend in the race for the championship ended with Rafael Benitez's side posting an ominous statement of intent.

With leaders Manchester United and second-placed Chelsea having lost 24 hours earlier, opportunity once again knocked for Liverpool to seize on the shortcomings of their nearest rivals.

The Anfield outfit have made a worrying habit of spurning such openings, too often hampered by the weight of expectation.

Not this time. A five-goal rout of Aston Villa closed the gap on United to a single point and sent a thunderous message out to Old Trafford and beyond; the momentum, such a precious commodity at this stage of the season, is now firmly with Liverpool.

This is a rejuvenated side, bursting with confidence and belief following successive humiliations of Real Madrid and United. The hunger has returned throughout the team, the scent of silverware in their nostrils.

None more so than Steven Gerrard, whose first Premier League hat-trick was the highlight of another ruthless Liverpool performance that ensured their biggest home triumph in 18 months. Three-up by the interval, Benitez's chief post-match complaint was that his team didn't win by more.

Gerrard, again roaming with licence to thrill, was irresistible, his treble taking his tally to a career-best 13 for the league season, 21 in all competitions.

The skipper held his nerve to convert twice from the spot and has now converted 13 of his last 14 penalties, the solitary failure coming in Marseille when he in any case netted the rebound.

But this, as at Old Trafford, was a collective effort. And with United showing evidence of cracking up, such togetherness could prove crucial in the final two months of the campaign.

In keeping his 100th clean sheet on his 197th appearance, Pepe Reina surpassed Ray Clemence's previous club best mark for a century of shut-outs by three games.

Reina's aptitude ensured Villa's one purple patch midway through the first half yielded no reward, the Spaniard making two fine saves from John Carew before his alert long punt created the second for Albert Riera.

Riera has been wildly inconsistent in recent weeks, but here the Spanish winger was inspired, bewildering the hapless Nigel Reo-Coker, finishing brilliantly for his goal and later winning a penalty.

Dirk Kuyt, who opened the scoring, was also better than for some time while returning duo Xabi Alonso and Alvaro Arbeloa posted sterling shifts, the latter impressive when augmenting the attack.

Not a bad way to mark Benitez finally ending speculation over his future by penning a new five-year contract.

Indeed, Liverpool could be top the next time United play in a fortnight, with their trip to Fulham coming the day before Old Trafford host Villa.

The Anfield outfit will hope Martin O'Neill's faltering side – from championship outsiders, the Midlanders have now not won in eight – put up more resistance than yesterday.

But that should not detract from Liverpool's efforts in notching a third consecutive league win for the first time since October.

As against Madrid and United, Benitez's side were again quick out of the blocks to lay the foundations for victory with an unrelenting first-half display.

Brad Friedel had already clutched a Martin Skrtel header from Gerrard's left-wing corner when Liverpool went ahead in the eighth minute from another set-piece. After Reo-Coker fouled Riera, Gerrard's free-kick was glanced on to the crossbar by Alonso and Kuyt reacted quickest to smash the ball into the goal with a diagonal drive.

A stretching Gerrard then almost reached Riera's deflected cross at the far post, but Villa, winners of 10 of their previous 14 away league games this season, began to work their way into the game with lumbering frame of Carew the main threat.

Twice the striker brought the best out of Reina. On 21 minutes, the goalkeeper was alert to palm away Carew's improvised flick from Ashley Young's left-wing cross, then produced an even better stop by diving full length to his left to paw away a Carew header from a deep Reo-Coker free-kick.

That delivery was one of the few things the Villa man did right during a miserable 45 minutes in which he was culpable for all three goals.

The second, on 33 minutes, came from a source that has proven fruitful for Liverpool in recent weeks - a long ball upfield from Reina.

An indecisive Reo-Coker, preoccupied by Fernando Torres, allowed the ball to bounce and Riera raced on and unleashed an instant volley in off the underside of the crossbar.

Gerrard shot wide and Arbeloa failed to take advantage after being gifted possession by Friedel's loose pass, before Reo-Coker's misery was complete six minutes before half-time when upending Riera inside the area. Gerrard sent Friedel the wrong way from the spot.

The second half was a procession. On 50 minutes, Carlos Cuellar dumped Kuyt to the turf on the edge of the area and Alonso rolled the free-kick for Gerrard to sidefoot accurately into the bottom corner.

A quarter of an hour later, Alonso's vision sent Torres racing clear only for the striker to be upended by Friedel. A clear penalty, it was still harsh on the former Liverpool goalkeeper to see red, with Gerrard netting past replacement Brad Guzan, making a Premier League debut, for his treble.

The rest of the game then centred on the vain attempt to help Torres net the two goals that would give him 35 in his first 50 league games for Liverpool , a mark not reached since Jack Parkinson in 1906.

Not for the first time, the forthcoming international break has come at the wrong time for Benitez, who will hope Gerrard and in particular Torres return to Melwood unscathed on Thursday week. The forces, though, are now with Liverpool .
---
MARCH 22
O'Neill praises in-form Reds

By Richard Bailey - Sky Sports

Martin O'Neill admitted that his side were beaten by an 'exceptional' Liverpool side after they crashed to a 5-0 defeat at Anfield on Sunday.

The Aston Villa boss added that although their opponents were superior his side had contributed to their own downfall.

A Steven Gerrard hat-trick and goals from Dirk Kuyt and Albert Riera compounded Villa's misery as they slipped three points behind Arsenal in the race for fourth spot.

O'Neill will have to make do without first choice goalkeeper Brad Friedel when his side travel to Manchester United next time out after he conceded a penalty and was sent off for bringing down Fernando Torres in the area with the score at 4-0.

"We were well beaten by an exceptional Liverpool side," he said.

"But we did contribute to our own downfall. At 1-0 down, we gave away an unbelievably bad goal. It was a shocking mistake.

"Liverpool have had two remarkable results before this game, beating Real Madrid and Manchester United - and they certainly did not need any help from us to achieve what they wanted."

The former Leicester and Celtic boss confirmed that his side played poorly but was confident that they could get back on track sooner rather than later.

"We played poorly. We gave away some lousy goals and we have to get back on track," he highlighted.

"We were doing fine four or five weeks ago, but we were well beaten by a better side. But we are a better side than we showed in this game."
---
MARCH 22
Gerrard plays
down hat-trick

Football 365

Midfielder Steven Gerrard insisted the three points mattered more than his hat-trick as Liverpool crushed Aston Villa 5-0.

Steven Gerrard scored a hat-trick with a free-kick and two penalties, with the latter of the spot-kicks following the dismissal of goalkeeper Brad Friedel for bringing down Reds striker Fernando Torres.

In the first-half Dirk Kuyt and Albert Riera had scored, before Gerrard took over with his set-piece onslaught.

The win means United's lead at the top of the Barclays Premier League is now one point - they also have a game in hand - but Liverpool have now scored more goals than Sir Alex Ferguson's men and have also established a slight advantage on goal-difference.

And Gerrard told Sky Sports One: "The hat-trick means a lot but the points are more important.

"It (the scoreline) is more than what we expected, before the game we would have settled for a 1-0 win.

"Villa are a fantastic team who have been going really well - but they've had a dip in form of late and it was important we never let them settle.

"We got an early goal and built on it."

Gerrard acknowledged improving the Reds' goal difference was on his mind after Riera had made it 2-0 at Anfield today.

He explained: "When you get a second goal you start thinking of goal difference - but it's important not to get carried away.

"Manchester United are capable of winning their remaining games so it's just important to keep focusing on what we're doing... keep winning, stay on their shoulders and pounce on any mistakes they make.

"Chelsea are there too and we're still aware of them too."

The England midfielder acknowledged that confidence is high around Anfield at the moment, adding on Sky Sports News: "Every knows we are on a rich vein of form. Confidence is high here.

"It's a good break now. We go away with our international teams and hopefully will come back and get ready to go again."

However, he feared he may not get the chance for his first Premier League treble, adding: "Rafa likes to bring you off when you've got two to keep your feet on the ground."
---
MARCH 22
Rafa: We should have scored more

By Jimmy Rice - LFC Official Website

Rafa Benitez claimed he would have liked to have seen more goals after his side's 5-0 thrashing of Aston Villa.

Steven Gerrard took his season's tally to 21 with a hat-trick including two penalties, while further goals for Dirk Kuyt and Albert Riera completed the rout.

The whitewash means Liverpool now have a superior goal difference to leaders Manchester United - but the manager would have liked to have seen the net bulge even more.

"The team was doing well but it's true I am not totally happy because we could have scored more goals from the counter attack," said Benitez, who wanted the Reds to push on after the dismissal of Brad Friedel at 4-0.

"We were playing against 10 players and had three or four more chances. It's really important to take them because you never know what's going to happen with the goal difference.

"Today it wasn't key but in other games it has been. I wanted more goals. It's an area we need to improve.

"Don't get me wrong, I am really pleased and happy. The players did a fantastic job but you can always improve."

The result puts Liverpool just one point behind United having played a game more.

On where it leaves the title race, Benitez said: "We said before we needed to do our job and wait for United to make mistakes. Now we are closer but they are still in a much better position. We need to keep going and pushing them.

"You cannot be thinking too much about what they will do and how many mistakes they will make. You cannot have any influence on this.

"We are closer and they will see we are working hard to win games. Every game is like a final for us now.

"They will know we can beat anyone but each game is different so we need to keep this momentum and confidence."

Asked if he thought Manchester United were feeling the pressure following two straight defeats, Benitez responded: "I don't know, talk to Mr Ferguson. My impression is that Liverpool are doing well."

The boss also reserved a word for Pepe Reina, who became the fastest goalkeeper in Liverpool history to keep 100 clean sheets.

"Pepe is a fantastic goalkeeper," he said. "They had some chances and he did well. He's beaten Ray Clemence's record and I am really pleased for him, and also pleased because these kind of saves can keep you in the game."

Benitez confirmed that Gerrard and Fernando Torres would now leave for international duty.

The Spaniard hopes the enforced break from action will not affect his side's momentum.

"If we can keep this momentum it will be good. Hopefully after the international break the players will come back with the same mentality and confidence," he said.

Liverpool could be top of the table before United kick another Premier League ball - not that Benitez is looking too far ahead.

"We have to win and after see the table. I prefer to talk after the game. You can talk about doing this or that but you have to win the game and then talk afterwards."

Meanwhile, Benitez began his press conference with a message to the family of club secretary Bryce Morrison, who died aged 57 yesterday.

He said: "First of all I want to give my sympathy to the family of Bryce Morrison. He is a big loss and yesterday was a sad day."
---
MARCH 22
Gerrard inspires Reds rout

By Richard Bailey - Sky Sports

Steven Gerrard scored a hat-trick as Liverpool stormed to a 5-0 win over out-of-form Aston Villa to move up to second and within a point of leaders Manchester United.

The Reds skipper was involved from the off as he whipped in a dangerous free-kick which found Xabi Alonso. His flicked header came back off the bar and Dirk Kuyt was on hand to drill home the opener after eight minutes.

Albert Riera made it two when he raced on to a long kick from goalkeeper Pepe Reina 25 minutes later and Gerrard claimed his first of the day when he converted a penalty on 39 minutes after Nigel Reo-Coker had felled Riera.

The hosts began the second half like they ended the first with Gerrard grabbing his second five minutes after the break when he placed a free-kick from just outside the box past Brad Friedel.

The scoring was completed when Gerrard converted his second penalty of the day on 65 minutes after Friedel had been sent-off for bringing down Fernando Torres in the box.

Liverpool had Xabi Alonso and Alvaro Arbeloa back from respective ankle and hamstring injuries that ruled them out of last weekend's win at Manchester United, with Sami Hyypia and Lucas relegated to the bench.

They were joined there by defender Daniel Agger, who has only played one game since mid-December after a variety of injury problems.

Villa boss Martin O'Neill left out striker Gabriel Agbonlahor, who has scored only twice since before Christmas and was booed by his club's own fans last weekend.

Defender Zat Knight was also on the bench, with John Carew and Curtis Davies back in the side.

Solemn
There was still a solemn start to the proceedings, with a minute's silence following the death yesterday of 56-year-old club secretary Bryce Morrison, after he had flown back from the Champions League draw in Switzerland.

Morrison, who had worked at Anfield for 17 years, suffered a heart attack at home. Both teams wore black armbands.

The game got off to a blistering start, and after eight minutes Liverpool were ahead.

Alonso's header from Gerrard's free-kick cracked against the bar, and Dirk Kuyt reacted quickest to blast the ball home from 12 yards.

At the other end Ashley Young's cross arrowed in from the left and Carew's flick at the near post almost caught out Jose Reina - but the goalkeeper tipped the ball over the angle.

The contest was ferocious, and Gerrard was then rightly booked for a fierce, late, challenge on Davies.

Then Reina made another outstanding save to his left to claw away a towering header from Carew - who played under Benitez at Valencia.

Liverpool were relentless and after 33 minutes they claimed a second goal.

Reina's 80-yard clearance was allowed to bounce once on the edge of the area by a Villa defence pre-occupied with Torres and Riera took full advantage by smashing the dropping ball high into the net.

It could have been three when Arbeloa intercepted a bad Friedel clearance inside the Villa box, but he chose to pass to Torres rather than shooting himself.

Smashed
But the third was not long coming. After 39 minutes Riera controlled a searching crossfield pass from Kuyt, and was brought down in the box by Nigel Reo-Coker. Gerrard smashed home the spot-kick.

Any thoughts of a Villa revival were crushed after 50 minutes when Carlos Cuellar brought down Kuyt on the edge of the box and Gerrard drilled the free-kick low to Friedel's left and into the bottom corner.

Former Reds striker Emile Heskey had a header held by Reina, but was by now being employed on the left trying to halt Arbeloa and Kuyt's flow down the flank - with Young switched to a central attacking role.

The ploy did not last long - Agbonlahor replaced Heskey after 58 minutes, with Young back on the line- but things got worse for Villa after 63 minutes when

Friedel was dismissed for clashing with Torres and Gerrard drilled home the fifth past Villa's reserve keeper Brad Guzan.

Lucas, Agger and David Ngog replaced Alonso, Arbeloa and Gerrard in the closing minutes of a comprehensive victory.
---