---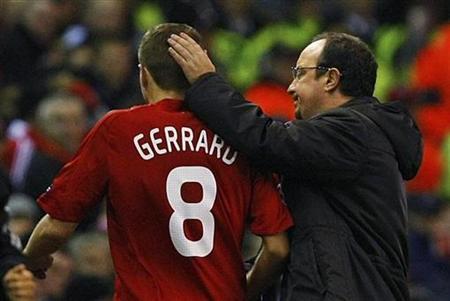 Benitez consoles an injured Gerrard. (Photo: Reuters)
OCTOBER 22
Liverpool FC must go back
to basics to solve crisis

Comment by Ian Doyle - Daily Post

Whoever mischievously booked Jurgen Klinsmann as a television pundit on Tuesday night must have known what was coming.

Short of donning a cowl and carrying a sickle, the German seemingly embodies the grim reaper threatening Rafael Benitezís reign at Liverpool, appearing only at the darkest of times for the Spaniard.

And the storm clouds are once again gathering around the Anfield manager after a demoralising, damaging defeat to Lyon.

A fourth successive setback, Liverpoolís worst losing run in more than 22 years, has cast serious doubt over Champions League progress as an underwhelming campaign plumbed new depths.

When Liverpoolís European future was threatened in similar fashion two years ago, the heads of American co-owners George Gillett and Tom Hicks were turned towards Klinsmann.

The Germanís subsequent unadulterated failure in charge of Bayern Munich last season while Liverpool challenged strongly for the Premier League title indicated it was one particular bullet dodged.

But Benitez now finds himself back in the firing line, although with Gillett and Hicks struggling to see eye-to-eye on pretty much anything, itís unlikely any triggers will be pulled in the foreseeable future.

Certain sections of the Liverpool support, though, are beginning to have their patience and faith in the manager sorely tested.

Witness the jeers that met the final whistle on Tuesday and, more tellingly, the decision to replace goalscorer Yossi Benayoun, a rare attacking threat for Liverpool on the evening, in the closing moments.

So, barely five months after their thrilling yet futile attempt to chase down Manchester United, what has gone wrong?

Of course, Tuesday wasnít the first time a Benitez substitution has met with disapproval from the Anfield faithful. Almost 12 months has passed since the Spaniard was berated for hauling off Javier Mascherano and not Lucas Leiva during a goalless home draw with Fulham.

Some things donít change. And while Lucas is conveniently made the fall guy by fans apparently unable to point the finger at the shortcomings of more experienced players, the fact remains the central midfield pairing of the Brazilian and Mascherano lacks the required guile at this level.

Worries over preparation in pre-season have been compounded by a lengthening injury list, and there is a very real prospect of entering Sundayís crucial Anfield showdown against United without Fernando Torres and Steven Gerrard.

The manager often cites last seasonís home win over their bitter North West rivals as evidence of how the team can cope without their talismanic duo.

But the line-up that September afternoon included Robbie Keane and Xabi Alonso, players who, for varying reasons, are now at pastures new.

And thereís the problem. Since the start of the year, Liverpool have lost a main frontline striker in Keane, their most experienced centre-back in Sami Hyypia, and their most influential midfielder in Alonso.

None have so far been sufficiently replaced. Whether that has been through lack of available funds, lack of foresight or Benitezís transfer policy is open to debate.

Whatís not is that the failure to recruit comparable strength to the squad has contributed to six defeats in 13 games this season, more than in the whole of the previous campaign.

Benitezís admission after last weekendís surrender at Sunderland that Liverpool cannot withstand the absence of five first-team regulars was in tacit agreement with this view.

Few would have expected Danny Ayala, Jay Spearing and Martin Kelly to have started games in anything other than the Carling Cup during the opening weeks.

And Benitez hasnít helped himself with some curious team selections and a stubborn refusal to change either tactics or personnel in the face of overwhelming evidence they arenít working.

Admittedly, the Spaniard could have done without the unwelcome surprise of Alberto Aquilaniís recovery from his ankle injury taking twice as long as first expected.

The Italian could make his belated bow in next Wednesdayís Carling Cup clash at Arsenal, and will have to cope with the anticipated pressure to instantly deliver on his £20m price tag and provide the creativity Liverpoolís midfield is so sorely missing.

But itís not only the supporting cast that have been found wanting, too many first-team regulars falling way short of the high standards they have set during the past 18 months.

Mascherano, preoccupied by summer interest from Barcelona and the malaise that threatened Argentinaís World Cup finals place, has underwhelmed, Jamie Carragher by his own admission below par, and Gerrard unable to consistently stamp his influence on games.

Even Torres, despite his eight-goal haul, has produced intermittently. Indeed, only Pepe Reina and new signing Glen Johnson can largely be absolved of any genuine blame.

The resilience and unity for which Liverpool became noted last season just isnít there, meaning they are more likely to concede last-minute goals, as on Tuesday, than score one. Simply, they are too easy to beat, falling whenever any half-decent opposition has been put before them.

It could be argued Liverpool are suffering a curious kind of hangover from their exhilarating run-in last season.

Since the defeat at Middlesbrough in February, Benitezís side, previously founded on watertight defence and gaining a vice-like grip on proceedings, had no option but to change tack and go for broke in an attempt to close the gap in terms of both points and goal difference on United.

That cavalier attitude transformed Liverpool into the great entertainers but exposed their renowned backline, precisely the criticism they have attracted this campaign.

Maybe a return, if only temporary, to the previous obdurate, composed and efficient machine can help rebuild a confidence clearly shattered by recent events.

Otherwise, Klinsmann may find more television work coming his way sooner rather than later.
---
OCTOBER 22
Liverpool FC problems
begin at the top

Comment by Tommy Smith - Liverpool Echo

Something has gone badly wrong on the pitch at Liverpool. We can all see it and itís painful stuff. There are problems almost everywhere you look Ė and almost as many reasons for them.

Without Steven Gerrard and Fernando Torres we do seem to struggle. Any team would miss world class stars like these but we are over-reliant on them, itís true.

Rafa Benitez has made mistakes of course and he has got an awful lot on his hands now to put things right. Heís not beyond criticism and has to accept his share of the blame for things, of course. But those people calling for his head because of this alarming, sudden dip in results are way off the mark as I see it.

Because the truth for me is this.

If things have just started to go wrong on the pitch, then off it they have been wrong Ė very wrong Ė for two and a half years now.

The American owners have screwed the club up and are still doing so. They are hardly ever there, hardly on speaking terms I hear and showing no sign of doing the decent thing - selling up and getting out.

True Liverpool fans would far rather see the back of Tom Hicks and George Gillett than a popular and proven manager who is yet capable of putting things right again.

A manager who, for all the players he has bought and who have not worked out, has not had one extra penny to invest this summer in a squad that lost just two league games last year Ė and which he has previously led to two Champions League finals Ė not to mention his achievements in Spain with Valencia.

No. IĎm convinced Liverpoolís biggest problems begin right at the top and that weíre seeing them seep down now. Iím not saying the Americans alone are to blame for everything, but Hicks and Gillett must surely understand their ongoing broken partnership is at the root of everything that is so wrong still behind the scenes at Anfield.

To them, Liverpool FC is just a money making venture. But to all the people who really care about Liverpool, itís much, much more.

Itís time the Americans Ė not the Liverpool manager Ė went.
---
OCTOBER 21
Evans and Hamann
show support for Rafa

TEAMtalk

Rafa Benitez has received the support of a former Liverpool boss and one of the club's Istanbul heroes in the aftermath of their Lyon defeat.

And he also received some better injury news ahead of Sunday's vital home league clash against Manchester United with England defender Glen Johnson confident he will be fit to play.

Captain Steven Gerrard, who suffered a recurrence of his groin injury just 25 minutes into Tuesday's 2-1 defeat to Lyon, and striker Fernando Torres, who missed the match with a groin problem, both underwent intensive treatment today.

That will continue right up until Sunday's showdown with the champions, with Torres the more likely to be fit.

Gerrard's problems are believed to be a more serious concern for Benitez, who has suffered a barrage of criticism after the club's worst run of defeats in 22 years.

But it looks like he will have Johnson back on Sunday.

The full-back said: "The injury is a lot better, I will be all right for Sunday.

"We did not test it today, just soft tissue work and massage, but it seems a lot freer than it did on Tuesday.

"I think Fernando might be all right for Sunday but I am not too sure about Stevie."

Benitez added: "Steven is suffering from the same injury he has had before and Fernando will be working hard with the physios."

Suggestions that Benitez could be sacked are wide of the mark. He signed a new four-year contract in March and has made a string of key appointments on the coaching and academy staff since then.

He has also been mindful of the rift between co-owners Tom Hicks and George Gillett.

Hicks has been a strong supporter of the manager while Gillett has criticised Benitez's spending this season.

But both would have to agree on any move to axe Benitez, which is highly unlikely in the current climate.

Benitez has also received support from former Liverpool boss Roy Evans, who said: "The results have put a lot of pressure on.

"But they are still in the Champions League and can still get second place (in the group), but there has to be an improvement, that's for sure.

"Rafa has always been tactically very strong in Europe, but when you lose your best players, like Gerrard, Torres and Johnson, that is a real problem.

"Without them Liverpool struggle to compete, with them they are a good bet to recover their position in the group.

"You cannot always blame the manager, players have to improve. They have had four games without a win and people are starting to get on his back, manager's do take responsibility but sometimes it is the players who have to look at themselves.

"They are playing for Liverpool and they are not at their best. It is not just about the manager, it is about the players improving and the fans getting behind the man in charge."

Evans added: "A good result will change everything. A win against Manchester United could be the victory that gives Liverpool their confidence back.

"Liverpool are not at their best. But a win against United could kick start their season.

"Rafa will still be there next season. He has had a good five years and started off with a bang when he won the Champions League.

"But when things do start to go wrong and people get on your back, it gets hard.

"But Liverpool fans are renowned for their knowledge of the game and they will get behind Rafa and the club and hopefully they will move on to better things."

German midfielder Dietmar Hamann, who played in the victory over AC Milan in the Champions League final in 2005, said: "Last season the players maintained their form and they did not have too many injuries.

"But at the moment they do not have that strength in depth to replace and change things.

"Rafa is a shrewd man but people have not been playing as well as last season.

"He always used to find a way out of situations, Liverpool always overcame problems.

"Now they do not know where the next win is coming from. But Rafa is the right man, he knows what is required. The only way out of this is to win games and get confidence back.

"Against United it will be tough, but they have shown they have the ability to compete with the top teams and the squad is not much different.

"Everyone has to stick together and work hard on the training pitch, they need a win from somewhere.

"The title is still possible. It is easy to write them off, people always see things in the worst perspective, but every team goes through a bad run.

"If they go out of the Champions League it will be a disaster, the players need that incentive and the club needs the money.

"Let's wait and see how they respond. The fans will be right behind them on Sunday and hopefully they will get the win that will turn their season around."
---
OCTOBER 21
Fans and players
must step up, says Rush

Sky Sports

Ian Rush says it would be a mistake for Liverpool to get rid of Rafael Benitez at this stage of the season.

The pressure is mounting on the Spaniard following a run of four straight defeats, which has seen Liverpool struggling to keep up with their rivals in the title race and at risk of going out of the Champions League in the group stage.

Tuesday night's defeat at home to Lyon was hardly the ideal preparation for Sunday's crunch showdown with Manchester United at Anfield, but former Reds striker Rush says Benitez's position should not be in question.

And he urged the supporters to get behind the manager - and the team - on Sunday.

"The time is not right now," Rush told Sky Sports News.

"You need to get behind the manager - and the players as well. I'm sure the supporters will do on Sunday.

"It's up to the players to respond. The manager can only pick a team and it's up to the players to respond on the pitch against Manchester United.

"There will be a good atmosphere against Manchester United. Yeah, okay we lost against Lyon so maybe the atmosphere will not be quite what was expected, but we can still qualify for the second phase of the Champions League.

"We've got to get behind everyone. For me that's what makes Liverpool such a special club."

Following the Lyon clash, Benitez spoke of the club's injury problems, insisting it was worse than at any other stage in his five years in charge.

Fernando Torres and Glen Johnson both missed the Lyon game, while captain Steven Gerrard hobbled off after 20 minutes and all three are now doubts for Sunday's match.

Rush insists Liverpool's squad players should be able to fill in for the star names, but says he has been disappointed by their performances of late.

"The players that come in have got to do the job, it's as simple as that," he said.

"They've got to make the manager's job hard to pick the next team.

"At the moment, when Torres, Gerrard and Johnson are fit they're straight in. That's because maybe the players that have come in haven't quite done the job to win games.

"It would be lovely for Liverpool to have beaten Lyon, then come the game against Manchester United, the manager could say 'What team do I pick? Everyone's playing well.'

At the moment I think the team's picking itself.
---
OCTOBER 21
Masch backing for Benitez

Sky Sports

Liverpool star Javier Mascherano insists under-fire Reds boss Rafa Benitez has the backing of all the players at Anfield.

Benitez's position at Liverpool has come under fresh scrutiny after Tuesday's damaging home defeat to Lyon in the UEFA Champions League.

The defeat was Liverpool's fourth in consecutive games in all competitions leaving them facing an uphill battle to qualify for the next stage in Europe's premier competition.

The Reds already see themselves off the pace in the Premier League and they welcome Manchester United to Anfield knowing defeat to their arch-rivals could end their championship dreams in October.

Mascherano says the players must take responsibility for Liverpool's poor form and he claims the whole squad remain behind Benitez.

"The players play on the pitch, the manager can't talk to us, can't say how to play," Mascherano told Sky Sports News.

"We take the responsibility and we have to work on the pitch.

"I think it [the tactics] is working. That is not the problem, the problem is we are not playing as best we can.

"We have to try to win on Sunday and try to continue winning.

"We believe in all the squad and all the staff.

"Last season we were doing a very good season so we have to maybe remember that and try to win on Sunday."
---
OCTOBER 21
Benitez faces the biggest
test of his career

Comment by James Pearce - Liverpool Echo

As Cesar Delgado delivered the cruel late twist in the tale, Rafa Benitez cut a forlorn figure on the Anfield touchline.

This was the moment when an alarming slump descended into a full-blown crisis.

The Spaniard has made a habit of making history since he arrived at Liverpool in the summer of 2004 but this was one he didnít want on his CV.

Not since April 1987 have Liverpool suffered four successive defeats and this latest setback left their hopes of Champions League progress on a knife edge.

Benitez has bounced back from the brink many times during his Anfield tenure.

When murmurs of discontent have started to grow, heís always delivered the goods and silenced his critics.

But now he faces the toughest test of his managerial career as he attempts to breathe new life into a campaign which has not only stalled but is threatening to implode.

Manchester United must be licking their lips at the prospect of heaping more misery on a side who currently look desperately short of both confidence and belief.

Benitez undoubtedly still has the full backing of the overwhelming majority of Reds supporters but the group of dissenters is growing.

The howls from the stands when the manager took off goalscorer Yossi Benayoun and brought on the hapless Andriy Voronin late on last night was a very public show of dissent.

Benitez must take his share of the flak for his sideís failings but many of the current problems are undeniably linked to the American ownersí chronic lack of investment in the playing squad.

While Benitez had to wheel and deal like Del Boy Trotter, Lyon forked out £70million on the likes of Argentinian striker Lisandro Lopez, Aly Cissokho, Michel Bastos and Bafetimbi Gomis.

For over an hour there was resilience and character in abundance as the Reds shrugged off the absence of Fernando Torres, Albert Riera and Glen Johnson and took the game to Lyon.

That spirit was epitomised by young Martin Kelly who produced an impressive full debut at right back.

The Whiston-born 19-year-old was coolness personified as he kept Ederson quiet and embarked on some rampaging runs down the flank, whipping was quality crosses into the box.

In the middle of the park Javier Mascherano looked more like his old self, charging 40 yards to win back possession and spreading play intelligently.

Even the agonising sight of skipper Steven Gerrard limping off after aggravating his groin problem midway through the first half didnít halt the home sideís charge.

A five-hour goal drought Ė stretching back to the thrashing of Hull City - was ended but this revival was built on uncertain foundations.

Aurelio, David Ngog and Dirk Kuyt all passed up chances to settle the contest and they were made to pay when Maxime Gonalons fired home.

Deflated, Liverpool lost their way and there was an air of inevitability about Delgadoís last-gasp strike.

Benitez must act fast because a whole season is in serious danger of slipping away.
---
OCTOBER 21
Trouble brewing as fans get
booing after latest defeat

By Ian Doyle - Liverpool Daily Post

Now not even the usual solace of European competition can offer Rafael Benitez refuge
from his woes.

A miserable run of form continued with Liverpoolís Champions League hopes taking another significant knock with a dreadful defeat at home to Lyon.

After the failure at Fiorentina, the collapse at Chelsea and the surrender to Sunderland, this was a fourth successive loss for Benitezís confidence-shot side.

Not since April 1987 have Liverpool registered such a poor run of form. But while the team that season reached a domestic cup final and finished runners-up in the league, such consolations at present seem beyond this vintage.

The boos that thundered around a disbelieving Anfield at the final whistle underlined the frustration that has been growing among the home faithful for some time.

No wonder. Those supporters can see a season that began with great expectations slowly slipping away, and with Manchester United and Arsenal to play in the next week, there appears no imminent respite.

Even the return of Steven Gerrard last night from an adductor problem ultimately offered no encouragement, the skipper lasting only 25 minutes having aggravated the injury and now a major doubt for Sundayís visit of United.

Benitezís injury worries show no signs of abating. Already without Fernando Torres and Albert Riera, the duo were joined by Glen Johnson on the sidelines last night.

Liverpool had given little evidence at the Stadium of Light on Saturday that their squad could cope with the absence of a number of key personnel, a view that will only be enhanced by this latest disappointment.

Creativity from central midfield remains a major concern. Lucas remains an all-too-easy target for supporters, but neither he nor Javier Mascherano have shown a consistent ability to unlock defences with a killer pass.

One must surely be sacrificed once Alberto Aquilani makes his belated bow. The Italian is an unknown quantity but the only certainty around Anfield at present is that things simply have to change.

When Marseille became the last French team to win at Anfield two years ago, it sparked a sequence of events that almost cost Benitez his job.

A strong finish to that Champions League group ensured the Liverpool manager retreated from the abyss, and it will take a similar recovery to win through to the knockout stages this time.

The confusion that reigns in the corridors of power at Anfield means Benitezís position appears not under any immediate threat. But the jeers that greeted his decision to replace goalscorer Yossi Benayoun in the closing moments suggest he is testing the patience of some sections of the Liverpool support.

Having scored for fun during the opening weeks of the season, the goals have suddenly dried up for Liverpool. Yet the leaky defence remains, not helped by constant chopping and changing.

A third successive blank at Sunderland prompted Benitez to reshuffle his attack with David Ngog asked to lead the line in only the seventh start of his Liverpool career, one of five changes from the weekend.

A rare chink of light on a dark evening was the full debut at right-back of Martin Kelly. There are high hopes for the 19-year-old, who impressed during pre-season and on a brief loan spell at Huddersfield Town last season.

And following a shaky opening, Kelly delivered a promising performance which was only curtailed when he sustained an injury while attempting to prevent Lyonís equaliser.

Although Gerrard struck an early shot into the side-netting, the early signs did not augur well against a Lyon team that, although beaten at the weekend, lead the French table.

The visitors came close in the 10th minute, when a driven cross from the left wing by Aly Cissokho was met by the head of Lisandro Lopez only for Pepe Reina to beat the ball out from point-blank range.

The game, though, soon descended into below-par fare, with Liverpool struggling to muster any creativity from midfield and Lyon curiously lacking the conviction to capitalise.

Benitezís side were therefore able to gradually rebuild their confidence and, with substitute Aurelio heavily involved, finished the half the stronger.

They found a way through in the 41st minute as the visitors once again struggled to deal with a simple ball into the area. Lucas fed Aurelio down the left and, from the Brazilianís driven low cross, Ngog had a swing, Lucas and Kelly bumped into each other before Benayoun kept his cool to finish beyond Lloris.

Aurelio almost doubled the advantage moments later, his bullet header from a fine Kelly cross brilliantly turned behind by Lloris.

It proved to be a turning point, although Liverpool continued to look the most likely at the start of the second period, Benayoun heading a Kuyt cross wide and, from another good Kelly cross, Ngog controlled well on his chest but screwed wide off his shin.

Lloris then produced a second excellent save to dive low to his right to deny Kuytís header, but Lyon began to slowly increase the pressure on Liverpoolís makeshift backline.

And the French side were level on 72 minutes. After failing to properly deal with a corner, Reina then made two fine saves from Toulalan and Sidney Govou before the ball broke to substitute Maxime Gonalons to head in from six yards.

Then in injury time another substitute, Cesar Delgado, provided the coup de grace by prodding Govouís low cross from the right home at the far post with the home defence alarmingly all over the place.

There may have been no beach ball, but this was still a deflating evening for Liverpool.
---
OCTOBER 20
Liverpool facing Gerrard wait

By James Carroll at Anfield - LFC Official Website

Rafa Benitez admits Liverpool face a nervous wait to discover the extent of Steven Gerrard's injury after the captain limped out of Tuesday's Champions League defeat to Lyon.

The midfielder lasted just 25 minutes of the contest at Anfield due to a suspected reoccurrence of a groin injury, and the boss will now await the results of further tests on Wednesday.

"I think it is the same problem," Benitez told his post-match press conference. "He felt something, so he knew it was better to come off."

Asked if he felt it was a risk playing his skipper, Benitez replied: "It wasn't a risk. He wanted to play, the doctor said he was okay and he has been training for the last two days. Sometimes it is bad luck."

Benitez also confirmed Glen Johnson missed the game due to injury, while youngster Martin Kelly sustained a knock in the second half of our 2-1 reverse.

"We will have to check the players tomorrow," he said. "We have too many problems with different players and we won't know more until we check tomorrow."

The defeat to Lyon leaves Liverpool with three points from their opening three Champions League matches this season.

However, Benitez is confident the Reds can draw on the experience of 2007-08 when his side found themselves in a similar situation and still managed to progress into the last 16 in style.

He said: "It was a difficult game for us, but we were winning 1-0 and had two or three chances that could have changed everything.

"We are really disappointed because it was a difficult game that we could have won.

"But we have done it before and now we have to do the same. We have to be ready for the next game and try to win, and afterwards the same with the other two games in the group.

"We have done it before and we have to have confidence we can do it again."

Manchester United are next up for Liverpool at Anfield on Sunday, and Benitez is confident his players will be ready for the visit of Alex Ferguson's side.

He added: "We will have to prepare the players and push them. We will prepare for the game like always and keep going. It is a question of doing things properly and having confidence.

"Again, I will say we had chances and everything could have been different.

"We have to prepare for the next game. That is our job and we will do it from as soon as I finish this press conference. We have to be ready."
---
OCTOBER 20
Carra: We'll get through this

By Jimmy Rice - LFC Official Website

Jamie Carragher is in no doubt Liverpool will come through their dip in form sooner rather than later - and the defender believes they now have the perfect fixture to turn their season around.

The Reds conceded two late goals to lose 2-1 to Lyon in the Champions League - and now go into this weekend's clash with Manchester United having lost four on the spin.

However, Carra thinks the visit of our north-west rivals on Sunday could be the catalyst for a return to form.

"We're going through a tough patch but we've been through them before and we'll bounce back, there's no doubt about that," said the vice-captain.

"We always bounce back because we've got a lot of fight and character.

"It's always a great game. That could be the game we need - if we win it will give everyone a massive lift."

Liverpool have collected three points from three in the Champions League group stages and have work to do to catch Fiorentina on six points and Lyon on nine.

Carra added: "It's massively disappointing for us and it gives us a lot to do.

"They caught us on the counter attack for the second goal. We would have been disappointed not to win but to lose that late in the game is even more so.

"You never know how results are going to go, so you've just got to look after yourself and try to win every game - and that's something we're looking to do now."
---
OCTOBER 20
Benitez's men hit new low

Sky Sports

Liverpool's season slumped to a new low as they threw away the lead to lose 2-1 against Lyon at Anfield in the UEFA Champions League after a last-gasp goal from Cesar Delgado.

Yossi Benayoun had given Rafa Benitez's under-pressure side a first-half lead, but Maxime Gonalons and Delgado earned Group E leaders Lyon a victory to send tremors across Merseyside.

The Reds knew they were facing the prospect of four successive defeats for the first time since 1987 following setbacks at Fiorentina and Chelsea, and Saturday's loss-by-beachball at Sunderland, but they failed to produce a performance which merited a win.

Liverpool were rocked midway through the first half as captain Steven Gerrard was substituted as a precautionary measure following tightness in his groin, an injury which ruled him out at the Stadium of Light.

However, the Reds recovered and on 41 minutes the England ace's replacement, Fabio Aurelio, hit a cross-shot which fortuitously found Benayoun at the back post and the Israeli made no mistake.

The low-level confidence of Benitez's men was given a clear lift by the goal, but on 72 minutes the defensive frailties which have plagued their season were again evident as Gonalons nodded in following two good saves from Jose Reina.

Liverpool, who face Manchester United in the Premier League at the weekend, were then stunned on the stroke of full-time as Delgado tapped in following an electric counter-attack.

An air of nervous tension hung over Anfield, such were the levels of distress from fans unused to their side losing with such regularity.

Liverpool's form has been poor, a situation made worse by having their squad systematically deprived of its best players.

Fernando Torres was again out, while Glen Johnson was missing with a groin injury. At least Gerrard was back - but that lasted only 25 minutes.

Teenager Martin Kelly, Whiston-born and Academy produced, made his full debut at right-back, having had just a handful of minutes prior to this as a late substitute against PSV Eindhoven in Holland last December in this competition.

Facing them were a clever, experienced team, full of neat passing, solid possession and clever movement which threatened a fragile Liverpool.

It needed a close-range save from Reina to keep out a powerful header from Argentina striker Lisandro before patched-up Liverpool - who had David Ngog in Torres' role - continually wasted possession.

Former Liverpool and Lyon boss Gerard Houllier watched from the directors' box as the Reds struggled, while co-owner George Gillett was also in attendance, fresh from his trip to Saudi Arabia.

There were signs of Liverpool defiance, a Dirk Kuyt header disallowed for offside from Gerrard's deep cross.

That was virtually the only contribution from the skipper, who trudged off to be replaced by Aurelio. The groin injury sustained on England duty had given way again and facing United on Sunday looks a long shot.

It needed a performance of defiance, spirit and sheer desire from Liverpool to survive this, and there were occasional signs to warm The Kop but a clinical edge was missing.

Defender Cris was booked for a foul on Kuyt, the Dutchman's knee crashing into his head as he fell. The Brazilian did not last much longer, carried off in a daze.

Liverpool were beginning to show fight now, and somehow France No.2 goalkeeper Hugo Lloris kept out an Ngog effort after fine work by Kelly, Kuyt and Aurelio.

Aurelio had a powerful header saved by Lloris' left-hand from Kelly's run and cross, before Liverpool took a 41st minute lead.

Benayoun showed calmness to lift the ball over Lloris from eight yards, after Aurelio's cross evaded Kelly in the six-yard box.

Ngog was booked for a foul on Jeremy Toulalan, then Lyon skipper Sidney Govou was cautioned for flattening Emiliano Insua.

Benayoun, with a fine header, and Ngog - from eight-yards - could have stretched Liverpool's lead in the second period, while Lloris needed to be at full stretch to keep out Kuyt's header from Aurelio's cross.

Lyon sent on striker Bafetimbi Gomis to partner Lisandro in place of Ederson - and they began to stretch Liverpool.

Bosnian teenager Miralem Pjanic, followed relentlessly by Lucas, was starting to find space to produce the sort of tricks which have helped his country into the World Cup play-offs.

The pressure increased and Lyon equalised in the 72nd minute.

Liverpool failed to clear a corner, Reina made two outstanding saves from Toulalan and Govou before the ball reached substitute Gonalons, who dived to head home.

The hosts then lost young Kelly with an ankle injury, with Martin Skrtel taking over in a defence under increasing pressure.

Benitez sent on Andriy Voronin for the lively Benayoun, as the decision was greeted by boos from The Kop, as Liverpool searched for a second.

But the decider came in injury-time from substitute Cesar Delgado, arriving at the far post to sidefoot past Reina from Govou's cross.
---