---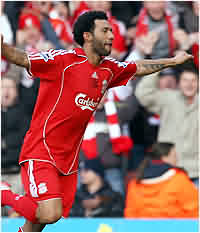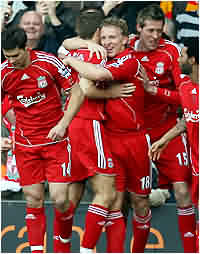 Time for celebration at Anfield vs Chelsea.
JANUARY 22
Liverpool want more credit

TEAMtalk

Liverpool have dismissed suggestions that Chelsea's injuries were the cause of their humiliation at Anfield on Saturday.

Boss Rafael Benitez is demanding that his team get full credit for their 2-0 Barclays Premiership victory following claims that it came about because central defenders John Terry, Ricardo Carvalho and Khalid Boulahrouz
were out.

Both Benitez and defender Jamie Carragher are unimpressed with the excuses being made for Chelsea.

Carragher said: "In Rafa's first season I can remember us going into big games with Neil Mellor a lone striker. I don't remember too many people making excuses for us."

Benitez added: "When we were losing some games, without Steven Gerrard and Xabi Alonso, people didn't say we had players missing.

"The first season I was here we had players missing, but we said, 'No excuses, let's keep going'.

"We deserve some credit. Don't forget we had Xabi off the field for 10 minutes due to injury during Saturday's win. We must give credit to our players and not talk about the other team.

"I've said all season we have a better squad than before, a better team than before. Now when you see players like Jermaine Pennant playing really, really well and Fabio Aurelio also, you know you have a good team and that we can beat anyone."

Yet despite the win, Liverpool are still 11 points behind leaders Manchester United and Carragher is determined not to allow the club to be overcome with talk of a possible title challenge.

The England international insists that the challenge is to catch Chelsea and grab second spot, not to have too many fanciful ideas of overhauling Manchester United at the top.

Carragher said: "We've got to just focus on winning as many games as we can and keep the pressure on the top two.

"The target now is to catch Chelsea. That's what Saturday's result has done for us. We've given ourselves a chance of doing that, and if we can push ourselves into second, then we can have a look where we are.

"We've done well over the last few months and all the talk has been about Manchester United and Chelsea rather than us.

"It's nice that some people are talking about us as well now, but sometimes it's better when you can just quietly go on a run like we have.

"Everyone was asking whether Arsenal beating Manchester United was good for us, but for me we've still got to think it's Arsenal and Chelsea we're closest to and think we're in a battle for second at the moment."
---
JANUARY 22
Kuyt: It was a perfect win

By Steve Hunter - LFC Official Website

Dirk Kuyt reflected on the 2-0 win over Chelsea and admitted it was the perfect day and a great confidence booster for
the remainder of the season.

The Dutch international scored his ninth goal of the season to give the Reds the lead and felt the early breakthrough was a crucial moment in the game.

"This was a great result and there was only one team that deserved to win," enthused Kuyt. "We were good in attack but we were fabulous in defence. We didn't give them one chance all game, we were defensively very strong.

"It was the perfect day for us. We controlled the game, we worked for each other as a team, and that was the big difference between us and them.

"It was crucial that we scored the first goal. I can remember when we played Chelsea earlier in the season at Stamford Bridge, I had a chance but put it against the bar and you can see what difference it makes if you score
the first goal."
---
JANUARY 21
Gerrard: No title talk from Reds

By Paul Walker - PA Sport

Liverpool's pantomime season is over and the big two in the Premiership know the men from Anfield are 'right behind you.'

Manager Rafael Benitez was vilified a couple of weeks back after two hugely embarrassing cup defeats by Arsenal.

The 6-3 debacle in the Carling Cup was the last time the Anfield fans had seen their men in action prior to Saturday's overpowering of champions Chelsea.

Now the talk is off stealing the runners-up spot or even - and it is no more than a whisper - sneaking up on Manchester United at the top of the table.

Skipper Steven Gerrard, who produced a disciplined, controlled midfield display, tried to keep title talk in perspective, saying: "It's a massive result, but we still have a lot of work to do.

"Any result at home is a good one for us but against the champions it's extra special.

"It's a big result for us, but we're still third and we still have a lot to do. All we can do is make sure we do the same things again in the next match."

Asked whether Liverpool were now contenders for the title, Gerrard added: "I don't want to provide any headlines. The gap is still massive but all we can do is concentrate on ourselves and hope for more slip-ups ahead of us."

But the belief that miracles can happen was evident from Jermaine Pennant, who struck a cracker for his first goal for the club.

The winger said: "I was pleased with a goal like that for my first for Liverpool, it was very special.

"Now we are in with a chance. We have the best home record of any club in the division so anyone who comes here knows they are in for a tough time.

"We have Manchester United and Arsenal still to play at Anfield and after this we are very confident. They will find it very difficult and if we can continue to keep playing like we did against Chelsea then we can close on the top two."

For Benitez, the best league result of his 31 months at Anfield vindicated the rotation policy used to keep players fresh for just such an eventuality as beating Chelsea.

And he had high praise for Gerrard's intelligent leadership, saying: "Against Chelsea you must control midfield, they have weaknesses out wide but not in the middle. Gerrard did just that, the key was Stevie, Xabi Alonso and Dirk Kuyt working back, in these central areas.

"Stevie likes to get into the box and it is more difficult for him to wait and stay in the midfield role, but he knows what to do and did a very good job.

"It was a fine team performance, but I was pleased that Fabio Aurelio and (Jermaine) Pennant played so well. People have been critical of them, but this game showed how good they are and how well they worked for the team."

Benitez would not be drawn into a debate about the title, but he knows Liverpool are putting pressure on the top two.

He said: "If we want to be at the top, if you want to be a contender and have opportunities to do something at the top and to have a chance of winning titles, you must beat your main rivals.

"It is very important to beat the best teams. We have done that in cups and not always in the league, but this results shows what we are capable of.

"If we had lost the gap would have been 11 points between the teams, now it is just five. We have stopped them taking three points and made sure we had them. That makes such games worth six points."

He added: "We did not know beforehand who Chelsea were going to play at the back, we'd heard rumours but decided to ignore them and think only of our plans.

"But we did know that Chelsea may struggle in the air and Crouch proved to be the key while Kuyt was strong and a good runner.

"Chelsea are a top side and professionally we wanted to beat the best players. Added to that, they were second in the table and we knew we had to win to close the gap.

"Now we are five points behind and we know it is a long race and there is plenty that can still happen. We knew all this beforehand, it affected how we approached things.

"We are in a good position now, and that just reminds me of what I said a few weeks ago when we were being criticised. I knew my squad was strong and I had confidence in them."
---
JANUARY 21
Pennant delighted to break his duck

By Steve Hunter - LFC Official Website

Jermaine Pennant said he was absolutely delighted to score his first goal for Liverpool in the 2-0 win over Chelsea and called it a special moment.

The winger beat Petr Cech with a fantastic volley from outside the box to set the seal on a fantastic team performance and a thoroughly deserved victory.

"To score a goal like that was very, very special and a great way for me to get my first goal for Liverpool," enthused the Reds number 16.

"There was not much on for me in the box so I just thought I'd have a shot and it was nice to see it go in.

"It was a great win for us and we still have to play Manchester United and Arsenal here. We have the best home record in the Premiership and we will just keep going and see what happens."
---
JANUARY 20
Benitez: Reds deserve credit

TEAMtalk

Rafael Benitez refused to let Chelsea's obvious defensive problems detract from the quality of his Liverpool side's performance on Saturday.

The Reds boss took his first points from a Premiership fixture against Jose Mourinho's Blues as Dirk Kuyt and Jermaine Pennant scored first-half goals in a straightforward 2-0 win over the champions at Anfield.

Chelsea's makeshift centre-back pairing of Michael Essien and Paulo Ferreira were no match for Kuyt and Peter Crouch and Benitez, asked if he was confident when he saw the opposition team sheet, preferred to focus on what his side had done well.

"I was confident when I saw my team sheet," said the Spaniard. "I thought we did a very good job and deserved to win.

"We played well. I don't know if it was because they had problems but we played well."

Liverpool lie in third place, with leaders Manchester United and also Arsenal still to come to Anfield, and Benitez added: "We have three more points and I'm really happy with the situation. We have Man United and Arsenal at home, we have confidence and we are playing well."
---
JANUARY 20
Jose: I'm not a miracle worker

TEAMtalk

Chelsea boss Jose Mourinho insisted he "cannot do miracles" after seeing his makeshift defence fail to prevent a routine Liverpool victory.

The Reds exploited the faltering Premiership champions' defensive crisis with a 2-0 win at Anfield on Saturday lunchtime.

Blues skipper John Terry is still sidelined by injury and Ricardo Carvalho went down with a temperature in the morning, forcing Mourinho to field a centre-back pairing of Michael Essien and Paulo Ferreira.

Liverpool took full advantage with Peter Crouch and Dirk Kuyt giving Essien and Ferreira a torrid time with Kuyt latching on to a Crouch flick on to fire the Reds ahead in the fourth minute and Jermaine Pennant adding a second on 18 minutes to leave Chelsea with a mountain to climb.

Mourinho, asked if he blamed Chelsea's title setback on the current centre-back crisis, told Sky Sports: "I think so. It's obvious. There were definitely mistakes with people not adapting to their positions.

"I was waiting for 15 or 20 minutes to go by with no goals conceded and the confidence arriving. But when the team is very fragile on the pitch and mentally not so self-confident, it is difficult.

"In the second half, I think we played better but Liverpool defended well and were full of confidence. They knew they could be adventurous because our defensive line is fragile.

"They had two big guys up front in Crouch and Kuyt and we cannot cope with it. It's obvious. You cannot do miracles.

"The players are playing with pride but my group of players is very short. The group is mentally strong and together and ready for the rest of the season in several competitions."

Mourinho would clearly like to have bought in defensive cover during the January transfer window but, with 10 days remaining, does not expect any centre backs to arrive at Stamford Bridge.

"I don't know and I don't want to speak about it," said Mourinho, who said on Thursday that he would be happy to complete his contract with the Blues providing he has support and respect from the Chelsea hierarchy.

"The market is open for another 10 days. But the market was open for 20 days and if we didn't get one then I don't see why we should get one now.

"It is difficult to cope without central defenders - especially in the Premiership - and we know in advance the problems we have for this game," he added.
---
JANUARY 20
Reds give Jose the blues

By Graeme Bailey - Sky Sports

A terrific Liverpool performance saw them coast to a 2-0 win over a very poor Chelsea at Anfield.

From the off the home side looked far hungrier and their attacking approach was rewarded with a fourth minute lead as Dirk Kuyt struck.

Before 20 minutes had gone, Liverpool's domination told again as Jermaine Pennant's struck his first goal for the club and that proved enough for Rafa Benitez - as he claimed his first league victory over Jose Mourinho.

It was a rampant first half display from Liverpool that saw them set up victory as they totally over-ran a Chelsea side which looked completely disorganised without talismanic skipper John Terry in defence.

The main talking point before the game was Petr Cech's return and he was happy to claim a Steven Gerrard header after three minutes to get his first touch of a ball for over three months.

However, within a minute Cech's next task was to pick the ball out of the back of the net as Liverpool swept into the lead. A long ball flicked on by Peter Crouch fell for Kuyt, he knocked the ball past hapless make-shift centre-half Paulo Ferreira, before coolly side-footing a half-volley into the corner.

Chelsea just could not come to terms with Liverpool's attacking play and the home side should have been two-up just moments later. Xabi Alonso's excellent ball into the box freed John Arne Riise - but Cech was down wonderfully well to make the save.

Chelsea's first meaningful chance came for Didier Drogba from a corner but he headed wide - and within minutes they found themselves further behind.

A long ball from Gerrard was headed clear by Michael Essien, the ball fell for Pennant - but with Ashley Cole backing off and inviting a shot, the former Birmingham man accepted the invitation and unleashed a brilliant effort into the top corner leaving Cech helpless.

Shaun Wright-Phillips was soon introduced for the injured Arjen Robben and that resulted in some meaningful Chelsea possession - but Jose Reina remained untested up to half-time.

Liverpool should have had the game well and truly sewn up by the hour mark and it was Crouch the guilty party for missing two great chances.

Pennant, having one of his best games for the club, was the creator for the first opportunity as he whipped in a cross from the right and found Crouch unmarked 12 yards out but he disappointingly headed tamely at Cech.

Then came a double let off for the champions as Riise unleashed a trademark thunderbolt from 30 yards which smashed off the crossbar - the rebound looked to drop favourably for Crouch but under Essien's challenge he failed to find the target.

Chelsea simply were not clicking and Drogba seemed to sum up their day with two fluffed chances from great positioned free-kicks. He first contrived with Michael Ballack - one the edge of the box - to simply give the ball straight to the home side.

Then he was picked out brilliantly by Lampard from a set piece on the right just inside the box - but he missed the ball completely with his side foot.

Wright-Phillips was just about Chelsea's best player after entering the fray earlier in the first half and his mazy run through the Liverpool backline almost resulted in a goal as he crossed from the by-line and Dan Agger was relieved to see the ball fly into the side-netting rather than the back of the net.

An excellent late intervention from Ferreira prevented Kuyt adding a third - but Mourinho could have had few complaints had Liverpool, as they should have, secured a more sizeable success.

Indeed Kuyt spurned an even better chance in the final minute when he blazed over from 10 yards after a wonderful flicked pass from Gerrard.
---