---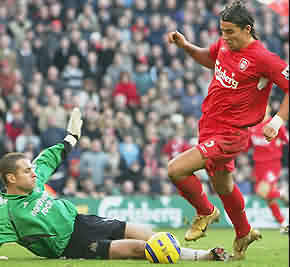 Brilliant Baros scores at Anfield.
DECEMBER 20
Why the Reds need to stay switched on

Analysis by David Prentice - Liverpool Echo

One of the downsides of adopting a new, more adventurous attacking policy is that more than occasionally you are forced to come from behind.

Fortunately for Liverpool, they are proving increasingly adept at the art.

The turn-around success against Manchester City in August ended a five-year wait for Liverpool to come from behind at Anfield.

A comeback at Fulham in October ended a 13-year wait away from home, then on Saturday the Reds showed they are getting even better at this kind of thing.

It took them just six minutes to overturn Patrick Kluivert's shock opener. I say 'shock' because Newcastle hadn't looked like scoring before then, and the Dutchman took advantage of the leniency of the new 'active' zones offside rule application to score.

Of course Rafa Benitez won't be totally happy until his Reds can play without the pressure of chasing a deficit, but it's now been an uneasy 11 matches since they celebrated a clean sheet. It's only happened three times in the Premiership all season.

So while Rafa Benitez chases new strikers around Europe, he'll also be thinking of ways to stem the goals haemorrhage.

Paradoxically, the central defensive axis of Hyypia and Carragher has been one of Liverpool's more reliable departments this season. Goalkeeper and full-backs, on the other hand, haven't.

But the old Anfield maxim is you defend as a team, so collective responsibility has to be assumed.

The balance has clearly not been right, although yesterday's reversion to a 4-4-2 system looked altogether slicker.

Steven Gerrard was able to operate in the area where he operates best, which is not on Neil Mellor's shoulder; the young striker proved a more than willing strike partner for Milan Baros.

Baros ran tirelessly - which he always does - then even looked up and picked out a goal-creating pass - which he doesn't do as often.

All in all, it was a reassuring day for Anfielders - especially with the less than frightening prospect of West Brom and Southampton next.

Even Liverpool's gate was back up to a healthy 43,856.

But if Reds' officials are actively seeking reasons for the poor turnout against Portsmouth in midweek, perhaps they should examine the contributions they have banked from Sky in recent weeks.

Saturday's visit of Newcastle was one of 13 successive Liverpool matches to be screened live on TV. Yes, that's 13 times a fan could switch on his screen at the most expensive time of the year and watch a Liverpool match in its entirety, without so much as raising his or her backside from an armchair.

That is an astonishing tally, which includes such can't-miss Anfield spectaculars as relegationthreatened Southampton, managerless and charisma-less Portsmouth and First Division Watford.

The consolation is in the region of a more than significant £3.7m.

But you can't have it all ways . . .
---
DECEMBER 20
Mellor: My Anfield goal

By Chris Bascombe - Liverpool Echo

Neil Mellor hopes his Liverpool goal burst has finally erased doubts about his ability at the highest level of English football.

The 22-year-old notched up his fifth goal in 11 appearances for the club - including just six starts - to help the Reds to a vital 3-1 win over Newcastle.

With Liverpool set to sign another striker in January, Mellor knows he has to make the most of his chances.

After another crucial strike at The Kop end, the youngster admitted he'd shocked himself with the speed at which he's adapted to life in the Premiership.

He said: "I'm hoping I'm taking my chance with both hands. The fans and players have been really good to me since I came into the side and I just want to get out there and keep scoring.

"I've surprised myself a little with how well it's gone. I know I did well in the reserves and I've just tried to take the same attitude into the first team, believing I will score in every match.

"I know I've got a few critics because of the style of my play but that doesn't bother me. I'm just going to keep on getting in there and getting on the end of chances, and hopefully putting them away.

"I can't change the way I am. It's not a problem what anyone else thinks. I'm a goalscorer, so for me it's all about getting in the box and taking chances."

Liverpool have reduced the gap between themselves and fourth spot to six points and will be looking for maximum points over Christmas.

Mellor continued: "It's pleasing to get another goal in the Premiership, but it was more important we bounced back after the defeat to Everton and disappointing result against Portsmouth.

"We have to build on this over Christmas. It's always an important period and we must try and close that gap."
---
DECEMBER 19
Baros favours two strikers

By Paul Higham - Sky Sports

Milan Baros admitted that he preferred playing with a strike partner after Liverpool's 3-1 win over Newcastle, but said the most important thing was to win.

Reds boss Rafa Benitez has favoured a 4-5-1 formation at times this season - as in the 1-1 draw with Portsmouth on Tuesday.

Neil Mellor played against The Magpies at Anfield on Sunday and The Reds bossed most of the match to win 3-1.

Baros was in inspired form and he admitted that playing a 4-4-2 suited him better.
"It's always better to play with two strikers because you have more space, and it's more difficult when you play just one against four defenders," Baros told PremPlus.

"You can play well, you get to keep the ball more and you get more chances to score goals."

"I think you can play more attacking football when you play 4-4-2, but it's not my decision, it's up to the manager.

"If he wants to play 4-5-1 we will respect him and do our best, if he wants 4-4-2 then we respect that too.

"What was important was that we wanted three points today and we got it so that's great - it wasn't easy but we got the result which is great."
---
DECEMBER 19
Sou confirms compliant letter

Sporting Life

Newcastle boss Graeme Souness has confirmed he has received a letter of complaint from the Ritz Hotel in London about the behaviour of some of his players.

The Mayfair hotel was allegedly the venue for a group of Newcastle players to stage a pre-Christmas party.

Their behaviour resulted in hotel staff writing to the Newcastle club to complain.

Souness, after his side's 3-1 defeat at Liverpool, said: "I received that letter, and I am not going to tell anyone what was in it.

"They are boys, it was their day off and I am not going to comment on it any further."

It is believed the incident in question took place three weeks ago.

Asked whether the behaviour had just been "over boisterous", Souness agreed, and said: "Good, they are boys."

Souness was angry about the performance of his side at Anfield, saying: "We have had words, it wasn't a shouting match and was civilised. Probably a bit too civilised for my liking."

He added: "We made a decent start and took the lead. They cancelled that out with an own goal and a goal that stemmed from a ball straight down the middle of our side.

"That happened again in the second half and you do not often see goals like that scored in the Premiership, straight passes being turned into goals.

"At 3-1 we had a chance to get back into the game when Jermaine Jenas missed a good chance, and then came Lee Bowyer's sending-off. I can't defend that, it was an obvious red card and he let down his team-mates."
---
DECEMBER 19
Rafa delighted with Toon performance

By Steve Hunter - LFC Official Website

Rafael Benitez said he was delighted with the performance of his side during the 3-1 win against Newcastle and praised the players for their hard work and good play.

Benitez felt Liverpool kept the ball well and thoroughly deserved the three points and praised strikers Milan Baros and Neil Mellor for their hard work for the team cause.

Benitez said: "I am delighted the way we won playing with a good intensity and attacking mentality. We kept the ball and passed it well and the strikers worked hard up front.

"Baros ran the line well and was always a danger and Mellor works very hard. He scores goals and it's important he plays well for the team which he and Baros did.

"For us this was a very important game to win after the last two matches. It was important to score quickly after condeding which we did.

"We showed a very good character and we controlled the game. We decided to play with a very offensive team today and we had six players with attacking mentality. It's important that when you score you look for the second and third goal."

The Liverpool manager also said he was delighted with the contribution of Harry Kewell who created the third goal for Baros with a marvellous through ball.

Benitez said: "Kewell has played well the last four to five games and I have a lot of confidence in him. He has trained very well and he has a very good mentality.

"Kewell is a fantastic player who I would call a complete player. He wasn't fit at the start of the season but he is getting better and stronger and that is important for the team."
---
DECEMBER 19
Reds too strong for Toon

Sporting Life

Liverpool kept their dreams of a top-four finish alive with a convincing victory over an increasingly ragged Newcastle.

The Geordies lost Craig Bellamy, injured in the warm-up, and had Lee Bowyer sent off for a second yellow card with eight minutes left. Titus Bramble had earlier contributed to their downfall as well with an own goal just seconds after Newcastle took an early lead through Patrick Kluivert.

With some of their players linked with another hotel incident in the morning papers, the day just got worse for their manager Graeme Souness on his return to a stadium he once graced as a player.

Liverpool clicked into gear after that shock early goal by Kluivert and were ahead at the break through Neil Mellor's fifth goal of the season.

Liverpool were increasingly dominant in the second half and they topped off a fine display with a stunning third goal from Milan Baros which compounded Souness' misery.

His team are stuck in the bottom half of the table seemingly without a hope of mounting a challenge for a Champions League spot themselves, something Reds boss Rafael Benitez insists is a genuine target for Liverpool.

That boast does not seem too outlandish after this display.

Newcastle lost Bellamy in the warm-up with a recurrence of his back injury, leaving Kluivert to take over up front.

For Liverpool, Spanish midfielder Luis Garcia returned after missing six games with a hamstring injury.

The loss of Bellamy clearly unsettled Newcastle right from the start, with Liverpool powering towards them, and the home side should have been ahead on two minutes when Baros fought his way to the byline and laid on an easy chance for Luis Garcia six yards out. But the little Spaniard managed to hammer his effort high into the Kop.

Referee Graham Poll, who took centre stage with his decisions last weekend at Arsenal, was again at the heart of the action, firstly not penalising Bramble for sending Baros spinning onto the track and then seconds later giving a free-kick for a debatable challenge on Kluivert.

But it was still Liverpool taking the initiative, and Steven Gerrard went close when he cut in from the left and found space for a right-foot drive from 20 yards which flashed past Shay Given's right-hand post.

Luis Garcia, after being out for so long, was a touch short of the pace of the game and conceded possession in midfield in the run-up to Newcastle taking the lead.

Kieron Dyer's pass into space sent Bowyer tearing into the box to neatly set up Kluivert to fire home from six yards, even if there was a hint of offside in the build-up.

The response was a 35-yard shot from John Arne Riise that flashed just wide, and the hosts were level two minutes after Newcastle had gone ahead.

Gerrard swung a corner in from the left and under pressure from Sami Hyypia, Bramble deflected the ball into his own net.

It got even better for Liverpool three minutes later. Baros turned Robbie Elliott easily 30 yards out and the Czech then threaded a clever pass into Mellor, who coolly slotted the ball past Given from 12 yards.

Baros had a goal ruled out for a foul on Given as Liverpool stepped up the pace. Bowyer and Elliott were both booked as they struggled to contain Harry Kewell and Xabi Alonso.

But in the 61st minute Liverpool scored a very special goal in which Kewell gave a rare flash of his capabilities.

Hyypia won possession in his own half and fed the Australian, who fed the ball into Baros' path with stunning quality. Baros raced away before rounding Given and placing the ball into an empty net.

Jermaine Jenas missed a great chance to cut the deficit back to one goal as he skied an effort over the crossbar, before Jerzy Dudek saved superbly from a Laurent Robert free-kick.

The Reds sent on Antonio Nunez and Florent Sinama-Pongolle, and the French teenager's first involvement was to be sent crashing to the ground by Bowyer, who was issued his second yellow card and then the red by Poll, Newcastle by now totally dispirited.
---