---
OCTOBER 20
Cisse: This is a new start for me

By Chris Bascombe - Liverpool Echo

Djibril Cisse believes his triumphant week signals the turning point of his Liverpool career.

The £14m striker grabbed his second winner in four days to put the Reds on the brink of qualification from Group G after their 1-0 over Anderlecht.

And having further eased the pressure on himself and his team, Cisse is vowing to keep the goals flowing.

"Maybe this week is like a new starting point for me and my Liverpool career," admitted the striker.

"I feel a lot happier now. That's normal because you're always happier when you're playing. I also feel a lot more relaxed about the situation.

"I know I need to have confidence in myself and I think I've shown that on the pitch last night. I wouldn't say I've always felt confident I will score, but when I go out there that's what I'm thinking about - scoring goals.

"If I want to play I know I have to perform when I get the chance, not just by scoring but by making the right passes too.

"I think if I get a good run in the side, I can score 20 goals for Liverpool this season. We have four strikers, and we have great players who can make a lot of chances for us like Stevie, Bolo Zenden, Luis and Riise, so we can all score. Stevie, Luis and Peter Crouch will all score a lot this season."

Cisse admits he's still adapting to different tactical demands of manager Rafa Benitez, but having plundered 12 goals for his club and country this season, he is entitled to think he's responding.

He said: "I like playing in a system where I'm the lone striker, but I know I have to learn how to play with a partner. It's the same in my national team where we play 4-4-2.

"I'm happy with the goal last night but the three points was most important, to stay in touch with Chelsea.

"We know if we win the next game, there will be less pressure on us because we'll be in a strong position to qualify."

Liverpool are now preparing for Saturday's trip to Fulham, when skipper Steven Gerrard will return to the squad.
---
OCTOBER 19
Benitez happy to have Cisse 'option'

Football 365

Liverpool boss Rafael Benitez was pleased to see striker Djibril Cisse get on the scoresheet again in Wednesday's Champions League win over Anderlecht.

The Frenchman followed up his winner against Blackburn last weekend with the only goal of a 1-0 success in Brussels.

The goals have been an emphatic statement from the £14million man, who recently voiced his displeasure at his lack of starts for the Reds.

Benitez told Sky Sports: "It is good for me as a manager to have options now. It is good for him and us."

The European champions have been criticised for their lack of goals this season but Benitez was pleased with his side's attacking display.

He added: "We create a lot of chances and when we go forward we put them under pressure.

"Defensive? When you see how many chances we had? We scored one goal and created opportunities.

"In the second half they played with more wide players and made short passes. It was difficult to control.

"We had to regain the ball higher and create more opportunities.

"They have good players and they played good football. It is important to win and be strong in defence."

Liverpool could secure their passage to the last 16 by beating Anderlecht at Anfield in their next if Chelsea also win away at Real Betis.

Benitez said: "I think we need to win at home in the next game and see the result in Sevilla, after that to win against Betis."

Cisse, who has now scored nine goals in all competitions for Liverpool this season, is pleased to be back in the side but insisted winning games is more important than his goal tally.

Cisse told Sky Sports: "I think to win today was really important to stay in contention with Chelsea.

"I don't think it is finished, we have to win more games. It is too early to say we have qualified.

"We have got three points. Maybe we should win easier and score more goals but three points is more important.

"It is good for me to start a bit more and score goals. It is good for the moment, I feel good but the personal stuff is not important. It is better to think positively for the team."
---
OCTOBER 19
Cisse stunner wins it for Reds

By Rob Lancaster - Sky Sports

Djibril Cisse proved to be Liverpool's match winner for the second consecutive game as The Reds secured a 1-0 win at Anderlecht.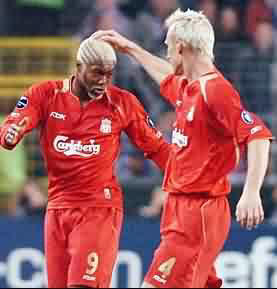 The Frenchman followed up his goal against Blackburn on Saturday with a stunning strike in the opening 45 minutes to send the Belgian side stumbling to a record 10th straight defeat in the UEFA Champions League

All the talk before the game had centred on manager Rafa Benitez's team selection, with the Spaniard surprising many by picking Cisse as a lone front-man and leaving Peter Well done, Djibi (Photo: AP)
Crouch and Fernando Morientes on the bench.

It appeared a somewhat cautious team named on paper, but it proved to be much more attacking on the pitch as the reigning champions survived some scary moments at the back to claim all three points and move a step closer to reaching the knockout stages.

The game could well have been different had Bart Goor not fluffed his shot straight at Jose Reina in the second minute, but Cisse's stunning finish was no more than Liverpool deserved after they had dominated the first half.

Luis Garcia, playing a more central role with Mohamed Sissoko surprisingly pushed out to the right wing, had already failed to find the target with two great chances before Liverpool took the lead.

John Arne Riise, who tormented Anderlecht's young right back Anthony Vanden Borre all night, also went close to an opening goal as only a fine fingertip save by Silvo Proto denied the Norwegian a rare goal with his right foot.

However, the custodian was given no chance from the resulting corner as Anderlecht fell asleep, allowing Cisse to smash the ball into the net for Liverpool's 450th goal in European action.

Djimi Traore nearly added a second before the interval as Anderlecht's inability to mark from set-pieces continued, the full-back only denied a second-ever goal for The Reds by Proto's excellent block.

Liverpool were not without the odd nervy moment at the back, Reina's save from Vanden Borre's toe-poke giving them an early warning at the start of the second-half.

They also survived a loud appeal for a penalty when Christian Wilhelmsson's low cross appeared to strike a diving Jamie Carragher on the arm.

However, it was Liverpool who appeared the more likely side to get a second goal as Anderlecht's need to push forward left them exposed at the back.

Cisse should have killed the game off just after the hour mark but he fluffed his shot wide with his left foot when bearing down on goal.

Benitez was clearly not impressed by the miss as the striker soon made way for the fit-again Harry Kewell, back in action for the first time since starting in the final of last year's competition.

Sissoko also spurned a great chance to clinch it when Proto's leg deflected his effort over the bar, but one goal proved to be enough for Liverpool as they continue to keep pace with Chelsea at the top of Group G.
---