---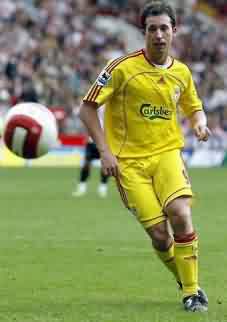 Robbie Fowler's penalty gave Reds 1-1 in the opener.
(Photo: EMPICS)
AUGUST 19
Managers unhappy with Styles

Sporting Life

Referee Rob Styles had rival managers Neil Warnock and Rafael Benitez questioning his judgment as the new Premier League season started in controversial fashion as Sheffield United and Liverpool played out a 1-1 draw at Bramall Lane.

After a 12-year absence from the top flight United were denied what would have been a famous victory on their return by Hampshire official Styles.

Rob Hulse, a £2.2million summer buy from Leeds, had sent Blades fans into a frenzy by heading the opening goal of the campaign 52 seconds into the second half.

The game's flashpoint arrived in the 69th minute, with Robbie Fowler and Liverpool captain Steven Gerrard exchanging a one-two on the edge of the area.

There appeared to be no contact as Blades captain Chris Morgan slid in to make a challenge, with Gerrard's momentum as he clipped in a shot that was scooped up by Paddy Kenny sending him tumbling.

But Styles immediately pointed to the spot, allowing Fowler to send Kenny the wrong way after the United keeper had committed himself.

Liverpool manager Benitez believes Morgan, who had been booked in the first half for a harsh handball decision, should have been sent off.

"It was a clear penalty, and a red card. It's as simple as that," insisted Benitez.

"The player (Gerrard) said he felt contact, the referee said penalty, so it should be a straight red card because he is the last player in front of the keeper.

"But I'm not annoyed he wasn't sent off. Instead we should analyse every other free-kick and throw in that was given in the game."

Unsurprisingly, Warnock offered a differing view as he stood up for Morgan, claiming: "I didn't think it was a penalty. There was no contact.

"Apparently the ref has said there was intent, so that means there are going to be a lot of free-kicks given if there's intent but no contact.

"But I think Liverpool know they are fortunate because 95% of people associated with the game would not have given a penalty.

"Unfortunately, one of the five per cent is wearing black and it was his decision, and we have to accept it.

"These things even themselves out - so they tell me - but it's not easy to digest."

Styles at least offered his own opinion, effectively shooting Warnock down in flames.

"I have the ability in law to delay one or two seconds to see if there is an advantage," said Styles.

"I saw the Sheffield United player come in and there was slight contact with Steven Gerrard, who lost the opportunity to score, so I came back for the penalty."

It begs the question as to why Morgan was not dismissed, as Warnock also suggested, with the United boss forced to watch from the stands as he was serving the first of a two-match touchline ban.

"If Rob Styles felt it was a penalty, then he should also have booked Morgan, that would have made it a second booking and sending-off," added Warnock.

"I will have to ask him why he didn't send him off. I'm sure he'll have an answer.

"It's always interesting to speak to referees afterwards because they have always got an answer, and unfortunately they are always right.

"But it's disappointing when you put in a lot of hard work and then other people let me down."

Warnock refused to let the disappointment take the gloss off the day as United were worthy of their point.

The Blades played without fear, were rugged and resilient and did enough to suggest they can do more than avoid a relegation scrap this season.

"It's disappointing to be talking about one incident because I thought we were magnificent," beamed Warnock.

"A lot of people have written us off this season, but I thought we played football the right way when we could against a very good side who will go very close this season, make no mistake.

"In the end it was a fair result."

Smiling, Warnock added: "Hey, I was top of the Premier League there for a few minutes, which was great. That's something to tell the family - but it won't happen again.

"Overall it was a magnificent day, and there are a lot of plusses. I certainly don't think Liverpool will have a tougher game than that."

To add to Benitez's woes he has almost certainly lost Jamie Carragher and John Arne Riise to ankle injuries for Tuesday's return leg of the Champions League qualifying tie with Maccabi Haifa.

Riise was taken off on a stretcher in the 25th minute with his left leg in a brace, while Carragher hobbled off 10 minutes later.

"Almost sure Carragher won't play, while with Riise we will have to wait and see, but he is in pain," added Benitez.
---
AUGUST 19
Fowler penalty saves Reds at Lane

TEAMtalk

A controversial penalty spared Liverpool's blushes against Premiership newcomers Sheffield United in a 1-1 draw
at Bramall Lane.

The home side had taken the lead through an unmarked Rob Hulse just 52 seconds into the second half.

But they were denied all three points when referee Rob Styles ruled Steven Gerrard had been brought down in the area by Chris Morgan, Robbie Fowler converting from the spot.

For Blades manager Neil Warnock, serving the first game of a two-match touchline ban and watching from the stands, it was a frustrating way for the club to return to the top flight after a 12-year exile.

Starting with just one new face in his line-up in Hulse, it was the £2.2million buy from Leeds who had the ball in the back of the net late in the first half. He slipped a shot beyond Liverpool goalkeeper Jose Reina, but the offside flag had long been raised to stifle celebrations.

Prior to that, Liverpool had come closest without seriously troubling United's backline, marshalled superbly by captain Morgan.

Craig Bellamy, a £6.5million summer capture from Blackburn, drilled an angled shot through the six-yard box, but beyond the far post in the ninth minute.

Midway through the half a long ball from Sami Hyypia was picked up by John Arne Riise, who made his way to the edge of the area.

Goalkeeper Paddy Kenny was slow off his line and beaten for pace as Riise turned the ball into the area, before the Norwegian went over on his ankle after being challenged by Leigh Bromby.

Morgan was on hand to head away the danger, while for Riise it was the end of his game as he was taken off on a stretcher a few minutes later with his left leg in a brace.

Just moments before Riise's departure, Chris Armstrong was lucky not to turn the ball past Kenny, inadvertently steering Gerrard's free-kick goalwards, only for United's alert goalkeeper to pounce.

Following a clash of heads between Mohamed Sissoko and Armstrong, there was further trouble for Reds boss Rafael Benitez when Jamie Carragher limped off in the 35th minute.

Benitez, though, could still have been smiling come the break but for Kenny who brilliantly tipped over the crossbar a dipping 30-yard free-kick from Fabio Aurelio after Morgan had handled and been booked.

Then on the stroke of half-time the Reds finally prised the United defence open, but a poor first touch from Fowler on the edge of the six-yard area allowed David Unsworth to lash the ball away.

Then came the breakthrough within a minute of the restart, with Unsworth the supplier with a whipped free-kick from the left wing.

No Liverpool defender picked up Hulse, and he was allowed to rise unmarked and power a five-yard header past Reina in front of Bramall Lane's own Kop.

After Hyypia headed against the outside of the right-hand post soon after, and Kenny saved a diving header from Craig Bellamy in the 67th minute, Liverpool saved face three minutes later.

Fowler and Gerrard exchanged a one-two on the edge of the area, with Morgan sliding in to make a challenge on the latter.

There appeared to be minimal contact, with Gerrard's momentum as he clipped in a shot that was scooped up by Kenny, sending him tumbling.

Styles immediately pointed to the spot, allowing Fowler to send Kenny the wrong way after the United keeper had committed himself.

Liverpool pressed for the winner but at the end it was the Premiership newcomers left feeling aggrieved.
---