---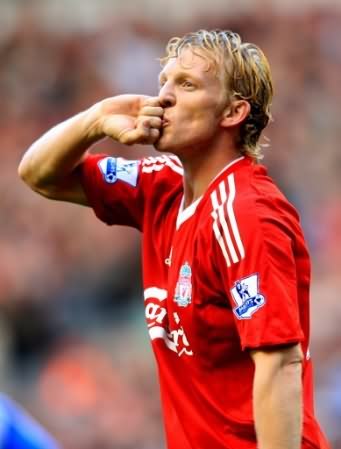 Kuyt celebrates another winning goal. (PA Photos)
OCTOBER 21
Gerrard: Reds need to dictate

TEAMtalk

Steven Gerrard insists Liverpool must start 'dictating' games, rather than relying on late comebacks, if they are to have a successful season.

The Reds are riding high in the Premier League, but they have had to come from behind on four different occasions to win and retain their unbeaten status.

Their latest comeback came against Wigan at the weekend, when they twice went behind to Amr Zaki goals, but they fought back to seal a 3-2 triumph.

Although Gerrard is pleased with the battling qualities shown by the side, he admits they need to start dominating teams from the start.

"In the past few weeks, we have proved that you can never count us out in any situation, and the battling qualities we have shown are very important," he said in the Daily Mirror.

"But we know that we cannot keep conceding the lead in games like we have done in the last two matches.

"Sooner or later, it is going to catch up with us, and we'll pay the price.

"We have shown the grit, determination and belief that there is in this squad this season, but we have to start dictating games.

"However we are full of confidence after what we have achieved, and we believe that there is a lot more to come from this side than we have seen so far.

"We are ready to take it on to another level and the confidence we now have will help us."
---
OCTOBER 20
Good, the bad and the ugly for Agger

By Tom Kell - Setanta Sports

Daniel Agger was relieved to come through his first Premier League start of the season unscathed, but even more thankful that Liverpool put aside his first-half blunder to beat Wigan 3-2.

Injury has meant that Agger has cut a peripheral figure over the past 12 months but his return to fitness, coupled with Martin Skrtel's injury, means the Denmark international is likely to be back on the scene on a far more regular basis.

Unsurprising ring-rustiness was evident against Wigan when Agger's lackadaisical pass allowed Amr Zaki to put the visitors in front.

However, he more than made amends eight minutes later with a rampaging run forward that set up Dirk Kuyt for The Reds' equaliser.

"I was pleased to start the game against Wigan, it was what I have been waiting for," Agger told the club's official website.

"It was a stupid mistake to make for their first goal, but that's football and you can't afford to dwell on things like that - you have to carry on.

"Luckily enough we managed to go on and win the game 3-2 and obviously I am very happy about that.

"It was a misunderstanding and I didn't hear anything but it was my mistake and I can't say anything more about it.

"It was tough for me. It was really, really hard. Of course, it is a long time since I last played so I have to get used to it again and then I will improve."

For the second week in succession Liverpool won 3-2 after going behind, and Agger admits they have been doing things the hard way.

"It would be nice to get an early goal sometimes because maybe then we wouldn't have to work quite so hard," he added. "With Wigan going ahead twice it meant we all had to work even harder, everyone was running.

"That meant everyone was tired after the game so it would be nice if we could make life a bit easier.

"But if you can win games like this and some of the other games we have won when you are not playing really well, when you have one of those days but still get three points, it is a big thing."
---
OCTOBER 20
Carragher: Character is key

Sky Sports

Jamie Carragher believes he and his Liverpool team-mates are demonstrating the character needed to win the Premier League.

The centre-back was a part of the side which came from behind to defeat Wigan at Anfield on Saturday to maintain an unbeaten record this season.

Carragher was also involved as the Reds recorded turn-around wins against Middlesbrough, Manchester United and Manchester City this campaign, and the 30-year-old believes the successes are positive signs.

The games could be viewed as contests Liverpool - who have not lifted a league title in 18 years - would not have won in seasons past, and Carragher believes the improvement is down to the mental strength of his colleagues.

"We were always confident about turning things around against Wigan because we've done it a few times this season now," he told Liverpool's official website.

"There's a really good team spirit at the moment and that makes a big difference. You're going to need a lot of character to challenge for the league title over the next few months.

"We know we're a good side but only time will tell if we're good enough to go on and win the title. At this stage we're just happy that we're up there and challenging.

"The most important thing is to get the points on the board as soon as possible and that's what we're trying to do at the moment."

Carragher, though, is wary that Liverpool cannot afford to keep giving opponents a head start.

"It's not something you want to be doing in every game of the season because eventually you're going to come unstuck," added Carragher.
---
OCTOBER 20
Kuyt making an
impression with his goals

Comment by Nick Smith - Liverpool Daily Post

Good job Dirk Kuyt is prepared to do a passable impersonation of Fernando Torres. Not even the impressionist who's been making his mark on YouTube this week has been able to take on that task.

He's nailed Rafael Benitez, Steven Gerrard, Michael Owen, Peter Crouch and (almost) Jamie Carragher.

But on the evidence of that video clip, emulating the Spanish striker is just too big an ask.

So Kuyt should take a bow for delivering the best performance of the week – becoming a dead ringer for the Spaniard to inspire yet another pulsating fightback.

No wonder he thrived so much in the absence of Torres – he was probably glad to see the back of him. Well, maybe not. But that record signing did, on an individual level, lead to Kuyt's star fading somewhat.

The 'Dutch Master' banner at the side of the Kop was soon plastered over by the 'El Nino' icon when Torres and his army of goals descended on Anfield last season as the supporters realised they had previously been a bit hasty in their hero-worship.

Which wasn't Kuyt's fault – his flag was flown far too early and he shouldn't have been built up that much in the first place. There was a ridiculous over-reaction to his cameo debut and there was even some hysterical nonsense being bandied about that he was looking like a new Dalglish.

In short, the hype was completely out of proportion and his debut season ultimately proved that as while it yielded a perfectly respectable 12 league goals, most came against abject opposition that caved in as soon as they spotted the menacing 'This Is Anfield' sign lurking over their heads.

Yes, he had a decent first season but the reality is Torres has since showed up his limitations as a striker. That deadly burst of pace, ability to finish from all angles, to relentlessly terrorise defences with skill and speed. Not really Kuyt's game.

But then is his game being shifted out to the right, tracking attacking full-backs, putting in the tackles and being prepared to play out of position to accommodate the more dangerous attacking threats? Not what the £12million was paid for really.

Yet that is exactly what he was asked to do in the second half of last season as Rafael Benitez hit on his winning formula and – Champions League excluded – the penalty area prowess of Kuyt was sacrificed as a result.

He just got on with it, of course, because his attitude is like that. If you asked him to play in goal his immediate reaction would be: "Where are the gloves?"

But back in a central role on Saturday, he gave Benitez yet another indication that he has the strength in depth and quality of reinforcements to cope without the likes of Torres, even if he will be less encouraged by his players' phobia of going in front any time before the final 10 minutes.

But then if you are going to take the lead, better to leave it late than peak too early. And the interventions of Kuyt in each of the last two games have secured a precious six points in terms of staying neck and neck with next Sunday's hosts Chelsea.

The Dutchman has now scored more goals in his last two league games than he managed in open play in the entirety of last season.

He is stepping out of Torres's shadow back into the spotlight and revelling in the fact that he is now finally being seen for what he is – a reliable, hard-working and effective centre-forward. Simple as that.

And while the Torres impression might need some work (not sure the Spaniard has ever scuffed in a volley via shin, goalkeeper's fingertips and crossbar) the stage might be set for them to form a double act of equally crowd-pleasing proportions.

The fact is, both are on form and scoring goals. When Torres does return from injury, the temptation to pair him with Kuyt might be too much for Benitez to resist if he keeps up the kind of form he is in at the moment.

But one thing is for certain, he needs to resume his role at the heart of the attacking formation at Stamford Bridge. Chelsea have had far too easy a ride from opposition forwards in their ominous march to the top of the Premier League table.

The challenge now for Kuyt is to give them as uncomfortable an afternoon as possible and keep it up for the full 90 minutes.

Because this is one game in which another last-gasp victory won't concern anybody.
---
OCTOBER 19
Benitez feeling the strain
but Reds keep winning

AFP

Rafael Benitez has paid tribute to the character of his Liverpool players after another second-half fightback kept them hot on the heels of Chelsea at the top of the Premier League.

But the Spaniard, who takes his unbeaten side to Stamford Bridge next Sunday, admits he would prefer not to have to watch them mount the kind of late recovery that produced a 3-2 win over ten-man Wigan at Anfield.

"The whole side showed great character to come back like that again. We did something similar at Manchester City a fortnight ago, and maybe I would like a calmer time on the bench," Benitez said.

"You will have to ask my doctor how much of this I can take. It would be nice to have three or four goals at the break for a change.

"But I felt we won it because we have belief in ourselves, and believe that we can win these games. It is a positive situation for us that we have this level of confidence."

In the absence of the injured Fernando Torres, Dirk Kuyt joined Robbie Keane in attack and the Dutchman scored twice, including a late winner, to triple his league tally for the season.

Liverpool had trailed 2-1 at half-time but they turned things around after Wigan were reduced to 10 men by the sending off of Ecuadorian winger Antonio Valencia.

Albert Riera's first goal since arriving at Anfield from Espanyol made it 2-2 before Kuyt smashed the winner in the final five minutes.

"We were talking about Kuyt not scoring enough goals in the Premier League, but he has shown character and proved that he can score," Benitez added.

Kuyt is set to join Keane in attack again when Liverpool travel to Atletico Madrid for a Champions League match on Wednesday. Torres will miss that match and the trip to Chelsea on Sunday but the Wigan match has left Benitez with no further injury worries.
---
OCTOBER 19
Bruce vents fury at Valencia verdict

TEAMtalk

Wigan manager Steve Bruce claimed two decisions from referee Alan Wiley cost his team the game as they lost 3-2 at Liverpool on Saturday.

Bruce pointed to a yellow card for Antonio Valencia for encroaching at a free-kick, and then another booking for the same player for a foul on Xabi Alonso, that he claimed "changed the game".

Valencia was sent off playing for Ecuador last weekend, and with 16 minutes to go at Anfield saw red again, this time with Wigan 2-1 ahead.

But the 10-man Latics could not hold out and Albert Riera grabbed an equaliser before Dirk Kuyt struck a late winner.

Earlier Egyptian striker Amr Zaki had taken his tally for the season to eight with a double which put Wigan ahead at the break, Kuyt's first separating the two goals from the visitors.

But Bruce said: "In my opinion we were robbed. It is a joke that we have not come away from this match with something.

"The referee got the first booking for Valencia wrong. The Liverpool player took the kick, and Valencia did not encroach towards it until the ball had been kicked. So he got that one wrong.

"Then there is the tackle on Alonso, in which I felt the lad touched the ball. I felt that was harsh.

"Those decisions changed the whole course of the game. With 11 against 11 we would not have lost. But there were a lot of tired bodies out there and we could not hold out.

"When you are at Anfield you need some things to go for you. I keep hearing the word 'respect' but I did not think we got that from the referee's performance today."

Bruce added: "We were ahead at the break and deserved it. It was not a fluke, we had taken them on and Zaki was outstanding.

"He is scary to play against and he will not understand how he can be on the losing side after a performance like that."
---
OCTOBER 18
Dirk: We always believed

By Joe Curran - LFC Official Website

Dirk Kuyt today heaped praise on the character his Liverpool teammates showed after snatching three points from the jaws of defeat in the last 10 minutes against Wigan Athletic.

The flying Dutchman scored a brace as the Reds came from 2-1 down for the second Premier League game in a row to record a 3-2 victory at Anfield.

Kuyt revealed the Liverpool players always thought they could turn the game around.

"It was unbelievable," Kuyt told Liverpoolfc.tv.

"I think we showed a lot of character today and it helped us come back from behind to win the game."

"We knew that if we kept trying and showed some of that character then we would be able to score goals, and that proved to be the case today. We always believed we could win.

"We didn't play very well at the start of the match, but at the end of the day the three points are the most important thing for us."

The Latics were reduced to 10 men when Antonio Valencia was sent off for a second bookable offence in the 74th minute, but Kuyt insists the incident was not the main turning point of the match.

"We were always going to get a few more chances playing against 10 men, but I think it was our hard work that made the difference in the end," he added.

"We tried everything we could to beat them, and it's good to score the goals, but I think the most important thing today is winning the match - that is what makes me happy."
---
OCTOBER 18
Liverpool edge out
Wigan in thriller

By Joseph Caron Dawe - Setanta Sports

Liverpool twice came from behind at Anfield to beat Wigan 3-2 in an engrossing encounter that delivered excitement, thrills, spills and a brace of goals from both Amr Zaki for The Latics and Dirk Kuyt for
The Reds.

Zaki's already considerable stock continued to rise as he struck the pick of the goals on the stroke of half time to send Steve Bruce's side in 2-1 up at the break, but Kuyt hit his second of the game after Albert Riera had equalised to deliver victory to Rafa Benitez's title-hunting outfit.

Wigan's red-hot striker gave his side the lead just before the half-hour mark when he pounced on Daniel Agger to steal possession and was unforgiving in his finish, but the Danish defender recovered well to set up Liverpool's equaliser shortly after.

Agger produced a length-of-the-pitch run to tee up Kuyt from close range for a leveller, and the Dutchman then had a long-range effort tipped onto the bar, but Wigan were in front again on the stroke of half time.

Antonio Valencia's cross set Zaki up for a simply stunning volley which the Egypt international zipped into the bottom right corner from the left side of the Liverpool area, displaying expert technique in the process.

Olivier Kapo hit the outside of the post for Wigan before Valencia then saw red for a second yellow card after he launched into Xabi Alonso with his feet off the ground, and Riera equalised with a shot from outside the area in what was by now a thoroughly thrilling encounter.

The climax came five minutes from time when Jermaine Pennant sent in a cross from the right which Kuyt acrobatically volleyed into the ground, and the ball bounced in off the underside of the bar to send Anfield into rapture.

Emile Heskey had been at the centre of all the headlines during the week with a whirlwind of speculation linking him with a return to Anfield, but the England international was quickly forgotten as it was another Wigan striker who stole the headlines on the stroke of half time.

With Heskey sidelined by a hamstring pull – a timely injury, one can only suppose – Zaki was left to his own devices up front, and he operated to full effect.

After settling the quicker and enjoying spells of slick passing, Wigan looked the more comfortable in possession for the opening 10 minutes. Liverpool then asserted control as they put together a good spell which saw Albert Riera dominate Wigan's right side, with Kuyt almost the beneficiary of a cross from the Spaniard that was snuffed out.

Wilson Palacios played a delightful ball into Olivier Kapo which he fired straight at Jose Reina, and at the other end Riera picked a lovely pass down the inside left channel for Robbie Keane, who curled an effort just wide of Chris Kirkland's left post.

This lively jousting lacked real edge however, and it was unfortunate for Agger – starting in place of the injured Martin Skrtel – that is was his mistake which allowed the first goal. Reina played the ball to the Dane on the edge of Liverpool's area, and he turned blindly into Zaki. A poor first touch did not help Agger's case and before he knew it Zaki had robbed him and slid the ball under Reina to give Wigan the lead after 29 minutes.

It took Agger eight minutes to make amends for his mistake. Bringing the ball out of defence with the confidence someone who had made such an error could be forgiven for lacking, he surged forward. A neat exchange of passes with Keane on the left wing allowed further advancement before a neat cut inside a sliding challenge saw Agger pull the ball back for Kuyt who levelled.

There was still time for excitement before half time, and it flowed plentifully. First, Kuyt fired a shot onto the bar from 25 yards via Kirkland's fingertip after a well-worked Liverpool move laid the foundations for their goalscorer to turn and try his luck. However, there remained one more explosive moment in the half and it came in injury time.

Antonio Valencia was fortunate to get through two players on the right, but there was nothing lucky about what followed. His cross was inch-perfect for Zaki, who displayed superb technique to execute a volley back over his left shoulder with his back to goal to score his seventh league goal of the season, and one which will no doubt be a contender for goal of the season.

The Reds rallied after the break and threw everything at Wigan, but it was the visitors who came closest to scoring again early in the second half.

After Lee Cattermole had hooked an Agger header off the line following a Liverpool free-kick, Andrea Dossena blocked Zaki at close range before a spill from Reina allowed Kapo a flash shot. Luckily for the Liverpool keeper the ball struck the outside of the post.

The action then played out at the other end of the pitch for a lengthy period as Kirkland got down well to thwart Kuyt and Mario Melchiot timed a tackle well to prevent Riera a chance. By this stage Liverpool really were piling on the pressure, and there was still a good 25 minutes of normal time to play.

Benitez's side were going all out for an equaliser and their efforts were admirable, but Wigan soaked up the pressure well and threatened on the counter attack. Daniel de Ridder fired into the side netting on one such spurt forward as Steve Bruce's side continued to wind up a killer blow.

Liverpool – via Gerrard – almost struck the next telling punch but his sidefooted free-kick from 20 yards just lacked the accuracy of his midweek effort for England, and curled a matter of inches wide of Kirkland's left post.

It was getting closer, and after Valencia received his second yellow card and marching orders for flying in on Alonso, Riera levelled the score.

Nabil El Zhar – on for Dossena only moments earlier – stepped over the ball a couple of times before passing to Gerrard, and he stepped over it to leave Riera on for a shot. His team-mate obliged and sent the ball low and in to set the game up for the final 10 minutes.

Kuyt delivered the goal that maintains Liverpool's unbeaten record this season and keeps his side level on points with – but one place behind – Chelsea at the top of the Premier League table.
---