---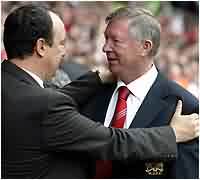 Both Rafa and Fergie choose to look at
the positives. (Photo: AP)
SEPTEMBER 19
Crouch laughs off long ball jibes

By Chris Bascombe - Liverpool Echo

Striker Peter Crouch has laughed off claims Liverpool will rely too much on long ball football following his arrival at Anfield.

Crouch made England team-mate Rio Ferdinand look uncomfortable for much of yesterday's uneventful 0-0 draw, but he admitted there were times he was a lone figure in attack.

Manchester United fans taunted the Reds with chants of 'Wimbledon' during the second half as Liverpool looked towards the aerial threat of the £7m striker.

But Crouch dismissed the jibes.

"The United fans are always going to take the mickey, but we know we don't play like that," said Crouch.

"We can play and pass. When you've got the likes of Steven Gerrard and Xabi Alonso, who are great ball play-ers, we can play a good style. But we know we can mix it up too and sometimes you need to hit a long ball and feed off the seconds.

"I take a lot of the stick as a compliment. I wasn't going to let Rio Ferdinand have an easy time. When you play against world class players like that you want to unsettle them and that's my job done. I thought I did that well.

"Maybe we were a touch deep at times. It worked well against Betis but not so well yesterday in the final third. But the result in Betis shows there's no problem. There's enough quality to get goals."

Liverpool have now accumulated six points from four games. Although they have two games in hand, manager Rafa Benitez knows some encouraging draws will have to be backed up by victories if Chelsea aren't to build an immediate, unassailable lead.

"We're slightly disappointed with the result because at home you're always looking for three points," added Crouch..

"At the same time, it's no disgrace drawing with Manchester United because they're a big threat. But we're setting our standards high. We feel we could have won, but at least we didn't lose.

"It didn't feel a low key game out there. There were a few tackles flying about. Both sides wanted to win but a draw was fair.

"It's frustrating to have had three 0-0 draws, but we're sure goals will come. On the plus side we're solid at the back and keeping clean sheets.

"We've taken points from good teams and now we'll be looking to take three from those teams we know we should beat so we can close the gap.

"We'll be looking towards Birmingham now. We can get a result there."
---
SEPTEMBER 18
Rafa: The goals will come

By Steve Hunter - LFC Official Website

Rafael Benitez firmly believes the goals will soon start to fly in for Liverpool and said he was happy with the performance of his team against Manchester United in the goalless draw at Anfield.

The Liverpool manager preferred to look at the positives of his team's performance and said there is a big improvement from last season.

Benitez said: "I prefer to look at the positives. We have kept four clean sheets in a row and that is a positive thing. Okay we need to score goals but that will come.

"We wanted to win the game but they are a very good team and both teams didn't create many chances. Last season we lost twice to this team so we have got a point this time.

"I thought Peter Crouch did a good job for us in attack. We tried to get the ball to him early and then play off the first or second ball but they are a good team with good players and sometimes it's not easy to break them down. We tried to play wide and on the counter attack but as I said they are a good team and you need to be at your best and play really well to beat them."

Asked after the game whether the real winner from this game was runaway leaders Chelsea, Benitez said his only concern is his team and making sure Liverpool keep improving.

"I am only interested in my team and we are improving," said Benitez. We are now at the same level as Manchester United and we will keep on improving."
---
SEPTEMBER 18
Fergie fears glimpse of future

TEAMtalk

Sir Alex Ferguson believes the intense rivalry between Manchester United and Liverpool is in danger of producing more dour stalemates.

Neither side looked like making the breakthrough in Sunday's affair at Anfield, with defences on top for the entire contest.

Ferguson said: "There was nothing wrong with the atmosphere between the players but maybe these games are too intense and too important now. You could see 0-0 written all over it from very early on.

"Maybe it makes it difficult for players to relax, particularly the forwards.

"Today I thought we had a good chance when Ruud [van Nistelrooy] got through and he opted for the chip.

"I asked him about it at half-time and he told me 'he (Jose Reina) was so off his line, I thought the chip was on'. He's (van Nistelrooy) normally spot-on with his decision making.

"Liverpool set their stall out making it very hard to break them down but we've got enough quality to do something about that.

"We showed good professionalism and composure but we just lacked the cutting edge."

Ferguson and Arsenal boss Arsene Wenger, rarely in agreement, have recently joined forces in suggesting the Premiership is in danger of suffering from a lack of entertainment with home sides reluctant to take the initiative.

But Ferguson added on Sky Sports: "It's early season and players are superbly fit at the moment.

"They are closing space down all the time but, come November, there will be more space and they will have got their passing going."
---
SEPTEMBER 18
Gerrard: We showed too much respect

TEAMtalk

Steven Gerrard has acknowledged Liverpool gave Manchester United too much space to play in the first half of Sunday's Premiership stalemate.

Sir Alex Ferguson's side had the better of the first half and although Liverpool improved after the turnaround, it ended goalless.

Gerrard said afterwards: "Maybe we showed them a little bit too much respect in the first half.

"But if you take too many chances and push men forward they (United) are that good on the counter-attack they can nick it 1-0.

"I think they will be happy to come to Anfield and get a point."

The England midfielder continued on Sky Sports: "I think it's a fair result.

"They controlled the first half and we pushed more in the second half without creating any clear-cut chances."

Gerrard himself had the best chance of the game with a long-range effort which was saved by Edwin van der Sar.

And the Liverpool midfielder continued: "I caught it well and saw it moving but it has to be right in the corner to beat van der Sar - he is a world-class goalie. You have to hit it perfectly to beat him.

"I thought we started the second half a lot better and were the better side in the second half."

Liverpool have now netted just once in four league games, although they have yet to concede a goal.

Gerrard said: "We'll keep working on the training ground and hopefully the goals will come."
---
SEPTEMBER 18
Old rivals in scoreless stalemate

By Mark Buckingham - Sky Sports

Liverpool and Manchester United lost further ground on Premiership leaders Chelsea after an abysmal 0-0 draw at Anfield.

The history between these two clubs always makes for an intriguing contest but there was little in the way of spectacle to excite a vociferous crowd.

Much of the drama occurred before kick-off when United captain Roy Keane made a shock return to the team after being expected to be sidelined for three weeks with a hamstring injury.

Edwin van der Sar's alertness snuffed out the danger when Steven Gerrard looked to latch on to Luis Garcia's early pass, while Ruud van Nistelrooy struck a free kick straight at Jose Reina.

There was a congested air to proceedings, with precious little quality to back up some stirring challenges to make the blood curdle in the first half.

Liverpool were the more adventurous of the two teams but relied heavily on the aerial presence of Peter Crouch who, too often, lacked support in attack.

Clever skill from John Arne Riise only resulted in a wild shot and Xabi Alonso was similarly inaccurate with a free kick in a dangerous area.

Jamie Carragher produced one superb last-ditch tackle to thwart the predatory van Nistelrooy before the United striker had the best chance of the first half a minute before the break.

Rio Ferdinand was the creative spark for the visitors, stepping out of defence to slip a precise pass to the unmarked van Nistelrooy but the Dutchman's chip over Reina only landed on the roof of the net.

Aside from a spurt by Wayne Rooney, the attacking impetus early in the second half resided with The Reds as Crouch tamely shot at van der Sar after he again used his height to good effect.

Liverpool captain Gerrard had largely been a peripheral figure but sprung into life on 55 minutes to feed Riise on the flank, and then charge into the penalty area to glance the Norwegian's cross over the bar.

Gerrard was slowly exerting more influence on Liverpool's game and tested van der Sar for the first time midway through the second half when his swerving shot from 25 yards was beaten away by the United keeper at full stretch.

The midfielder then displayed the creative bent to his game by threading a pass through to Luis Garcia but the disappointing Spaniard dragged his shot wide.

The same duo combined for another chance inside the final 10 minutes with Gerrard cutting in from the left to tease in a cross which Garcia headed past the upright.

Finally, the dirge was broken by the full time blast from referee Rob Styles' whistle who, it must be said, policed the game in a commendable fashion.

It was a game neither team deserved to win, or were ever in danger of losing, and it is to be hoped that this is not a vision for the future of Premiership football.
---