---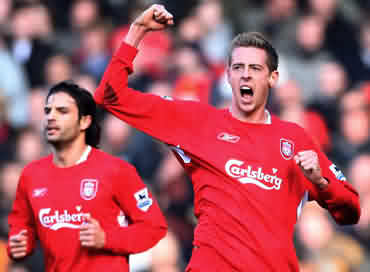 Peter Crouch celebrating his winning goal. (Photo: Reuters)
FEBRUARY 20
Benitez: I don't care if we get no credit

By Ian Doyle - Daily Post Staff

Rafael Benitez insists he couldn't care less that Liverpool are not getting the credit they deserve - as long as his team keeps winning.

The European Champions ended an 85-year wait for FA Cup victory over Manchester United on Saturday with a 1-0 fifth round win at Anfield.

Peter Crouch headed the only goal on 19 minutes to give Liverpool their third successive 1-0 win and end talk of a damaging slump after Premiership defeats at United, Chelsea and Charlton Athletic.

However, the plaudits have been slow in coming from many pundits for Liverpool, who face Benfica in the Champions League tomorrow night.

But Benitez is unconcerned, and he said: "I am not worried about not being given credit. I prefer to think about my team and believe in my players, and if they work hard then I am happy.

"I have a clear idea. The manager doesn't need people speaking about him. As long as we keep winning, I don't worry about what people say." Benitez was full of praise for his team's performance against United at the weekend, particularly a defence that kept a 27th clean sheet of the season.

"All the team played well," he said. "They started the second half with four strikers, and we almost played four against four at the back.

"The midfielders and wingers had to come back to support the defenders. We tried to push out, and we didn't play deep until the end when they were hitting long balls at us.

"United didn't create a lot of chances against us. They didn't have any clear-cut chances, only on some second balls.

"We put them under pressure, played with a high tempo all the time. That was important."

Amazingly, the last opposition player to score at Anfield was Chelsea's Geremi on October 2.

Liverpool had a possible penalty claim after their winning goal on Saturday when Harry Kewell was felled by a tackle from Ryan Giggs. Referee Howard Webb gave a free-kick, but television replays showed the challenge was marginally inside the area.

"It was inside the area, it was a penalty to Harry Kewell," said Benitez. "Watching it on the television, it looked like a penalty."

On whether defeating United could have an impact on the race with the Old Trafford side for second place in the Premiership, Benitez added: "Maybe we can talk about this in a month. At this moment, this was a good win for us looking ahead to the Benfica game. It could still all change next week when we play Manchester City, though.

"The most important thing for me is to see the team playing against the top sides at the same level or winning. It means that the team is stronger. We needed to win against the top sides, and now we are playing against them at the same level and beating them."
---
FEBRUARY 19
Agent: Alan will bounce back

TEAMtalk

Manchester United's Alan Smith has been told the horrific injury he suffered in Saturday's FA Cup tie at Liverpool is not career-threatening.

The midfielder's agent says Smith is managing to stay remarkably upbeat and has expressed his gratitude for the swift and largely sympathetic reaction from everyone at Anfield after he suffered the season-ending blow.

There were reports of taunts from sections of the crowd when Smith went down during the fifth-round clash after blocking a free-kick by John Arne Riise in the last minute of normal time.

It emerged that the England international had suffered a broken leg and a dislocated ankle, and required oxygen as he was treated on the pitch before being carried off on a stretcher.

He faces at least eight months on the sidelines, but agent Alex Black insists the player is in a positive frame of mind and was thankful for the support from the overwhelming majority of people present.

"I think Alan just wants to say that the treatment from Liverpool and all the Manchester United staff has been fantastic," Black told BBC Radio Five Live.

"He was aware of what was going on to a certain degree and he just wanted to say thank you to everybody for that."

He also told Sky Sports News: "He was a little bit delirious as he was coming off but he was able to recognise that not just the Manchester United fans but a lot of the Liverpool fans were giving him a good round of applause."

Black was adamant that although the injury looked horrific, Smith has the right mentality to make a full recovery.

"I spoke to Alan last night and he was in reasonably good spirits," he added.

"As soon as Alan stays down for any injury, you know it's something quite serious. As they called everybody over, you feared the worst and when you see the pictures, it confirms it a little bit.

"He managed to stay in control of himself, despite what must have been excruciating pain. What appears to have happened is when he dislocated his ankle, the force of that actually broke his leg just above his ankle as well.

"We're hopeful that the pictures look a lot worse than (the injury) actually is. The two injuries individually are both serious but they're not major, major injuries and can be treated in a relatively straightforward way, but the two together make it a long healing process for him.

"Certainly from what Alan has been told, we're not under the impression that it's at all career-threatening. It will be a long process to come back but if anybody is going to come back from it, it'll be Alan.

"He is tough, not just physically but mentally as well, so he's already started to talk about how quickly he can come back and get himself going again.

"He's having his operation on Sunday morning which will put him in a pot for six to eight weeks and then they'll know the extent of the damage to his ligaments as soon as it calms down."
---
FEBRUARY 18
Crouch: Scoring the winner is so special

By Paul Eaton - LFC Official Website

Peter Crouch reflected on his FA Cup winner against Manchester United and admitted: "That's probably the biggest goal of my career."

Crouch stooped to head past Edwin van der Sar after 18 minutes of today's Cup clash to net his first goal of the year.

It proved to be the winning strike on the day the Reds celebrated beating United in an FA Cup tie for the first time in 85 years.

"Liverpool against Man United is probably the biggest fixture in English football and so to get the winner is something special," said Crouch.

"We were heartbroken to lose in the last minute at Old Trafford in the league and so this makes up for that.

"I thought we deserved it overall. We competed with them, played at a high tempo and probably created more chances. It's a great win for us and one we are going to enjoy."

Crouch was forced off the field for a couple of minutes in the second half as stitches were applied to a nasty head wound.

"It doesn't look pretty above my eye," he added. "The doctor did well to get me back out there playing as quickly as possible again.

"It'll probably feel a bit sore tonight but I'll take that in return for us winning the game."
---
FEBRUARY 18
Rafa hails Reds fans

By Tom Adams - Sky Sports

Rafa Benitez praised Liverpool's fans after The Reds beat arch rivals Manchester United 1-0 to reach the FA Cup quarter finals.

Peter Crouch claimed the crucial strike in the first half as the men from Merseyside beat their Mancunian opponents for the first time in the competition since 1921.

Spanish boss Benitez hailed the club's vociferous support for firing his team on, and praised his players for controlling the game against a lacklustre United.

"After 85 years to beat Manchester United is fantastic," Benitez told the club's official website.

"We need to enjoy this win with our supporters and we deserved it. Our supporters were fantastic and the team responded to them.

"For me team work was the key and we worked really hard all game.

"When you play against the top sides you need to play at a high tempo. We controlled the first half and scored a good goal and created some good chances.

"Manchester United didn't create clear cut chances and we defended well. We have a lot of confidence and it is really good for the team and the supporters."
---
FEBRUARY 18
Crouch stoops to conquer United

By Tom Adams - Sky Sports

Liverpool claimed their first FA Cup victory over Manchester United for 85 years with relative ease as they confirmed their place in the quarter finals with a 1-0 win at Anfield.

A first half Peter Crouch header gave The Reds revenge for the defeat at Old Trafford in January that saw Gary Neville charged by the FA for his controversial celebrations.

However there was little cause for joy for the United skipper in the latest instalment in one of English football's most heated derbies, as a shaky backline contributed to United's exit from the competition they have won on 11 occasions.

Indeed matters were compounded for the visitors in the final minutes as substitute Alan Smith had to be stretchered off after a nasty looking leg injury that caused considerable concern in the Red Devils' ranks.

Neville was predictably the recipient of some heavy booing after his antics at Old Trafford, and the England international was also on the receiving end of a crunching challenge from Harry Kewell within four minutes that could have yielded a booking for the Australian international.

The opening exchanges were not quite providing the spectacle expected of this clash between English football's most successful teams, but Portuguese winger Cristiano Ronaldo attempted to inject some energy into the affair as he unleashed a low drive that Jose Reina grabbed at the second attempt.

Liverpool maintained an aerial bombardment with a series of John Arne Riise throw-ins and Gerrard set-pieces, and were millimetres away from taking the lead when Edwin van der Sar dived to tip away a Kewell header with the very ends of his fingers after a dangerous free-kick from the Reds captain.

However from the resulting corner Crouch was on hand to become the first Liverpool striker to score in 2006 as he sent Anfield into raptures on 19 minutes.

Gerrard's short corner saw Steve Finnan find the gangly hit-man unmarked, and van der Sar was unable to replicate his previous heroics as his touch failed to prevent Crouch's header going in off the post.

United were keen to respond immediately but were struggling to test Reina, and Riise did well to block a Wayne Rooney effort after Darren Fletcher had played the young star in on the edge of the box.

However it was Liverpool who posed more of a threat as a United backline shorn of Rio Ferdinand due to injury looked uneasy on a number of occasions - although Nemanja Vidic produced a good block to prevent Fernando Morientes a sight at goal just after the half hour mark.

Just a minute later The Reds should have had a penalty when Ryan Giggs received a yellow card as he came through the back of Kewell, and, from the Gerrard free-kick given instead, Finnan was lurking unmarked at the far post and only found the side netting as he wasted a glorious volleyed opportunity.

Mohamed Sissoko also attempted an ambitious long range effort as Liverpool ended the half firmly on top to give Ferguson plenty to ponder at the interval.

The Scot responded to his side's troubles by introducing French striker Louis Saha for defensive compatriot Mikael Silvestre, but the defensive jitters continued early in the second period when Wes Brown headed just over his own bar from a Riise cross.

His central partner Vidic, new to the club in January, also looked uncomfortable and a lack of communication between the Serbia & Montenegro international and van der Sar allowed Crouch to steal in and a hook a long leg around the defender - although his effort crept wide of the post with the United keeper stranded.

Seemingly lacking inspiration, the visitors suddenly threatened as Neville delivered a top-quality cross from the right that Finnan intercepted with Ruud van Nistelrooy waiting to tap into an empty net.

Sami Hyypia then found his name in the book after a challenge on Neville, and from the resultant Giggs free-kick Rooney, puzzlingly left unattended on the edge of the box, pulled his drive wide.

Despite their brief flurry United still looked shaky at the back, and van der Sar flailed at an attempted punch to set up a run of play that saw Crouch head weakly at the Dutchman from another Gerrard corner.

Van Nistelrooy was enduring a frustrating afternoon as he turned neatly before losing the ball in the box, and was later denied by an offside flag after a neat through-ball from Saha.

For Liverpool both Sissoko and Kewell pulled shots wide across the face of goal when they should really have given van der Sar a stern test, but United's defence were failing their own examination as both Neville and Vidic were shown the yellow card for clumsy challenges on Kewell and Luis Garcia respectively.

The ongoing Feud between the United captain and Liverpool's Australian winger continued as Kewell also sustained a yellow for a clattering piece of retribution, whilst Ferguson's men looked to be finding their range when van Nistelrooy saw an overhead kick deflected wide by Jamie Carragher before Giggs fizzed a strong volley just over.

The Welsh star also saw a free-kick hit the wall, with Ronaldo also unable to beat Reina from a drive, before United's woes were compounded by a nasty injury to substitute Alan Smith.

Play was delayed for a lengthy spell as the midfielder was attended to on the pitch, with Smith appearing to sustain substantial damage to his ankle after blocking a Riise free-kick and landing on his left leg.

Seven additional minutes were added after Smith was stretchered off the field of play, but United were unable to threaten in what remained of the tie as they bowed out of the FA Cup at Anfield.
---