---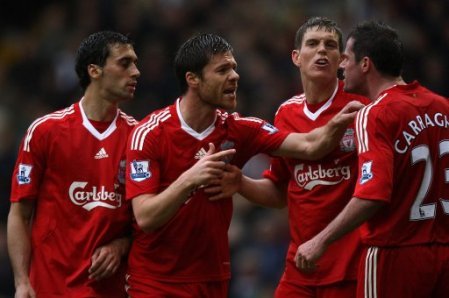 Xabi Alonso (centre) acts as peacemaker after an argument between teammates Jamie Carragher (right)
and Alvaro Arbeloa (left). (Photo: PA)
MAY 17
Carra explains
Arbeloa exchange

By Paul Eaton - LFC Official Website

Jamie Carragher has insisted Pepe Reina's bid for this season's Golden Glove award was behind his on-field disagreement with Alvaro Arbeloa during Liverpool's
2-0 victory at West Brom.

Goals in each half from Steven Gerrard and Dirk Kuyt secured victory for the Reds at The Hawthorns - and ended the Baggies' stay in the Premier League.

West Brom fought hard for a way back into the game in the latter stages, and created a number of chances which had Carragher seething with frustration.

"We can't win the league now but there are a number of targets we can aim for," said Carragher after the game. "We want to keep a clean sheet and we want Pepe to have a chance of the Golden Glove for the third season running. Pepe is one behind Van der Sar now and there's a chance Van der Sar won't play next week, so we wanted to make sure he got a clean sheet today.

"To be honest we were a bit lackadaisical in our defending all through the game and they had too many chances.

"Maybe we took it a bit too easy and let them attack us too much, but that was one of the toughest games I've played in all season. We go all over Europe playing top teams and we play against the best sides in this country, but that was one of the hardest games we've had."

Carragher admits he's disappointed Liverpool's title chances have been ended for another season, but he's already looking forward to the prospect of making another challenge next year.

"It's hard to win the Premier League because our top four sides plus Barcelona probably make up the best five sides in Europe," he said. "That's the challenge we face.

"You can look at the statistics from this season and it's impressive that we've only lost two games and scored lots of goals, but United have got more points than us and credit to them because that's what matters.

"We have to make sure we finish second now and win our last game of the season next weekend."
---
MAY 17
Benitez hails Reds'
winning mentality

By Richard Buxton - Shanklygates

Rafael Benitez has paid tribute to his Liverpool players following the 2-0 victory over
West Bromwich Albion.

The Reds' manager said that the onfield scuffle between Alvaro Arbeloa and Jamie Carragher during the win at The Hawthorns was a sign of the club's winning mentality that will stand them in good stead for next season.

"You could see Carragher and Arbeloa because we wanted a clean sheet and they were a little bit nervous," he said.

"Arbeloa was going forward and then we had some problems in defence. We wanted to protect Pepe Reina because now I think he has 20 clean sheets - van der Sar has 21.

"It's a positive message in terms of the mentality of the team. We wanted to show character and a winning mentality.

"We were looking for some targets: 83 points, a club record in the Premier League; 13 victories away - also a record. We also wanted to score goals and keep a clean sheet and for us I think this guarantees second position. We also wanted to stay as close as possible to United."

Despite accumulating 83 points - their highest ever tally in the Premier League - Benitez talked about the difference between the Anfield outfit and champions Manchester United.

"Small details, little things," he admitted, when asked about what cost his team the title race.

"We have talked about the draws. Against Stoke we scored in the first minute and it was disallowed. It could have been different with the form we've been in at the end of the season.

"United have quality - especially on the bench. Against us they had Scholes, Giggs and Berbatov on the bench. You can change two or three players easily. We have less of these kind of players, though I am really pleased with my squad and really proud of what we've done this season.

"I will say congratulations to Manchester United - it's a good club, a big club."

Looking back on the season as a whole, Benitez mused: "It has been very positive in terms of the performance of the team during the whole season. We had some problems for maybe one month but, especially at the end of the season, and often without Torres and Gerrard, it has been very positive.

"If you analyse things properly you see that 83 points is massive. United is a very strong team with a big squad. They've won a lot of games 1-0, games which could have been different.

"But over nine months you usually finish where you deserve."
---
MAY 17
Baggies relegated
after Reds defeat

By Toby Davis - Setanta Sports

West Brom were sent packing from The Premier League as Liverpool put the disappointment of missing out on the title behind them to deliver a knock-out blow to Tony Mowbray's side.

The Reds overcame the heartache of seeing Manchester United lift the Premier League trophy on Saturday to stroll to a 2-0 victory at The Hawthorns without breaking into a sweat.

After a bright start to the game, the hosts pressed the self-destruct button as Shelton Martis made a horrendous mistake to allow Liverpool to take the lead through Steven Gerrard.

And Dirk Kuyt rounded off proceedings in the second half with a sharp finish form outside the area.

The Reds' victory was soured somewhat, however, by an unsavoury incident as the game drew to a close with defenders Jamie Carragher and Alvaro Arbeloa given a stern talking to by referee Martin Atkinson for having an on-pitch scuffle.

Carragher took exception to some sloppy defending from the Spaniard to give him a piece of his mind, before the pair had to be dragged apart by Xabi Alonso.

But it made not a jot of difference to the scoreline as there was no way back for The Baggies who have been relegated for the third time in Premier League history.

If there was one man who wanted Manchester United to win the title yesterday more than their relentless manager, it would have been West Brom boss Mowbray.

The prospect of taking on Liverpool with this year's Premier League trophy already out of their reach no doubt appealed to The Baggies boss more than facing a side still capable of snatching a first league title in 19 years.

While Benitez protested prior to kick-off that there would be no letting up, it seemed almost inevitable that a certain sluggishness would have crept in after United dealt them such a crippling psychological blow.

And if the hosts could see a glimmer of light at the end of what was a very dark relegation tunnel then the opening minutes at The Hawthorns would have had the effect of handing them a shovel and telling them to get digging.

The Great Escape, as it is perennially dubbed, was on, and all they had to do was snatch their chance.

But when you have dwelt in the nether regions of the table for so long, taking chances when they crop up is often harder than it looks as Jonathan Greening ably demonstrated just four minutes into the encounter.

A corner from the right, floated to the far post, evaded all Liverpool's static defenders and found Greening charging in behind them. The Baggies midfielder had two chances to stick the ball in the back of the net, but Reds keeper Jose Reina pulled off two superb stops to deny him from close range.

And it was then the turn of defender Carragher to come to Liverpool's rescue as he stretched out a leg to clear a cross from Greening that had already whizzed past their keeper.

Liverpool had looked second best, but with West Brom unable to find the breakthrough their football deserved, you sensed it was only a matter of time before The Reds were dragged from their slumber.

And it was sleepy defending from the hosts that almost did just that. A freekick from Gerrard went through a crowd of Baggies defenders to find Torres at the far post. The Spain striker's volley was blocked while Emiliano Insua's follow-up was also deflected to safety.

It was a warning that despite their inauspicious start to the game Liverpool still posed a tremendous threat given the talent they had on the pitch – a warning that clearly wasn't heeded by Martis who gifted Liverpool the lead with a nightmare gaffe.

The defender took possession 15 yards outside his own area, when he inexplicably turned into Gerrard, who robbed him of the ball, strode forward and flicked a delicate finish over the advancing Dean Kiely and into the back of the net on 27 minutes.

It was a cruel blow for the hosts who were now staring relegation square in the face, with little to suggest they could find a way back into the game.

And Liverpool started to turn the screw without so much as breaking into a sweat. Torres almost extended the lead four minutes before the break when his header from a Gerrard cross was tipped over by Kiely, while Jonas Olsson was lucky to stay on the pitch and give away a penalty in first-half stoppage time.

A minute after being booked for a cynical obstruction on Torres, the defender barged into the back of Gerrard sending the Liverpool skipper tumbling to the ground in the penalty area. Perhaps the referee took pity on The Baggies as he turned a blind eye to the transgression.

The second half seemed to be heading the same way as the first as Liverpool looked to increase their lead with Torres twice going close, before the hosts missed a fantastic opportunity to draw themselves level.

Juan Carlos Menseguez was fed through the middle and bore down on Reina before choosing to pass back across goal rather than beat the Liverpool keeper himself. His square ball was heading for Marc-Antoine Fortune before Lucas Leiva got back to challenge.

It would prove to be a costly miss as Kuyt hammered the final nail into The Baggies' Premier League coffin midway through the second half.

The forward-cum-winger shaped to pass to Fernando Torres but took the ball on and fired past Kiely with an unstoppable drive from outside the area.

That was effectively that for West Brom's Premier League status, but it certainly was not the end of the drama and incident.

Liverpool could and should have extended their lead when Lucas was denied by Kiely when through on goal, while Brunt hit the woodwork for The Baggies and Fortune headed over.

But if this game did not matter to Liverpool, then someone should have told Carragher and Arbeloa who exchanged angry words and half-hearted blows after the former judged the latter to have failed to close down Fortune quick enough when the ball fell to The Baggies' striker in the box.

Further opportunities came and went for both sides as Fortune had the ball in the net before being adjudged offside and substitute Ryan Babel curled a shot wide when found in acres of space at the far post with minutes remaining.

The Baggies fans took relegation on the chin, chanting Mowbray's name at the final whistle, but ultimately their failure to turn good football into chances and goals cost them their top-flight status.
---