---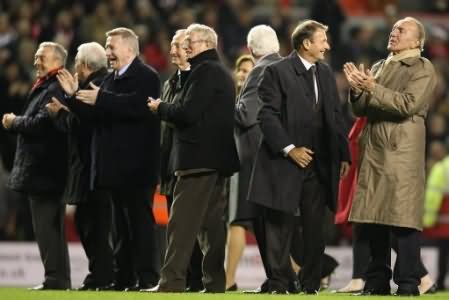 LFC legends at Anfield to celebrate Bill Shankly. (Photo: PA)
DECEMBER 18
Benitez the master tactician
must learn from the master
motivator of Liverpool FC

Comment by David Prentice - Liverpool Echo

There was irony mixed in among the emotion at Anfield on Wednesday night. Irony because Liverpool fans came to salute the greatest of man motivators, at a time when they have the polar opposite, a master tactician, running their football club.

Rafa doesn't do Chairman Mao-style public addresses. He doesn't invite media men to come in and walk around his new centre-half. He'd rather study a match video than linger in a football stadium corridor so he could tell his players the opposition centre-half looks tired.

He's no less a boss for it.

Cards on the table, I'm a Rafael Benitez fan.

His ability to analyse a match, dissect the tactical nuances and impart match-winning information onto his players is unmatched.

That's why he has a Champions League win, an FA Cup, two La Ligas and a UEFA Cup on his CV, plus the closest any Liverpool manager has come to landing the Holy Grail in 20 years.

But there are times in every manager's career when you need to let that controlled mask slip, show a little of yourself.

Arsene Wenger discovered that last Sunday – and was pleasantly surprised by the outcome.

Surely the time is right now for Rafa to do the same.

Not by telling the players they're unfit to wear the shirt, but by putting a consoling arm around them and telling them they're the greatest Liverpool team of a generation.

It doesn't have to be true.

Bill Shankly didn't really think Ron Yeats was seven feet tall, but he made him feel that way.

And Liverpool crave confidence like I crave a date with Katherine Jenkins.

You could reach out and touch the anxiety inside Anfield on Wednesday. Nerve ends were frayed. Mental states were shredded.

The stadium was just one clean Jason Scotland connection away from meltdown.

Happily the Wigan striker produced a passable Christian Benitez impersonation from 24 hours earlier and Liverpool survived. So did their fragile confidence.

The cool, almost calculating way in which Liverpool's Benitez treats his stars has passed into Anfield folklore.

He disputes the description.

"When a lie is repeated many times, people start to believe it," he declared.

"Believe me, I say well done to them when they do well, especially after a win. I have said it hundreds of times. I must say, I was surprised to read what Fernando (Torres) said about me congratulating him on a goal against Chelsea when he thought I was referring to the birth of his baby.

"I did talk about the goal, but I also said congratulations about the baby. I think sometimes they have a book to sell and have to write something!"

The number of players who have perpetuated the image of Benitez as some kind of footballing Dr Spock, however, suggests there is something to it. The game at the highest level is more pressurised, more mentally demanding and more intense than it has ever been.

Sometimes players need a pat on the back from the boss.

Bill Shankly recognised that – unless you were injured, of course, when you ceased to exist.

Rafa Benitez needs to recognise it as well.

But perhaps the penny is dropping.

Last week, on the eve of Steven Gerrard's 500th match for the club, Benitez told this newspaper that his skipper was one of the "greatest players in the world."

Gerrard appreciated the gesture far more than a DVD of his errors.

That man who made the people happy had a point.
---
DECEMBER 17
Kuyt keen to push on

Sky Sports

Dirk Kuyt has urged Liverpool to build on their victory over Wigan and go on a winning run.

The Reds suffered a disappointing defeat at home to Arsenal on Sunday before bouncing back with three points in midweek.

Rafa Benitez's men showed glimpses of their best form as they overcame the Latics 2-1 thanks to goals for David Ngog and Fernando Torres.

Kuyt was pleased with the result and performance and has called for more of the same in Saturday's away game against Portsmouth.

"It's a really important win. We showed we wanted to win and played good football for most of the game," the Dutchman told Liverpool's official website.

"Maybe we could have scored a few more goals, and we are disappointed to have conceded, but the most important thing is winning and that's what we did.

"A victory will always lift confidence, but we live from game to game now and we just needed to make sure we beat Wigan.

"We can enjoy this result, and then we have to do the same again on Saturday and try to start a winning run of form."

Kuyt admits Liverpool cannot afford to look too far ahead as they strive to climb the table from their current position of sixth.

"We just wanted to win against Wigan and then take it from there," he explained.

"The situation for us now is to look from game to game, so we are very happy to have got the three points and now we can't wait to play again this weekend.

"For us, every game is very important, so in that respect nothing has changed, but we need a couple of victories and we definitely want another three points against Portsmouth."

Kuyt also praised the display of Wigan goalkeeper Chris Kirkland after twice being denied by brilliant saves from the former Liverpool man.

"Kirky is a very good goalkeeper and he made two great saves from me," said Kuyt.

"I was unlucky not to score, but winning the game was the most important thing."
---
DECEMBER 17
Torres can fire us up
the table says Mascherano

By Dominic King - Liverpool Echo

Javier Mascherano today hailed Fernando Torres' return to goalscoring form and predicted the Spaniard will spark a change in Liverpool's fortunes.

The Reds' leading striker climbed off the bench to mark his 100th appearance for the club with the crucial second goal in last night's 2-1 win over Wigan Athletic.

It was Torres' first goal since he rifled in during the 3-1 defeat at Fulham on October 31 and he again showed signs that he is nearing a return to his best after a groin problem.

When Torres came on to replace fellow goalscorer David Ngog, a subdued Anfield crowd instantly lifted and Liverpool's play upped a gear.

Now Mascherano is hoping the £20m man will repeat last season's heroics at Fratton Park – Torres scored twice in a dramatic 3-2 win – when they go to Portsmouth on Saturday.

"It is so important for us that Fernando stays fit," said Mascherano, who again played a hugely instrumental part in Liverpool's performance.

"We know that we can win games when he is not playing but, equally, when he is on the pitch, you can see the respect that other teams give him.

"He causes them so many problems. With Fernando and Stevie (Gerrard) on the pitch, we know that there is always a chance something special can happen.

"It is so good for our team and the confidence they give us. When they are not in the squad, others have to do their job and David Ngog has been doing his job really well.

"But the key players are the key players and you cannot change that. We need to keep the key players fit for the rest of the season."

It was a poignant night at Anfield as the club celebrated the 50th anniversary of Bill Shankly's first match in charge but the game itself was not a classic.

Having taken the lead through Ngog's header, Liverpool failed to press home their advantage and needed Torres to come to their rescue to give breathing space.

Mascherano, though, was quick to point out that winning was all that mattered after Sunday's defeat against Arsenal and now the momentum must build.

"The most important thing was to win because we needed it," said Mascherano. "We want to play better and improve, so it is important that we keep going.

"We will see if we can win at Portsmouth and if we can do that, it will be three amazing points. There has been a little bit of pressure but top players have that all the time.

"We cannot forget that Stevie and Fernando have been coming back from injury and it is important to have them in the squad as they are important for us."
---
DECEMBER 17
Relief as Reds finally get
a springboard for recovery

Comment by Dominic King - Liverpool Echo

On the night they came to pay tribute to the man who made the people happy, at long, long last the people finally had something to smile about.

While Liverpool may not have been able to conjure up a display befitting the occasion, thanks to a combination of hard work and perseverance, the match closest to the 50th anniversary of Bill Shankly's first as Liverpool manager was marked with a win.

This 2-1 dismissal of Wigan Athletic will live in the memory banks only for the fact some of the club's most famous sons returned home, but there should be no underestimating its importance.

Having been caught in a maelstrom ever since Chelsea flattened them at Stamford Bridge on October 4, the Reds needed a helping hand from the footballing gods and, mercifully, they got one.

The night may have been billed as a celebration and the sight of heroes from the 1965 and 1974 FA Cup winning sides on the pitch before kick-off was designed to stir the crowd but, given what has happened recently, bonhomie was in short supply.

If anything, apprehension ruled; Anfield was eerily quiet for much of the contest, with little encouragement being offered from the stands; the first time it became apparent the stadium was full was when a loud groan greeted a misplaced Steven Gerrard pass.

Yet their apathy was understandable. Those who had made their way to the ground could scarcely believe the starting line-up did not include Fernando Torres, with many feeling Rafa Benitez had taken a gamble that was in danger of back firing.

No wonder. The mind instantly flashed back to those games in Torres' first season when he was dropped to the bench against Portsmouth (away) and Birmingham (home) so he could have a rest; you will remember both ended in scoreless draws.

Had Liverpool fluffed their lines last night, the pressure on Benitez would have become almost intolerable, as his many critics would have seized upon Torres' absence as another stick with which to beat the embattled Spaniard.

Torres, clearly, is still some way short of peak fitness and in all likelihood every week from now until the end of the season is going to be littered with bulletins on the groin problem which has proven so troublesome.

But Benitez, remember, is not a compulsive gambler and there is no chance with his team in such "a bad moment" that he would have sabotaged his own position by deciding to give his sharpest shooter a night on the touchline.

No. He has maintained all along that Torres will need managing to get him on the pitch as often as possible without undergoing surgery and if it means he cannot start two games in the space of four days, that particular pill must be swallowed.

Thankfully the man who took over from him was up to the task; David Ngog has improved in leaps and bounds in the past couple of months and his decisive intervention after 10 minutes helped settle nerves.

Fabio Aurelio's inviting cross from the right touchline demanded a finishing touch be applied and Ngog took advantage of Chris Kirkland's indecision to glance a deft header into an unguarded net.

It would be wrong to start making bold predictions about what Ngog might do in the future but for a 20-year-old to have scored six goals already at this stage of the season in a team that has struggled is a hardly a bad return, is it?

People are right to lament the board's failure to give Benitez the cash he needed in the summer to buy a second proven striker but the young Frenchman has done everything he possibly can to take some of the pressure off.

He was central to Liverpool's best moments as an attacking force during a first period that could be kindly described as uneventful and, with better fortune, Ngog might have doubled his tally before the break.

Full of running and youthful enthusiasm, Ngog dragged one chance the wrong side of the post after seizing on an Aurelio pass which ricocheted off Hendry Thomas, while he also turned provider for Dirk Kuyt but the Dutchman's shot was beaten out by Kirkland.

His critics say he is not strong enough to cope with the intensity of 90 minutes yet and Benitez has admitted regular sessions in the gym are pencilled in to build Ngog up, but he started the second period just as strongly as he finished the first.

Evidence of that came when, on 51 minutes, he and Kuyt combined thrillingly on the right, Ngog firing an instant cross back to his strike partner after an adroit flick sent him scurrying away; unfortunately, Kirkland's parry was as spectacular.

There is no doubt much of the ovation that swept around the stadium when he was replaced by Torres midway through the second period was for Liverpool's number nine but few could dispute Ngog's efforts deserved recognition.

As much as Liverpool were pressing for that all important second goal, however, you never once felt the situation was one with which the crowd were comfortable, every stray pass or skewed drive being greeted with exasperated groans.

Never was that more evident than when Jamie Carragher was forced to pass back to Pepe Reina from just inside his own half, as there were no options available to him in midfield and the closer they got to full time, the more uncomfortable it became.

Anfield's inspirational qualities have been lauded on these pages many times before but, in times of adversity, the expectation with which the club is burdened can almost become suffocating and there is no disputing the crowd was close to turning.

Heaven knows what might have happened had Wigan substitute Jason Scotland found the back of the net rather than hitting the bar when presented with an open goal but, fortunately, we will never know as Torres came up trumps just when he was needed.

Charles N'Zogbia did his best to cause palpitations when squeezing a shot past Reina in injury time but Liverpool were able to cling on to three precious points; they must be used as the first shoots of recovery.
---
DECEMBER 17
Returning heroes help
Liverpool FC win again

Comment by James Pearce - Liverpool Daily Post

If Liverpool's players were in search of inspiration last night they didn't have far to look. On a night of nostalgia at Anfield the club's legends were out in force to mark the 50th anniversary of Bill Shankly's arrival and celebrate the legacy he left.

From 60s Kop heroes like Roger Hunt, Ian St John, Tommy Smith, Ron Yeats and Ian Callaghan to 70s stars like Phil Thompson, Steve Heighway and Kevin Keegan.

Players with more medals than grey hairs who helped Shankly achieve his dream of turning Liverpool into the most successful club in the land.

Some of the most lauded names in the club's illustrious history formed a guard of honour to applaud the current crop on to the field last night.

It had the desired impact as Liverpool returned to winning ways and re-ignited their charge for Champions League qualification.

On a night when past successes were commemorated, there were at least some signs of promise for the future.

It wasn't convincing and victory over Wigan will hardly have the other top four contenders quaking in their boots.

But with confidence having hit rock bottom following Sunday's miserable defeat to Arsenal, Rafa Benitez's side at least displayed the kind of battling qualities Shankly would have applauded.

David Ngog's sixth goal of the campaign broke the deadlock early on but there were some nervy moments before substitute Fernando Torres marked his 100th appearance for the club by settling the contest late on.

Charles N'Zogbia halved the deficit in stoppage time but Liverpool deservedly held on to claim their first home win since the visit of Manchester United in late October.

Benitez made three changes to the side beaten 2-1 by Arsenal. Two were enforced as Glen Johnson was sidelined by a thigh injury and Torres was deemed only fit enough to be on the bench.

Lucas dropped out of the starting line up for the first time in the league this season with Martin Skrtel, Emiliano Insua and Ngog handed a chance to shine.

The reshuffle meant Jamie Carragher shifting to right-back and a deeper role for Steven Gerrard in the centre of midfield alongside the impressive Javier Mascherano.

Benitez had demanded a show of character from his under-fire side and he got the response he was looking for as they flew out of the blocks.

They were unrecognisable from Sunday's second-half shambles as they moved the ball at speed, played at a high tempo and threatened to rip the Latics to shreds.

Dirk Kuyt had already gone close by the time Liverpool broke the deadlock on nine minutes.

Fabio Aurelio whipped in a perfect cross from the right and Ngog leapt highest to glance a header into the far corner.

Wigan had a golden opportunity to instantly wipe out the deficit but Paul Scharner nodded straight at Pepe Reina.

Liverpool responded to that let-off and continued to dominate. They went agonisingly close to adding to their tally.

Wigan arrived with the worst defensive record in the Premier League having conceded 36 times, including a recent 9-1 thrashing at Tottenham.

Midway through the first half their backline were caught napping by Yossi Benayoun's quick throw. Ngog raced on to it and picked out Kuyt in the box but former Anfield keeper Chris Kirkland denied his old club with a stunning save to turn the ball over the bar.

Mascherano epitomised Liverpool's spirit with a series of crunching tackles to win back possession and keep the visitors on the back foot. The Argentinian was knocked off his feet by Mohamed Diame's piledriver which hit him straight in the face but picked himself up to keep pulling the strings.

Wigan did briefly threaten on the counter-attack but when Jordi Gomez worked his way into space his 20-yarder was too close to Reina.

With full-backs Carragher and Insua getting forward well to offer an attacking outlet, Liverpool should have had breathing space before the break.

Benayoun narrowly failed to convert Aurelio's cross and then the lively Ngog burst through but dragged his shot just wide of the far post.

Players from the club's successful cup final teams of 1965 and 1974 as well as members of Shankly's family were introduced to the crowd at half-time, while bagpipers played an emotional rendition of Amazing Grace – the Scot's favourite piece of music.

But the best way to mark the half-century since the great man took charge was always going to be with maximum points.

And any concerns about a repeat of Sunday's capitulation against Arsenal were eased as Liverpool continued to keep a stranglehold on proceedings.

Kuyt must have thought he had added a second in the 51st minute when he hammered Ngog's cross goalwards but Kirkland produced another breathtaking save.

Benayoun and Ngog were inches away from converting crosses as supporters' frustration at Liverpool's failure to kill off the plucky Latics grew.

Benitez had seen enough and just past the hour introduced Torres for his 100th appearance for the club in place of Ngog.

However, as the game advanced Liverpool grew increasingly nervy and Wigan started to enjoy more possession.

Substitute Jason Scotland had already gone close when he squandered a gilt-edged chance to equalise in the 74th minute.

Liverpool failed to deal with N'Zogbia's free-kick into the box and Hugo Rodallega beat Reina to the high ball.

It dropped invitingly for Scotland but with the net gaping his volley bounced back off the bar.

Wigan were made to pay as five minutes later Liverpool wrapped up the points.

Torres pounced on a defensive error and out-paced Titus Bramble before rounding Kirkland.

Bramble did admirably to get back and block his shot, but was helpless to prevent the Spaniard tapping the rebound into the empty net from a yard out for his 49th league goal.

Alberto Aquilani came on for Benayoun in the closing stages and the Italian almost opened his account with an acrobatic overhead kick.

However, the home side blotted their copybook in stoppage time when N'Zogbia took advantage of some hesitant defending to slam home a left-footer.

It mattered little but was a reminder that there is plenty of work still to be done before Liverpool can claim to have turned the corner.
---
DECEMBER 17
Rafa takes points
over performance

ITV Football

Liverpool manager Rafael Benitez admitted the 2-1 victory over Wigan mattered more than the performance on an emotional night at Anfield.

With the club celebrating the 50th anniversary of legendary boss Bill Shankly's first game in charge, a host of former stars were paraded at half-time.

But having stumbled through the last two months Benitez said three points was the only thing his side had to worry about.

Young French striker David Ngog's 10th-minute glancing header from Fabio Aurelio's cross and Fernando Torres' second-half scrambled effort proved enough to see off the Latics, for whom Charles N'Zogbia scored an injury-time consolation.

The victory lifts Liverpool back up to sixth, although they are still five points adrift of the Champions League places.

It was only their fourth win in 16 matches and just their second at Anfield since September 26 but it will do much for the team's shaky confidence.

"It was very important to win, to get three points, with a lot of positives," said Benitez.

"It does not matter if we couldn't score more goals and be more relaxed in the second half but, at the end of the day, three points is key.

"We needed to get these three points and be ready for the next game. We are thinking about one game at a time so now Portsmouth (on Saturday) is the target."

Benitez explained he held back Torres for his 100th appearance until the second half as the striker is still feeling the effects of having missed six matches since the start of November.

"I wanted to keep him back because he was really tired after the last game (Sunday's defeat to Arsenal).

"I told him I wanted to protect him and it would be good for me to play him at the end and he was good too.

"I think he will be ready for Portsmouth."

Torres goal helped settle Liverpool's nerves and Benitez admitted confidence was still fragile.

"We had some chances - Yossi Benayoun had one, Ngog had one - and if you score the second goal everything changes," added the manager.

"The main thing for us now is talking about [winning] games in a row, starting at Portsmouth."
---
DECEMBER 16
Reds scrape nervy win

Sky Sports

Goals from David Ngog and Fernando Torres saw Liverpool scrape a nervy 2-1 home victory over Wigan on Wednesday.

Ngog opened the scoring on nine minutes when he headed home Fabio Aurelio's cross from the right.

But it then became a nervy affair for the home side who spurned a host of chances.

At the other end, substitute Jason Scotland hit the bar before fellow substitute Torres latched onto a back header from Emmerson Boyce and rounded Chris Kirkland before slotting home on 79 minutes, despite Titus Bramble's best efforts to stop him.

Charles N'Zogbia then netted a goal deep into stoppage time to set up a tense finale but the Reds held on for a crucial win, which raises them up to sixth, five points off the UEFA Champions League places.

The win in the week of the 50th anniversary of Bill Shankly's first match at the club would not have impressed the legendary manager but it was a welcome relief for current boss Rafa Benitez.

It was only Liverpool's fourth win in 16 matches and just their second at Anfield since 26th September but it will do much for the team's shaky confidence.

Although Ngog impressed in the first half the crowd eagerly awaited the arrival of substitute Torres for his 100th appearance, which eventually came in the 64th minute. The striker duly delivered with his 61st goal for Liverpool to wrap up victory.

Wigan have won two of their last 10 outings and are just two points clear of the relegation zone, having conceded more goals than any other Premier League team, with 17 in their last four away games.

In the absence of Torres, who was dropped to the bench after Sunday's defeat to Arsenal, Benitez switched to a 4-4-2 formation with Steven Gerrard playing in central midfield and Dirk Kuyt playing alongside Ngog.

Centre-back Daniel Agger sliced a 25-yard shot wide in the fourth minute while Aurelio's poor contact prevented him opening the scoring from 12 yards.

Cracked
However, the pressure was building and Wigan cracked in the ninth minute.

Aurelio's inswinging right-wing cross was met by Ngog just in front of Kirkland and he glanced a header past the former Liverpool goalkeeper and into the far corner.

Wigan midfielder Paul Scharner headed N'Zogbia's cross straight at Jose Reina before Kirkland redeemed himself for his misjudgement on the goal.

His brilliant 17th-minute reaction save from Kuyt after Yossi Benayoun's quick throw had released Ngog down the right prevented Liverpool adding a second.

But having taken the early advantage the home side laboured to extend it with Wigan happy to sit back and compress play into a 30-yard zone from the edge of their penalty area.

Javier Mascherano received the full force of Mohamed Diame's clearance square in the face and staggered around the centre-circle like a punch-drunk boxer for a few seconds but was able to continue after treatment.

Aurelio was the heart of most of Liverpool's chances and, after almost picking out Benayoun at the far post two minutes before half-time, he then set up a chance for Ngog.

The Brazilian's pass deflected off Hendry Thomas into the penalty area but the Frenchman's shot rolled inches wide of the far post.

To mark the Shankly anniversary Liverpool paraded a host of his former players during the interval, including the likes of Ian St John and Kevin Keegan.

If it was meant to inspire the current squad the impact was lost on Benayoun, who should have done better in trying to get to Aurelio's teasing left-wing cross.

Wigan counter-attacked quickly from Liverpool's corner and although Reina spilled N'Zogbia's shot he had time to recover.

Talent
In the 51st minute Kirkland again displayed the talent which, were it not for his injury problems, would probably have him in Fabio Capello's England squad as he somehow tipped over Kuyt's first-time shot on the run from Ngog's cross.

However, the arrival of Torres in the 64th minute for Ngog was to change things.

The Spain international immediately won a corner but Agger completely missed a five-yard header from Gerrard's cross.

Wigan should have equalised in the 74th minute when Hugo Rodallega and Scharner prevented Reina claiming NZogbia's free-kick but Jason Scotland, still to open his account for the club he joined in the summer, smashed a left-footed volley on to the crossbar and over.

Liverpool were gradually going backwards and their opponents sensed a chance to snatch a point.

However, that was snuffed out in the 79th minute by Torres. He was put clean through by Boyce's back-header from Jamie Carragher's punt and should have beaten Kirkland comfortably.

However, Titus Bramble got back to half-stop the ball on the goalline but somehow Torres scrambled it over for his 49th goal in 69 league appearances.

That statistic alone underlines how important he is to Liverpool.

However, in the second minute of injury time N'Zogbia ran across the penalty area to poke home a consolation to highlight just how shaky the Reds' defence has become.
---