---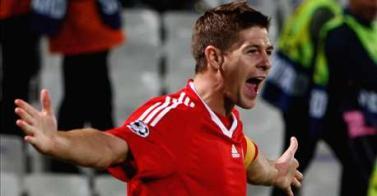 Steven Gerrard - fantastic again. (Photo: Allsport)
SEPTEMBER 18
Gerrard: Let's
keep our run going

By David Prentice - Liverpool Echo

Steven Gerrard has called on his Liverpool side to extend their remarkable recent run of results.

The Reds have lost just four matches in the calendar year 2008 – and in the 19 league games they have played since losing at West Ham last January have taken 46 points from
a possible 57.

That sequence surpasses Chelsea, 46 points from the same period, Manchester United (40 points) and Arsenal (38 points).

After Tuesday's Champions League victory in Marseille, skipper Gerrard declared: "I wasn't aware of our record, but that's what we try to do – go on runs.

"The league and the Champions League help each other out really – winning in one helps winning in another.

"I certainly feel we are stronger than last year. It was disappointing to lose in the semi-final then, and we want to go all the way this time, but it's important not to get carried away.

"We know we're a fantastic side in Europe and it's always difficult away from home. We didn't play well in the second half but you could see the character and togetherness. We just don't like getting beaten."

Just as it was on Saturday against Manchester United, Liverpool's team spirit was significant.

"The mentality we have is very positive," added the skipper. "The team was very confident after Saturday.

"Winning brings confidence, and in the changing room before the game I could sense we were going to get another positive result.

"We played well first half but in the second Marseille penned us in and we were under a lot of pressure.

"The real heroes were Jose Reina and the back four. They were tremendous. We understand we are going to be under a certain amount of pressure – but to be under pressure for 45 minutes, we will have to look at that. We stopped playing.

"They did not surprise us, we knew that they were a good team with small guys who are quick, get in good positions and pass around you. As a team, we were not good enough, but we are a force in Europe and even when we don't play well all the time, we get the results."

After his first start since a recent groin operation – and two goals, including one for his own personal Top 10 Goals collection – Gerrard admitted he was still short of his maximum.

"I have had a nightmare pre-season," he said. "I had problems with my groin throughout, but that's behind me now."
---
SEPTEMBER 17
Steven Gerrard - priceless
stock for Liverpool FC

By Tony Barrett - Liverpool Echo

On the day when the world's markets went into freefall the stock of Liverpool's most prized asset continued its inexorable rise.

Steven Gerrard's value to the club he has served with unstinting distinction was again all too evident as he ensured Liverpool's latest Champions League campaign got off to the best possible start with victory in Marseille.

A match winning brace against the only French side ever to lift the European Cup puts the Liverpool skipper on the brink of a century of goals in a red shirt – yet another honour for a player who collects them with an almost monotonous ease.

Having been consigned to only a late substitute's appearance in Saturday's momentous victory over Manchester United, Gerrard made up for lost time by producing a stellar first half performance which the French side could not live with.

As has so often been the case, when his side needed him most Gerrard was there as he grabbed career goals number 98 and 99 to turn a deficit into a decisive lead.

With Atletico Madrid also winning away from home in Group D, Liverpool now know that should they win all their home games they will make it through to the knockout stages with the minimum of fuss – and it is their captain and talisman they must thank for giving them such a solid platform to build from.

In a free flowing, end to end encounter Liverpool found themselves a goal down after 22 minutes when Lorik Cana took advantage of a hopelessly square Reds backline by coolly slotting past the exposed Pepe Reina.

Going behind in a stadium renowned for creating a passionate and partisan atmosphere was a recipe for disaster but in recent weeks Rafa Benitez's men have played their best football after the opposition have scored. So it proved again on this occasion.

No sooner had finger nails begun to be chewed in the away end than Gerrard popped up to score with a wonderful curling effort which brought back vivid memories of a near identical strike at Luton in the FA Cup three seasons ago.

In an instant the previously boisterous Stade Velodrome was silenced as the home fans sensed that Gerrard's intervention had instantly ended the momentum that Marseille were building.

Their sense of foreboding was proved uncannily accurate when Ryan Babel took advantage of some abject defending by Ronald Zubar before being brought down in the box by him.

Much more of this and the hapless Zubar will find himself a transfer target for the next Newcastle boss, whoever that may be.

Konrad Plautz duly pointed to the spot and Gerrard calmly tucked away the resultant penalty only for the Austrian official to rule the goal out because of encroachment by Dirk Kuyt.

If his first goal had been all about wonderful technique, Gerrard's second was about an ability to deal with pressure as he coped admirably with having to re-take the spot kick by stroking it into the very same corner of Steve Mandanda's net.

Had the game ended then, Liverpool's ability to come back from a losing position would have been the abiding theme, especially with them having repeated the trick for the third time in their last five outings.

But there was still another half of football to come and it is a half which will not live long in the memory for anyone in the Liverpool camp – well, not for the right reasons anyway.

Instead of building on their lead, the Reds started to defend deeper and deeper as a combination of not fully fit players running out of steam and poor passing took its inevitable toll.

Fernando Torres was far from his best after returning from hamstring trouble and it was no surprise when he was taken off shortly after the hour mark and was followed soon after by hero of the night Gerrard.

Without a duo who so often provide their thrust, Liverpool needed others to provide a cutting edge if they were to turn a slender advantage into a commanding one.

But with the otherwise menacing Babel unable to add a finishing touch to several promising moves the Reds were never able to put themselves out of reach of the plucky hosts.

Profligate at one end, Liverpool's concerns were added to by a lack of assurance and cohesion at the other and Pepe Reina was increasingly called into action as the match wore on.

Part of the problem was that Javier Mascherano simply did not have the energy to provide his usual defensive shield following his Herculean efforts against United – even the most vigorous of Duracell bunnies need the opportunity to recharge their batteries every now and again.

With this being the case, it was a surprise Benitez did not turn to Xabi Alonso to come on and restore order, but probably not as big a shock as the Spaniard's absence from the starting line-up as he made way for Lucas.

Like any manager, Benitez stands and falls by his decisions but unlike some of his contemporaries he could never be accused of picking a side to suit the fans or his critics in the press.

The case for Alonso's continued inclusion in his team may well have been compelling but the Reds boss is happy to ignore even the most persuasive of arguments when he feels there are better or more suitable options available than the obvious one.

The fact Liverpool have now lost just one of their last 18 games in all competitions – away at Chelsea in the Champions League semi-final last April – means he must be getting a lot more decisions right than wrong.

But had it not been for Reina's now customary excellence in the closing stages, Benitez would today be facing some serious accusations about why he allowed a clearly unfit Mascherano and an off the boil Lucas to toil in central midfield when he had Alonso on the bench.

Benitez and Liverpool got away with it though and the three points they secured in Marseille as a result put them in pole position to qualify for the knockout stages along with Atletico.

And should their captain continue to prove his undeniable worth, they could eventually go a lot further.
---
SEPTEMBER 17
Masch hails 'special' Gerrard

Sky Sports

Liverpool midfielder Javier Mascherano believes the 'special' qualities of team-mate Steven Gerrard help breed confidence at Anfield.

Reds captain Gerrard produced another virtuoso display on Tuesday as a spectacular equaliser and penalty conversion secured a 2-1 UEFA Champions League victory at Marseille.

The encounter in the south of France was Gerrard's first outing in the Liverpool starting XI since returning from a groin operation, and Mascherano was pleased to have his skipper back.

Mascherano recognises the ability of Gerrard and feels the England international is one of the best players in the world.

"Stevie is a winner and when you have a player like him you have to enjoy it and allow him to take responsibility," Mascherano told the Liverpool Echo.

"It is really good for us to have a player like him because you can play with confidence with him alongside you.

"He is a truly special player and there are not many players who can do so many good things for their team and score the kind of goals he scores."

Mascherano, though, was disappointed that Liverpool could not produce a performance on a par with that which defeated Manchester United last Saturday.

"It was a good victory for us," he added. "It was difficult because we did not play as well as we did against United at the weekend.

"Marseille played really well and had their fans behind them and it is never easy away from home, especially in the Champions League.

"But I the most important thing was the result because the victory means that we have made a good start which we will now look to build upon."
---
SEPTEMBER 17
Reina hails nerve of Gerrard

By Richard Williamson - Liverpool Daily Post

Pepe Reina believes Liverpool's greater strength in depth means they are better equipped then ever for success at home and abroad.

And in skipper Steven Gerrard, the Spaniard says the team benefits from a player capable of handling pressure in any situation.

It was Gerrard's double strike that ensured Liverpool's Champions League group campaign got off to a winning start in Marseilles.

The Anfield captain reached 99 goals for the club with one of his best ever strikes, a stunning equaliser from outside the box just three minutes after the home side had taken the lead. Then he held his nerve to successfully convert a twice taken penalty to turn the game on its head in the space of five minutes.

Reflecting on a second victory in two seasons at the Stade Velodrome, Reina said: "The nerve of Steven Gerrard is unbelievable. He showed he can handle the pressure in this situation. It was incredible."

Reina himself played a key role in the victory, blocking Niang's late shot when Marseilles seemed certain to equalise.

"We knew it would be tough because Marseille are a better side than they were last season," added the Liverpool keeper. "They were difficult to handle between the lines because they have skilful players with pace. They created problems for us but you expect that in Europe.

"It's a great start for us and it gives us the confidence to look forward. We are very happy.

"The positive thing is we have a winning mentality and players who can come in and do a job at the same level as those they are replacing. There is still a lot of room for improvement though and we have to keep working hard day after day."
---
SEPTEMBER 16
Gerrard: "We weren't good enough"

By Ben Blackmore - Setanta Sports

Steven Gerrard produced another European wonder show to get Liverpool's Champions League campaign off to the perfect start in Marseille, but he declared afterwards that The Reds "weren't good enough".

Gerrard curled a 25-yard dipper and then converted a penalty as The Reds played some excellent football to lead 2-1 at half time.

However, they finished the match feeling hugely fortunate to have retained that scoreline after Marseille created a host of good chances.

"We played well first half but second half they pinned us in and put us under a lot of pressure. The real heroes tonight were Pepe Reina and the back four who were tremendous for us," Gerrard told ITV.

"We understood we would be under some pressure, but to be under pressure for 45 minutes – we stopped playing. First half we passed it well, second half we stopped playing.

"We'll look at the tapes and see where we went wrong because second half we didn't pass it well enough.

"We knew they were a good side, but as a team we weren't good enough, except for the back five."
---
SEPTEMBER 16
Rafa: Win puts us in command

By Jimmy Rice - LFC Official Website

Rafa Benitez believes Liverpool are in a commanding position in Champions League Group D after recording a 2-1 victory in the Stade Velodrome.

The Reds are level on three points with Atletico Madrid after Steven Gerrard's brace in France.

Benitez said: "When you play only six games it is important you win the first. We have got three points from a very difficult game and that puts us in a good position in the group.

"I think PSV and Atletico will find it very difficult here."

Despite his delight at the result, Benitez claims his side can perform even better in the coming weeks.

And the Spaniard admits his side were 'lucky' when Mamadou Niang missed two gilt-edged chances in the dying moments.

"The team was good, we worked really hard in defence and played well on the counter attack. We had clear chances but they had chances as well," said Benitez.

"Pepe Reina was really good at the end and the positive thing for me is that straight after the game Steven Gerrard said on television that we can play much better. We played well but there is room for improvement.

"Marseille were a good team who played well, particularly in attack. We had some tired players and we made changes to keep things fresh but clearly we were a bit lucky at the end.

"The fact that we've come from 1-0 down to win again shows mentally we were very good and we can recover from difficult situations."

The other Group D fixture saw Atletico beat PSV 3-0 in Holland. Liverpool will now be hoping for a similar outcome when they host the Dutch side in two weeks' time.
---
SEPTEMBER 16
Super Stevie leads Reds rally

By Ben Blackmore - Setanta Sports

Steven Gerrard moved to within one goal of a magnificent 100 in a Liverpool shirt, but he will barely have hit many better in his 99 than the one that inspired The Reds to a 2-1 victory over Marseille.

Despite playing arguably their best football of the season in the first half at La Velodrome, Liverpool found themselves trailing to Lorik Cana's opener and contemplating another bad start to a Champions League campaign.

However, on the day that Gerrard was voted ahead of Kenny Dalglish and Kevin Keegan as Liverpool fans' 'best player in Europe', he fittingly showed why with a 25-yard beauty that encapsulated his perfect sense of timing, execution and sheer class.

Not satisfied there, the Liverpool skipper stepped up to convert the match-winning penalty, won by the excellent Ryan Babel, making The Reds huge favourites to qualify for the knock-out stages.

Rafa Benitez said after Saturday's win over Manchester United that his team would grow in confidence. He wasn't wrong. Liverpool's first half display boasted all the hassling and harrying on show against United, but there was added quality – mainly in the shape of Ryan Babel and Steven Gerrard.

Three golden chances in a pulsating three-minute spell should have seen The Reds cruising, but instead they found themselves in the familiar position of going a goal down.

Babel was the first to threaten for Liverpool, spinning instantaneously on Dirk Kuyt's pass inside the box to slam the ball over Steve Mandanda's bar.

Next came Gerrard, this time from a Kuyt flick, but Mandanda got down low to palm the ball behind. Then, from the resulting corner, Fernando Torres somehow headed over from five yards after Martin Skrtel had flicked on.

Worryingly for Liverpool, Lucas Leiva was struggling to stay close to his men at the other end, and Benoit Cheyrou cut the visitors to ribbons on 23 minutes – piercing the offside trap for Marseille captain Cana to slide past Jose Reina.

Liverpool were in no mood to panic though, they have been behind against Middlesbrough and Manchester United this season, and in Gerrard they have the world's best rescue man.

No more than two minutes after Marseille took the lead, Gerrard stepped up to Kuyt's lay-off and whipped the most perfect 25-yard curler across his body into Mandanda's far corner. Sublime.

Liverpool were back in the ascendency, looking dangerous with every attack – particularly with Babel ghosting in from the left, and it was the flying Dutchman who bamboozled his marker with a cunning stepover to win a penalty.

Gerrard stood up, gave the keeper the eyes and buried it. Halt the celebrations, the referee had ordered a re-take. Gerrard stepped up, gave the keeper the eyes and buried it - carbon copy. When there's a big moment, the Liverpool skipper always steps up.

The Reds, now in the lead, still had to be careful – Mamadou Niang was giving Skrtel a hard time and the striker almost equalised from Taye Taiwo's cross before half time.

Niang and Hatem Ben Arfa were causing Liverpool their biggest problems, the latter finding the kind of room Kaka was afforded in the 2005 Champions League final, while Niang was always on the shoulder.

Ben Arfa had to be removed 10 minutes into the second half, but Marseille's attack kept coming, with Anfield conqueror Mathieu Valbuena and Bakari Kone causing problems out wide, and centre back Vitorino Hilton really should have levelled on the hour mark when rising highest from a corner.

If that was a good chance, Ziani's moments later was even better, drilling over after Kone had laid it on a plate with a clever back heel.

Liverpool were under the cosh and Benitez needed a forward presence with Torres tiring on his return from injury, and the Spanish forward made way for Albert Riera with 25 minutes remaining thrusting Babel through the middle.

Twice the move almost paid off, first as Riera produced a trademark example of left wing play to cross for Babel, who was foiled at point-blank by Mandanda, and then moments later the Dutchman smashed against a post as Liverpool countered.

There were still two more moments of massive danger to withstand for The Reds though as Niang headed wide from close range, and then fired at Reina's feet in the dying moments.

Victory for Liverpool then and yet another European adventure begins, don't bet against that man Gerrard stealing the headlines come May 27.
---