---
DECEMBER 16
Crouch: I can't believe
how far I have come

By Chris Bascombe - Liverpool Echo

Peter Crouch admitted he is still coming to terms with his meteoric rise after claiming two goals as Liverpool secured their place in the Club World Championship final.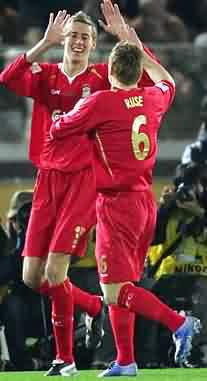 Two excellent strikes from the striker either side of a stunning Steven Gerrard volley completed a convincing win over Deportivo Saprissa for the European Champions, who now go on to face Brazilians Sao Paolo on Sunday.

And after a year that has led from relegation heartache to the brink of his first major honour, Crouch said: "It is competitions like these and the chance to win medals that was one of the things that convinced me to come to Liverpool.

"Just coming to a country like Japan and playing in the stadium that hosted the World Cup Final a few years ago is a new experience for me.


More celebration for Crouch. (Photo: Reuters)
"When I look back to what I was doing a year ago, this is a world of difference. We were fighting for our lives at the bottom of the table with Southampton back then. This is a totally different prospect.

"We are at the top. There are pressures attached to both, but I know which is more enjoyable. We are going great guns and a year ago I was scrapping for any kind of win.

"I have been settled at Liverpool for a while now and I've been doing the job expected of me, but just not scoring. I'm pleased with the two goals and the performance against Deportivo. The early goal settled us, and we never looked in danger of losing after that.

"It was a wait for me to get off the mark, but I'd like to think I contribute in other ways. But I still needed to be scoring goals as well, playing for a club like Liverpool.

"There was a time when I was not scoring, so getting that first goal settled me down, and I am going in to games more confident. I always felt I was doing the job, but hopefully I will contribute goals. That's what a striker is judged upon.

"I have a lot to thank the lads for. They have been top-class with me. I have settled in so quickly it's frightening. I want to do well for them. They have seen how I have been playing and what I have been doing for the team."

While Rafa Benitez took comfort from another impressive display from his striker, his defenders succeeded in re-writing the Anfield records. Pepe Reina's 11th consecutive clean sheet set a new milestone.

The number of tackles and interceptions made in the final minutes of yesterday's clash underlined how much it meant to the players.

"There was no way we wanted to give up the chance of the record," admitted Crouch. "Just speak to Jamie Carragher. He doesn't want to give up that record because the lads have done superbly at the back."
---
DECEMBER 15
Benitez proud to make history

Steve Hunter in Japan - LFC Official Website

Rafael Benitez has spoken of his pride for his team after seeing Liverpool keep a club record breaking 11 clean sheets in their 3-0 win over Deportivo Saprissa in the Club World Championship.

Benitez's modern day heroes beat the record previously held by Kenny Dalglish's 1987-88 team and the manager feels it is one the players thoroughly deserve.

Benitez said: "I think it is a very good achievement. Pepe Reina made some important saves and all the team worked hard for each other. The players deserve to go into the history books of a club like Liverpool I am proud of my team."

On the match itself Benitez feels his team will need to improve and step up a gear when they face Brazilian side Sao Paolo in Sunday's final.

"I am pleased with this result but we know we will need to play much better in the final on Sunday," retorted Benitez. "We made some changes in the second half and used the squad. Sao Paolo are a good team and we will need to be at our best on Sunday.

"I am pleased for Peter Crouch to score another two goals and I will always talk positive about him. He creates chances for others as well as scores goals and he is a player who gives a lot to us that maybe other players can't."
---
DECEMBER 15
Hero Crouch ready for Sao Paulo

BBC Sport Online

Peter Crouch says Liverpool need to mirror their performance in the Club World Championship semi-final win over Deportivo Saprissa in Sunday's final.

The Reds face Sao Paulo in Yokohama after beating Saprissa 3-0, a victory in which Crouch contributed two goals.

"Sao Paulo will be technical as well and we've got to get in and around them and hopefully we can get an early goal again," the striker told BBC Sport.

"It was a different kind of tempo but I thought we took to it well."

Crouch scored Liverpool's first, a sublime volley, after just three minutes and Rafael Benitez's team were all but assured of victory after Steven Gerrard put them two up before the break.

"I always thought the goals would come - it was just a matter of time," he added.

"They were good technical players, but once we got the early goal we always looked comfortable."
---
DECEMBER 15
BIG in Japan

By Chris Bascombe in Yokohama - Liverpool Echo

Steven Gerrard gave Japan a glimpse of what they missed in the 2002 World Cup as Liverpool's bid for glory in the Far East got off to the perfect start with a 3-0 win over Deportivo Saprissa.

The skipper scored a spectacular volley as the Reds dominated Costan Rican opponents to secure their place in Sunday's World Club Championship final.

Peter Crouch was also on the mark with a superb double. He gave Benitez's side a third minute lead which set the tone for a convincing victory in Yokohama.

But it was Gerrard's thunderous strike just before half-time which underlined the gulf in class between the sides.

Gerrard was forced to sit at home injured when England succumbed in the Far East three years ago, but the Anfield talisman made amends in club colours to help his side secure a final place against Brazilians Sao Paolo.

By keeping an 11th consecutive clean sheet, Pepe Reina also set a new club record for Liverpool.

As if any more proof were needed of how seriously Rafa Benitez was taking this competition, his team selection included the spine of his strongest team.

Fringe players Josemi and Djimi Traore were surprise choices, but the rest of the starting XI had a formidable look.

Carragher, Hyypia, Gerrard, Alonso, Sissoko and Crouch were all in the line-up, with the skipper once more being asked to play on the right of midfield. John Arne Riise was preferred to Luis Garcia on the left.

Although the 70,000 seater stadium in Yokohama was littered with empty seats, the majority of those fans who braved the freezing temperatures were supporting Liverpool.

But there was still an almost surreal atmosphere as the teams warmed up in silence in front of a sparce crowd, which will no doubt make cynics question the venue for the competition.

Liverpool couldn't have wished for a better start when Crouch volleyed a superb opener after three minutes.

Crouch and Cisse combined to stunning effect when the French perfectly laid off a Riise cross into his strike partner's path.

The £7m striker displayed all his technical prowess to drill low beyond a helpless Jose Porras.

The duo combined again five minutes later when Crouch returned the compliment to Cisse. But the Frenchman was unable to control his volley and it flew high and wide.

Set-pieces were the Latin Americans only focal point for attack, and twice centre-half Randall Azofeifa gave the Reds defence a warning, heading and shooting from the edge of the box when given too much fredom.

But all the defensive headaches were at the other end, where Crouch and Ciise were showing signs of a fruitful partnership.

Benitez's main concern would have been his side only having one goal to show for their early supremacy, and his team should should have paid the price on 28 minutes when Saprissa wasted a golden chance to equalise.

Alvaro Saborio was sent clean through on goal and it seemed Pepe Reina's proud clean-sheet record was about to end. Somehow, Saborio missed the target with the goal at his mercy.

The punishment meted out by Liverpool was instant and deadly when Gerrard struck a spectacular second on 32 minutes.

Liverpool had already pieced together some majestic moves, but none better than that which led to them doubling their advantage.

Crouch's flick found Riise rampaging down the left flank and his floated delivery was inch perfect into the captain's path.

There was still plenty for Gerrard to do from 20 yards, but he let fly with a right footed volley which brought the Yokohama Stadium to its feet.

The confidence was flowing throughout Benitez's side, with Alonso and Gerrard providing an exhibition of their passing skills and the pace of Riise and Cisse seemingly too much for the Costa Ricans to handle.

If anything, Liverpool's football was in danger of becoming over elaborate as they cut through the opposition at will.

Benitez main topic of conversation at the interval must have been to warn his players of complacency.

Such was their superiority, only a major drop in standards would cost them a place in the final as Deportivo struggled to impress.

There was little evidence of the Reds dropping gears when Cisse was inches wide from adding a third two minutes into the second half.

Gerrard, inevitably, was involved again. Crossing from the right for Cisse to glance aheader just beyond Porras' post.

The Costa Ricans had now taken to illegal means to stop Gerrard and Cisse, gifting a series of free-kicks after half-time.

Liverpool should have been celebrating again a minute later when Cisse was sent clear by Gerrard.

With Crouch and Riise awaiting a simple cross for a tap-in, the enigmatic striker hit the only space where no red shirt was loitering.

To be fair to Cisse, it was a rare blemish in an otherwise encouraging display from the £14m striker.

Saprissa were struggling to maintain a respectable score-line in the face of intense Liverpol pressure.

Gerrard was pulling all the strings, and another probing ball to Riise led to an inevitable third, with Crouch grabbing his second of the game.

Every pass from the skipper was finding its target, and when Crouch was sent clean through following Riise's clever flick, he had another opportunity to show off his finishing skills.

A neat touch beyond Porras marked the fourth of Crouch's fledgling Anfield career.

Those days when Crouch's goalscoring ability was questioned must have seemed a long time ago for a player growing in self-belief.

By now, the gulf in class was reflected in the score, allowing Benitez to consider some substitutions.

The manager's mind was clearly already on Sunday's final as Florent SinamaPongolle replaced Gerrard on 64 minutes.

The skipper had been in top form and earned a standing ovation from the crowd as he left the pitch.

Sinama almost made an instant impact when he was sent clear by Cisse's back flick, only to delay his shot too long.

With a meeting with Sao Paolo guaranteed, the sub-plot of Reina's clean sheet record now caught the attention.

By reaching the 70 minute mark without conceding, Liverpool had already eclipsed the defensive record of the 1987-88 season. But against such mediocre opposition, the back four would have been distraught to lose their chance of an 11th consecutive cleansheet.

Benitez showed he had no thoughts about the statistics, however, when he replaced Hyypia with Luis Garcia, 18 minutes from time.

Traore moved to centre-half for the closing stages.

In truth, a Liverpool fourth looked more likely than a Saprissa consolation, although there were some anxious moments as full-time approach and the record was clearly preying on the Reds' mind.
---