---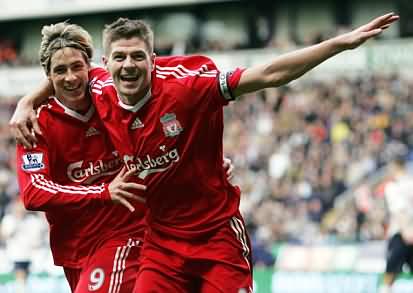 Gerrard celebrating with Torres after 2-0 goal.
(Photo: Getty Images)
NOVEMBER 17
Rafa offers no guarantees

By Chris Burton - Sky Sports

Rafa Benitez has warned his Liverpool squad that no-one is assured of a place in his side.

The Spaniard is renowned for his rotation policy, but appears to have curbed that habit of late.

With that in mind, he insists that he will resist the temptation to make sweeping changes to a successful side.

That means no place at present for talismanic striker Fernando Torres, who has only recently returned from injury.

Last season's top scorer was left on the bench for the Reds' 2-0 win at Bolton on Saturday, only joining the action as a 59th minute substitute.

Benitez believes no player should ever take their place for granted, and insists he will not be altering his stance in the future.

"The players have to compete for their positions in the side, be it Torres or anyone else," he said.

"Torres has to improve, if he does and he is fit then I will decide what to do, although I expect to be criticised.

"I did not have to explain to Fernando why he was not playing, it was very clear. The team had been playing well and he has to compete for his position.

"He played well when he came on, but then other players who come on as substitute also did well, not just him.

"That is the key if you want to have a winning mentality and a winning squad."

Meanwhile, Benitez also aired his frustration at the fact that Torres has now joined up with the Spain squad ahead of their friendly against Chile on Wednesday, despite lacking match fitness.

"Torres will join up with Spain. I am not happy, but I cannot do anything about it. We are talking to international managers and asking them to protect our players," he added.

"We have asked that the Spanish set-up does not take any chances, that they protect the player."
---
NOVEMBER 17
Sami keen for more action

By Steve Hunter - LFC Official Website

Sami Hyypia admitted he thoroughly enjoyed playing the full 90 minutes against Bolton on Saturday and insists he will give his all for the team in their quest for major honours this season.

The Finland international made only his third Barclays Premier League start of the season at the Reebok Stadium as the Reds enjoyed a 2-0 win.

"It was nice to play and when we win it's a double satisfaction for me," said Hyypia.

"That's what I'm here for to help the team. Every time the manager puts me on the pitch I always try to do my best."

The Reds number four also felt it was important for Rafael Benitez's men to bounce back to winning ways after the midweek Carling Cup exit at Tottenham.

"We showed character to bounce back and win at Bolton but it was a different team to the one that played on Wednesday," said Hyypia.

"In saying that the team we had out against Tottenham should have done better. We let ourselves down.

"I think we did a good job against Bolton, although we can't be happy with the second half performance because they made it too difficult for us.

"It was important to get the second goal which gave us a breather and we were more calm then and could have scored more goals in the end.

"It's good to keep getting three points and putting the pressure on the other teams.

"The most important thing is to look at our game and concentrate on getting the next three points.

"We can't let our standards and work rate slip and we have to give 100 per cent in every game."
---
NOVEMBER 16
Trotters fume over ref display

TEAMtalk

Referee Rob Styles was at the centre of more controversy as Liverpool maintained their place as title contenders with a 2-0 win at Bolton.

Styles, who was involved in a debatable penalty decision against Wanderers at Manchester United earlier in the season, this time upset them by disallowing what would have been a crucial equaliser in the final seconds of the first half.

Styles penalised Kevin Nolan for a goalmouth incident involving Liverpool goalkeeper Jose Reina before Gary Cahill headed home a Gavin McCann corner.

Bolton players were furious and their fans vented their frustration at the official as he left the pitch at the interval.

Liverpool were ahead through a Dirk Kuyt header, the Dutchman having also hit the crossbar in a first period that the Anfield side dominated.

But Bolton felt that had Cahill's effort been allowed, they could well have turned things around after the break.

As it was, Steven Gerrard sent a diving header past Jussi Jaaskelainen after 73 minutes, and Liverpool had secured the points.

Styles has also upset Newcastle this season with a penalty decision against Habib Beye in the 2-2 draw with Manchester City. On that occasion, and after the Cristiano Ronaldo penalty at Old Trafford, Styles has apologised and admitted a mistake.

Bolton boss Gary Megson felt he was due another phone-call after the Cahill effort was ruled out.

Liverpool boss Rafael Benitez praised Styles for protecting his goalkeeper and insisted that goalkeepers have "priority" in the six-yard box.

Megson was nonplussed, saying: "We saw the TV pictures within a minute of it being disallowed and again at half-time. But our thoughts are that we did not see a huge amount wrong.

"If anyone is going to find an infringement - although it would have been harsh - it is that we should have had a penalty when Reina pushed Nolan in the back.

"There is nothing else that happens. Kevin does not do anything but stand his ground and there's nothing wrong with that. Also there was nothing wrong with the act of scoring from Gary Cahill.

"I wasn't surprised to see Rob Styles refereeing, it never occurred to me. He gave a ridiculous decision against us at Old Trafford, that was a mistake.

"We spoke on the phone on the Monday and we didn't make a lot of it, regardless of the Respect campaign.

"Now there has been another one. We seem to be on the wrong end of him making mistakes."

He added: "Have I heard of a rule that says goalkeepers have priority in the six-yard box? I have to say that one has passed me by.

"What is the priority, can you go and belt someone like Nolan was? I'm sure there is a priority if someone is fouled, but standing your ground like Kevin was is not a foul.

"If Nolan shoves the goalkeeper it is a free-kick, so if the goalkeeper does it then it should be the same punishment. But I am not expecting a phone call (from the referee)."

Benitez had a different view.

He said: "The rules are very clear. They say that the six-yard box is for the 'keeper, if you have three players in front of him and he cannot go for the ball, then it is simple, it is a free-kick.

"It is clear. Sometimes you see five or six attacking players in the six-yard box, that is wrong. The rules say it is for the 'keeper, he has priority.

"If he has three players blocking him and he cannot do anything, he cannot go for the ball, it is a foul.

"The international rules are very clear. I always say the same, the first time I came here (to the Reebok) I said the same.

"Three players around the 'keeper is a free-kick. If he wants to go for the ball, he is being obstructed.

"Yes, those goals are given in England sometimes. But the international rules are for everybody, the referees know the rules, it has to be like this."
---
NOVEMBER 16
Kuyt: It was an important win

By Steve Hunter - LFC Official Website

Dirk Kuyt admitted it was important Liverpool kept up their winning momentum in the Barclays Premier League after their 2-0 victory over Bolton Wanderers on Saturday.

The Holland international scored a brilliant header at the Reebok to make him Liverpool's joint leading scorer in the Premier League this season alongside Fernando Torres. The pair have five league goals apiece.

Despite Rafael Benitez's men losing top spot on goal difference after Chelsea's win at West Bromwich Albion, the Reds number 18 insists it is vital the Reds concentrate on their own game and keep winning.

"It was really important to win today and we are really happy with the result," said Kuyt.

"It's always tough to come to Bolton and beat them but we did well. They worked really hard but I think we deserved to win.

"They gave it everything they had in the second half and were a really physical team.

"They tried to play long balls, and even though we didn't have as much possession in the second half than the first we still had big chances and we are really happy with the 2-0 win."

On his goal, Kuyt was quick to praise Fabio Aurelio for the assist with a pinpoint cross from the left.

"It was a great cross from Fabio and it was a good goal," he said. "Sometimes you need to be a bit lucky to score a goal like this but the cross made it easy for me."

The joint top scorer has been something of an unsung hero for the team this season having made big contributions on the right hand side and as a central striker.

The player revealed he doesn't mind where he plays as long as he can help the team in their quest for honours.

"It doesn't matter to me whether I play on the right or up front," said Kuyt. "The most important thing is to be involved and win the games and I think it's going well.

"For us we don't look further than the next game. We don't look too much ahead because every game is difficult.

"We just have to keep focused and be ready for the next game."
---
NOVEMBER 15
Rafa: We deserved win

Sky Sports

Liverpool boss Rafa Benitez insisted his side were worthy winners at Bolton.

The Reds returned to the top of the Premier League, albeit with Chelsea yet to play, after they secured a 2-0 win at the Reebok Stadium.

Headed goals in either half from Dirk Kuyt and captain Steven Gerrard were enough for Liverpool to seal the three points, and Benitez was pleased with their display.

"I think the team had a lot of opportunities. In the first half we had plenty of possession, in the second half there was more long balls and second balls and they were more physical, but it was just a question of scoring the second goal and finishing the game," the Spaniard told Sky Sports.

Bolton tried to man-mark Gerrard with Fabrice Muamba, but Benitez did not think that had much effect on his side.

"We knew they would be aware of Gerrard and maybe Alonso, and yes it was man for man, but Gerrard was moving and creating plenty of space for Mascherano and Alonso, and we had plenty of possession," he said.

Bolton threatened to get back into the game at 1-0 and Benitez concedes that was always a possibility while there was just one goal in the match.

"We had two or three chances in the first half and also in the second half," he said.

"And so it was always possible from a corner, free-kick or long throws but as we said the second goal was crucial and it could have been three or four in the end."

Benitez was pleased to bounce back after their Carling Cup loss at Tottenham in midweek.

"Everybody knows we want to win every game, every competition but the league is the priority and I think if we stay top of the league the fans will be happy," he concluded.
---
NOVEMBER 15
Alonso: We're full of confidence

By Paul Eaton - LFC Official Website

Xabi Alonso today admitted confidence is oozing through the Liverpool team after an impressive 2-0 victory at Bolton saw the Reds climb back to the top of the Premier League table.

Goals in each half from Dirk Kuyt and Steven Gerrard secured all three points, as the Reds bounced back from their Carling Cup exit in midweek in perfect style.

With one third of the league season now completed, Alonso admits the Reds are exactly where they want to be as they look to sustain their title challenge.

"We respect all our opponents but we are confident at the moment, we're playing well, scoring goals and in a good position," said Alonso.

"It's important to be towards the top but we know we have to carry on doing what we're doing if we're going to be there at the end of the season.

"We should have scored more today and perhaps a fairer scoreline would have been 3-1 or 4-1, but the most important thing is the three points. We have to keep these performances up now."
---
NOVEMBER 15
Reds fire fresh
warning to rivals

By Alex Livie - Setanta Sports

Liverpool made the short trip along the M62 a productive one, as they claimed a 2-0 win over Bolton to move back to the top of the tree.

The early kick off afforded The Reds the chance to move back above Chelsea and although they were made to work harder than seemed likely at one stage, Rafa Benitezís boys got the job done.

Dirk Kuyt headed The Reds into a deserved early lead, but a contentious disallowed goal fired up Bolton and Liverpool needed to weather a storm before sealing the win thanks to Steven Gerrardís second.

Bolton set up with five in midfield, Fabrice Muamba detailed to shadow Steven Gerrard, and there is no doubt the plan unsettled Liverpool.

It was Bolton that made the brighter start, passing the ball neatly, and Matt Taylor fired a shot wide and Kevin Nolan squandered a decent opening after The Trotters had passed their way through The Reds.

It took 15 minutes for Liverpool to find their stride, but once they gained a foothold a goal looked inevitable.

Kuyt has been a surprise goalscoring beacon from The Reds this term and he demonstrated his confidence in front of goal when shaking the woodwork with a thunderous drive following a great run and pull back from Gerrard.

If Kuyt was a little frustrated by his miss he certainly did not show it as he opened the scoring with a header out of the very top drawer.

Liverpool switched play from left to right and back again, probing for an opening, and Fabio Aurelio whipped a dangerous cross into the box. There was plenty for Kuyt to do as he was 14 yards from goal, but he generated tremendous power and planted the ball across Jussi Jaaskelainen and into the top corner.

The game should have been beyond Boltonís reach just a minutes later, but Robbie Keane put his name in the frame for miss of the season. Kuyt broke towards the byline and whipped the ball back across the six-yard box for Keane, but he attempted to clip the ball home with his right foot rather than wait for it to drop onto his left and all he contrived to do was slice the effort horribly wide of goal.

Liverpool were in total control, but they needed the intervention from referee Rob Styles in first half injury time to preserve their lead. Bolton whipped a corner into the box and Gary Cahill climbed high to head home, but Styles deemed Nolan to have fouled Jose Reina. It was one of those incidents which could have gone either way, but that will be little by way of consolation to The Trotters.

If Bolton were stung by the incident, they channeled their energies the right way as Johan Elmander stung the palms of Reina from a tight angle and Nolanís free kick forced the Spaniard into a decent stop.

Substitute Ricardo Gardner made a real impact in the early moments of the second half and he should have levelled the match on 52 minutes. The Jamaican dashed clear of a Liverpool defence looking for offside and rounded Reina, but lost his standing foot when set to roll the ball into an unguarded net.

For all Boltonís pressure, Liverpool should have doubled their advantage on the hour. It was almost a carbon copy of Keaneís miss in the first half, as Gerrard appeared to go at Fernando Torresí cross with the wrong foot and the ball dribbled wide.

Reina was by far the busier of the two keepers in the second half, tipping over a free kick from Taylor and clasping a curling effort from Nolan, but Liverpool had the class in the locker to complete the job.

Andy OíBrien may well have a sleepless night or two as it is folly to give Torres one bite of the cherry, let along two.

The defender had chances to clear both with his head and boot, but did not complete the job. Torres, on for the disappointing Keane, gathered the ball on the edge of the box, dinked the ball into the area with the outside of his right foot and Gerrard gleefully headed home. Job done.

Jaaskelainen was called on to keep the scoreline respectable, keeping out Xabi Alonsoís rasping drive with a diving stop, while Gardner the chance to set up a grandstand finish when volleying over the bar.

Torres could have capped his cameo with a goal, but hit the woodwork from eight yards. It mattered little and The Reds will gladly take this sort of victory on their travels every week.
---