---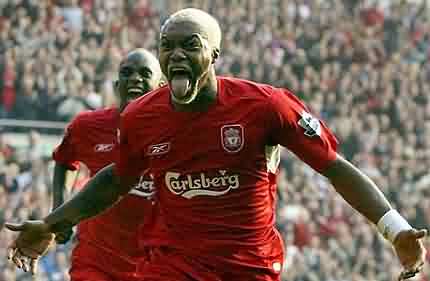 Cisse celebrates his goal which gave
Reds 1-0 vs Blackburn. (Photo: AP)
OCTOBER 17
Much to cheer.. everywhere
but Anfield, that is...

By Len Capeling - Daily Post

It says much about the desolate nature of this match that two of the loudest cheers of the afternoon accompanied joyful events away from a stressed-out Anfield.

First there was cruel rejoicing over the downfall of Michael Owen and Newcastle - beaten by Wigan Athletic.

Then, a little later, thunderous acclaim as Everton were turned over at Tottenham.

In between times came the wildest applause of the day as Djibril Cisse buried his own problems - for the moment, anyway - under a fiercely-struck free-kick that earned Liverpool a big, big three points.

For long periods of a ponderous, slipshod encounter, a goal as sweet as this one appeared unlikely to decorate impoverished proceedings.

Blackburn kept nine behind the ball and Liverpool met dullness with dullness by firing a succession of high punts in the general direction of Peter Crouch's head.

When Blackburn lost Georgian defender Zurab Khizanishvili to a red card with only half an agonising hour gone, we imagined space opening up and Rafael Benitez's European champions capitalising.

Dream on. Blackburn simply ditched Paul Dickov, brought on craggy centre-half Andy Todd and comfortably kept Liverpool at bay.

Such was the level of entertainment at this stage that only the miscalculations of referee Mark Halsey and the attempts at flight by the armflapping Benitez made things remotely bearable.

Halsey tied himself in knots when Khizanishvili sent Cisse crashing to the ground. Penalty decreed Halsey, before racing to consult his linesman, who clearly disagreed.

A second consulation finally wiped out the penalty and also wiped out the Blackburn defender, deemed to be the last man even though Cisse was far from being denied a direct run on goal.

A furious Mark Hughes harangued the fourth official, but to no avail.

Liverpool, for their part, would probably have preferred a penalty, taking account of the fact that the challenge on Cisse was outside the area, his momentum carrying him forward a further three yards.

What followed, apart from a bit of argy-bargy between Hughes and the home bench - instantly defused by the magisterial Benitez - was one of the worst exhibition of passing I've ever seen from a Liverpool team.

Xabi Alonso remained above this carelessness until late on, and so did Momo Sissoko, whose tackling and distribution rarely failed him.

It didn't help that so much possession was squandered in exasperating attempts to locate the Crouch Lighthouse, or that the bulk of the rebounds fell to no-one in a red shirt.

Cisse, his supposed partner, entered the match at a low ebb, missing a double hat-trick of chances for France, and loudly claiming that Liverpool want him out.

He proceeded to demonstrate why he's so difficult to cherish. Precision is not his forte, nor, apparently, is self-awareness.

Too often here he castigated colleagues, jabbing a finger, or shaking his head, without once wondering whether the move had broken down because of his own inadequacies.

Headers flew wide or over, and he resisted one goal chance by attempting the foolishly acrobatic when a simple nod might have beaten Brad Friedel.

With no link between the France striker and Crouch, Liverpool struggled.

With no width in a puzzling 3-5-2 that asked Steve Finnan and Stephen Warnock to be auxiliary wingers, nothing happened that didn't slam into the Blackburn barriers, where young Ryan Nelsen prospered.

Fernando Morientes, on for Crouch, brought some much-needed awareness to Liverpool's frontline, which would have been marvellous had Real Madrid's great riddle not fluffed two simple chances from six yards out.

It didn't matter thanks to Cisse who at long last produced a moment of magic after Robbie Savage - who else? - tripped Bolo Zenden..

Alonso expertly rolled the free-kick into Cisse's path and his 25-yard bullet defeated Friedel who, like his opposite number Pepe Reina, enjoyed the easiest of outings amid the autumn sunshine.

"When I saw Cisse was going to have a shot, I thought, oh no," said one departing Liverpool supporter.

Happily, he got it wrong, and a year after the goalscorer almost lost his career at Blackburn - surgeons contemplated amputating his shattered leg - the £14million misfit delivered a precious moment.

The handshake he then gave to Rafael Benitez was probably more impudence than ebullience.

But Benitez made the best of it on a day when there was too little else to dwell on without groaning and turning to Steven Gerrard for future deliverance.
---
OCTOBER 16
Cisse makes Anfield pledge

TEAMtalk

Djibril Cisse has underlined his commitment to Liverpool after his Anfield winner - but was far from impressed with Blackburn's fans.

The France striker scored the winner to lift the anguish at Anfield and then pointedly ran to shake Rafael Benitez's hand to publicly heal any rift after too many words of complaint about his position at the club.

Cisse then pleaded for the speculation about his future to stop, insisting: "Why should I want to leave this club?"

He also revealed that the abuse from Blackburn fans over the double leg fracture he suffered at Ewood Park last season left him angry and determined to score.

His dance of triumph in front of the visiting fans after driving home the winner was inadvisable, but he said: "They were singing 'Cisse glass leg.' I was angry after that and I just wanted to score because of those stupid fans. And I want to say 'thank you' to the Liverpool fans for supporting me after that.

"The goal was important to me because I broke my leg badly at Blackburn last season, I am pleased with the goals I have been scoring and have no problem with the coach."

Cisse's winner prompted his theatrical sprint to the dug-out, having spent the last fortnight moaning about being on the Liverpool bench too much, which had prompted suggestions he would leave in the January transfer window to protect his World Cup finals place with France.

But he said: "I ran across to shake hands with the boss as a small message to show everyone there was no problem between me and the manager. I wanted to show to the fans that we have a normal relationship.

"The most important thing was the three points because we are not in a good position. I really just want all the speculation to stop now about problems between me and the coach and me and the club. I am happy to stay here - why should I want to leave?

"You could see the fans reaction to me. You won't find fans like that anywhere in the world, so I don't know why people say I want to leave. I want it all to stop and for me to work for the club.

"The best way is to carry on scoring goals, I have had a good season so far with goals, but we need points because we can't stay in positions like 12 and 13.

"When I came back from France we just spoke normally as player and coach, and did not talk about what has been said. There are more important things to talk about."
---
OCTOBER 15
Rafa happy for Cisse

By Peter ORourke - Sky Sports

Liverpool boss Rafa Benitez was delighted to see Djibril Cisse score the winner against Blackburn.

Cisse finally found a way past a resolute Blackburn defence 15 minutes from time with the visitors having to play for ten men for almost an hour after Zurab Khizanishvili was sent off.

Benitez again rejected rumours of a rift with Cisse with the Frenchman celebrating his goal by shaking hands with the Spaniard on the sidelines.

"If you have opportunities you must think you will score," said Benitez.

"It is good for him (Cisse) and for the team and I hope he can score more goals in the future.

"We don't have any problems and we talked about the situation at the end of the day.

"If the manager decides he understands."

Benitez also believes referee Mark Halsey got it right with the sending off.

"He was the last man. I don't know (if it was a penalty) the linesman was in a better position, but he was the last man for sure," added Benitez.

The Spaniard also revealed that Sami Hyypia was left out for tactical reasons.

The Finn was a surprise omission from the starting XI and Benitez admitted he was left out and that the player was not injured.

"He (Hyypia) is okay it was a team selection thing," concluded Benitez.
---
OCTOBER 15
Hughes fumes at dismissal

By Peter ORourke - Sky Sports

Blackburn boss Mark Hughes was left fuming by Mark Halsey after his side's defeat to Liverpool.

Rovers saw their three-match winning streak come to an end after a 1-0 defeat at Anfield.

The visitors were forced to play for almost an hour with ten man after Zurab Khizanishvili was controversially sent off for bringing down Djibril Cisse as he tried to race clear on goal.

Hughes was incensed with the decision and believes the sending off cost his side dear.

"We've worked really hard for long periods with only ten men and the referee got it wrong," bemoaned Hughes.

"The incident he initially thought was a penalty, but he was buzzed by his linesman and he told him it was outside the box.

"At that point I thought it was possibly a yellow card and he intimated that to our players and then he showed a red card and we cannot understand that in that respect.

"That was 30 odd minutes and it left us in a difficult situation and we just tried to get through the game.

"I just think too many decisions by the referee affected the outcome of the game.

"Initially I thought he had given a penalty, but then he put it right with a free kick although he saw fit to give a red card for a player running away from goal and I felt it was harsh on our players.

"I thought we were excellent and stood up to the challenge and Liverpool were hanging onto the 1-0 in the end and that shows how determined we are to get results.

"Our fitness levels were fantastic and I am convinced if we were able to keep everyone on the pitch today we would have won easily."

Hughes also hinted that they may appeal Khizanishvili's sending off.

"We feel we have a strong case as it never merited a red card," added Hughes.

"I hope the referee will look at it again and judge on that side.

"My concern is the disappointment felt by my players. They have worked hard and they have to put up with the wrong decision in my mind."
---
OCTOBER 15
Cisse sinks ten-man Rovers

By Peter ORourke - Sky Sports

Djibril Cisse's late goal gave Liverpool a 1-0 win over ten-man Blackburn at Anfield.

The Frenchman finally found the net 15 minutes from time to end Blackburn's resilience after Zurab Khizanishvili was sent off in the first half for taking down Cisse.

After a quiet start Liverpool created their first chance on ten minutes when Xabi Alonso's corner found Cisse unmarked inside the box only for the Frenchman to fluff his acrobatic overhead kick.

Liverpool captain Jamie Carragher had the next chance for the home side three minutes later when he flicked Alonso's free kick just wide of the target.

Shefki Kuqi had a half chance for Blackburn on 18 minutes when he rose above Djimi Traore to meet David Bentley's cross, but the giant Finn could not direct his header on target.

A minute later Cisse headed Finnan's floated cross from the right wide of the target.

Blackburn fashioned a good opening on 25 minutes when Paul Dickov teed up Robbie Savage in the box, but Alonso put the Welshman under enough pressure so that he could not get a clean strike at goal.

The visitors suffered a blow on 33 minutes when Khizanishvili was sent off for bringing down Cisse right on the edge of the box as he ran clear on goal.

Liverpool felt the incident occurred inside the box and Khizanishvili could count himself unlucky to be handed a straight red card for the offence.

From the resulting free kick Boudewijn Zenden saw his shot fly off the crossbar and into the Kop.

The sending off forced Blackburn into a tactical change with Andy Todd coming on for Dickov to bolster the defence.

Carragher had his second chance of the game on 38 minutes when he got on the end of Alonso's free kick to prod a shot goalwards, but Brad Friedel kept out his effort with his legs.

Cisse went close a minute later with a powerful header from Josemi's cross which flew just over the crossbar.

Liverpool tried to take advantage of their numerical advantage and Crouch and Cisse both saw efforts fail to hit the target just before the break.

At the start of the second half Liverpool tried to make any inroads in the Blackburn defence with Cisse trying his luck with an ambitious volley which flew harmlessly over the bar.

Liverpool had claims for a penalty rejected on the hour when Tugay appeared to bring down Stephen Warnock inside the box, but their appeals were waved away.

Cisse, who looked like a man with a point to prove, saw a header from Alonso's free kick tipped over the bar by Friedel.

From the resulting corner Crouch headed dangerously across the face of goal towards Cisse, but Michael Gray got back to hack clear.

Cisse missed a great chance to break the deadlock on 65 minutes when substitute Luis Garcia picked him out on the edge of the box, but he dragged his shot wide of the target much to the frustration of the home fans.

Liverpool finally broke the deadlock on 75 minutes when Alonso teed up Cisse with a short free kick and the Frenchman drove his shot past Friedel.

Substitute Fernando Morientes made a mess of a free header from Finnan's cross ten minutes from time after finding space in the box.

Kuqi missed a rare chance for Blackburn four minutes from time when he beat the Liverpool offside trap to meet Gray's lofted pass, but he got his header horribly wrong heading well wide of the target.

Morientes should have made the game safe three minutes from time when Friedel failed to hold a shot from substitute John Arne Riise, but with the goal at his mercy the Spaniard poked his shot wide.

The Spaniard, who was returning to action after six games out through injury, then showed rustiness again when he headed Riise's pinpoint cross header over the top as Liverpool held on for their second Premiership win of the season.
---