---
SEPTEMBER 16
Garcia delight at Kenny link

By Chris Bascombe - Liverpool Echo

Liverpool's new hero Luis Garcia today spoke of his pride at being compared to Anfield's greatest ever player, Kenny Dalglish.

But the Spaniard says Barcelona legend Michael Laudrup is the player who influenced his game the most.

Garcia shone for the second time in four days in the 2-0 Champions League victory over Monaco and admitted his surprise at the speed at which he's settled on Merseyside.

As the 'missing link' between midfield and attack, Garcia is already earning rave reviews.

And the impact shows in the names being used as a reference point for Garcia's skills.

"Obviously it makes me very happy when you hear fans making comparisons with some great players," said Garcia, also dubbed the ' mini Litmanen ' in some quarters.

"I've heard of Kenny Dalglish but I never saw him play. The important thing is if people say that, it must mean I'm making the fans happy. If that continues, even better.

"The player I used to love watching as a youngster was Michael Laudrup. The moves and runs I make come from watching him.

"I do particularly like playing where I've been in the last two matches, although the main thing is to be available for the manager in whatever position he wants me."

Garcia says the instant backing he's received from the Kop can continue to inspire him.

"My intention was to settle as quickly as possible, but the reality is that it usually takes a few more games," he said.

"I thought I would develop my game gradually, but I've performed well much quicker than expected.

To get the backing and support of the fans is also important to every player. As time goes by I just want to keep on improving my performances and impress them even more.

"I had some chances to score last night, but I'm not too worried I missed. It would worry me much more if I wasn't getting chances at all.

"I've left a great club in Barcelona, but I've also joined one of the biggest clubs in Europe. The intention is to build something special here and we've started off on the right footing.

"Players like Xabi Alonso and Steven Gerrard already have a reputation across Europe for being great, but what we really need to do is win trophies.

"I've left my family and friends behind to come here and that's down to the faith the manager has put in me. I've confidence in him and hopefully I will repay that faith over the next few months."

Garcia is now looking ahead to Monday's trip to Old Trafford, well equipped to deal with the intense rivalry between Liverpool and United from his experiences in Spain.

He added: "I know Liverpol versus United is like Barcelona and Real Madrid. Now we've got this victory out of the way I will become more aware of the expectancy. I'm really looking forward to that game."
---
SEPTEMBER 16
Deschamps: Defeat could have been bigger

TEAMtalk

Monaco boss Didier Deschamps conceded that only the performance of goalkeeper Flavio Roma prevented Liverpool from securing a bigger victory.

Goals from Djibril Cisse and Milan Baros sent last year's Champions League finalists sliding to a 2-0 defeat in the opening group game of this year's competition.

And Deschamps admitted it could easily have been an even more convincing return to Europe's elite competition for Liverpool.

He said: "We changed our shape in the second half and for a while we pushed them back but had it not been for our keeper Roma, we would have had even worse problems.

"We could not get into the game and lost out in all areas of the pitch.

"The result went against us and we got what we deserved. We lacked aggression and were too slow to the ball, Liverpool were a yard quicker than us everywhere.

"We did not make many chances and were forced to defend too much. We were put under pressure sometimes last season in this competition, but I do not recall us being forced to defend as much as this.

"I was not happy with what I saw but I will look at the situation calmly and talk to the players to try to put things right.

"But we were short of the quality some of our injured players would have given us, and that in the end was the difference between the sides."
---
SEPTEMBER 16
Alonso brings back Molby memories

By Ian Doyle - Daily Post

The last time Liverpool played host to a proper Champions League game, they were comprehensively outclassed by what Michael Owen later hailed as the best display by an away team at Anfield in his time there.

Valencia were handing out the lesson that evening, led by a certain Rafael Benitez. Much has happened since that eye-opening 90 minutes in November 2002 - not least the Spaniard exchanging dugouts to take over from Gerard Houllier while Owen himself ventured to pastures new - but the feeling remains that Liverpool are mere temporary gatecrashers among Europe's present elite.

Their defeat to Grazer AK under-lined to Benitez the scale of the work he must undertake if common perception of Liverpool's European credentials is to be altered in the immediate future.

Such transformation won't happen overnight, and while success in the Premiership must take precedence over Continental conquests, the challenge of locking horns with the cream of European football can only help Benitez's domestic cause.

First up last night were Champions League runners-up Monaco, decimated by summer departures and seemingly ripe for Liverpool to post an early marker for Europe to take note.

So it proved. With Houllier watching on, it was inevitable his parting gift Djibril Cisse would grace the evening with his first Anfield goal. But he was outshone by Benitez's own multi-million addition to his embryonic squad.

To all but the most learned Liverpool supporters, Xabi Alonso was an unknown quantity to file along with Benitez's other Spanish acquisitions. But after first Josemi and on Saturday Luis Garcia had posted their statement of intent, so it was the composed midfielder's turn to demonstrate his wares.

They are substantial. Although lacking the explosive pace and tenacious tackling of midfield partner Steven Gerrard, Alonso more than compensates with a passing range unseen in these parts since the days of Jan Molby - one ball in particular last night inside the right-hand channel for Steve Finnan an apt illustration of his asssets. In fact, with his shock of brown hair and languid style, Alonso comes across as a (much) slimmer version of the stocky Dane.

This was in truth the ideal fixture for the Spaniard to begin what will almost certainly be a long-term partnership with Gerrard, with the new-look Monaco offering token resistance in the centre of the park.

Possession in Europe is key and with his team-mates gradually taking the hint last night, Alonso will be an influential cog should Liverpool progress further in the Champions League.
---
SEPTEMBER 15
Benitez happy with Monaco win

Sporting Life

Liverpool manager Rafael Benitez declared himself satisfied after his first Champions League match in charge at Anfield ended in a 2-0 victory over Monaco.

Lone striker Djibril Cisse gave the home side a first-half lead and despite missing a few chances after the break Cisse's replacement Milan Baros secured the result with a coolly-taken goal late on.

"We have done a good game. We concentrated and perhaps we could have scored a lot more goals," he said.

"We need to know these game are difficult. This is a good team (Monaco) who played with five at the back and we had to be patient.

"The two forwards scored, which is good for the team."

The Spanish coach admitted he had some worrying moments in the second half as Monaco looked as though they were going to make Liverpool pay for squandering chances.

"At 1-0 if you don't score and have a lot of mistakes you normally think one mistake in defence you concede a goal but we managed to relax," he added.

"It is important to keep a clean sheet, it gives the whole team more confidence.

"This is the second home victory [of the season], and it is important for the team, supporters and the club.

"If you win many times you have more confidence."
---
SEPTEMBER 15
...and so was Gerrard

Sporting Life

Captain Steven Gerrard said: "We're happy with how it went - we've played well, kept a clean sheet and scored two goals - and we could have had more.

"We played some nice football and worked hard and limited them to very few attempts on goal - which was pleasing.

"I thought we passed the ball really well at times tonight, which was pleasing to see.

"They had a bit of joy in the middle of the second half and we needed a second goal to kill them off because it's always dangerous at 1-0 against quality sides."

He continued: "This is where we want to be - we want to do well in the Champions League.

"It's always important to win your home games in the group situation and we're very pleased with how it's gone.

"It's something to build on for the game at Manchester United (on Monday in the Barclays Premiership)."

However, the influential midfielder was disappointed with his booking for a 51st-minute foul on Sebastien Squillaci, with the Monaco player's team-mates reacting vocally to the challenge.

The England man continued on Sky Sports: "I tried to explain to the referee that I slipped and didn't mean to foul him.

"I wouldn't like to say their players got me booked but I was disappointed with how they reacted - I was trying to explain to them as well.

"But it's gone now and I'm sure it won't be rescinded."
---
SEPTEMBER 15
Tremendous start for the Reds

BBC Sport Online

Liverpool opened their Champions League campaign with a morale-boosting win.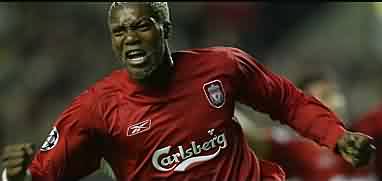 Rafael Benitez's side went ahead through a clever goal - Steven Gerrard and Luis Garcia combining to set up Djibril Cisse, who rifled a shot home.


Cisse celebrates the opener. (Photo: Reuters)
Garcia went close twice before the interval, first drawing a reaction save from Flavio Roma and then hitting the woodwork with an angled header.

Substitute Milan Baros made the game safe for Liverpool with a wonderful individualistic goal late on.

Didiers Deschamps' side were a pale imitation of the side that reached last year's final.

Ludovic Guily and Jerome Rothen have left for new pastures, while Javier Saviola was banned and Ernesto Chevanton and Shabani Nonda were out injured.

Those absentees saw Monaco adopt a defensive strategy deployingthree central defenders - Sebastien Squillaci, Gael Givet and Vassilis Zikos - a tactic that initially stymied Liverpool as they sought to establish a link to Cisse.

After the interval Deschamps withdrew left-back Patrice Evra and introduced another striker Souleymane Camara in a bid to rescue the game.

The switch gave Monaco a better balance, though Deschamps' team laboured to create openings, the best Monaco effort an Emmanuel Adebayor header which Dudek saved at the foot of the post.

Early on Liverpool's best chance in those opening exchanges was Garcia's ambitious effort, a shot that mirrored an earlier long-range strike for Monaco from Mohamed Kallon that almost caught out Jerzy Dudek.

Gradually Cisse's runs began to trouble Monaco's defensive triumvirate, while Gerrard and Garcia began to strike up the rapport that had been such a feature of Saturday's win over West Brom.

A one-two between those two Liverpool midfielders created Cisse's goal, an exchange of passes ending with Gerrard slipping the ball to the former Auxerre striker, who crashed his shot past Roma.

Soon after Kewell's deft header released Garcia, whose low shot was superbly blocked by Roma.

In first-half stoppage time Gerrard and Garcia again combined to great effect as the Spaniard angled a header against Roma's right-hand upright.

Just before the hour Kewell managed to set free Cisse once more, but Roma did well to stand his ground and then divert the Liverpool striker's shot.

With 10 minutes to go Garcia should have made the game safe for Liverpool, but the Spaniard crashed his shot wide with just the Monaco goalkeeper to beat.

It was left to Baros to apply the coup de grace as he single-handedly outfoxed the Monaco defence as he slipped the ball past Roma after a jinking run.
---