---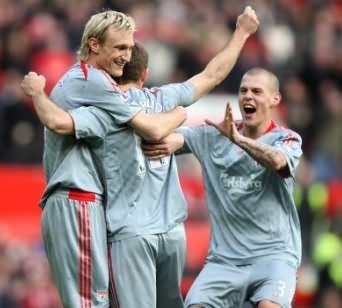 Fabio Aurelio (centre) celebrates after scoring the fourth goal of the game, with team mates Sami Hyypia (left) and Martin Skrtel.
(Photo: PA Photos)
MARCH 16
Midfielder exorcises
Old Trafford demons

By Ian Doyle - Daily Post

Javier Mascherano believes he has exorcised his Old Trafford demons after helping Liverpool thrash Manchester United.

The champions were thumped 4-1 at home by Rafael Benitez's rampant side to breathe new life into the title race.

Mascherano had been sent off by Steve Bennett in controversial circumstances on Liverpool's last visit to their bitter rivals 12 months ago, a game which the visitors went on to lose 3-0.

The Argentine was booked on Saturday but kept his cool amid the intense atmosphere to avoid another red card.

And Mascherano said: "It's a much better feeling than last year. I had to forget about what happened here last year.

"Sometimes things happen like this in football but I was sure going into this game that I wouldn't have the same problem at Old Trafford this time. I was determined not to suffer that again.

"You have to look forward in football and not dwell on problems in the past. I was booked but it wasn't a bad foul. The referee told me I had done five or six fouls. I didn't agree but it's okay, I made sure I was focused on the game and helping my team-mates to win."

Liverpool's triumph followed their four-goal hammering of Real Madrid in the Champions League last Tuesday.

And Mascherano reckons the players have now set a standard they must strive to maintain for the remainder of the season.

"The team played very well and we kept the same level as we showed against Real Madrid on Tuesday night," said the midfielder. "We have to keep going the same way. It is a great day for the supporters and we are really happy.

"We played very well against Real Madrid and that gave us a lot of confidence to bring to Old Trafford. To beat Real and now United with four goals in each game is very good.

"It was very difficult in the beginning with falling behind to the penalty but we showed a lot of character and quality to come back into the game and win."

Fernando Torres ran United's defence ragged and scored Liverpool's equaliser before playing the pass for Steven Gerrard to win the penalty from which the visitors went ahead.

"Fernando is so important for us," said Mascherano. "We were losing the game but when you have key players like Fernando and Stevie in front of you, and in that form, then it gives you confidence that you can always go on and win, no matter who you are playing against. They are two top players who can do anything.

"We worked really well in defence and United didn't create many chances. You have to give the defenders credit too. We played as a team against United and we need to keep that up."

Despite their defeat, United remain four points ahead of second-placed Chelsea and Liverpool with a game in hand, with the pursuers having only nine games remaining.

And Mascherano admitted: "I don't know if we can win the league. We don't need to think about the title race right now, we just need to keep this form going. It would be wrong of us to start talking about being in the title race again. United still have a good lead over us and we need to keep winning.

"If United don't lose then it will be really difficult to catch them but we need to win all our games. We have to take it step by step.

"All we can do now is keep going. There are still nine games to go and we need to win every single one to have a chance."
---
MARCH 16
Rafa Benitez's Liverpool
can rival the best

By Alan Hansen - The Daily Telegraph

It will not be one of turmoil, or of doom and gloom, but it is the nature of the business that after the manner of Saturday's defeat, and the way they played, they will have a difficult few days' training until they have a chance to put things right at Fulham next Saturday. The result against Liverpool was not just a defeat, it was an annihilation.

When you are in a championship race, your attitude and mentality can change so quickly. For United it was not so much complacency that affected them as overconfidence. I remember the same situation fighting for the championship in 1984, when we played Southampton and got beaten 4-1 at the Dell in 1989 – and it could have been 44-1. When the season has been going unbelievably well, particularly for the back four and the goalkeeper, you start to think you are invincible.

Seventh heaven puts Liverpool decline into focusFortunately for United, any complacency is forbidden under Sir Alex Ferguson. I think he will be absolutely seething about the fact that Wayne Rooney's actions in coming out and declaring he hated Liverpool, because it is a golden rule that you never put undue pressure on yourself or your team-mates.

The atmosphere is so sensitive before a game of such magnitude that you have a responsibility not to inflame it further. So Rooney was naďve, and it was even more naďve that he sought to justify his statement afterwards.

But you cannot disguise the truth that during the last week, Liverpool have played unbelievably well. For as good a week as I can recall at the club, I would have to go back to 1984, when we won the Merseyside derby and then went to Steaua Bucharest and beat them, but in terms of the confidence that Liverpool's wins over Real Madrid and United have brought, it has been a sensational seven days.

The way that Liverpool successfully penned Madrid in last Tuesday night showed the type of tactics that managers have been attempting to adopt there for a long time. It showed how, when you exert the right pressure upon the opposition, you can just roll over the top of them. Even though United remain in pole position in the Premier League, Liverpool will prove really hard to beat in the Champions League. Nobody will want to face them.

You start to wonder, when you see such displays, whether Rafa Benitez will come to regret how Liverpool played against the lesser teams. But we have also seen how, when he puts his best XI out on the pitch, the team can compete with anybody. With Steven Gerrard and Fernando Torres fit, and with everybody in the spine of the team performing well, they are definitely getting closer to United.

I still do not feel that Liverpool have the same strength in depth as United and if they are to finish second in the title race and United first, this is what will have cost them. So what happens next is that to go back to the issue of Benitez's contracts, to the owners of the club, and to the acquisition of new players who can come and fill in the missing pieces. But that is for another day, and after a week like the last one I would not want to be looking for negatives. These two wins have galvanised everybody at Anfield.

The tactics on both occasions were what Liverpool and their supporters have been crying out for. The team had a blistering pace that made superstar defences look ordinary. Liverpool have also won 13 points this season against the other teams in the big four, and when you combine this with their Champions League form you see how they are rivalling United. It is encouraging, too, how the two full-backs, Fabio Aurelio and Alvaro Arbeloa, have started to play exceptionally well, appearing comfortable and looking like they are growing into their positions. It is just the times that Liverpool have to rotate that are a concern, but my argument against this would be Sami Hyypia.

Many other clubs have tried to sign Hyypia, but Liverpool have resisted and on Saturday you could see why. He came in at the last minute against United – although for the Champions League he could not even get in the squad – and he was great in the air, great positionally, and reflected tremendous composure. I believe he is better than a rotating player but Liverpool do not need only one of these players who can step in, they need seven or eight of them.

Liverpool might not win the league this season, and this will be a because of a succession of highs and lows. But the past seven days have represented a particular high: the best moment of the season for them, a sensational week.
---
MARCH 15
Hyypia: Best week since 2001

By Jimmy Rice - LFC Official Website

Sami Hyypia believes Liverpool have enjoyed their best week of results since they clinched an historic treble in 2001.

"It's been a good week," said the 35-year-old, who was signed by Gerard Houllier in 1999. "I was just asked if I've had a week like this before and I couldn't think of one since in 2001 when we won a few cups in one week."

Liverpool are four points off top spot with nine games remaining following the 4-1 victory over Manchester United.

The leaders also have a game in hand, but Hyypia insists no one in the Anfield dressing room will stop believing in their title dream until it becomes mathematically impossible.

"We needed to win this game and we did. Everyone is happy with the result and I'm sure a few of the other teams will be happy too," he said.

"It's been a fantastic week but United are still four points ahead with a game in hand. It's going to be difficult to think about the title but we'll keep fighting until the end and see what happens.

"We can't control how they do so we just need to concentrate on ourselves and hope they drop some points.

"If we didn't believe then we might as well stop the season now. You have to believe while ever you still have a chance. We have to do our best and win our games, and maybe Man Utd will drop points in some of their games and we can take advantage."

Hyypia started the game as a last-minute replacement for Alvaro Arbeloa, who hurt his hamstring in the warm up.

The big Finn revealed afterwards that he had just a few minutes to prepare.

"I found out just a few minutes before we came out," he said.

"I was wondering how the first minutes would go but I got into it and had no problems."
---
MARCH 14
Ferdinand won't blame
Vidic for Liverpool defeat

By Stephen Crawford - Goal.com

On the scale of things, Nemanja Vidic had a fairly terrible day at the office today. Receiving a straight red for bringing down Steven Gerrard and making a mistake that allowed Fernando Torres to convert an equalizer, it really was not the big Serbian's day.

Speaking to MUTV, Rio Ferdinand gave his thoughts:

"The sending-off and third goal came at a really critical time. I thought the referee's decision to send Vida off was debatable as I could have got over there to cover.

"Vida has been one of our most consistent players this season and everyone is allowed to make a mistake, so we won't be getting on his back."

After a refusal to castigate his fellow defender, Rio summarized the game from his perspective:

"It was a nervy start from both teams but we took the lead and started to get a foot in the game.

"Even when they were 2-1 up, we started to turn the screw in the second half and Carlos Tevez had a half-chance".

Ferdinand only displayed positivity despite suffering such a horrendous defeat, claiming that his team would use the loss as a learning experience.

"Losing any game is disappointing, losing to your big rivals is even worse and the scoreline compounds that.

"But we have to turn this into a positive. This game will have torn out any sub-conscious complacency there may have been. We got a rude awakening today that if we don't go out and work hard as a collective unit then we won't get the results.

"We now have time to dust ourselves down and get our minds on the game against Fulham next week. It would have been nice if that game was right round the corner but we have to deal with what's in front of us."
---
MARCH 14
Fergie: We were the better team

By Toby Davis - Setanta Sports

Sir Alex Ferguson claimed Manchester United were 'the better team' despite being humbled 4-1 by title rivals Liverpool at Old Trafford.

The Reds reduced the deficit at the top of the table to four points, with their biggest away win against United since 1936.

But Ferguson was in no mood to be charitable after the game and insisted the match did not reflect the emphatic scoreline.

"It is a hard one to take because I felt we were the better team," he said.

"That is not reflected in the scoreline and quite rightly, when you win 4-1 you get all the plaudits. I can't deny that."

But the United boss has called on his players to bounce back from the defeat and continue their title charge.

The Red Devils have a game in hand over their rivals and Ferguson insists they are still in the box seat.

"There is no complacency on our part," added Ferguson.

"We have lost a game. We need to respond and that is what we will do.

"If the league started now and we had a four-point start I would take it."
---
MARCH 14
Benitez: We must win every battle

BreakingNews.ie

Rafael Benitez has set Liverpool the target of winning all their remaining nine games if they want to wrestle the Premier League title away from Manchester United.

The Reds recorded their biggest win at Old Trafford since 1936 as they completed a 4-1 rout of Alex Ferguson's men, who had Nemanja Vidic sent off near the end.

It cut United's lead at the Premier League summit to four points, although they retain a game in hand.

And while they remain hot favourites to land a third successive championship - and their 18th overall, Benitez can look at the run-in with fresh optimism.

"We have beaten Real Madrid and Manchester United in the same week," observed the Liverpool boss.

"If we can beat them, we can beat anybody.

"Realistically, we have to win all of our games. But part of winning the war is winning football matches.

"We have more belief and more confidence now. It will be difficult but we can do it."

Liverpool's win was more remarkable given Cristiano Ronaldo put the hosts in front from the penalty spot midway through the first half after Pepe Reina had sent Park Ji-sung tumbling.

But it was a rare moment of agony for the visitors, on an afternoon to forget for Vidic.

The Serbian has been a model of consistency this season but it was his double blunder five minutes after Ronaldo's opener that gifted Fernando Torres his equaliser.

Steven Gerrard added a second, also from the spot, before half-time, the prelude to another moment of madness for Vidic, whose mis-control left him no option other than to haul down the Liverpool skipper.

For the second time this season, Vidic was red-carded against Liverpool. He was still making his way down the tunnel when Fabio Aurelio curled home the visitors' third, Andrea Dossena capping a fine performance in stoppage time after Gerrard had missed a gilt-edged opportunity of his own.

"Torres and Gerrard are obviously key players for us," admitted Benitez.

"When they are on the pitch the rest of the team has more confidence."

It was a particularly pleasing result for Benitez given his recent outburst at Ferguson, now known as 'Rafa's rant'.

Although it has been widely interpreted as a moment of folly, the Liverpool manager stands by his comments.

"What I said were facts," he said. "I did not say anything that wasn't true. Sir Alex Ferguson is a great manager and I have a lot of respect for him. But I have to defend my club."
---
MARCH 14
Gerrard hails Liverpool success

BreakingNews.ie

Liverpool captain Steven Gerrard hopes the team's crushing 4-1 victory over Manchester United will not only spur the Merseysiders on as they play catch-up at the top of the Premier League, but will also prove to other teams that the leaders can be beaten.

Rafael Benitez's side battled back from a goal down to defeat United in clinical fashion, Fernando Torres and Gerrard turning the match on its head before the break, with Fabio Aurelio and Andrea Dossena easing Liverpool well clear before the end.

Gerrard said: "The important thing is that we have made the gap smaller (United lead by four points still with a game in hand). We realise that Manchester United are a fantastic team and there's still a lot of work to do.

"We'll need a little bit of luck along the way but hopefully that gives teams that are going to play against Manchester United a bit of belief that they can be beaten. And hopefully it will give us a lot of confidence to go on and win as many games as we can."

The England midfielder was ecstatic to score his first ever goal at Old Trafford, but praised the team performance as a whole for their second four-goal haul of the week.

"I've been lucky enough to experience winning here before and that was also a magnificent feeling, but to score a goal after all the stick I've had from United fans over the last 10 years – well, it's nice to score and rub it in a bit.

"It was magnificent, a great team performance. From front to back we worked very hard today, showed great character after going a goal down and it was a magnificent win.

"In the end it was comfortable with a man being sent off, but I think we were men today, we controlled the game. It's not very often you see Manchester United getting beat 4-1 at home."
---
MARCH 14
Liverpool run riot at United

By Tom Kell - Setanta Sports

Liverpool capped off a wonderful week and left the door ajar on the Premier League title with a 4-1 mauling of Manchester United that draws them to within four points of their hosts.

It is a result that certainly does not lose United their third successive Premier League crown, but one that gives both their conquerors on Saturday lunchtime and Chelsea more than a sniff of catching them.

Rafa Benitez's rant was, to many, the turning point of the season so how ironic it should be that, at Old Trafford and against United, a new pivotal moment in the campaign be created thanks to a penalty against United and the dismissal of Nemanja Vidic.

Vidic was also hugely culpable for the Fernando Torres goal that cancelled out Cristiano Ronaldo's early penalty for the league leaders. Gerrard put his side in front from the spot before half-time, Fabio Aurelio doubled the advantage with a gorgeous free-kick after Vidic's dismissal and Andrea Dossena capped off a scarcely believable result.

Rafa Benitez's approach is hardly tailor-made to coming from behind so he, even more so than everyone else willing United to slip up, must have been particularly irked by his fellow Spaniard Jose Reina's aberrational moment.

A penalty-saving specialist he might be but even that was no reason for Reina's inexplicable charge off his line midway through the first half. Park Ji-Sung got to the ball first and the Liverpool keeper succeeded only in felling the South Korean. Alan Wiley pointed to the spot with an air of inevitably that was matched only by what followed – Reina guessed right but Ronaldo's precision won over.

Benitez's dismay must have been heightened by the fact that, aside from a much-needed Jamie Carragher block to deny Park, it was his side that looked the more threatening both before and after they went behind. No prizes for guessing their chief protagonists.

Torres and Gerrard both showed off touches of their trademarks – the former's fleet of turn and the latter's penchant to surge forward caused the United to defence to wobble – but it was from the most unlikely means that their equaliser arrived.

The words 'mistake' and 'Nemanja Vidic' are far from common bedfellows but the Serbian's decision to let Martin Skrtel's hoof up the pitch was an error in judgement every inch as severe and every bit as damaging as that of Reina's. Torres snuck in to pilfer the ball and, one-on-one with Edwin Van der Sar, was too quick and too clinical to stop.

Talking of too quick….

It was Gerrard's extensive stride that took him past the more conventionally pacy Patrice Evra who slid in with a lack of wisdom of Reina-esque proportions. The Liverpool captain dusted himself down and nestled the ball home via the hand of Van der Sar.

The time had come for questions to be asked. It is no secret that The Reds are past masters at protecting a lead but how good are United – who had not been behind at home in the league since the opening day of the season – at overhauling a deficit?

Their chances of doing so were helped no end by Reina. Three times in the opening 15 minutes of the second period he was horribly nervy in collecting the ball and was very nearly punished on the first occasion when he watched on as Ronaldo's skewed cross from the left rattled against his near post.

No doubt still reeling from Ferguson's half-time words of wisdom, United well and truly upped the tempo. Energetic and dominant on the ball they might have been, but messrs Ronaldo, Rooney and Tevez were shackled superbly.

Tevez had but a sniff midway through the second half before Sir Alex Ferguson made a triple change that was most certainly not to be sniffed at. However, his grand plans of introducing Dimitar Berbatov, Paul Scholes and Ryan Giggs in one fell swoop were thrown into disarray barely two minutes later when Vidic's day turned from bad to worse.

It was his clumsy touch that allowed Gerrard to get the wrong side of him and, when he hauled down the visitors' skipper, Wiley was forced to flash just his second red card of the season. Aurelio stepped up to the ensuing free-kick and deliciously bent it past an unmoved Van der Sar.

Gerrard clumsily sent a late chance over but United's abysmal attempts to defend Reina's long ball allowed Dossena - for the second time in four days - to come off the bench to score a late goal by lifting the ball superbly over Van der Sar.

Game over, Premier League title race certainly not.
---