---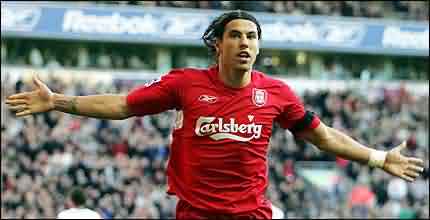 Hat-trick Milan celebrates at Anfield. (Photo: AP)
NOVEMBER 15
Baros must bear the Reds' burden

Analysis By David Prentice - Liverpool Echo

Milan Baros performed like a man making up for lost time.

Which is exactly what he was doing for 92 fascinating minutes at Anfield on Saturday.

Like a man handed an unexpected 15-game opportunity to impress a hitherto sceptical manager, but who had seen two of those games already whipped away by injury.

Baros' season so far can be neatly pegged into two eras: There's Baros BC, Before Cisse sustained his cruel break; and AD, After Djibril suffered his awful misfortune.

Left out of the starting line-up on five occasions BC, substituted in a further five, it was fair to say that Rafael Benitez still hadn't decided on whether Baros could be an integral part of a regular Liverpool strike force.

Now he has little option. Baros has to shoulder the burden of Liverpool's goalscoring responsibility alone until January - and on Saturday he showed he is more than willing to have a go.

When his turbo-charged burst into the Crystal Palace box was illegally halted by Mikele Leigertwood, a man who tackled as clumsily as his name, he bounced up like a weeble, demanding the ball. His penalty kick was precise.

The second goal was more of a true striker's goal, poaching decisively inside the six yard box to finish off what would be Harry Kewell's second goal-creating pass of the day.

Whisper it quietly, but the personal conditioning regime handed to the Australian by his boss may be showing signs of reward, because it was also his piercing pass into the Palace box which induced Popovic into making another disastrous challenge on Baros in the final minute of the match.

Baros' nerve and technique from 12 yards was faultless.

It may sound a little churlish to introduce a 'but' after a striker has just scored a hat-trick, one a nerve-shredding last minute match-winning penalty.

But, with Baros, there usually is one. His ability to unsettle opposition defences with his random, harem scarem runs - like a bee with its backside burned by a magnifying glass - is obvious.

But his ability to act in tandem with his team-mates, as part of a cohesive team unit, is less evident.

It is for that reason that many people consider him to be a more effective super sub, a Fairclough for the millennium, if you like, than a man to build your forward line around - and while his long term future as a forward at Anfield will remain shrouded in doubt.

For Baros, a pass always seems a last resort, when one of his mazy, complicated dribbles has finally run out space or been closed down.

And if a team-mate ever receives the ball from the Czech, he can rest assured it is usually because he either has his back to goal or that every possible angle for a shot or a run has already been thwarted.

That selfishness can be admirable in a striker, but not when you have to play alongside him - and Kewell,, Garcia and finally, Mellor, were given that poisoned chalice on Saturday.

But whether Baros can forge a full-time striking partnership with somebody is for the future.

For now, the young Czech has the heady responsibility of ensuring Liverpool's season still has something to play for come January.

Still handily placed in the Premiership - three points from their game in hand would see the Reds ahead of fourth placed Middlesbrough - but their home games so far might have been hand picked.

Arsenal, Newcastle, Chelsea and Manchester United are among the next six visitors to Anfield and that will provide the acid test of whether Baros can become a long term fixture or a temporary fitting in a Liverpool forward line.

And whether Liverpool can still make a serious challenge for Champions League places in what is undoubtedly a season of transition.
---
NOVEMBER 14
Hat-trick hero Milan thanks his team-mates

By Mark Platt - LFC Official Website

Milan Baros basked in the glory of his first ever hat-trick for Liverpool and thanked his team-mates for helping
him achieve it.

Baros was the Reds' hero in Saturday's thrilling 3-2 victory over Crystal Palace but he admits that three points are more important to him than personal glory.

"This victory was not just down to me," he told Liverpoolfc.tv afterwards. "Together as a team we played good attacking football and I managed to score the three goals.

"For that it will be my name in the headlines but I appreciate the work of my team-mates. Without them my hat-trick would not have been possible.

"But the most important thing is that Liverpool got three points, not that I scored three goals, and we are all happy about that."

Two of the Czech striker's three goals came via the penalty spot and he has no doubt that referee Phil Dowd made the right decision on both occasions.

"They were definite penalties in my eyes. We had claims for another one but the referee said no. Fortunately it didn't matter in the end."

The winning penalty came in the very last minute and he reveals that stepping up in front of the Kop to seal victory was a tense moment.

"I was very nervous before taking the winning penalty because I knew how important it was for us to win the match after the defeat we suffered against Birmingham last week. Of course, it was also the first time I have scored three goals in a game for Liverpool."

Relief swept around Anfield at the final whistle and Baros was delighted to have marked his return from injury in style.

"Because I'd missed the previous to games I was really looking forward to this one. It's difficult for me to watch from the stands, so it was felt good to be back out there. I just want to be playing football."

Baros has now scored 10 goals this season and is just two away from emulating his personal best for the Reds of 12.

With Djibril Cisse out injured the main attacking onus has been thrust upon him, but he doesn't necessarily see it that way.

"I always do my best for Liverpool. It's unfortunate that Djibril (Cisse) is injured but I don't feel any added pressure because of this. Neil Mellor did well in midweek when he scored two goals and Sinama-Pongolle is playing well also, so I'm not the only striker," he concludes.
---
NOVEMBER 14
Baros hat-trick delights Benitez

BBC Sport Online

Liverpool manager Rafael Benitez praised Milan Baros after the striker's hat-trick sealed a 3-2 victory over Crystal Palace at Anfield.

"He plays very well around and in the box. It's a fantastic day for him," said Benitez.

"To score three goals is important for all the players. With Djibril Cisse injured, it's important to have all our strikers in good condition.

"The players are very, very happy and the supporters too."

Liverpool looked to be heading for a frustrating draw after goals from Joonas Kolkka and Michael Hughes cancelled out strikes from Baros.

But Baros won his second penalty of the match in the 90th minute and kept his cool from the spot to seal the win.

"We fought right until the end and that was important," said Benitez.

"We knew it would be difficult but I thought we played as we had to. The only thing was that we crossed many balls at the end of the game and didn't get anything.

"But we had the opportunity. In my opinion the penalties were right and I thought it was just that we won."

Benitez said the squad would be boosted by the imminent return of injured captain Steven Gerrard.

"He will play on Monday with the reserve team and we hope he could play with us next week," he said.
---
NOVEMBER 13
"Difficult to stormach"

Sporting Life

Iain Dowie admitted that Crystal Palace's last-ditch defeat at Liverpool was "difficult to stomach" after he had seen Milan Baros score a hat-trick in a 3-2 Anfield triumph that included two penalties won by the Czech striker.

The Palace boss said: "Baros was their most outstanding player and he hurt us.

"I don't want to get embroiled in any debate over whether he goes down too easily, that is for other people to decide. But it was hard to take - a bitter pill to swallow.

"They hardly had a shot in the second half and we scored two 'stand out' goals and frankly conceded three sloppy ones.

"I would contest the free kick (won by Baros) that got them the free kick which saw them reclaim the lead just before the break, and I would like to see the penalties on TV.

"What is frustrating is the way they did us at the end. My players are stunned after that but we must take the positives from games like this.

"Ben Watson and Wayne Routledge were outstanding for us and it is from games like this that players and teams gain the character, that X-factor, you need to become top class performers in the Premiership.
---
NOVEMBER 13
Baros treble downs Eagles

By Paul Higham - Planet Football/Sky Sports

A last minute Milan Baros penalty earned Liverpool a 3-2 win over Crystal Palace at Anfield, with the Czech star bagging
a hat-trick.

Baros underlined how important he is to The Reds with a sparkling performance and a hat-trick, including two penalties, to deny a battling Palace side a point on Merseyside.

Joonas Kolkka cancelled out Baros' early penalty with a thunderbolt just before half time, but there was still time for Rafa Benitez's side to go ahead when Baros got on the end of Harry Kewell's cross in first half stoppage time.

Liverpool dominated the game but missed too many chances and were punished when Michael Hughes' header made it 2-2 six minutes after the break in a rare away attack, but it long looked like enough to earn a point.

Palace defended with great spirit and Liverpool were running out of time when Baros was again felled in the box and he kept his nerve to just about beat Gabor Kiraly and earn a vital three points for the hosts.

Palace tested Chris Kirkland early when Ben Watson fired in a shot and the big goalkeeper needed a second attempt to gather the ball.

Liverpool soon got into their stride and it was Jamie Carragher who popped up inside the box to bring down Xabi Alonso's long ball, but the centre half could not get a shot in on target.

The Reds got the breakthrough on 23 minutes when Mikele Leigertwood brought down Baros inside the box and referee Phil Dowd pointed to the spot.

The Czech Republic forward picked himself up to coolly dispatch the penalty past Gabor Kiraly for 1-0.

Baros was sent tumbling inside the box a few minutes late but this time Dowd waved away Liverpool's penalty appeals.

Palace then stunned the Kop be levelling a minute before the break when Kolkka picked up the ball on the left of the box and unleashed a wonderful strike which flew past Kirkland.

The home side's response was instant, and Baros restored their advantage in first half stoppage time when Harry Kewell raced into the box down the right to square Alonso's free kick for Baros to bundle in.

Incredibly, Liverpool could have gone in 3-1 ahead at half time when John Arne Riise squared a ball from the left for Luis Garcia, but his effort was clawed away by Kiraly right on the goal line.

The Reds started the second half brightly with Baros looking desperate to grab a hat-trick, but was denied a chance when adjudged to have handled when galloping through.

Baros then had a near post header well saved by Kiraly, before firing just wide from the edge of the box when Luis Garcia's original shot had been blocked.

Liverpool were left to rue their missed chances when some slack play led to another shock Palace equaliser.

Kolkka was allowed far too much time and space out on the left and his good ball in found Michael Hughes totally unmarked and able to head in past the helpless Kirkland from ten yards.

Liverpool went in search of a third goal, with Alonso firing a free kick just wide and Riise having two ferocious efforts fly just wide.

The home side piled forward in search of a winner but, as Palace were forced further and further back, they defended desperately at times but always did enough to prevent a clear shot at goal.

A frustrated Liverpool looked like having to settle for a point but Baros was still full of running, and was awarded another penalty in the 90th minute when Tony Popovic brought him down after another purposeful run from the Czech.

Kiraly was booked for his antics before the spot kick, and it nearly worked as he got a firm touch on Baros' penalty, but it was not enough to stop him collecting his hat-trick and earning three points for Liverpool.
---