---
SEPTEMBER 15
Houllier rounds on Rovers

Sporting Life

Liverpool manager Gerard Houllier believes Lucas Neill deserves more than a three-game ban for the tackle which ruled Jamie Carragher out for at least six months because of a broken leg.

Carragher suffered the injury following a challenge by Neill in Saturday's encounter at Ewood Park which resulted in the Australian being sent off.

Houllier has rounded on Blackburn, revealing his anger that manager Graeme Souness waited until Monday to offer his sympathy to Carragher.

He told the Liverpool Echo: "When the game had finished I wish Graeme Souness had come up to me and said 'Sorry, it was a bad tackle'. But he did nothing. That really made me furious.

"I like to think of myself as a nice guy but in this case I am extremely unhappy with their behaviour during the incident, during the game and after the game.

"I think Neill's attitude was out of order. The first thing he should have done was go to the player, see how he was but he didn't."

The Liverpool boss believes Neill should serve more than a standard three-match suspension for a tackle he branded as "cowardly".

Houllier added: "Blackburn have lost a player for three games and we have lost one for six months. You know as well as I do how important Carragher is to my team.

"In France there was a case where a player injured another with a bad tackle, which forced him out of the game for two months.

"The French FA banned the player responsible for the same length of time.

"I think Neill deserves more than three games for the way he behaved.

"I am gutted. To break a leg when a player is wearing shinpads takes something."

Carragher is trying to remain upbeat despite suffering the injury.

"I hope I am walking again before my 10-month-old son," he said.

"I am sick as I have had such a good record with injuries throughout my career and touch wood that will continue when I get over this.

"I know injuries are part and parcel of the game but this will be a completely new experience for me.

"I don't know what I am going to do with myself for the six months, to be honest.

"I had a knee operation a few years ago but that was over the summer and I hardly missed any matches.

"What worries you most when this happens is losing your place. That's why I have always been prepared to play even if I've had a niggle."

Souness, who played for and managed Liverpool, said that while Neill's challenge warranted a red card it was not malicious and he offered his best wishes to Carragher and Milan Baros, who broke his ankle in the game.

"There was one bad tackle from 28 players in the whole of the 90 minutes, even if two players ended up with bad injuries," he said.

"It wasn't a dirty game, it was a competitive game, before anyone starts to create a big thing out of it.

"There is no issue between me and Liverpool. I have seen the tackle again on TV and it looked like a sending off to me but it wasn't malicious.

"I, along with everyone at the club, is very saddened to hear the news and we wish Jamie Carragher - and Milan Baros - the speediest possible recovery."

Neill also offered his sympathies to the stricken Carragher and denied there was any malicious intent in his challenge.

Neil told Blackburn's official website, www.rovers.premiumtv.co.uk: "It is very sad for Jamie and I feel deeply sorry for him.

"No-one likes to hear of any player being injured, especially for the long term, but there was absolutely no intent on my part - I simply went to play the ball.

"I am an aggressive and committed player, that is part of my game, but I play it fairly. I pass on my best wishes to Jamie for a speedy recovery and hope at some stage to be able to go over to see him and shake his hand."
---
SEPTEMBER 14
Houllier hits out at ex-Red Thommo

LFC Official Website

Gerard Houllier last night hit out at former Liverpool star David Thompson following an incident with John Arne Riise during the Reds' 3-1 win at Blackburn.

Thompson was lucky to escape a red card after he appeared to aim an off the ball blow at Liverpool's Norwegian star and Houllier, already seething following injuries to Milan Baros and Jamie Carragher, didn't hold back in his condemnation of his former player.

The Liverpool boss said: "I was unhappy with what Thompson did to Riise. When it's a challenge or a tackle it's okay.

"But when a player tries to hit another when the referee isn't looking and the ball has gone then I get very angry and I think Graeme would too.

"Thompson doesn't need to do that. He is a good player and if he had kept his cool he could have caused more problems for us.

"He tried to 'do' Riise in front of me and even the fourth official saw it. We had words. I think he was inviting me out for dinner but I don't think I will be available. I am not going to tell you what Thompson said but it was nothing really abusive.

"I was appalled by the reaction of the crowd to Riise and if the referees don't protect that type of player then we have a problem."
---
SEPTEMBER 14
Boss: We did it for Jamie and Milan

LFC Official Website

Gerard Houllier last night dedicated Liverpool's 3-1 victory at Blackburn to Milan Baros and Jamie Carragher.

Both players picked up bad injuries during the win at Ewood Park, with Baros leaving on a stretcher after breaking his ankle and Carragher limping off following an awful tackle by Lucas Neill.

Houllier was delighted with his team's performance - and with the three points - but he said the victory was soured by the two injuries.

He said: "I told the boys at half time that we had to win it for Jamie and Milan. We kept our heads up and kept going. We didn't want one point, we wanted three.

"I've got mixed feelings. Our victory was soured because, although we won, we've got two injured players.

"It was a dramatic start to the game and we knew we just had to pass the ball and be patient. We played very well and deserved our victory. I'm pleased we kept our heads up and kept going. I thought Vladimir Smicer was brilliant. It's the third consecutive game we have played well."
---
SEPTEMBER 13
Reds hit by Baros blow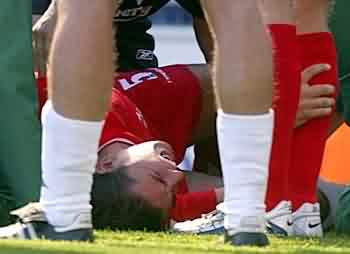 By Chris Maxwell -
LFC Online

Liverpool manager Gerard Houllier has confirmed that young Czech striker Milan Baros suffered a broken ankle in today's 3-1 win at Blackburn.

Baros broke his ankle and will
undergo an operation. (Photo: Empics)
The in-form 21-year-old sustained the injury in only the second minute of the Ewood Park clash after receiving a seemingly innocuous challenge from Blackburn's on-loan defender Markus Babbel.

The news, coupled with an injury to defender Jamie Carragher, will be of great concern to Houllier but the Frenchman refused to blame Anfield employee Babbel for the unfortunate incident.

Houllier said: "Milan has a broken ankle and will undergo an operation tonight or tomorrow. It is a bad injury but I do not blame Markus. It was not even a foul, he tackled properly and won the ball. Milan injured his ankle when he fell. I saw Markus after the game and he was distraught."

The Reds boss also revealed that the club do not yet know the extent of the injury suffered by Jamie Carragher.

Houllier added: "We're not sure just how serious that is yet. He'll need a scan before we know anything more. It was a bad tackle though. It oculd have broken his leg. I can tell you that Jamie Carragher would not come off the pitch unless he couldn't walk and when he came off he was unable to put his foot down.

"It was a two-footed tackle. Neill deserved to be sent off and I think he'll even admit that himself when he sees the incident on television."
---
SEPTEMBER 13
Souness admits Neill deserved to be dismissed

Ananova

Graeme Souness admitted Lucas Neill deserved to be sent off during the 3-1 defat against Liverpool, but criticised referee Neale Barry.

Neill was sent off for a high two-footed tackle on Jamie Carragher, while Milan Baros broke his ankle after an innocuous tackle by Markus Babbel.

Michael Owen scored twice, once from the spot, and Harry Kewell wrapped up victory in the final minute after Matt Jansen had struck a wonder goal.

Souness said he spoke to the match official at the final whistle.

"The only thing I said to him was 'It was not one of your best days, was it?'. Just in general he had a poor day - and I don't think I will get in trouble for saying that," said Souness.

"I have seen the sending-off on a video replay and it was not the best challenge, it looked a sending-off.

"It changed the game dramatically. We were on the front foot and get a goal then within a very short time they equalise and we are down to 10 men.

"From then on it was backs to the wall and we were still in it until Harry Kewell got their third goal in the last minute. They used their spare man very well, they deserved to win - it was their day."

It was a baptism of fire for Barry Ferguson, Rovers' £7.5million signing from Rangers, but Souness felt the Scotland international had coped well.

He added: "He's played two internationals and then has come and played for most of the match in a three-man midfield when they had four. It was difficult and I thought he did well."
---
SEPTEMBER 13
Owen brace sinks Blackburn

BBC Sport Online

England striker Michael Owen scored twice and Harry Kewell added another to hand Liverpool victory over ten-man Blackburn in a thrilling game at Ewood Park.

Matt Jansen had put Blackburn ahead with a stunning finish after eight minutes, but Owen levelled three minutes later from the spot after El-Hadji Diouf had been fouled.

Shortly after Blackburn were reduced to 10 men after a horror tackle from Lucas Neill on Jamie Carragher that forced Carragher off injured.

Owen and Kewell won it for Liverpool in the second half after a series of stunning saves from Brad Friedel had threatened to deny them.

Scotland captain Barry Ferguson was making his debut for Blackburn, and the midfielder had a frenzied introduction to the Premiership in an action-packed start to the game.

A harmless-looking tackle from Markus Babbel sent Milan Baros to the turf clutching his ankle in agony, and the Czech striker had to be replaced by Emile Heskey.

The home side went ahead on six minutes. Andy Cole flicked on a long Vratislav Gresko pass and Jansen brilliantly turned Carragher before firing the ball past Jerzy Dudek in the Liverpool goal.

But their lead did not last long, as Gresko turned from hero to villain by bringing down Diouf in the area to give Liverpool a penalty.

Owen stepped up and confidently stroked the ball past Friedel into the bottom left-hand corner.

As the half wore on the visitors began to stamp their class on proceedings, and they should have led going into the break.

First Owen was brilliantly denied on a one-on-one with Friedel and then just a minute before the interval, Steven Gerrard saw a right-foot curler destined for the top corner sensationally tipped away by the American keeper.

Liverpool started the second period as they had ended the first, but Blackburn had the first opportunity to go in front when Garry Flitcroft shot just wide from the edge of the box.

Owen wasted another fine chance when put through by Diouf as the game swung from end-to-end and then Heskey blazed wide after another scintillating move.

It was a matter of time before Liverpool went ahead and Owen duly struck halfway through the period, slotting low past Friedel after good work from Smicer.

Kewell put the result beyond doubt in the last minute, his left-foot drive capping a fine display.
---