---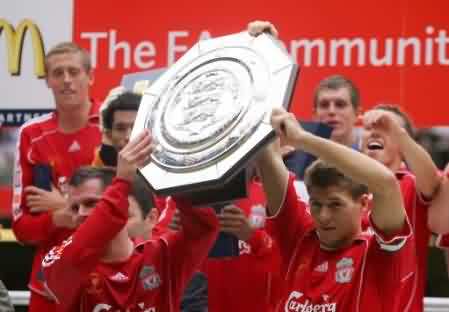 Reds celebrating the first silverware of the season.
AUGUST 14
Rock-solid Malian may prove
to be Rafa's superman

By Nick Smith - Liverpool Echo

His legs stretch across the turf like a snooker cue rest lying on the green baize. And they have a similar effect as that piece of apparatus - reaching things that mere mortals find physically impossible.

It's the incredible extending limbs of Momo Sissoko that give him that bit extra.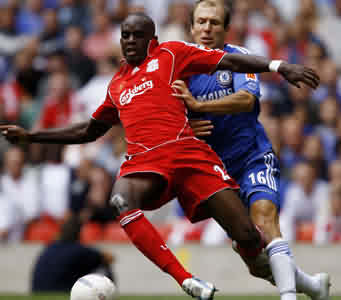 And they could provide the added leg-up Liverpool need to catch, and indeed overtake, Chelsea for real.

Yesterday proved once again that they can do it over one game. But it's the 38 coming up that they need to be worried about.
Momo Sissoko - Man of The Match.

You need a squad to cope with such demands and, to that end, players who will take responsibility when their mates aren't around to do it for them.

Here's where Sissoko steps in. Analysing the individual pieces of magic dust that he sprinkled throughout the game gives encouragement enough.

Michael Ballack was forced into an early booking as Sissoko somehow squeezed the ball down the line just when the German thought he had him cornered.

When the roles were reversed and Ballack finished up on his backside, it was courtesy of a perfectly-timed piece of good old-fashioned ball winning from his midfield opponent.

Arjen Robben must have felt he was under some sort of octopus attack as Sissoko wrapped his leg around the Dutchman to halt one of his trademark speed surges.

And the hit list was then complete when Andriy Shevchenko suddenly appeared invisible as the big man strode through him and casually waltzed off with possession.

But the bigger picture paints an even more attractive landscape for Liverpool.

Sissoko's snuffing-out of opponents with such efficiency will surely reap more rewards when Steven Gerrard and Xabi Alonso are available to exploit it.

As it was, neither of them were alongside him for the majority of yesterday - and Jose Mourinho thought his side was operating at 50 per cent!

But half fit or not, a team that featured Lampard, Essien and briefly, Ballack, never dominated in a way that they might have expected when they saw that Gerrard and Alonso's names weren't in the top 11 on the team sheet.

It was largely thanks to Sissoko and his mere presence alone in the hour that he was without his chief allies that laid the foundations for more silverware-snatching at the expense of the champions.

The overall importance of the youngster to Liverpool's bid to return to the summit of English football has been buried in many aspects of summer holiday hype.

Being from Mali, there was no World Cup in which to enhance his reputation, then fervent transfer speculation has taken further attention away.

It's natural that most pre-season patter focuses on the new men and how, or if, they will adapt to Rafael Benitez's masterplan.

And given the risks Benitez has taken in this area it's little wonder that most anticipation is surrounding the summer signings.

But it's how Sissoko fits in that might be more relevant.

For a start, he has secured the man of the match award in both yesterday's Community Shield showdown and the first of the week's 2-1 victories in Wednesday's Champions League win over Maccabi Haifa.

Secondly, having him in such form is like bringing in a new signing anyway because of the nightmare he suffered in the last campaign when an eye injury, at one stage, threatened his career.

And thirdly, unlike Craig Bellamy and Jermaine Pennant, he has nothing to prove at Anfield because his first season was as smooth a settling-in period as you could wish for.

Yesterday also highlighted something that might have previously been unthinkable.

It involved Benitez, whether it was intentional or not, almost matching Mourinho's playing-down of his team's chances by leaving out the two chief playmakers that many thought they couldn't do without.

By sending Sissoko out into no man's land stripped of their support, he had to prove the team could cope without them.

It was a day when the boy from Africa had no choice but to go out and become a man.

Keep this up and he will soon become Liverpool's main man.
---
AUGUST 14
Riise vows to keep hold of Reds shirt

TEAMtalk

Cardiff goal hero John Arne Riise has vowed to fight off anyone who wants to take his Liverpool shirt.

The Norwegian international, who struck another thunderous goal - his 27th for the club from left back - in the 2-1 Community Shield success over champions Chelsea, is constantly aware that his place is under threat.

Now Djimi Traore has been sold there is Brazilian left-sided defender Fabio Aurelio to worry about.

Aurelio insists he is happier at left-back than left midfield, where the competition with Mark Gonzalez and Harry Kewell gives boss Rafael Benitez better attacking options.

And then Riise has to contend with an even more surprising sub-plot that Chelsea are being linked with him if they fail to land Ashley Cole.

That may be just wild speculation, certainly at £15million, with Riise making it plain he is only bothered about retaining his left-back role at Anfield.

Riise, 26, said: "I like to have competition for my place, it keeps me on my toes, and it seems each season there are people bought to challenge me. But I still seem to be playing.

"I need to keep working hard to hold onto the shirt and that is what I have done each season. I worked hard again this pre-season and I have played in both the first two games.

"I aim to keep working to hold onto my place, I have no intention of letting it go."

Riise's blockbuster in the Millennium Stadium was pretty special even by his standards, with long range thunderbolts his speciality.

He scored a power drive a couple of seasons back in the League Cup final against Chelsea, but finished on the losing side that day. It made Sunday's effort even sweeter.

He said: "It was another recent victory for us over Chelsea and I scored against them at Cardiff again but this time we won, not like in the Coca Cola Cup.

"The goal came from their corner, I got the ball, kept running and didn't believe how much space I had so I just kept going. By the time I got within sight of the goal all I had was John Terry in front of me and he kept backing off.

"I just decided to have a go. To be honest I felt their 'keeper should have saved it, but it was a great feeling to see it go in.

"Chelsea have a great record of clean sheets and they defend well so I was surprised to be given so much space. It was worth a crack."

Liverpool won the Shield for the 14th time despite Benitez fielding a weakened side for the first hour that included rookie defender Daniel Agger and without Steven Gerrard until the final stages.

Riise said: "People may have been surprised by the team selection but we wanted to give some other players their match fitness. It was high tempo and a great game to watch.

"Chelsea are the favourites for the title again so it is nice to play them early and beat them. People may call it a friendly but it was an important game to get our confidence up."
---
AUGUST 13
Jose accepts Cardiff defeat

By Alex Dunn - Sky Sports

Chelsea boss Jose Mourinho accepts his side were second best in falling to a Community Shield defeat to Liverpool
at The Millennium Stadium.

A header from Peter Crouch ten minutes from time was enough to win Liverpool the first silverware of the season after Andrei Shevchenko had earlier cancelled out John Arne Riise's opener.

Liverpool were the better side for long spells in Cardiff and Mourinho feels that a pre-season interrupted by players reporting back late following their World Cup exertions proved to be a major factor.

The Portuguese tactician is well aware that his side need fine-tuning in terms of fitness and was magnanimous in defeat in conceding Liverpool deserved their victory.

"If I look at the game as a pre-season game, I think it was fantastic for us because we played against a team in much better condition than us," Mourinho told Sky Sports.

"Because of that it was very very good. If I look at the game as a minor trophy of course you don't like to lose but if you don't think about the difference of condition of both teams they deserved to win because they were better than us.

"They are a very difficult team to beat. When you play them you can win, lose or draw.

''They defend well and they are well-organised.

"This season they have more solutions. They can play with Crouch or play a different way with [Craig] Bellamy. Or play with both.

"But a competition of 10 months is different to a game of A against B. If I play them again tomorrow, it will be difficult but over 10 months I believe we can do it."

A disappointing day for the champions was compounded by an injury sustained by new boy Michael Ballack, who was making his competitive bow in Chelsea colours.

The German schemer pulled up sharply early in the first period and had to be replaced, with his new taskmaster admitting that he feared the player could be ruled out of their Premiership opener.

''Ballack is injured, that is obvious. I'm not sure if he will miss the start of the season," he added.

"I hope it is nothing big because we have Joe Cole, Claude Makelele and Petr Cech injured - we have to try to start the season as best we can.

"Every team will try to improve to catch us but I think we will be the best team."

While Ballack was denied the opportunity to stamp his class on proceedings, fellow new signing Shevchenko was excellent all afternoon and his goal was testimony to an impressive display.

"The goal was great,'' concluded Mourinho.

''It was one of the rare moments of possession where we took the ball with penetration and movement and it was class how he took his goal.

"He can't get the ball from Cudicini's hands and score a goal at the other end.

"He needs the team to have the sharpness and condition and technical structure to play in the last third.

"In the last third he is fantastic. He had two situations. He almost scored a goal with a finish from a corner and the other was a wonderful goal.

"He needs the team behind him to be what he is - an amazing player."
---
AUGUST 13
Rafa happy with win

By Peter ORourke - Sky Sports

Liverpool boss Rafa Benitez believes his side's 2-1 win over Chelsea in the Community Shield will give them confidence for the new season.

The Reds picked up the first silverware of the season with a deserved success at The Millennium Stadium.

Goals from John Arne Riise and Peter Crouch were enough to give Liverpool the spoils with Andrei Shevchenko netting his first goal for Chelsea.

Benitez was happy with his side's showing at Cardiff and believes they can build on the success.

"No (it is not a psychological blow) I think it gives us confidence in ourselves, " said Benitez.

"It is difficult to play against one of the best teams in the world and we have done a good job today and for the rest of the season we will have more confidence.

"The team worked really hard against a very good team with lots of good players and in the last minutes we were working, running and trying to defend and I am really pleased with the team. "

Benitez, who left out a number of his top stars from the starting line-up, hinted that he could still be in the market for more new signings before the close of the transfer window.

"This shows we have a very good squad," added Benitez.

"We tried to use players that are fitter than the others and then bring on some of the bigger names. But I think in both halves we played well.

"We can try to improve if it is possible but I am happy with the squad, although you can improve a little bit."
---
AUGUST 13
Crouch: Beating Blues can boost us

TEAMtalk

Liverpool striker Peter Crouch is hoping his goal in the 2-1 FA Community Shield win over Chelsea kick-starts a winning season for the Reds.

Crouch scored the second goal to clinch victory at Cardiff's Millennium Stadium and told Sky Sports: "The manager wants his players to improve and I want to improve as a player.

"I want to win things and this is a good start to the season. We hope it is going to be a good season."

The England frontman added: "People say it's not important [to win the Community Shield] but you see the fans and the players and see it is important."

New £6.5million signing Craig Bellamy, who came on in the second half, said: "The gaffer had a meeting and said he would be looking to rest people. They are all good players. Good players come off and players of high quality come on."

John Arne Riise, who scored Liverpool's first goal, explained why he decided to try a shot after marauding through the Chelsea ranks.

"I looked around and just decided to have a go. They backed off and I thought just go. I felt the goalkeeper would save it.

"I went so far and looked around and didn't see anyone so it was down to me."

He added; "Everyone worked hard today. We beat the Premiership champions and now we have to move on."
---
AUGUST 13
Reds take season's first silverware

TEAMtalk

Liverpool have won the FA Community Shield for the 15th time in their history after Peter Crouch's goal gave them a 2-1 victory over Chelsea.

It may be a meaningless friendly but Sunday's clash in Cardiff gave the new season exactly what it needed - proof that Chelsea are beatable.

Jose Mourinho's team cruised to the title last season and then bought two of the world's best players with Roman Abramovich's billions.

The rest of the league could be forgiven for thinking the new campaign will be a race for second place.

Crouch changed all that with a back-post header 10 minutes from time at the Millennium Stadium.

Craig Bellamy supplied the cross from the left and Crouch was unmarked as he bagged the winner.

Mourinho's blue machine was stopped by the England striker, who was briefly famous for his robotic dancing.

John Arne Riise has fired the Reds in front in the ninth minute but Andriy Shevchenko levelled, just before half-time.

Mourinho will shrug it off, dismiss the game as a warm-up for the real thing, which starts next weekend.

He will undoubtedly grumble again about the short pre-season, which has given him very little time to work with his players.

And he may throw in another moan about the international fixtures this week, which will disrupt his preparations.

Liverpool, in contrast, will put the Shield into the Anfield trophy cabinet and consider it a huge psychological blow to beat the champions on the eve of the new season.

There is, after all, serious needle between these two teams.

This was their eleventh meeting in little over two years and the games have been packed with controversy.

The animosity was evident when Frank Lampard's temper snapped in the first half and he booted Boudewijn Zenden from behind.

Lampard was lucky to escape with a booking from Martin Atkinson because, although Zenden had the ball, the Chelsea midfielder did not seem to be aiming for it.

Michael Ballack was also booked when he wiped out Mohamed Sissoko with an awful late tackle on the touchline.

Mourinho had chosen to start with what looked like his strongest available team, in the absence of Petr Cech, Joe Cole, Claude Makelele and William Gallas.

Ballack, however, hobbled off midway through the half, holding an ice-pack to his hip. Salomon Kalou came on.

Liverpool's competitive season is already under way. They beat Maccabi Haifa last week in a Champions League qualifier and Benitez rested some of his key players.

Steven Gerrard started on the bench, along with Xabi Alonso and new striker Craig Bellamy.

Riise fired Liverpool ahead in the ninth minute. He picked up a clearance from a Chelsea corner and sprinted from box to box without meeting a challenge.

John Terry backed off and Riise unleashed a left-footer which dipped suddenly and beat Carlo Cudicini.

The Italian, in for the injured Cech, should have saved it and skipper Terry glared at his goalkeeper.

Riise sprinted away in delight. The goal was a reminder of his screamer against Chelsea in the Carling Cup final in 2005, which also put the Reds one-up.

Cudicini made up for his mistake in the 42nd minute when his acrobatics stopped his team going two goals behind.

Benitez must have wondered how the ball stayed out of the net when Mark Gonzalez slid a low cross in from the left but Luis Garcia and Crouch got in each other's way.

Garcia had the final touch but his gentle looping effort gave Cudicini the chance to recover and tip it over the bar.

Within a minute, the scores were level as Lampard's pass found Shevchenko breaking clear of the Liverpool back-four.

The Ukrainian showed the sort of finishing prowess you can buy for £30million.

He took the pass on his chest and coolly side-footed the ball past Jose Reina with his second touch. Up in the stands, Roman Abramovich punched the air in delight. His latest big-money investment certainly knows where the net is.

Reina made two sharp saves inside a minute, in the second half.

The Spaniard turned one over from Drogba and then sprang to his left to beat away a low header from Shevchenko.

After Liverpool's strong opening, Chelsea had started to dominate and Benitez responded by sending on Alonso and Gerrard.

Bellamy followed shortly after as the substitutes flooded on and disrupted the game's rhythm.

Alonso had been on less than a minute when he whacked Michael Essien on the ankle and was booked.

Liverpool remember Essien's nasty two-footed tackle on Didi Hamann in last season's Champions League.

Incidents like the Essien challenge on Hamann, together with snide comments from both managers, have turned this fixture the biggest grudge match in the Premiership.

These mutual feelings are unlikely to change if Liverpool develop into Chelsea's nearest title rivals this season.

Crouch's late goal gave Benitez another win over Mourinho and tightened his psychological hold.

He has beaten him in the Champions League, the FA Cup and the Community Shield. Now for the Premiership.
---