---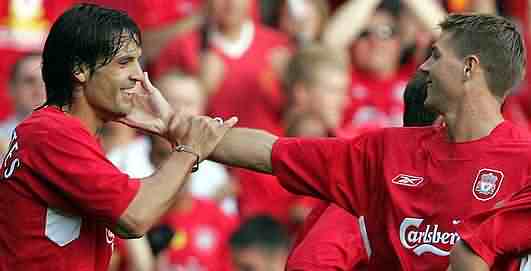 Morientes congratulates Mr. Hat-Trick - Steven Gerrard. (Photo: AP)
JULY 15
Time running out for goal-shy Mori

By David Prentice - Liverpool Echo

Liverpool satisfied a remarkable capacity crowd at Anfield on Wednesday by kicking off their new campaign the way they ended the last one.

But worryingly - so did Fernando Morientes. And his performance wasn't so satisfying.

While the Reds scored three times in a Champions League clash to begin their defence of the trophy, the Spanish striker drew another Anfield blank.

Now it would be absurdly harsh to criticise a striker for fluffing a few chances in a glorified pre-season friendly, less than a fortnight after reporting back for training.

But after six months of largely goal-free activity at Anfield, Morientes does not have time on his side - and the early weeks of this season could be crucial for his long-term Liverpool livelihood.

He arrived at Anfield last January with the reputation of a man who had just finished top scorer in the Champions League the season before.

But if Real Madrid rued letting him join Monaco on loan and fire the French club to the Champions League final, he did nothing on his return to suggest their decision had been premature.

That's literally nothing. Absolutely nothing. No goals whatsoever.

In 16 appearances - admittedly many as substitute - he failed to score a single goal. Real are not exactly quick at offloading stars past their prime . . . Ronaldo, Beckham, Zidane and Roberto Carlos are all shadows of their former selves, yet all still playing regularly at the Bernabeu.

Morientes, however, was offloaded sharpish. Which makes me wonder why?

The two beauties he flashed into the Fulham and the Charlton nets soon after arriving at Anfield were false dawns.

In a further 10 matches he managed just one more goal - and worse, rarely looked like scoring.

Pre-season is all about fitness and sharpness, and Morientes has the best part of a month to find both. But added to that, he could do with a healthy injection of confidence too.

The good news from Wednesday is that at least he found himself on the end of three clear-cut chances. He didn't finish any of them, but he has to hope the goals flow soon.

Because with Peter Crouch hovering about as effectively as a six feet seven inch striker can, with Djibril Cisse raring to go after his injury heartache and with Milan Baros refusing to go quietly, Rafa Benitez has other options available. And that's without considering the currently injured Neil Mellor and Florent Sinama Pongolle, or Anthony Le Tallec.

Fernando Morientes is currently the man in possession. But once the season proper gets underway, he must start producing - and quickly.
---
JULY 14
Gerrard: I had nothing to prove

Goal.com

Liverpool captain Steven Gerrard scored all the goals in his club's 3-0 Champions League first round, first leg victory over Total Network Solutions - and then insisted he had not needed to prove a point to the fans.

Last week Gerrard had said he wanted to leave Liverpool, alienating some fans, before changing his mind and signing a new deal.

"I didnít want to get into that situation, I wanted to sign a contract after the [European] Cup final," said Gerrard.

"But now that trouble is behind me and the fans reacted well."

He added: "I am pleased about that and I am proud to carry on as captain of Liverpool Football Club.

"I donít think I had to prove anything [to the fans] but I have to keep proving things to myself as I want to be successful."

The Liverpool manager, Rafael Benitez, praised Gerrardís contribution.

"We said before he was a good player for us," said Benitez.

"He scored three goals, he played well, he is our captain and we always said we wanted to build a team around him."

Liverpool endured a frustrating second half as they sought to get more goals in the bank ahead of the return leg. But Gerrardís third goal a minute before time gave him a hat-trick and his team a comfortable if not overwhelming victory.

Benitez added: "We shot many times, we crossed many times but at the end they were well organised and it was difficult to find space."

He will now take his squad to a training camp in Switzerland before the second leg on 19 July.

"Maybe we can switch some players (in the second leg) but the most important thing is to see if our players are fit or not," said Benitez.

"We will train hard in the week, we will wait to see."

---
JULY 13
Gerrard hat-trick buoys Reds

By Patrick Goss - Sky Sports

European champions Liverpool started the defence of their title with an underwhelming 3-0 win against Welsh Champions Total Network Solutions, and somewhat inevitably it was Steven Gerrard to the fore as the captain bagged a hat-trick.

After declaring that he would leave Anfield, and then changing his mind, Gerrard showed no sign of relinquishing his grasp of the summer headlines - slotting home after just seven minutes as The Reds failed to run up the rugby score that some had predicted.

There was a sense of inevitability when John Arne Riise cut inside ominously and fired a low ball across the box.

Anthony Le Tallec and Fernando Morientes took touches, but it was captain Steven Gerrard - buoyed by the very voices that had been left angered by his decision to go and mollified by his about turn - that was in the right place to slot neatly home for the opener.

It should have been two six minutes later; Gerrard clean through but not quite capable of beating Ged Doherty and Morientes surprised by the goalkeeper's spritely recovery to clear the rebound off his feet.

If the Spaniard was under any illusion that he was in what amounted to a pre-season match, an awful challenge by Phil Baker reminded him that the Liverpudlian-dominated TNS side were not merely awaiting the chance of a post-match souvenir when shirts were swapped.

Mike Wilde was given a chance to warm debutant Jose Reina's hands when Xabi Alonso clumsily presented him with the ball, and Morientes gave a note of warning with a header that was only narrowly over.

Seconds later and the second goal finally came, Gerrard again on hand to canter clear of the defence before calmly lobbing Doherty to double their advantage.

The TNS keeper produced another fine reaction save when a mis-hit Riise shot was headed towards goal by Le Tallec, and denied Morientes for a second time as he was put clean through with a flowing move.

Two goals was never likely to appease a crowd hungry for goals after the summer lay-off - however truncated it may have been - and the slow start to the second half did not help.

Bolo Zenden was handed his competitive debut to try to mix things up but it failed to fire Liverpool, and only the arrival of Djibril Cisse finally brought some bite.

The French striker was given a wide role and immediately injected pace, unlucky not to keep the ball in when his cut-back for Le Tallec was converted.

Morientes had two quickfire chances, denied by a fine challenge from Michael Jackson for the first and not finding the target with the second - but the final word belonged to Gerrard - already worming his way back into the affections of a Liverpool faithful that may not tolerate another summer such as this.

The captain was given far too much space and, with the crowd already rising to celebrate, dispatched a low drive accurately into the left hand corner to seal his hat-trick.

They may not be dancing on the streets of Total Network Solutions after this defeat, but they gave a good account of themselves and once more the Kop were left saluting a player that can quickly become their hero once more.
---