---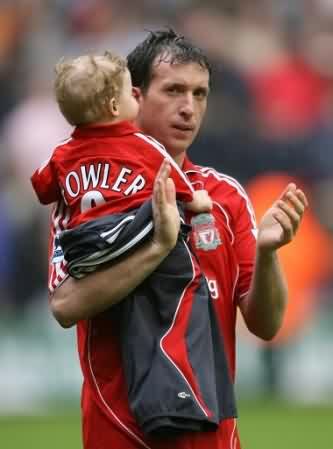 Thanks for all, Robbie. (Photo: Empics)
MAY 14
Unique Robbie will be missed

By Chris Bascombe - Liverpool Echo

Steven Gerrard today hailed the 'irreplaceable' contribution of Robbie Fowler as Anfield bid farewell to the striking legend.

Fowler signed off Premiership duties in the 2-2 home draw with Charlton, prompting an emotional tribute from the club skipper.

"There aren't many strikers around like Robbie anymore, not just in England but around Europe," said Gerrard.

"In his prime he was one of the best finishers there's ever been. When you think he took the number nine shirt from Ian Rush and managed to fill it, I don't think there's a bigger tribute you can pay to him than that.

"The number nine shirt at Anfield is one of the most important and it's been great to see Robbie wearing it again.

"Whoever is lucky enough to wear it next year will have an impossible job on their hands replacing Robbie. If they're half as good as he's been for the club, they'll have to be a great player."

Fowler was quick to remind everyone his work at Liverpool isn't finished yet as he's hoping to play a part in the Champions League final.

"I know Robbie will be working as hard as anyone to be involved in the final and you can't rule out the possibility he'll make a big contribution," said Gerrard.

"All the lads are going to miss him on and off the park next season. There was no-one in Liverpool happier than me when we signed him back. He just belonged here.

"One of the reasons he's such a legend is even when he'd left us the first time, it was impossible not to think of him as a Liverpool player.

"Whenever we had a big game against Everton or Manchester United, or in the Champions League, you could guarantee Robbie would be texting us wishing good luck, or saying well done if we had a good result.

"Everyone knows how much he loves the club, which is why he's always had such a rapport with the fans. Since he's been here he's worked so hard for us and been the ultra professional.

"It must be hard when you've been used to playing every week but you have to be patient and wait for your chance, but the way he's reacted is an example to everyone.

"On and off the park it's been great to have him here. It's going to be very difficult for someone to follow him."

Liverpool head to their Spanish training camp on Tuesday for their build-up to the final.
---
MAY 14
Kewell banking on Anfield stay

TEAMtalk

Injury-plagued Australia winger Harry Kewell says he would be happy to see out the rest of his career with Liverpool.

The 28-year-old made his first appearance of the season for the Reds last weekend when he came off the bench against Fulham.

He followed that up by scoring from the penalty spot to earn a 2-2 draw with Charlton in Sunday's final Premiership game of the season and is now desperate to put his injury nightmare behind him.

His current deal expires at the end of next season and he is ready to commit himself to the Anfield club for the remainder of his playing days.

He told SBS: "If it came around that I had to sign another contract for another five (seasons), for the rest of my life then I will, because it's a fantastic club."

Meanwhile Kewell, who is battling for a place in the Champions League final squad against AC Milan, has also expressed his desire to play for his country in their Asian Cup campaign in July.

Kewell is targeting a friendly against Uruguay on June 2 before securing a place in the Asian Cup squad when the tournament kicks off in July.

He said: "I've rested for 11 months. I just want to start playing football, competitive games and get back into the action again.

"I've missed that and if everything goes well and Liverpool give me the go ahead, I would love to play in the Asian Cup with Australia, because I think it's a great opportunity."
---
MAY 14
Kewell states his claim for Athens

By Chris Wellman - Liverpool Daily Post

On a day of departures at Anfield, when the stadium rose to applaud a 'favourite son' in Fowler and our hero of Istanbul, Dudek, it was the long- awaited arrival back for a mercurial winger that was the most significant thing to come out of yesterday's encounter.

That player was none other than Harry Kewell, who, although only on the field for half an hour, made enough of a contribution to merit a possible Champions League start. Indeed his cameo appearance from the Australian lit up what was a rather insipid and error-ridden performance from Liverpool, which hopefully is something the players have got out of their system before our Athens encounter.

From the moment a carefree Charlton scored on the first notable attackby either team, the backline in particular, looked worryingly fragile., hardly resembling the one that had been so watertight at home all season.

Maybe it was because our visitors were playing for mere pride without the pressure of fighting for their survival or perhaps it was the Liverpool's inability to raise their game in what was for all intents and purposes a meaningless contest. Whatever the reasons, Liverpool's inability to stamp their authority was all too prevalent.

The match was strewn with mistakes and simple chances squandered. Both teams were guilty of this, with Arbeloa's indecisiveness when clean through in the first half, a prime example. This indecision ran through the team in the first half.

The second half saw little change, with Charlton continuing to press and miss gilt edge chances and Liverpool going through the motions with minds possibly wandering to the 23 May. It took the arrival of Xabi Alonso to bring a calming influence to proceedings as he slotted in a well worked move between Kewell and Kuyt, which finally saw Liverpool level.

However, the nervousness that had been shown all day, reared itself up reappeared once again, when our debutant keeper Padelli, failed to deal with a drive adequate so handing Darren Bent the chance to regain Charlton's lead. The Italian youngster could be forgiven for his jittery performance as those in front of him were not instilling any confidence culminating in a debut that would not be so memorable.

The reds finally roused themselves in the remaining minutes as they set about an equaliser as Charlton's young keeper brilliantly kept out efforts from Kewell and Alonso. Time was almost up, when from a outswinging corner Bougherra handled. It was perhaps fitting, that with his new- found enthusiasm, Kewell stepped up and scored the resulting penalty.
---
MAY 14
Emotional end as Fowler close to tears

By Ian Doyle - Liverpool Daily Post

Robbie Fowler admitted to fighting back the tears as he bade an emotional farewell to Anfield yesterday.

The 32-year-old made his final appearance in front of the Kop as a Liverpool player in the 2-2 draw with relegated Charlton Athletic.

Fowler was given a rapturous ovation by supporters and players from both sides when he was substituted a minute from time.

And the striker was moved by the warmth of the feeling shown by the Anfield crowd during the players' subsequent lap of honour.

"At the end, on the lap of honour when the fans were chanting my name, it was a bit of an emotional time but I did my best to keep the tears in," said Fowler.

"With it being my last game at Anfield, I'd have loved to have scored but not everything goes to plan in football.

"I tried not to get too carried away on the day.

"I have had a good career at Liverpool and today I tried not to let things get on top of me and I think it worked. I felt I did all right."

Liverpool twice came from behind yesterday to earn the point that secured a second successive third- placed finish in the Premiership.

Matt Holland gave Charlton a lead inside 78 seconds and, after Xabi Alonso equalised on 61 minutes, Darren Bent put the visitors ahead once more with 18 minutes remaining.

But when Liverpool were awarded a last-gasp penalty to equalise, Fowler had departed a minute earlier, substitute Harry Kewell instead converting from the spot.

Of the timing of his substitution, Fowler said: "It's just one of those things.

"The manager has been great and I can't thank him enough for giving me a chance by bringing me back to Liverpool.

"I know what he was doing in bringing me off and getting me a good ovation from the crowd.

"But as I've said before, things don't always go to plan in football.

If I was on the pitch, I'd have taken the penalty.

"If we'd have won the game it would have been better.

"It's just one of those things.

"But with a bit of luck, I'll be involved in the Champions League final and we'll see what happens there."

Fowler wasn't given the chance of a farewell when his first spell at Anfield ended with a move to Leeds United in November 2001.

And the striker added: "I missed saying goodbye last time and I'm glad I could to do it this time. I'd have loved to have stayed but all good things come to an end.

"Thankfully I had a decent chance of saying goodbye. I've thanked the manager and the fans have been fantastic to me, in the first spell and probably just as good the second item around."

As regards his future, Fowler insists he is looking no further than Liverpool's Champions League final against AC Milan in Athens on Wednesday week.

"I've had no offers yet," he said. "We've got another game and I'm not too worried about what's happening in the future just now. I'm just focused on the next game and that's the main priority.

"I've not even thought about my future. The next game is massive for us. I want to focus on that, and whatever happens after that we'll see.

"I don't think many people could cope if the game against Milan goes to penalties but as long as Liverpool win, no matter how, then we'll all be happy."
---
MAY 13
Pardew delighted with Anfield draw

Vital Football - Liverpool

Charlton boss Alan Pardew was delighted with his sides display in today's 2-2 draw with Liverpool at Anfield.

"We've had to work hard this week and its not been easy", said Pardew.

"I said lets come here with a smile on our face and play Liverpool as best we can and I thought we were excellent and played some very nice stuff.

"We've been up against some teams fighting for Europe in recent weeks and in all honesty Liverpool didn't have a great deal on today's game.

"But you still have to do the job. It was a good performance from us and I will take a lot of positives.

"The players can hold their heads up high and I feel we've gone down in the right manner and that's a consolation for us. It's important now to restructure for next year."
---
MAY 13
Benitez praises fantastic Kewell

By Steve Hunter - LFC Official Website

Rafael Benitez was full of praise for Harry Kewell after his impressive performance against Charlton and said the Reds number seven could feature in his squad for the Champions League final.

Second half substitute Kewell helped create a goal for Xabi Alonso and then scored the last gasp equaliser from the penalty spot that ensured Liverpool a third place finish.

"Kewell was fantastic and he tried to beat players, had shots and scored so it was really good for us," enthused Benitez.

"Harry has been training well and we will see how he is when we go on our training camp. He is certainly in my thoughts for the final and he could be on the bench but we will see.

"The other positives to take from this game was we finished third and didn't pick up any injuries. We didn't play well and made too many mistakes defensively but the day was all about Robbie Fowler and it was fantastic to see the supporters applauding him.

"It would have been perfect had Robbie scored in front of the Kop and it was a pity we got a penalty just after he had left the pitch. I wanted Robbie to take the applause from the crowd and that is why I took him off and it was unfortunate."
---
MAY 13
Reds take third on Fowler farewell

TEAMtalk

Robbie Fowler failed to score on his Anfield farewell, but Liverpool snatched third place in the Premiership after a 2-2 draw with Charlton.

The Addicks led twice at Anfield through Matt Holland and Darren Bent, and only a goal from Xabi Alonso and a late penalty from Harry Kewell denied them an unexpected chance of victory.

For Fowler, taken off two minutes from time to allow him to have a standing ovation, the chance of that penalty - which he would have taken - fell to Kewell a minute later.

But Fowler still got all the praise he deserved after a goal-studded career, but Liverpool clearly had Athens and the Champions League final on their minds.

They got their own standing ovation from their lap of honour, boss Rafael Benitez's name ringing from the Kop.

But it was Fowler's day and he came back out after the parade for a solo ovation.

Fowler was named captain for his last Liverpool appearance at Anfield before his contract runs out in the summer, while on-loan Italian 'keeper Daniele Padelli made his debut, with both Jose Reina and Jerzy Dudek injured.

Kewell was on the bench while Bolo Zenden was given another chance in midfield to make his claim for a place in the Champions League Final on May 23.

Charlton defender Ben Thatcher returned following a ban, but Talal El Karkouri missed the South Londoners' last game before relegation with a foot problem.

Centre-half Madjid Bougherra made his full debut for the Addicks, and with on-loan Scott Carson unable to play against his parent club, Darren Randolph made his debut in goal.

The match was preceded by a noisy protest outside the main stand by Liverpool fans over the club's ticket allocation and distribution system for the European final. And there were banners on the Kop making the same point.

But the chanting to honour Fowler soon took over, only to be silenced when Charlton took a shock lead.

Zheng Zhi got the ball in from the right, and Matt Holland saw a stabbed shot clip Javier Mascherano, with Padelli beaten by the six-yard effort.

Alvaro Arbeloa should have equalised on seven minutes when Bougherra slipped trying to control a Jamie Carragher through ball. The Spanish defender ran on unopposed into the box, but put his shot wide from 12 yards.

Liverpool were dreadful, and Charlton got into a dangerous position again on 15 minutes, Darren Bent setting up Darren Ambrose, but the midfielder sliced wide.

It got worse for Arbeloa when he scooped another chance over the bar after Fowler had dummied a Zenden cross from the left.

Fowler scooped the ball over on the turn after 20 minutes, and Steven Gerrard saw a dipping effort following a Zenden free-kick also just clear the bar.

Liverpool's sloppy defending continued and Bent again got himself in a good position on the right, before squaring the ball across goal and away from the advancing Padelli. But Alex Song managed to send in a weak shot from eight yards that Steve Finnan deflected wide.

Gerrard, at least, was trying to take this game seriously and he ran strongly from half-way before presenting Dirk Kuyt with a chance from 18 yards, Randolph saving to his right.

There were more ovations for departees at the break, Dudek and youth team boss Steve Heighway, while Liverpool's FA Youth Cup winners paraded their trophy.

But it was Charlton a minute after the break who should have scored again, Zheng Zhi clean through but shooting hopelessly wide.

Charlton sent on Bryan Hughes for Ambrose after 51 minutes, and playing with a freedom not seen during their desperate battle for survival.

Six minutes later Kewell got into the fray, a direct replacement for Zenden, the battle between the pair to play in Athens clearly on.

Zheng Zhi then proceeded to miss with a six-yard header from Luke Young's cross. Liverpool then sent on Xabi Alonso for Arbeloa.

And Liverpool's two substitutes were involved in the 62 minute equaliser. Kewell crossed from the left, Kuyt headed down and Alonso lazily drove the ball home from 10 yards.

But Liverpool were soon behind again, this time when Thatcher's effort was half-stopped by Padelli, Bent crashed the ball home.

Randolph saved well from Kewell, Liverpool at last finding some urgency. Mascherano shot just over ahead of Jimmy Floyd Hasselbaink's 81st-minute arrival for Charlton as a substitute for Lloyd Sam.

Fowler, twice, almost scored. Once he was stopped in his tracks by Bougherra when clear, and then he hooked over a Kewell cross.

With two minutes left, Fowler was given the chance to take a standing ovation when he was replaced by Peter Crouch. Anfield rose to their hero, Benitez likewise.

Sixty seconds later Bougherra handled in the box, but with Fowler now departed and losing the chance of a fairy-tale ending to his Anfield career, it fell to Kewell to fire the penalty home off a post.
---