---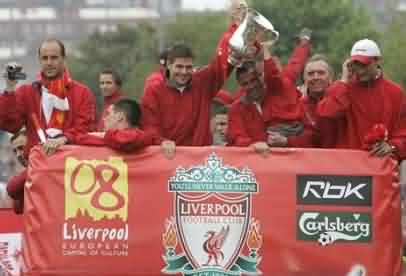 Over 100.000 celebrated Liverpool after their
seventh FA Cup win. (Photo: AP)
MAY 15
Stevie can hit even greater heights, Dalglish warns Reds' rivals

By John Thompson - Liverpool Echo

Liverpool legend Kenny Dalglish today hailed the heroics of Reds captain Steven Gerrard - and uttered a chilling prediction for teams who come up against him in future.

"He's unbelievable - and he will get even better," declared Dalglish, after seeing Gerrard drag Liverpool off the canvas with his two Cardiff wonder goals.

Dalglish has for 20 years been widely regarded as the best player ever to have worn the red shirt but that reputation now has competition from Gerrard, according to some fans and experts.

Last week Jamie Carragher proclaimed his team-mate as the second-best player in Anfield history but insisted Gerrard has the time on his side and the potential to perhaps eclipse even Dalglish.

Some feel that after Saturday's glorious win Gerrard has already done enough to deserve or share the mantle.

Dalglish, who was in the Cardiff stadium with wife Marina to watch the virtual re-run of last season's European Cup final, is as big an admirer of Gerrard's as anyone.

He said: "Irrespective of his position, Steven has done more for Liverpool in the past few seasons than any other player has done anywhere.

"Never mind Ronaldhino for Barcelona or Thierry Henry for Arsenal, Steven has done more for his team and contributed more than anyone else.

"When you have got fantastic ability and you ally that with his courage and belief, that is one hell of an ingredient.

"You talk about leading by example but that on Saturday was over and above the call of duty. And really he's such a young guy. It's unbelievable.

"The last time he was in Cardiff there was disappointment for him because of the own goal against Chelsea but Saturday was his day all right.

"I couldn't believe how far out he was when he hit his second goal. The whole game was just like Istanbul all over again, with Reina saving the penalties just as Dudek did."

Dalglish, 55, who ran out himself at Anfield for the last time in a charity match two weeks ago, said he thinks Gerrard will improve because eventually he is likely to start more games playing in his preferred central midfield position, rather than out wide on the right. He said: "His two goals both came from the central area.

"I think he will get better because he is still young and can improve in the years ahead of him.

"Also he is settled now. He's said himself he doesn't want any more of this nonsense about him staying or leaving Liverpool.

"He's here for good and that is good for him and obviously great news for Liverpool and the supporters."
---
MAY 15
Superhuman Gerrard
can claim Final as his own

By Len Capeling - Daily Post

Some years ago the loquacious Lawrie McMenemy launched into a flight of fancy about a legendary centre-forward
of the 50s.

The last player to score a hat-trick in an FA Cup final was Blackpool's Stan Mortensen, raved Lawrie. He was so good he even had a final named after him - the Matthews Final.

No chance of that kind of cup confusion here, Lawrie, even in the aftermath of the most extraordinary turnaround in fortune since Everton came from two down against Sheffield Wednesday, 40 years ago.

Cardiff 2006 won't lead to any mix-up between the critical contributions of Pepe Reina and Steven Gerrard.

Because without the superhuman efforts of the skipper a Liverpool side as flat as spilled champagne would have sunk long before Reina at last got himself together.

Without Steven Gerrard, Liverpool would almost certainly have lost a battle in which the majority of the football was played by a fearless West Ham side who clearly felt their day had come.

My pre-match take on the Hammers was they were awkward customers who would attack and risk everything to do so. Their magnificent manager Alan Pardew said they'd got a hitter's chance, using boxing terminology to describe his side's refreshing approach to the game.

But for Gerrard, who was a colossus, all my fears of a punchless Liverpool performance could have resulted in the biggest upset since a strictly non-footballing Wimbledon outwitted Kenny Dalglish's Double-seekers.

So many things were wrong about Liverpool on Saturday that even with the FA Cup captured for the seventh time too much of the first 89 minutes represented the stuff of nightmares.

On an 11-game unbeaten run that all but captured second place in the Premiership, Anfield's born-again heroes came to Cardiff as red-hot favourites.

And promptly proceeded to play like the most nervous of newcomers.

At least one Liverpool fan quit the ground at the interval, unable to stand the pressure of expectation, and fearing that the 2-1 deficit was likely to get worse not better.

He left behind him a winning betting slip.

When, by the 88th minute, with Liverpool 3-2 down, another Red gloomily pulled on his coat, preparing himself for the dismal journey home.

Then, as the stadium announcer revealed there'd be four minutes of precious added time, Steven Gerrard struck again - he described it later as a dream goal - and the fan clung to a lucky coat - truly a Jose Mourinho moment.

"I thought if I took it off again it would be bad luck," he later said, and may now frame the garment, who knows?

Liverpool, alive again - and with the faithful singing their famous battle hymn at last - strove to propel their battered bodies and shattered minds through another strength-sapping 30-plus minutes and, in so doing, found an unlikely saviour in the previously jittery Jose Reina.

As penalties loomed, he turned Nigel Reo-Coker's header on to a post - an injured Marlon Harewood blazed the follow-up wide - and then saved three of West Ham's spot kicks.

His final act of redemption, a stop from Anton Ferdinand, gave Liverpool the Cup and started the carnival.

Afterwards, amid the celebration champagne, he still brooded over the errors that gifted West Ham two of their three goals.

"There is thin line between making a mistake and making a save," said the Spain goalkeeper.

First of those mistakes - now history - was the fumble of a weak shot by Matthew Etherington after an impressive Dean Ashton too easily turned Sami Hyypia.

Ashton gleefully rolled home the loose ball. That was on 28 minutes and added to the own goal stumbled in by Jamie Carragher at the near post after Xabi Alonso gave away possession with a careless pass.

Almost immediately, Peter Crouch - otherwise outnumbered - fired home an intelligent pass from who else but Steven Gerrard, only to be ruled offside, incorrectly as it turned out.

Real hope of a fightback came barely two minutes later when Gerrard found another superb assist and Djibril Cisse volleyed home with untypical composure.

That turned out to be Cisse's first and last important contribution as Liverpool's frontmen had another of their less distinguished days.

Crouch did contribute a header to Steven Gerrard's first thunderbolt which brought the scores level at 2-2 after 54 minutes, but otherwise he was always in danger of being substituted by the seething Benitez. You cannot fault his bravery or his work-rate, but he still faces a challenging new season if Liverpool are seriously to challenge Chelsea.

Cisse won't be so lucky. He simply isn't good enough.

Ditto, Fernando Morientes who eventually rose from the bench, promptly put a couple of headers wide, but yet again failed to convince that he's worth keeping.

Before the final he made lots of promises, then failed to deliver.

This, sadly, is the story of a short, sour Liverpool career that's just about run its full course.

Rafael Benitez will find the match tape frightening and useful. If culling is the concern.

So many elements failed to gel. Xabi Alonso wasn't fit and, with Harry Kewell totally anonymous and Gerrard trying to push on wide right, Momo Sissoko found himself with the kind of overload that a vibrant West Ham seized on, particularly in the first half.

It is a measure of Sissoko's indomitable spirit that, though overburdened, he was one of Liverpool's better players on a difficult day.

With Kewell in dreamland, John Arne Riise suffered a torrid time against the silkily effective Yossi Benayoun, and that wide-open left-hand avenue enabled the likes of Reo-Coker and Ashton to cause Sami Hyypia and Jamie Carragher some anguish.

Carragher, hobbling at the end of Liverpool's 63rd game, showed his warrior heart by refusing to allow his own-goal to destroy his concentration.

He had some tricky moments but emerged to be what he has always been, Liverpool's most dependable defender.

West Ham, for their part, gave Liverpool as tough a challenge as AC Milan. But, like Milan, they began to fade at the wrong time, as Ashton and Etherington found lack of training forcing their substitution.

A vexed Benitez eventually removed Crouch and a limping Alonso, while Kewell effectively removed himself, making this the third final he's failed to finish.

On came Dietmar Hamann, Morientes and Jan Kromkamp, who had a resourceful game.

As in Istanbul, Hamann made the biggest difference; suddenly Liverpool looked more solid, and Gerrard could do even more foraging from central areas with Kromkamp in support

down the right. It still needed that save from Reina in extra-time, a follow-up to an outstanding double block, just after half-time, from Marlon Harewood and Yossi Benayoun. The result was harsh on West Ham who helped make this a classic game of cut and thrust.

But they could not contain Steven Gerrard, hard as they tried. And, in the end, Liverpool's miracle man made the Cup final his own with two goals. One elegant assist, and a crucial penalty. Alongside that famous Stanley Matthews final, we can now place another unforgettable encounter, the Steven Gerrard Final.

How Bill Shankly would have loved him, this supreme leader, this supreme player, this superman for all seasons.
---
MAY 15
Moores relief at skipper's U-turn

Daily Post

David Moores has hailed FA Cup hero Steven Gerrard as irreplaceable - then admitted his relief the midfielder didn't join Chelsea last summer.

The 25-year-old came close to moving to Stamford Bridge only to undergo a late change of heart and stay at Liverpool.

And Liverpool chairman Moores said: "He is our talisman - I mean you just can't replace him. Thank goodness everything was sorted out last year!

"Everything's settled down now and I know he will be with us for life. He's an unbelievable player and I wouldn't swap him for anyone.

"He has got everything and never ceases to amaze. He has been magnificent, different class."

Of Saturday's memorable final victory over West Ham United, Moores added: "At 2-0 down I was thinking about Istanbul and thinking 'surely it can't happen ag ain'.

"We don't make things easy for ourselves. It''s a good job I got my heart sorted out! It was a fantastic game to go out to millions of people worldwide - what a great advert for Liverpool Football Club and English football.

"Top marks to West Ham as well, I don't think anyone deserved to lose that game."

Moores believes Gerrard and manager Rafael Benitez can help Liverpool soon end either championship drought, adding: "The league is the one we're all striving for, and I'm convinced we're going in the right direction with Rafa.

"I feel good, I feel it won't be long, but I don't want to build people's expectations up. But it has been a tremendous season."
---
MAY 14
Fans enjoy Liverpool parade

ITV Football

Liverpool's second victory parade in 12 months around the streets of the city was warmly welcomed by tens of thousands of fans as they celebrated Saturrday's stunning FA Cup win over West Ham.

The entire squad, all wearing their club tracksuits, set off aboard an open-topped bus flanked by police on horseback and were quickly mobbed by supporters as they left the Mather Avenue police training offices in Allerton at the start of their 10-mile tour.

Early on the route there was enough space for youngsters to run alongside the coach to cheer and wave at their conquering heroes but that became increasingly difficult as the crowds began to grow.

Although there were fewer supporters there to see the team than had been the case when an estimated 750,000 turned out when the Reds brought home the Champions League trophy last May that did not affect the atmosphere.

Children were lifted on their parents' shoulders as the crowds grew thicker with others perched on top of bus shelters, lamp-posts and street signs.

John Arne Riise, last seen hobbling around the Millennium Stadium with cramp, was at the front of the bus with his video camera to record the scenes but most of the players seemed to be taking it easy and just enjoying the ride.

Man of the match Steven Gerrard, who is due to fly out to England's training camp in Portugal on Monday, was one of the calmest figures on the top deck, preferring to stay seated unlike many of the other players.

Manager Rafael Benitez, with his family beside him, looked relaxed and happy as he waved to the crowd, which was estimated to number 100,000 along the route.
---
MAY 14
Reina admits he was guessing

By Paul Walker - PA Sport

Liverpool's penalty king Jose Reina admitted he was reduced to just guessing as he saved three spot-kicks in the shoot-out that won the FA Cup for the Merseysiders for the seventh time.

Reina accepts that his performance in Cardiff was "bad".

The Spaniard could be blamed for two of West Ham's goals but redeemed himself by keeping out efforts from Bobby Zamora, Paul Konchesky and then finally, Anton Ferdinand to secure a 3-1 spot kick triumph.

Reina admitted: "I had a bad game, I know that. It wasn't my best during the 90 minutes, there is a fine line between the mistakes and saves, but that is a keeper's life.

"I had done some research into West Ham's penalty takers, (Marlon) Harewood and (Teddy) Sheringham, but the others they put up I didn't know.

"Penalties are a real lottery, and in this case we won. I know I do well with penalties, maybe I am lucky with a lottery!"

He added: "You have to be prepared, to know where people will shoot. But if they take a good penalty to the side, no keeper saves.

"I had some information about their players and penalties, I had watched Harewood and Sheringham on video. But most of the players who took them I had not seen before.

"In the end you just guess, I knew nothing about them, we won but in another time it could be different.

"I was told to stand on the line, maybe I came out a metre, but it is our job to do our best. I believe I respect the rules and there was no problem with the referee."

Reina feared his earlier howlers would cost Liverpool the cup.

He said: "I was afraid about the result, my performance was bad. But football can change in a minute and Steven Gerrard's goal did that.

"It was great and I said 'thank you' to him afterwards. He is a great player and his goals gave us life.

"I had to make a save right at the end, I got the ball on to the post and that maybe made up for some things that happened before. It also gave us all confidence for the penalties.

"As I say, it's a lottery but I knew I could do well in it. As for the season, it's another trophy, we've finished third and won the Super Cup.

"With the FA Cup it has given us a great finish. I would have taken a penalty if needed, I knew the next person to take one would have been Nando (Morientes) and he said 'thanks' to me. I think I would have been asked to take one soon after that, but I was full of confidence, I could have done it."
---
MAY 14
Gerrard hails Reina heroics

ITV Football

Two-goal hero Steven Gerrard paid tribute to goalkeeper Jose Reina after Liverpool won the FA Cup on penalties against
West Ham.

Reina was at fault for at least one of the Hammers' goals as the game ended 3-3 after extra time, but saved three penalties in the shoot-out.

"It's very special, the supporters are fantastic and West Ham were brilliant, but we had the never-say-die attitude," Gerrard said.

"We felt our best chance was penalties because we had no energy left.

"We always knew if it went to penalties we had a really good chance, we feel we've got the better goalkeeper on the day.

"He made a great save in the last minute and he deserves to be the hero."

Asked about his fitness ahead of the World Cup this summer, Gerrard added on BBC1: "I'm okay, I got a little bit of cramp but I've got a couple of weeks' rest now and I'll be okay."

And on his two brilliant goals, the England midfielder added: "The second one was just a dream goal.

"It's a dream for me to score two, and a penalty, and to be able to celebrate with all these magnificent fans."
---
MAY 14
Hot-shot Gerrard

By Jonathan Stevenson - BBC Sport Online

When England coach Sven-Goran Eriksson sat down to watch the FA Cup final, much of his focus would have been on the performance of Peter Crouch.

As things stand, Crouch is the only striker in his 23-man squad who fulfils two key requirements ahead of a World Cup finals.

One, he is not injured, and two, he has some experience of Premiership football. Which makes him more likely to spearhead England's bid than the walking-wounded pair of Michael Owen and Wayne Rooney and rookie Theo Walcott.

Worryingly for the England boss, Crouch had a quiet game - he was taken off in the second half, with the 6ft 7in hit-man struggling to acclimatise to the ferocious pace of a thrill-a-minute encounter.

However, the inspiring performance of Liverpool captain Steven Gerrard may have given Eriksson food for thought.

The 25-year-old put in a performance of such breath-taking gusto it will be talked about for years, scoring two more truly magical goals to bring his tally to 23 for the season.

When Rooney suffered his metatarsal injury, the country's collective thoughts turned to just how Eriksson will cope without the 20-year-old Manchester United star.

Would Crouch get the nod to partner Owen up front? Could Walcott partner Crouch?

Or perhaps Eriksson could consider playing Gerrard in a more advanced role?

On Saturday's evidence at the Millennium Stadium, the Swede could do far worse than choose the latter.

With Liverpool 2-0 down and looking like a shadow of the side who had thrilled on their way to the final, Gerrard grabbed the game by the scruff of the neck like few players in world football can.

His first moment of inspiration was to clip an inch-perfect ball into the path of Djibril Cisse for the Frenchman to volley home.

Soon after half-time he got on the score sheet himself, with a goal that owed everything to his wonderful technique as he shaped his body brilliantly to slam a bouncing ball into the top corner.

He left his best until Liverpool really needed it, 3-2 down in injury time - Gerrard, 30 yards out, pulled back that lethal right and with the truest strike of all sent the game into extra time.

It defied belief, and Gerrard kept his composure in the shoot-out too as he saw his team home once again.

Since Rooney's injury, much has been made of the fact that you cannot win a World Cup without hot-shot strikers.

Yet in Gerrard and Frank Lampard, England have arguably the finest two central midfielders in the world at the moment and they have 43 goals between them this season.

France started the 1998 World Cup with Stephane Guiv'arch leading the line and they still managed to prevail - that shows it can be done without Rooney, and even Owen, if it comes to it.

On Saturday, in front of over 70,000 spectators and millions more on television, Gerrard proved he has the courage, the fight and the class to win a pressure-cooker game on his own.

Maybe the added responsibility he will be given when he links up with England, minus a fit Rooney, will drive Gerrard on to even greater feats.

He has proved he must be given greater licence to roam instead of playing as a box-to-box central midfielder.

Gerrard is at his best when he does not have to worry about last-ditch tackling and covering his back four - at Liverpool he leaves that to Xabi Alonso and the workaholic Mohamed Sissoko.

The Liverpool dynamo is at his peak and with a wave of that magic right wand has the ability to destroy a team in a flash.

Eriksson must now give him carte blanche to wreak havoc in Germany just like he did so majestically in Cardiff.
---
MAY 14
Parry calls for use of fourth sub

BBC Sport Online

Liverpool chief executive Rick Parry could suggest to football's governing bodies that teams be allowed to use a fourth substitute in extra time.

At present only three replacements are allowed during a match - with no concession for the added-on 30 minutes.

Parry came up with the idea after Liverpool beat West Ham in the FA Cup final after 120 minutes plus penalties.

"Here's a thought for the future, maybe a fourth substitute to be allowed in extra time," he told Radio Five Live.

"It would make it less of a lottery."

Several Liverpool players, including captain Steven Gerrard, were struck by cramp in extra time while West Ham striker Marlon Harewood was injured and unable to put any weight on one leg.

"Maybe the issue should be raised with the Football Association," said Parry.

"Poor Marlon Harewood played so well in the 90 minutes but was a passenger at the end. That's no way to decide big games."

Harewood might have won the Cup for West Ham at the death but the ball fell to his injured foot and he sliced wide.

However, Parry feels reintroducing a replay for the final is unrealistic.

"Looking at the calendar, I think we've gone beyond that now," he said.

"Penalty shoot-outs are nerve-jangling and you always feel sorry for the losers but at the end of the day, they produce fantastic drama, talking points and entertainment.

"I think we have to accept finishing it on the day - but it's cruel after two sides have given their all for 90 minutes."
---
MAY 13
Reds drew on spirit of Istanbul

By Paul Walker - PA Sport

Jamie Carragher shrugged aside the shock of scoring am FA Cup final own goal to insist it was the experience of Istanbul which got Liverpool through the nail-biting Cardiff climax.

Liverpool's tough defender recalled his team's Champions League final comeback at the expense of AC Milan as he reflected on a comparable success against West Ham in the showpiece event at the Millennium Stadium.

"When it got to penalties it probably did count that we had been through this before in the Champions League final. Experience did come into it," he said.

"I had to get on with it after the own goal - that was the feeling in my mind. Okay, it happened - but afterwards there is nothing you can do about it.

"It caught my trailing leg as I tried to put it behind, but there's no point worrying about it."

Carragher admits the physical demands were similar to that Champions League final 12 months ago, adding: "A lot of the lads were struggling badly with cramp.

"In extra-time it was very similar to Istanbul, with people dropping like flies - we were that tired. We were trying to save our legs so that we were not going to get caught on the break by pace.

"But in the end we have a lot to thank Stevie (Gerrard) for. I had said beforehand that he was the best in the world, and people dismissed that as me being biased. But he just proved it out there - he's the best English player by a mile.

"It was a great final, which is good for the competition after the way some people have derided it. Being a defender, I would have rather it had been 1-0 - but it was great for everyone to watch."
---
MAY 13
Gerrard bursts Hammers' bubble

By Frank Malley - PA Chief Sports Writer

English football, dominated as it is by money and Russian autocrats, was screaming out for an FA Cup final which restored the romance and the drama for which the world's most famous domestic competition is famed.

Liverpool v West Ham was that final.

A wonderfully attacking, free-flowing football match laced with endeavour and packed with thrills. And touched with genius.

The genius who is Steven Gerrard.

It is not a box of tricks in the mould of Maradona or Ronaldinho, nor even of Wayne Rooney.

But it is just as effective. So much so that, just as 1953 was the Stanley Matthews final, then 2006, perhaps the greatest FA Cup final in the competition's history, will forever be remembered as the Steven Gerrard final.

Not just because he scored two goals, one brilliantly, almost heroically, in the last minute of normal time to take a compelling match into extra-time.

But because, just as he had done in the Champions League final last season, Gerrard lifted Liverpool up by their boot straps to snatch a victory on penalties - after a 3-3 scoreline after 120 minutes - which for so long looked beyond them.

King of the comebacks. That's what they should call the man whose peers voted him the Premiership's player of the season.

It was cruel, oh so cruel, on West Ham, who were the best team for large parts of a captivating encounter.

Cruel mostly because manager Alan Pardew had not brought them to Cardiff to play it safe or hold it tight.

He came to have a go. Backed the style and the flowing football which is tradition at a club which had won the FA Cup in 1964, 1975 and 1980.

What a refreshing attitude.

What a wonderful example from a man who once played in the first qualifying round with non-league Whyteleafe and in the final of 1990 for runners-up Crystal Palace.

He was helped, of course, by the fact that in so many ways West Ham's season was complete even before cup final day.

Ninth place in the Premiership, a place in next season's UEFA Cup assured and a feelgood factor in east London which had not been rivalled since the days of Billy Bonds and Trevor Brooking.

No wonder they were blowing bubbles down Cardiff's High Street. The pressure was off and history beckoned.

And if West Ham's first goal was heavily laced with fortune, then the approach play was full of the sweet touches for which the London club is famed.

Yossi Benayoun played a crisp pass to Dean Ashton, who slid it wide to Argentinian full-back Lionel Scaloni and his cross carried precision and menace.

So much so that Jamie Carragher felt compelled to throw himself at the ball, only to see it career off him into the net.

If Liverpool thought it could get no worse then they were wrong.

Seven minutes later the Liverpool net was rippling again, this time Matthew Etherington's left-foot shot was spilled by Jose Reina and Ashton reacted brilliantly to prod the ball home.

Two goals up, not half an hour gone and a tale of some drama was in the making.

Except that in sport it does not always do to reveal one's hand too early.

And Liverpool, with the events of Istanbul as evidence, do have a history of tenacity in knock-out football.

Gerrard's raking ball over the top of the West Ham defence was exquisite, dropping precisely in the path of Djibril Cisse who smashed it past Shaka Hislop on the volley.

True, if Marlon Harewood and Benayoun had converted chances seconds after the interval the game might have been beyond Liverpool.

They could not and there was something inevitable about Xabi Alonso's cross, Peter Crouch's knockdown and the ferocious volley from Gerrard which billowed Hislop's net.

We waited for Liverpool to assert their authority. Instead we witnessed West Ham full-back Paul Konchesky float over a deep cross which eluded the grasp of Reina and settled in the Liverpool net.

Shades of David Seaman goalkeeping, but did West Ham fans care? You bet they didn't.

They simply sang their hearts out and blew their bubbles.

Until, that is, they were burst, almost like the West Ham net, by a Gerrard thunderbolt which will go down as one of the great FA Cup final goals.

So to extra-time and dreaded penalties and even more drama. And when Reina atoned for his earlier howlers by saving Anton Ferdinand's spot-kick the cup was Liverpool's.

Did they deserve it? Probably not.

But then they did have Gerrard and genius has a habit of ending in triumph.
---
MAY 13
Benitez hails players and supporters

TEAMtalk

Rafael Benitez praised Liverpool heroes Steven Gerrard and Jose Reina but insisted his FA Cup triumph was a team effort.

Benitez was proud of his weary cup winners as they ended a marathon season by beating West Ham on penalties after a 3-3 draw, in Cardiff.

The Hammers were two-up after half an hour and seconds from a famous win when Gerrard sent the final into extra-time with a stunning last-gasp equaliser.

Reina made three penalty saves in the shoot-out to complete a cup-final comeback to rival last season's Champions League epic against AC Milan.

Benitez said: "Today was about the success of my team.

"You must give the credit to all my players. A lot of them had cramps after 62 games this season but they kept going to the end.

"We know about the quality of Steve. He will get lots of credit but I prefer to talk about my team and our supporters, who were like an extra player today.

"It is difficult to play 90 minutes and extra-time and penalties after playing so many games in a season.

"Maybe we like to do it the difficult way but it's not good for the heart.

"It would be better if we could start by winning and then stay calm.

"Istanbul was very difficult, coming back from three down, but in this case we had more confidence. We knew we could do it."

Reina made three fabulous saves during the game and stopped three penalties in the shoot-out.

The Spanish keeper made a double save, first from Marlon Harewood and then from Yossi Benayoun, to stop the Reds going 3-1 down.

Then he made a fingertip save from Nigel Reo-Coker in the final minute of extra-time.

Benitez said: "He is famous in Spain for saving penalties and we had confidence in him.

"Our goalkeeping coach spoke to him before the penalties and told him he had the intuition to save them.

"He has done his job today."

Benitez says Gerrard will need to rest for a week after his long season, which started last July in the Champions League first round qualifier against TNS.

The Kop boss said: "Maybe after a week's rest he will be fit for the World Cup.

"It's better if you're winning games. You can be tired but you're happier and the recovery is easier.

"Steven has won 12 games in a row if you include the win on penalties and it will be fantastic for him if he can keep winning in the World Cup. Maybe he can score some more goals."

Australian Harry Kewell and Spaniard Xabi Alonso both limped off with injuries but Benitez expects them to recover in time for the World Cup.

The Liverpool boss has lost his grip on the Champions League this season but is happy to end his second year at Anfield with more silverware in the trophy room.

Benitez said: "It was a fantastic final with two teams fighting really hard.

"I am really happy with our progression. We are closing the gap with the teams at the top.

"The character of the team can be a key factor for the future because we can be sure we can win these kinds of game."
---
MAY 13
Cup loss hard to take for Pardew

BBC Sport Online

West Ham boss Alan Pardew said Steven Gerrard's last-gasp equaliser for Liverpool in stoppage time had robbed his side of FA Cup success.

Pardew said: "It felt like a defeat when the third goal went in. We rallied and had a great chance in extra time.

"We had to dig in. This was a top team we were playing, but I felt we were going to win. Only a 35-yard Gerrard smasher was going to change that.

"The players have been magnificent - we are proud of the way we played."

Pardew added: "We can take a lot from this game. The first trophy is always the hardest to win.

"But this team will come back - we produced a performance to show we can live with the big boys."

West Ham captain Nigel Reo-Coker was inconsolable as he tried to come to terms with his team's FA Cup final defeat to Liverpool on penalties after the game ended at 3-3.

Reo-Coker told BBC Sport: "I can't describe it how I feel at the moment - gutted because I think we deserved to win this game.

"The players put in a fantastic effort, but it just wasn't to be for us.

"It was a marvellous FA Cup final and we gave all we could. I hope everyone was proud - it just wasn't our day."

West Ham were leading in stoppage time at 3-2, before Steven Gerrard's superb equaliser - the second time the Liverpool captain had pulled his side level.

Like Pardew, Teddy Sheringham was convinced West Ham had won the game.

"It is a cruel game and we were outstanding. We had to dig deep, but we just couldn't dig deep enough.

"It was a great FA Cup final and there were fantastic moments going on all over the pitch."
---
MAY 13
Alan Hansen's Cup final verdict

By Alan Hansen - BBC Sport football expert

Liverpool won a truly great FA Cup final played in a great spirit - but without one man West Ham would have had the trophy in their dressing room and would have been celebrating.

This was one of the classic Cup finals and it is desperately unfortunate that they should lose on penalties.

West Ham were the better side and should have won, but Liverpool had Steven Gerrard and that is why a very good season is now a great one for Rafael Benitez's side.

What a man, what a player and what a captain.

Liverpool made some good signings at the start of the season, but there was one man who was the best when they got him to sign a new contract and his name was Steven Gerrard.

Great players give you something extra when you are down and out and dead and buried and boy did Gerrard give Liverpool something extra.

Liverpool were a beaten side when the ball bounced out to him in the 90th minute of normal time, but it was a quite magnificent strike that beat Shaka Hislop and sent the game into extra time.

Gerrard is a man who doesn't know when he's beaten and he just scored an unbelieveable goal.

He looked like he was struggling with something, whether it was cramp or an injury, just before the ball came to him, and then he produced a strike like that with time running out.

It's what great players do and Gerrard is a great player.

It is scant consolation for Alan Pardew and his West Ham side, but they were absolutely brilliant - players and manager.

They had giant performances from Danny Gabbidon, Dean Ashton and Nigel Reo-Coker, who I thought was absolutely magnificent.

And I say again, if it was not for Gerrard they would have won.

Normal time was fantastic, but extra time was also fascinating because I've never seen so many players go down injured or with cramp.

And then we had the last-minute drama when Liverpool keeper Pepe Reina turned the ball on to the post and the ball fell to Marlon Harewood on his injured foot and he couldn't get it in - you couldn't have written the script.

Liverpool gave the ball away too much in the first half. Djibril Cisse's goal was vital for Benitez's side after West Ham went two up, and to be honest in the 31 minutes before he scored he had had a shocker.

There were individual errors for goals for Liverpool, but Ashton was outstanding in the first half and produced a quite magnificent pass that led to Jamie Carragher's own goal.

In the end, it would have been tough on either side to lose on penalties, but Reina made up for his mistake that led to Ashton's goal by saving three penalties.

Liverpool claimed the trophy, but as I said, West Ham were the better side and can be proud of their efforts.

But once again, it was that man Gerrard who pulled Liverpool up when they were down and led them to the FA Cup.
---
MAY 13
Reina saves seal Reds' Cup win

By Chris Stanton - Sky Sports

Liverpool defeated West Ham 3-1 on penalties to lift the FA Cup for a seventh time after a truly epic final at The Millennium Stadium finished in a 3-3 draw.

Jose Reina's save from Anton Ferdinand settled an incredible match as the 2006 final came down to a single kick after 120 minutes of compelling action which West Ham had seemed destined to win as the 90 minutes drew to a close.

After Reina denied Bobby Zamora and Paul Konchesky, John-Arne Riise earned The Reds a 3-1 lead from the spot and Anton Ferdinand's failure to score from 12 yards sent Liverpool into throes of ecstasy.

FA Cup finals are all too often uninspiring affairs but this match had everything.

East London had been preparing to toast Konchesky after his 64th minute cross somehow found its way into the back of the net but they had reckoned without Steven Gerrard who incredibly dragged The Reds up by the bootlaces and into extra-time.

In 21 pulsating first half minutes The Hammers found themselves two goals to the good through an own goal from Jamie Carragher and a strike from Dean Ashton which owed to an error from Reina before Liverpool struck back.

Djibril Cisse reduced the arrears immediately and Gerrard volleyed home emphatically in the second half to level the scores at 2-2.

Konchesky's speculative effort appeared to have been enough to settle an epic final but Gerrard produced a goal of supreme quality to take the tie into extra-time.

After a tepid opening 20 minutes, where neither side were able to find any degree of penetration, the final sprung into life, and in unexpected fashion. The normally assured Xabi Alonso inadvertently set up the opening by losing possession to Yossi Benayoun and The Hammers surged forward.

The play switched to Ashton who delayed his pass before playing a superbly weighted pass to the marauding Lionel Scaloni and the Argentine's cross deflected off the off-balance Carragher and into the back of the net. Marlon Harewood was lurking with intent but Reina would have collected the cross had it not been for Carragher's clumsy intervention.

After conceding an uncharacteristically sloppy goal, The Reds remarkably did likewise just seven minutes later as Ashton, integral to the creation of his side's first goal, executed The Hammers' second himself.

Matthew Etherington wriggled around Sami Hyypia, slipping as he shot at goal. Reina inexplicably fumbled the straightforward shot and Ashton nipping in, contrived to squeeze a shot in with his left foot.

The Reds - having already seen a goal disallowed for offside against Peter Crouch - hit back immediately. Gerrard dropped a superbly-judged 40-yard ball in to the area and Cisse volleyed home right-footed into Shaka Hislop's near post.

The impressive Ashton shot inches wide but as Cisse again attempted to beat Hislop first time The Reds ended the first period on top. However, the underdogs almost caught The Reds cold with the second half barely a minute old.

Etherington crossed for Harewood but Reina stood up and blocked with his foot and Benayoun, displayed poise on the rebound, but the Israeli, too, was foiled by the boot of the atoning Spaniard.

Nigel Reo-Coker had been the midfield's best player in the first half but in the second The Reds began to get a measure of the England hopeful and Rafa Benitez's initially hesitant side made their second half intentions plain with The Reds' talisman coming up trumps.

Alonso's deep cross was headed back by Crouch and Gerrard arriving late struck a superb first time shot which left Hislop absolutely helpless and The Reds' support in raptures.

Having threatened to be overrun by Liverpool Alan Pardew's side regained a semblance of composure as the clock ticked past the hour but there was little forewarning that The Hammers would regain the lead in the 64th minute.

As Etherington roamed in central midfield there seemed little danger as the wingman played in Konchesky on the left. The full-back's thoughts were of a cross to either Harewood or Ashton but as the ball left his foot it sailed over the head of Reina and into the far post to add another chapter to the most engaging of finals.

Both managers made changes with 20 minutes to go - Bobby Zamora replacing the tiring Ashton for West Ham, while Benitez, in his side's need to find an equaliser, sprung a surprise by replacing Crouch for the most defensive of defensive-minded midfielders, Dietmar Hamann.

The Hammers, superbly marshalled by Danny Gabbidon, continued to hold out as Liverpool failed to muster a clear opening - substitute Fernando Morientes headed tamely over and in the 88th minute, when Gerrard struck a free kick well over the bar, West Ham may have sensed their name was on the famous trophy.

But the indomitable Gerrard was not to be denied - as the fourth official signalled four minutes of stoppage time, the England international latched on to a loose clearance from West Ham to score a goal of the season contender from fully 35 yards out with the ball arrowing into the bottom left hand corner. It was a sensational end to the 90 minutes which took the match into extra-time.

It was almost a case of 'after the Lord Mayor's show' as extra-time kicked off and, supporters already spoiled by great fare, had to wait seven minutes for the first chance of note - Riise's shot skimming the top of the crossbar.

The 90-minute exertions had clearly taken their toll on both sets of players as cramp set in with Harewood the most severely afflicted.

In the final minute of 30, West Ham were inches away from claiming the most dramatic of winners. Benayoun's deflected cross drew a fingertip save of the highest quality from Reina who pushed the ball on to the inside of a post. Still the danger was not cleared by Hyypia but Harewood could not capitalise and as he screwed his attempt wide Cardiff drew a collective breath and prepared for penalties.
---