---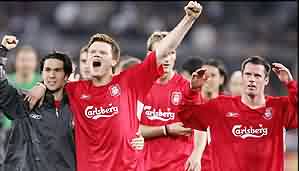 APRIL 14
Liverpool begin to believe

By Alan Hansen - BBC Sport football expert

Liverpool's brilliant defensive display against Juventus in Turin set up an all-Premiership Champions League semi-final against Chelsea - and the once unlikely possibility that my old club could claim the trophy for a fifth time.

You gauge the health of your domestic league not by how many teams you get to European semi-finals but by how many you get to finals.

And the simple fact that the Premiership is guaranteed one representative in European football's elite club competition is a sign that all is well at the top end of the table in England.

If there is a downside in Liverpool's season, it is the maddening inconsistency that means they can lose miserably at Manchester City on a Saturday and play like heroes against Juventus on a Wednesday.

Rafael Benitez will know this must be cured and outstanding European displays must be integrated into Premiership performances next season.

But, in the expertise he has shown tactically in Europe and the brilliant displays of his team, Benitez has not only given Liverpool fans hope, but massive optimism.

Juventus were incredibly inept in Turin but take nothing away from Liverpool - and my growing feeling that they could actually win the Champions League comes from the way they coped with the two distinct faces of European football in this quarter-final.

They rolled over the top of Juventus at Anfield, then defended with great organisation and resilience away from home.

I recall a backs-to-the-wall performance against Bayern Munich in Germany in the European Cup semi-final in 1981, when we were without key defenders and lost Kenny Dalglish after seven minutes.

Liverpool's performance, without Steven Gerrard and a host of others, reminded me of that in Turin.

Chelsea will be favourites for the semi-final, while AC Milan will be favourites to claim the trophy, particularly when looking such a magnificent side in beating a Manchester United team that was flying when they met in the last 16.

But Liverpool have shown that, on a given day, they can beat anyone - and that's why I am increasingly coming to the conclusion that they could win the whole thing.

No-one, myself including, would have given Liverpool a prayer of doing that, not least when they turned in abject displays against the likes of Birmingham and Southampton earlier this season.

But in Europe they are a team transformed and have shown that they can threaten anyone.

Chelsea may be 30 points ahead of Liverpool in the Premiership and have three wins under their belt against them this season but, in a strange way, Benitez can take heart from those games.

I recall when I played for a dominant Liverpool, Chelsea had an Indian sign over us in the cup competitions and I remember coming a cropper on a couple of occasions.

And over two legs of a European semi-final there can be many twists and turns. Liverpool will be underdogs but they will have faith in themselves after the way they dispatched Bayer Leverkusen and Juventus.

Liverpool played badly at Stamford Bridge and lost but in the narrow 1-0 defeat at Anfield and in the loss in the Carling Cup final, they more than matched Chelsea for long periods.

And this will not be like some cagey European affair.

The semi-final will be a typical Premiership collision, with tackles flying in and no room for the faint-hearted.

Chelsea's confidence will be high and they have some real thoroughbreds in their team, but Liverpool will know they are three games away from the big prize.

Liverpool's fans have had some terrible lows in recent times and just to reach the Champions League semi-final will give them a massive high.

But there may just be a growing feeling inside Anfield, both from players and supporters, that this unlikely adventure could go all the way to the final destination in Istanbul on 25 May.
---
APRIL 14
Iceman Rafa has reserves of steel

By David Prentice - Liverpool Echo

For most of this unlikely Mersey season, the managerial bragging rights have lain on the blue side of Stanley Park.

Threadbare squad, the ability to conjure limited resources, an unlikely assault on an even more unlikely prize . . . these are all qualities which have seen David Moyes lauded as a potential manager of the year.

But now he has a challenger. From just across the park. Liverpool boasted big men on the biggest of stages last night, but the architect of an astonishing achievement in the seething cauldron of the Stadio delle Alpi was undoubtedly their ice-cool coach.

The Reds' roster of European glory is peppered with world class names - from Keegan to Souness, Clemence to Dalglish, Rush, Hansen and Lawrenson.

But this season's incredible Champions League charge has been achieved effectively on a shoestring.

Look at the players unavailable to Benitez last night. Gerrard, Hamman and Kewell form three-quarters of a top class midfield unit, Chris Kirkland has been called England's future number one, Fernando Morientes is one of the continent's most respected strikers - all could not be called upon.

Xabi Alonso and Djibril Cisse were rushed back into action after long-term injury simply because there was no-one else available. Antonio Nunez, Djimi Traore and Igor Biscan were all roundly criticised for their part in the lowest point of Liverpool's season, the FA Cup calamity at Burnley. All three were heroic in last night's highest point.

Sami Hyypia gave a potted version of Benitez's team talk seconds after the thoroughly deserved goalless draw.

"We used an extra man in the middle because that's where they are strongest," he said.

Benitez found a simple solution to a testing problem, ensured his players absorbed the message, then sent them out to carry out his instructions.

They did so magnificently, with colossal performances from Jamie Carragher, Hyypia himself and the returning Alonso.

The foundations of this success were lain during the opening 30 minutes of the tie at Anfield, when Liverpool swept Juventus aside with an intensity and an aggression of performance that was so very British.

It was also encouraging for the future of domestic football.

The last time Liverpool and Juventus met in European action, 20 years ago, it was the end of an unparalleled period of English dominance in Europe.

After the most fallow of periods, the Premiership is now guaranteed one Cup finalist this season.

Chelsea will crow and point to the hat-trick of victories they already boast over the Reds this season.

But before they sing too loudly, they should remember their own Champions League experience last season.

Soundly beaten - three times again - by an all-conquering Arsenal side, they recovered to shock the Gunners in their fourth and fifth meetings.

Claudio Ranieri's reward was the sack. If Rafa Benitez can somehow claw his way past Chelsea, however, he will be granted the freedom of Liverpool.

Some achievement for a manager mocked by certain national newspapers earlier in the campaign.
---
APRIL 14
Carragher: 'Beat Chelski and Stevie G will stay'

Football 365

Jamie Carragher is convinced that Steven Gerrard will stay at Liverpool if the Reds can beat Chelski and reach the final of the Champions League.

Gerrard rejected a move to Chelski last summer, but the Liverpool captain has made plain his discontent at a perceived lack of progress at Anfield and it was claimed last week by a certain Premiership manager in Manchester that the £40m-rated midfielder has already signed a deal to join the Blues this summer.

However, Liverpool's unexpected 2-1 aggregate victory over Juventus has set up a Champions League semi-final with the Premiership leaders and Carragher is hopeful that if Pool can reach the final at Chelski's expense then Stevie G will stay.

"Why would anyone want to walk away from a club who had reached a European Cup final? These are good times at Liverpool at the moment and this result shows the club are going places," the defender declared.

"I'm sure Steven will be delighted back home. We're desperate for him to stay but it's his decision. If we get to the Champions League final it must have an influence."

Carragher was magnificent on Wednesday night as Pool, bereft of their injured captain, ground out the required 0-0 draw in Turin to progress.

Chelski have already beaten Liverpool twice in the Premiership this season as well as in the Carling Cup final, and the world's most Scouse Scouser accepts that Jose Mourinho's expensively-assembled squad will be favourites to reach a final against either AC Milan or PSV.

"Chelsea will be the favourites and rightly so because of the money they've spent and the players they've got. They're the best team in our league but it's cup football and anything can happen."

"They got the better of us at Stamford Bridge but we should have had at least a draw or even a win at Anfield and in the Carling Cup we were 10 minutes away from beating them," he told the Evening Standard. "We've never been battered by them. Every game's been tight and these two will be the same."

The two-legged semi will be played on 27 April and 3 May.
---
APRIL 14
Liverpool target Chelsea revenge

BBC Sport Online

Liverpool manager Rafael Benitez set his sights on revenge after clinching an all-Premiership Champions League semi-final with Chelsea.

Benitez's injury-hit side went through after a goalless draw against Juventus in Turin gave them a 2-1 aggregate win.

He said: "We have lost three times to Chelsea this season, but we have also almost won three times in two league games and in the Carling Cup final.

"We need to learn from those games and take confidence. I am very proud."

The two clubs meet in the Champions League second semi-final on Wednesday 27 April, with Chelsea drawn at home for the first leg.

Benitez added: "I am delighted for everyone, and that was a result for our supporters."

Xabi Alonso was outstanding for Liverpool in his first game since 1 January, and Benitez said: "We needed a player who could keep the ball and give good passes, and he had a very good game."

And defender Jamie Carragher also wants revenge against Chelsea, warning: "We'll be desperate to beat them.

"All the games we've played against them have been very tight so hopefully it will go our way."

Carragher added: "We've had a history of being one of the top teams in Europe and getting to the semi-finals of the Champions League is where the club needs to be every season. We need to get into these type of situations.

"Juventus are a top team and we were playing against some top players.

"We knew they would have good chances but I think they had more chances at Anfield, Zlatan Ibrahimovic missed in the first half and then I don't know how Fabio Cannavaro's header stayed out, but besides that we kept them out well.

"You've got to keep it tight. It gives you more belief to get to half-time at 0-0, it's little stages all the time, and in the end we got to the final whistle."

Juventus coach Fabio Capello admitted Liverpool were stubborn opposition.

He said: "Obviously it is a painful defeat, not just for me but for everyone at the club because getting to the end of the Champions League is very important to this club.

"I have to congratulate Rafa, tactically he was clever. He decided to play very defensively but his team followed his plans very well.

"They left us very little room to work in, there was hardly any chances and Liverpool were excellent in the way they played."

Capello added: "It wasn't true what was said prior to this game that Liverpool were weaker than our previous opponents Real Madrid.

"They confirmed they are a very strong team, unbeatable in the air, they deserved to go through because they defended the result they achieved in the opening leg and we did nothing.

"Obviously it is disappointing because to go as far as possible in the Champions League was the objective for both me and the club.

"I did all I could, I put out the team that I considered appropriate but Liverpool defended well. We had no space.

"I think a draw would have been a fair result in both games but I have to congratulate Rafael Benitez, because it's his team that have gone through.

"Had Zlatan Ibrahimovic been able to score in the first half obviously it would have made it much easier."
---
APRIL 13
Capello praises Liverpool

Channel 4 Sport

Fabio Capello insists the Bianconeri gave everything they had to reach the Champions' League semi-finals, but were outplayed by Liverpool.

"We must admit that Liverpool defended solidly and were unstoppable in the air. They deserved to qualify," conceded the Coach after two poor displays sealed their exit.

Juventus needed to win 1-0 at the Delle Alpi after losing the first leg 2-1, but played with a low tempo and rarely tested goalkeeper Jerzy Dudek, only hitting the woodwork with Fabio Cannavaro's late header.

"We gave everything we had and performed well enough, hoping to snatch a goal from somewhere, but unfortunately we were unable to score. Liverpool are a tough team to face. We knew that when they close up and go on the counter-attack they are at their best and we couldn't find a way through this attentive defence. Sami Hyypia was particularly marvellous."

Nobody knows that more than Capello, who was already eliminated twice by the Anfield outfit during his time at Roma. He had urged patience, a tactic that worked against Real Madrid in the last round, but the clock ticked away all too quickly.

"Liverpool play with one upfront and are constantly trying to crowd us out. We were able to create more chances at Anfield precisely because they were willing to attack, whereas now it wasn't in their interests to do so."

Aside from tactical considerations, it was a psychologically limp performance from the players who barely got out of first gear.

"I don't feel it right to blame the lads, as it was a very balanced game and our opponents kept us on our toes with the threat of the counter-attack," continued the Coach. "That's why they've done very well away from home this season."

The Italian Press has already turned on Capello's side after a sluggish performance against an opponent they were expected to eliminate comfortably and the lack of alternatives in the squad was clear for all to see.

"David Trezeguet is a goal poacher who makes the difference in the area and would've been very valuable in this match, but he wasn't available and we had to deal with that."

Milan are now the only remaining Serie A representative in the Champions' League and will face PSV Eindhoven after they won a penalty shoot-out with favourites Lyon. Liverpool go into an all-Premiership semi-final with Chelsea.
---
APRIL 13
Heroic Liverpool through to semis

BBC Sport Online

Liverpool sealed an all-Premiership Champions League semi-final with Chelsea after a superb display.

Rafael Benitez's injury-ravaged side delivered a performance of discipline and resilience to protect their 2-1 lead from the first leg at Anfield.

Juventus created few opportunities apart from an early close-range effort from striker Zlatan Ibrahimovic.

Fabio Cannavaro struck the post late on, while Milan Baros was off target with Liverpool's best chance.

It was a performance that guaranteed that there will be a Premiership team in the Champions League final in Istanbul in May.

Liverpool, as expected, restored Jerzy Dudek in goal ahead of youngster Scott Carson, with Xabi Alonso back in midfield for the first time since January in place of injured captain Steven Gerrard.

And Liverpool's depleted side more than held their own in a first 45 minutes played in low-key fashion, with Juventus showing little urgency as they went in search of the goal that would take them through.

Liverpool's only worrying moment came after 10 minutes when Zambrotta's cross found Ibrahimovic unmarked only eight yards out, but he could not keep his effort down and Dudek was grateful to see it fly over the top.

Benitez's side showed great organisation, catching Juventus offside on numerous occasions, but the forward pairing of Baros and Luis Garcia got little joy from the Juventus rearguard.

Garcia escaped once, but Gianluigi Buffon was quickly out of his goal to beat the Spaniard in a race for the ball.

Juventus needed to put more pressure on Liverpool, and they made a change at half-time, replacing Ruben Olivera with Marcello Zalayeta.

Liverpool's first clear chance came after 49 minutes, when a brilliant ball from Alonso released Baros, but the Czech striker was wasteful when clean through and failed to even hit the target.

Benitez brought on Vladimir Smicer after 57 minutes to replace the ineffective Antonio Nunez.

Dudek had been superbly protected, and it was 63 minutes before he made his first save, a fine diving stop from Emerson's header after Mauro Camoranesi's free-kick.

Baros had been disappointing, and he was replaced with 15 minutes left by Djibril Cisse, who completed a remarkable recovery from the broken leg he sustained at Blachburn in October.

Juventus came close to breaking the deadlock when Cannavaro's header struck the post and rebounded to safety.
---