---
SEPTEMBER 12
Gerrard always the lead role in team of cameos

By Len Capeling - Daily Post

Rafael Benitez pronounced himself pleased with the 3-0 scoreline, but that was purely for public consumption. His private verdict would surely have been along the lines of 'Not bad, but we can do better. A lot better.'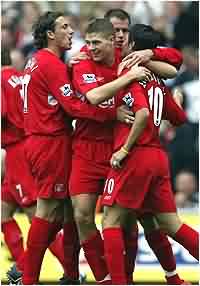 Playing woeful West Brom was never going to be the litmus test of a season slow to catch fire for the Reds, but the next two challenges, home to Monaco and away to Manchester United, will deliver a more telling interpretation of the Benitez story so far.

Saturday was simply a taster, a chance for some further experimentation, with Luis Garcia stepping ahead of the already out-of-favour Milan Baros as support player for Djibril Cisse.

Principally a wide player who likes to drift inside in search of goals, Garcia offered as much evidence for the defence as for the prosecution.

Gerrard celebrates a new goal. So
long he's Reds' leading goalscorer.
Alert enough to set up Steven Gerrard for the opener, he then headed his skipper's assist horribly off-target when perfectly placed, followed that up by criminally ignoring Gerrard in order to shoot wide, before scoring himself at the second attempt to wrap up proceedings.

On that basis you might just give the ex-Barcelona man a merit mark, but unless he wants to go the way of Baros - who also plays in blinkers - he needs to be more aware of the possibilities around him - especially with Gerrard now given licence to plunder opposition penalty areas.

This new approach has already turned Gerrard into Liverpool's leading scorer for the campaign - with four goals - and he may need to add a lot more if others don't begin to take more responsibility.

Which brings me to Cisse, who again failed to convince anyone other than his agent that £14million was a sound investment.

Maybe it's just that Benitez hasn't yet found a way to harness the pace and power of the tall striker.

Let's hope, because what Liverpool don't need at a time of traumatic transition is another Emile Heskey - big but terminally blunt.

One fierce shot palmed into the Kop by Albion keeper Russell Hoult was Cisse's sole significant contribution in the dying moments of the first half, and he matched that, late in the second, with a looping effort over Hoult and the crossbar.

Other than that, well, some will claim he worked hard in the cause, others will loudly beg to differ.

Elsewhere, Gerrard, as ever, kept things ticking over while the manager attempted to educate his back four in the art of holding a high line and compressing the space.

Benitez loves pressure being exerted all over the pitch and defenders who fearfully sit back is another Houllierism that drives him wild.

Easier to do this against cannon-fodder like West Brom, you might say, but Benitez is clearly of the mind that certain players can do more for themselves and the team.

Try to puzzle out Harry Kewell, who is still not the leading man he ought to be particularly now in the absence of whatever his name was.

Liverpool's problem seems to be that there are too many cameo appearances and not enough solid starring roles.

Which is why almost no-one is yet convinced that Liverpool will stay the course.

Every time Gerrard claims a man of the match award - and he did again here - it represents a lack of contenders among his team-mates.

Garcia gave the fans another name to consider, even allowing for the frustration of too many wrong options taken, while Xabi Alonso came off the bench to demonstrate some silky skills and a Gerrard-like sublety of pass, both short and long.

But still the mix remained lumpy, despite a flavoursome strike from Steve Finnan, and the next seven days threaten to be very much more exacting for Benitez and his iconic captain.

Difficulties? Well, if so, they're the kind Gary Megson would love to own. His side are going down and, rumour has it, Megson's not going with them.

He could be gone as early as this morning, becoming the third Premiership casualty of an infant season.

The watching Robsons - previous fallers Sir Bobby and 'Wor Bryan' - are said to be trying on Baggies training strips before being sold to the gullible as the latest dream team.

More hard-headed fans will instead think of nightmares.
---
SEPTEMBER 11
Rafa: Best Reds display yet

By Paul Higham - Sky Sports

Rafa Benitez said Liverpool's 3-0 win over West Brom was probably their best display of the season.

The Reds controlled the match against The Baggies, and goals from Steven Gerrard, Steve Finnan and Luis Garcia confirmed the points would stay at Anfield.

Benitez says that his side is slowly coming together but Saturday's win was their best display of the campaign to date.

New singing Luis Garcia has shown some promise while Gerrard has been told to get more goals - and three already in the league suggest Benitez's message is getting through.

"Perhaps it was our best display of the season because we scored three goals, had a lot of chances and played with a lot more movement," said Benitez.

"I said that Luis Garcia would be a good player for us because he is different. He understands what I want to do and he can score goals and I think he will be a good player for us.

"Gerrard is going to be an important player for us. When he starts playing the team starts playing with more confidence, and his goal got the crowd going which is also important for the players.

"We still need more time, I'm not sure how much longer because it's impossible to know, but we have seen today a better team with more balance and better movement, but it is still a small step on the way."

Steve Finnan was delighted to score his first Liverpool goal, but said the three points were far more important.

"It's been a while but it was nice to score," said Finnan. "We won the match as well which was the main thing after our last result.

"We needed that second goal and we went in at half time comfortable at 2-0 up.

"Overall it was a good performance and a good result as they were a good passing team and created a few chances."

Gerrard's opener was his third in four Premiership games and his fifth of the season overall, and he revealed that talks with the new manager have helped his goal scoring.

"I've got off to a good start," said Gerrard. "The manager spoke to me at the start of the season and said he wanted goals from midfield.

"I've sat down a few times with him since the start of the season and I'm trying to get forward at the right time and not get caught out.

"It was a comfortable win. It was nice to score early and get a second before half time and the game was virtually dead by then."
---
SEPTEMBER 11
Reds roll over Baggies

By Paul Higham - Sky Sports

Liverpool produced a fine display to dispose of West Brom in a comfortable 3-0 victory.

Rafa Benitez's Reds created a lot more chances, and played with a lot more confidence, than in their recent defeat to Graz and Bolton.

Steve Gerrard was back to his driving best and he gave them the lead at Anfield following a neat passing move after 18 minutes.

Steve Finnan grabbed his first league goal for Liverpool with another good strike and Luis Garcia sealed the points on the hour when he finally converted one of the many chances he had on the day.

Liverpool took no time at all to settle and were straight into their stride from the kick-off as they forced West Brom to defend early on.

Luis Garcia had a great chance to test Russell Hoult when he was set up by Harry Kewell on the left of the box but he tried a first time cross which failed to find Djibril Cisse.

The hosts duly took the lead after 18 minutes and again it was their skipper Gerrard who provided the spark.

The Reds played some neat football between Finnan, Gerrard and Garcia, with the captain ending up storming inside the box before striking a low left-footed shot that found the bottom corner of Hoult's net.

Liverpool did not sit back after scoring and could have doubled their lead when Neil Clement headed a corner towards his own goal, but for Jonathan Greening to head the ball off the line.

From the resulting corner, Sami Hyypia got his head to the ball but his powerful nod went straight at Hoult.

Rafa Benitez's men should have doubled their advantage through Luis Garcia, who found himself unmarked from a Gerrard cross from the left, but he skewed his header badly wide.

The second did come three minutes before the break when John Arne Riise's glorious raking ball found Finnan on the right, and he controlled the ball well under pressure from Clement.

The Irishmen then cut inside the right hand edge of the box before smashing a low shot inside Hoult's near post for a superb second goal for Liverpool.

Jezry Dudek first real test came in stoppage time at the end of the half when Clement unleashed a fearsome strike from all of 40 yards that the Polish keeper had to palm away.

Benitez obviously told his side to keep on pressing in the second half as they showed no signs of sitting on their lead, despite spirited resistance from West Brom.

Robert Earnshaw got his first taste of the Premiership when he replaced the ineffective Geoff Horsfield, but the Welshman struggled to get a telling touch.

Luis Garcia wasted a glorious chance to wrap up the points when he failed to set up Gerrard, who was screaming for the ball, and the Spaniard had an icy glare from his captain after blazing his shot widely over.

Riccardo Scimeca went close from a corner but his header was well saved by Dudek, as The Baggies refused to lay down.

However, the game was put to bed on the hour mark as Luis Garcia finally grabbed a goal after missing a number of chances.

Gerrard sent the former Barcelona man away down the left and, with no-one in the box, he rattled a fierce left-foot shot straight at Hoult.

The West Brom keeper could not hold the stinging effort and Garcia fired in the rebound right-footed under Hoult's body to grab his first goal for Liverpool.

Djibril Cisse had a late chance to grab his first Anfield goal snuffed out by Hoult but Liverpool were cruising in the end and were well worth their 3-0 win.
---