---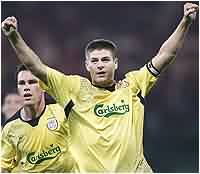 AUGUST 10
Gerrard quiet
over Owen



Steven Gerrard had all the
answers on the pitch...
(Photo: AFP)
Soccernet

Steven Gerrard had all the answers on the pitch but none off it when quizzed after Liverpool's Champions League win at AK Graz tonight about his club and international team-mate Michael Owen's Anfield future.

England striker Owen's selection for bench duties only in the 2-0 final qualifying round first-leg win in Austria increased speculation that he may be on the verge of a big-money move to either Real Madrid or Barcelona.

A role as a non-playing substitute means Owen would not be cup-tied in European competition should a high-flying continental club want to buy him before the end of this month.

Rumours are therefore rife that Liverpool manager Raphael Benitez deliberately kept his star striker out of the action in order to protect his market value.

But neither the coach nor Gerrard - who scored both the Reds' goals tonight - was willing or able to shed any fresh light on the situation.

"No-one has said anything to me about Michael. We will have to wait and see," Gerrard told five.

Benitez was marginally less forthcoming on the subject, but both he and Gerrard were able to reflect more openly on a victory which puts Liverpool on course to reach the forthcoming group stage of the Champions League.

"It was a perfect result, but I would not say it was a perfect performance," Gerrard conceded.

"We have to win these two legs, and this was an important game. But we used it to get fit too. We have had a good run-out and kept a clean sheet, so we are very happy."

Gerrard predicts much better to come, starting against Tottenham in the first round of Barclays Premiership fixtures on Saturday, as Benitez gets to know his new team.

"The manager asked us to play a bit deeper tonight because we did not know much about their team," said the midfielder.

"I would not say we fired on all cylinders - but we will be raring to go against Tottenham this weekend now."
---
AUGUST 10
Cool Rafa refuses to join Owen media circus

By Paul Rogers - LFC Official Website

A happy Rafael Benitez watched his side get his new reign as Liverpool boss off to a perfect start and then refused to be drawn into the media circus currently surrounding Michael Owen's future.

When the media quizzed the Liverpool boss after the 2-nil victory in Austria, only one thing was on their mind - Michael Owen's future.

The straight-talking Liverpool boss was not about to bite though and proved he's going to be one cool customer this season when he shrugged off repeated questions by simply stating: "When I decided the 11 who would start the game, it was because I had confidence in those players," Benitez claimed. "We have four good forwards and today we played two of them."

Asked whether Owen's omission from the team was to prevent him being cup tied for another European club, Benitez simply said: "The reason Michael didn't play was because Baros and Cisse did play. And they played well."

The media followed that statement with a question on whether he thinks Owen will remain a Liverpool player. "I can't predict the future. I'm only concentrating on the present and our performance tonight, which was good. At the moment Michael is one of our four forwards. I understand why you ask the questions about him but, I'm sorry, I don't want to say anything else," answered the unflappable Spaniard.

"I am pleased with the result because we knew this was going to be a difficult game. GAK have played more matches than us and we knew they would press us in defence and midfield. Once we scored the first goal it opened the game up and then the second one finished it off."
---
AUGUST 10
Gerrard double in Rafa's perfect start

BBC Sport Online

Steven Gerrard's brace gave Liverpool a valuable lead in their Champions League qualifying first leg - Rafael Benitez's first competitive game as manager.

Gerrard put his side ahead with a stunning first-half strike from 25 yards and doubled the lead with another sweet effort 12 minutes from time.

They were denied more goals, with Graz keeper Andreas Schranz in fine form.

Michael Owen was left as an unused sub by Benitez with speculation mounting over a possible switch to Real Madrid.

The Reds started in lively fashion and Sami Hyypia's bullet header from a Steve Finnan free-kick forced Schranz to brilliantly tip over the bar.

Graz passed the ball around neatly but failed to create any clear-cut chances, Jerzy Dudek comfortably claiming a couple of long crosses pumped into the box.

But Liverpool carried a cutting edge and an inch-perfect Gerrard pass sent Milan Baros through, only for the Czech to be denied by a brilliant Schranz stop.

Midway through the half Gerrard's genius gave Liverpool the lead, the England midfielder latching onto a loose ball to lash into the top corner from 25 yards.

Baros and Djibril Cisse then created chances for each other, first the Frenchman narrowly failing to convert a right-wing cross-shot, before Baros headed over from eight yards after Cisse's flick header.

Time after time Liverpool looked like opening up the Graz defence, and Harry Kewell's left-wing cross was only just ahead of the despairing Cisse before Dietmar Hamman's piledriver was well-gathered by Schranz.

The second half brought more of the same from Liverpool, Cisse holding off the last defender before testing Schranz with a well-struck low drive.

Finally Graz created a chance of their own, Roland Kollmann latching onto a left-wing cross only to head back across Dudek's goal and wide of the post.

Normal service was soon resumed as Hyypia headed a corner goalwards only for Schranz to make another flying save.

Gerrard thought he had doubled Liverpool's advantage with another scintillating strike from outside the box, but it was somewhat harshly ruled out for a foul in the area by Cisse.

But the magnificent Gerrard was not to be denied a second, crashing home on the half-volley past a stranded Schranz after more good approach play from the industrious Cisse.
---