---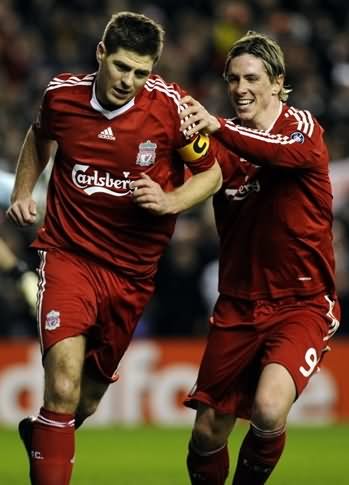 Gerrard and Torres celebrate at Anfield. (Photo: AFP)
MARCH 12
Torres: Tactics of
Benitez were top class

Liverpool Echo

Fernando Torres last night hailed Liverpool's famous rout of Real Madrid as a tactical triumph for manager Rafael Benitez.

And the Liverpool striker believes that the Spanish coach can repeat his Champions League success when he goes head to head against Alex Ferguson in the Premier League at Old Trafford on Saturday.

Ferguson is the most decorated coach in domestic football history, but Benitez has few peers in European football in recent years.

Despite his Champions League record with Liverpool and his UEFA Cup success at Valencia, however, Benitez was criticised by the Spanish press in the build-up to Wednesday's Knock-out round second leg with Real Madrid.

They claimed the Reds boss produced functional football teams, but Liverpool ravaged Real's reputation with a compelling display of attacking football which handed out Madrid's biggest European defeat for 20 years.

Torres explained that the Spanish coach sent out his team supremely prepared.

"I think we prepared the game better than them," he declared.

"The boss was brilliant in explaining how to play against them.

"The plan before the game was to play with intensity and with a high-tempo.

"Spanish football has quality but it is slower, so we knew it would be difficult for them if we played with intensity.

"I am very proud. I am proud at the performance of the team and the performance of the fans. We knew the atmosphere would be amazing but it was even better than we thought.

"This was a big night for Liverpool and for English football as well.

"We showed Real Madrid that this is Anfield and that Liverpool can win against any team here.

"It was a fantastic performance.

"After the first goal they knew it would be difficult because they had to score two. The penalty finished the game."

Liverpool came flying out of the traps and were two goals up inside 27 minutes and the tie effectively ended.

Torres and skipper Steven Gerrard combined to establish a tie-ending two-goal lead and Torres added: "Stevie made me the happiest player in the world on the night and got some more goals – I think he is the Champions League's top scorer now.

"We want to stop our injuries now for Liverpool and for us.

"We have to wait for the draw, but we have confidence now for the Champions League, and also for Saturday against United."

With Liverpool enjoying a 24-hour advantage over United in preparation time for Saturday's Old Trafford showdown – Torres believes the Reds can repeat their performance levels against the title rivals.

"That is a massive game," he added. "I hope to win that and have more chances in the league. We know it's very important to win there – if not they will be many points ahead."

On his own fitness, Torres added: "I feel good. My ankle felt a little bit painful in the second half but that doesn't matter in a match like this.

"We will work hard from Wednesday morning and I think I will be 100 per cent for Saturday."

Torres was pictured after the match with his ankle heavily iced and strapped, but the measure was purely precautionary and he is set to take his place at Old Trafford.
---
MARCH 11
Reds fear no one, insists Kuyt

By Richard Buxton - Shanklygates

Dirk Kuyt believes that Liverpool can beat anyone in Europe in the wake of last night's 4-0 defeat of Real Madrid.

The result, which was Real's worst in the competition for over 20 years, was a statement of intent and Kuyt sees no reason why the Reds cannot win the Champions League.

"We have won the Champions League before - hopefully we can do it again," he told Liverpoolfc.tv

"We went out to attack them, to score early and get the crowd behind us - the gameplan worked," the 28-year-old added.

"It was a great performance and a great result, and we're very happy to be in the next round.

"I don't know whether or not it's the best we've played since I've been here, but if you beat Real Madrid 5-0 overall it's great and hopefully it will prove to be one of our biggest results.

"It could have been more. Casillas played very well and made a few good saves. To be honest though, I'm happy with 4-0!"

Speaking of international team mate Ryan Babel's introduction to the game, Kuyt said: "He had a great performance and put in a great assist for Stevie. He was also involved in Dossena's goal. He's worked really hard over the past couple of weeks, so deserves all the credit he's going to get."

A trip to Old Trafford on Saturday lunchtime now beckons for the Reds and the Dutchman believes that the win against Real has given the side more confidence.

"This was a great result and performance in the Champions League, but it's also great going into our next game on Saturday," he said. "It gives us confidence and we're really looking forward to the weekend now.

"United are playing very well - they've had some great results. But we'll see what we can do on Saturday."
---
MARCH 11
It's question time for Rafa

Comment byToby Davis - Setanta Sports

Rafa Benitez does not need a pat on the back for Liverpool's Champions League mauling of Madrid, but a good, hard shake.

For if ever a result prompted further questions it was The Reds' 4-0 demolition of Europe's footballing aristocrats.

The Liverpool manager is undoubtedly a pragmatic man and not one to be swept up in jubilant celebrations when the situation calls for cold, hard calculation.

So while the masses packed into Anfield to witness the destruction of Madrid took the party from the Kop and into the pubs around Liverpool, the Spaniard was hopefully contemplating an intriguing puzzle.

What do Stoke, West Ham, Fulham and Hull have that the mighty Real Madrid lack?

This is not such a facetious question when you consider that Benitez's side have seen their title challenge effectively disappear with a series of lifeless displays against Premier League also-rans, but managed to pummel one of Europe's giants to within an inch of their footballing life.

The Liverpool manager has contributed more than his fair share to the annals of the club's history with some glorious European nights, but Tuesday's demolition of Madrid was almost worth a chapter in its own right.

It would be all too easy to dismiss the Spanish side as a spent force and question their commitment after Liverpool took the lead.

But let's put the result in context. This was their greatest ever defeat in this competition and if it were not for the brilliance of keeper Iker Casillas, Liverpool could conceivably have been approaching double figures.

So it is certainly not churlish to wonder out loud how the side that put Madrid to the sword can stumble against sides, some of whom could be plying their trade in The Championship next season.

Liverpool's principle weapons on Tuesday were the rampant Steven Gerrard and the returning Fernando Torres. On last night's evidence, Madrid, who struggled to create a chance of note before the tie was dead and buried, can only dream of that sort of firepower.

All too often this season, The Reds have been deprived of their attacking duo and no matter how strong your squad, those two are simply irreplaceable.

But to put Liverpool's failings in The Premier League down to injury and absence would be to paper over some cavernous cracks.

After all, both Torres and Gerrard were on the pitch when The Reds failed to take maximum points from home games against Stoke and Wigan.

So while it would take a brave man to bet against Benitez reclaiming the Champions League title he won in 2005, last night's display simply gives rise to more questions about the club's failings on the domestic scene.

The Reds manager has a clinical approach to his trade that would be the envy of most scientists.

He treats his squad like a machine with many settings that can be manipulated to suit any occasion.

This is not a weakness, as many suggest, but a phenomenal asset. Benitez does not tinker, he crafts a side capable of combating the strengths of opponents.

But the daily grind of The Premier League, perhaps does not require this sort of attention. Benitez's strengths undoubtedly lie in Europe where his tactical nous comes into his own, but does he have the tools to motivate his players when the enormity of the situation does not do the work for him?

Does he have these bare essentials to get every ounce out of every player when lesser sides arrive at Anfield?

Nobody should undermine Benitez's achievements and those few Liverpool fans who habitually call for his head for failing to deliver on the domestic scene would do well to remember where they were before he arrived. There were no glorious Champions League victories under Gerard Houllier.

But if the Liverpool manager has aspirations of claiming the trophy he craves, he would do well to ask himself what Stoke, West Ham, Fulham and Hull have that the mighty Real Madrid do not? Because the answer holds the key to Liverpool celebrating their first league title in nearly 20 years.
---
MARCH 11
Real Madrid - your boys took a hell
of a beating from Liverpool FC

Comment by David Prentice - Liverpool Echo

Alfredo di Stefano, Luis Figo, Zinedine Zidane, David Beckham – can you hear me?

Your boys took one hell of a beating.

One of the most glittering of European reputations was laid to waste at an energised Anfield.

Real Madrid weren't just ejected from the Champions League, they were grabbed by the collar and the belt and launched ignominiously through the Anfield exit door, with Fernando Torres' size nines up their rear end.

Liverpool were excellent, Real Madrid rubbish – prompting the second most popular question of the night, after 'how bad were they?'

Reds fans wanted to know: 'How can a team which performed with such passion, such tempo and such bristling aggression, have produced so many insipid home performances in the Premier League this season?'

The answer lay all around.

Everyone was up for this one. You knew a good night beckoned when the visiting directors, the England national coach, the president of UEFA and the FA's recently deposed chief executive all sat – eyes right – staring in admiration at the Kop as it went through its pre-match repertoire.

And Real, their fans and the match officials were all suitably intimidated.

Steven Gerrard set the scene in his programme notes.

"Real Madrid will fancy themselves to score here – but they haven't played at Anfield," he declared.

"Teams don't know what hits them when they walk out of the tunnel, and when we blast out the traps with a high tempo and fire in our bellies, opponents can struggle to cope.

"Guys like Cannavaro, Robben and Diarra have played here and they can try and explain to their team-mates what it is they'll face when they walk out of the tunnel tonight.

"But until you experience it for yourself, as they will tonight, you can't prepare for it.

It does have an effect on teams. Hopefully it does its stuff again tonight."

It did. Liverpool started with a passion and a pace which debilitated Madrid.

And while the noise undeniably influenced a weak Belgian referee into a couple of decisive home town decisions, no-one could argue that Liverpool weren't richly deserving victors.

Leading the charge was Fernando Torres.

The white of Madrid's shirts was the equivalent of a red rag waved in the middle of the Plaza de Toros to Liverpool's rampaging bull.

He was outstanding.

The third minute turn which exposed former World Player of the Year Fabio Cannavaro was sublime.

But it wasn't just his stylish front-running which was so impressive.

In a perfect advert for defending from the front he sprinted back to pick the pocket of Sergio Ramos as Liverpool pressed with an energy and an enthusiasm which was infectious.

Steven Gerrard's classy finish which settled the tie just a minute after half-time deservedly drew admiring comments.

But it was Javier Mascherano's prickly pressing which nicked back possession in the build-up to the goal which was just as important.

Only a display from Iker Cassilas which underlined why Pepe Reina has won so few Spanish caps prevented a Liverpool landslide – although a 4-0 scoreline was convincing enough.

Even the English press was more direct afterwards. The Spanish media were surprisingly sanguine about their side's performance, but the Guardian's Andy Hunter – once of this parish – launched an exocet at Juande Ramos.

"Are you embarrassed by that performance?" he declared.

Surprisingly, he wasn't.

Perhaps he accepted that on a night when Anfield has the bit between its teeth, like last night, few teams can survive.

On a near perfect night for the Reds, supporters were delighted to see local lad Jay Spearing step off the substitutes' bench to make the most glamorous of home debuts.

And the youngster rewarded them with a bright and purposeful cameo – marred only when the Kop realised it was Andrea Dossena who had supplied the fourth goal flourish, not the little Scouser.

That 87th minute strike established an accurate reflection of Liverpool's dominance.

Now Anfield will hope and pray that those same players can maintain that level of passion, that energy and that verve at Old Trafford on Saturday.

The Champions League may still offer Liverpool's most realistic avenue to glory this season, but a little domestic reminder to Manchester United wouldn't go amiss.

Liverpool 4 Real Madrid 0 is now history – a stirring slice of Anfield folklore, but history nonetheless.

Now it's time to start adding to the domestic history books – starting at Old Trafford on Saturday lunch-time.
---
MARCH 11
Rampant Reds made all
Liverpool FC fans proud!

Comment by Tommy Smith - Liverpool Echo

Oh what a night! And today Real Madrid can count themselves lucky it was not six or seven they conceded to a magnificent, rampant Liverpol side.

I've been crying out all season for us to get at sides from the start and that's just what we did last night. We could have been four up inside 20 minutes as the lads closed down, harassed and frankly bullied Real Madrid.

I thought we might start cagily after leading from the first leg but not a bit of it. What a fantastic surprise it was to see Rafa Benitez send his side out to just demolish the opposition from the word go.

As soon as I saw the team sheet I thought there was no way we should let it slip. All the big guns were out there all the names the supporters want to see.

And there were top performers all over the pitch, from Torres and Gerrard to Mascherano and Alonso in midfield and every member of the back four. They turned in the best Liverpool display for a very long time.

I heard about that Spanish newspaper saying 'So What' about Anfield. Well they sure got their answer last night and must be feeling pretty stupid today. You just don't wind up a club like Liverpool and expect to get away with it.

In particular I was so pleased for our brilliant fans last night. They have seen their club battered by off-field controversies for too long now but last night the Kop was in rip-roaring form as expected.

What a great night too for homegrown youngster Jay Spearing. He have been pinching himself when he replaced Steven Gerrard with us 3-0 up.

Madrid may have been poor, but the Reds were just terrific on a historic night which put a smile back on the face of everyone who loves this great club.

If last night's mighty win doesn't give us a huge confidence boost ahead of the game at Manchester United, then nothing will.

Rafa Benitez and his players must take great heart from a performance like that and while we all know it will be difficult at Old Trafford, last night proves that when we play with passion and belief from first whistle, anything is possible.

That result last night – 5-0 on agrregate against Real Madrid – will have sent a massive signal to every side in Europe.

Rafa Benitez is a master of European football, but has yet to really translate it onto the domestic stage.

However if he and his players – they all deserve a big pat on the back today – can produce something similar on Saturday and get that win, then this title race might not quite be over after all.

We've beaten United and Chelsea already this season and last night Liverpool added Real Madrid's name to other big scalps in recent seasons including Barcelona, Inter Milan and Juventus.

That's why we are now well ahead at the top of UEFA's European rankings – and why no one will want to face us in the last eight of the Champions League.

Let's just hope we pick up on Saturday where we left off last night!

* My old teammate John Toshack was on TV saying how disappointed he was in Real and how poor they were. They were – but that side is second in La Liga and has suffered only two defeats in their last 13 games – both to Liverpool. I almost picked up the phone to ring in and remind Tosh of that!
---
MARCH 11
Ramos: Liverpool
just too good

Liverpool Echo

Real Madrid coach Juande Ramos was deflated by last night's crushing Anfield defeat.

The former Spurs boss admitted that the 'best team won' following a 4-0 hammering.

Ramos said: "We are very disappointed and it is sad that we are out and we are obviously not happy with the result.

"We conceded two early goals, and I had my doubts about both. There looked to be a foul for the first and the penalty was not clear at all.

"But Liverpool were excellent and deserved to go through. They were too good on the night and there is no point in denying that, they deserved it.

"We tried all we could, but the way the goals came so early, it made the game complicated as soon as we went two behind."

And the former Spurs chief added: "We can still win the Spanish title, even after this, they are two totally different competitions.

"We will carry on with every hope of catching Barcelona in the league and we will be trying very hard in what is left of the season.

"As for this tie, the fact that Liverpool went ahead early made it very difficult. Liverpool were just better on the night."
---
MARCH 11
Raul says sorry for 'painful' defeat

ITV - Football

Real Madrid captain Raul apologised to his side's fans following Tuesday night's Champions League exit at the hands of Liverpool, describing the 4-0 Anfield mauling as his "most painful" defeat in the competition.

Raul was little more than a helpless bystander as Liverpool swept aside nine-time winners Madrid in comprehensive fashion thanks to two goals from captain Steven Gerrard, another from former Atletico Madrid striker Fernando Torres and a late fourth from substitute Andrea Dossena.

That four-goal demolition completed a 5-0 aggregate victory for Rafael Benitez's men and meant Madrid failed to get beyond the last 16 stage for the fifth successive year. Raul said: "They (Liverpool) were better in every respect."

He added: "Once again we are out of the Champions League.

"We had high hopes for the match, but all that remains is to congratulate Liverpool because they've shown themselves to be a better team. There are no excuses.

"I want to think the fans for supporting us and apologise to them. The defeat is my most painful in the Champions League, a 4-0 loss hurts."

With Madrid now out of both the Champions League and Copa del Rey, the only piece of silverware still available for Juande Ramos' men is the Primera Liga.

Madrid are currently six points behind leaders Barcelona in the standings and this weekend must travel to Copa del Rey finalists Athletic Bilbao.

Raul said in Marca: "We must lift ourselves because there is still the league and we cannot give up on that.

"The next few days are not going to be easy, but we need to be calm because on Saturday we have an important game and we must raise our morale."
---
MARCH 11
Torres: Why I am so proud

By Jimmy Rice - LFC Official Website

Fernando Torres spoke of his pride after Liverpool steamrollered Real Madrid - and labelled the 4-0 victory a 'big night for English football'.

El Nino opened the scoring as nine-times champions Real suffered their record European defeat in front of a raucous Anfield.

In an exclusive interview with Liverpoolfc.tv after the game, the striker said: "I am very proud. I am proud at the performance of the team and the performance of the fans. We knew the atmosphere would be amazing but it was even better than we thought.

"This was a big night for Liverpool and for English football as well.

"We showed Real Madrid that this is Anfield and that Liverpool can win against any team here.

"It was a fantastic performance. After the first goal they knew it would be difficult because they had to score two. The penalty finished the game."

A Steven Gerrard brace and Andrea Dossena's first goal for Liverpool took the aggregate score to 5-0 following a 1-0 win in the Bernabeu two weeks ago.

Torres believes the tie was a tactical triumph.

"The plan before the game was to play with intensity and with a high-tempo," said the 24-year-old, who spent 12 years with Atletico Madrid.

"Spanish football has quality but it is slower, so we knew it would be difficult for them if we played with intensity.

"I think we prepared the game better than them. The boss was brilliant in explaining how to play against them."

The game saw Torres return from an ankle injury sustained in the first leg, and he wasted no time renewing his prolific partnership with Gerrard, who is now the Champions League's joint top goalscorer - alongside Miroslav Klose - with seven.

"Stevie made me the happiest player in the world on the night and got some more goals - I think he is the Champions League's top scorer now," said the Spain international.

"We want to stop our injuries now for Liverpool and for us."

The pair might have had more but for Real goalkeeper Iker Casillas - the man who keeps Pepe Reina out of the Spain side.

Torres said: "They have a fantastic 'keeper - one of the best in the world. Every time I play against him he is brilliant. The best Real Madrid player on the night was Casillas."

Liverpool now travel to Manchester United on Saturday before discovering their Champions League quarter-final fate next Friday.

"We have to wait for the draw, but we have confidence now for the Champions League, and also for Saturday against United," added Torres.

"That is a massive game. I hope to win that and have more chances in the league. We know it's very important to win there - if not they will be many points ahead."

On his own fitness, the number nine said: "I feel good. My ankle felt a little bit painful in the second half but that doesn't matter in a match like this. We will work hard from Wednesday morning and I think I will be 100 per cent for Saturday."
---
MARCH 11
Carra hails great night

Sky Sports

Liverpool defender Jamie Carragher has hailed a great night after Real Madrid left Anfield with only a 4-0 thumping for their efforts.

Heading into the game already leading on aggregate courtesy of a 1-0 win in the Bernabeu a fortnight ago, many anticipated a cautious approach from Rafa Benitez's side.

On the contrary, Liverpool tore into their Spanish counterparts from the start and were it not for the excellence of Iker Casillas in Madrid's goal the Spanish giants could have been embarrassed further.

Carragher admits Liverpool's bid to win the UEFA Champions League is still in its infancy but regaining the crown they last held in 2005 is clearly in his thinking.

"It's been a great night," he told Sky Sports News.

"Obviously it's still early doors in the Champions League and we want to go on and do as well as we can and that means winning it.

"But it's obviously a great night to look back on, beating Real Madrid, the most famous name in European football, 5-0 on aggregate."

While Liverpool's display was hugely impressive Madrid were positively insipid in comparison.

One of their better performers on the night was former Arsenal, Chelsea and Portsmouth midfielder Lassana Diarra, who at least showed an appetite for the battle that some of his team-mates lacked.

Diarra was in confident mood in declaring his conviction pre-match that Madrid would progress but at the final whistle was willing to accept Real were thoroughly outplayed on the night.

"Against Liverpool if we lose 2-0 to them in the first 15 minutes it is very difficult," he lamented.

"Tonight Liverpool beat us 4-0. We have to accept that and get back to work.

When asked if Liverpool would go on to win the trophy he said: "I don't know.

They have experience; they won it a few years ago.

"I think in the last four seasons they have reached the semi-finals.

"They are a very good team, with a very good manager.

"I just want to say congratulations to them and wish them luck in the future."
---
MARCH 10
Rafa reflects on glorious victory

By Joe Curran - LFC Official Website

Rafa Benitez put Liverpool's demolition of Real Madrid down to a "fantastic all-round team performance" after they coasted into the Champions League last eight via a breathtaking 5-0 aggregate victory.

Fernando Torres opened the scoring from close range on 16 minutes before Steven Gerrard scored from the penalty spot on 27 minutes.

The Reds captain completed his brace with a blistering strike at the Kop end just after the restart and Andrea Dossena added a fourth with a fine strike minutes before the final whistle.

Speaking to reporters after the game, the Reds boss admitted the special Anfield atmosphere helped his team to such an emphatic victory but insisted his players and staff deserved credit for the historic result.

"We did really well and kept on playing right up until the end," said Benitez. "I am pleased for everyone - for the players, the fans and the club as a whole.

"The team had a lot of confidence and approached the game in the right way. I think the atmosphere helped us a lot as well so there are many positives, it was a fantastic all-round performance.

"Fernando and Stevie played very well, but I don't like to talk too much about just one player. The whole team - every player and all the staff, from the doctors and the coaches to the physios - everyone was very good. I thought we did very well for the fans.

"I think this result will do us a lot of good, the result pleased me a lot."

Liverpool dominated the match from start to finish and Benitez revealed it was his plan to surprise the Spanish giants with a storming performance out of the traps.

"They were expecting us to play very deep and on the counter attack," said the Reds boss.

"But we played a different game and tried to put them under pressure from the beginning. Then we were on top of them and I think we could have scored more.

"We knew this game would be very tight and very difficult. We showed that we can play in different ways, it showed we are a very good team."

But with a lunchtime clash with Premier League leaders Manchester United next up on Saturday, Benitez insisted he won't be allowing his players to bask in their glory for long and revealed the Real result could be just what they needed before that massive match.

"It is a great result, but now we have to focus on the game with United," he added.

"When you have an important game coming up, if the players play well and score four goals against a top side like Real Madrid just before, then it will help us a lot in our approach to the next game. Now have two or three days to prepare for that and then we will see what happens at Old Trafford."
---
MARCH 10
Gerrard hails 'awesome' display

By Toby Davis - Setanta Sports

Steven Gerrard described Liverpool's 4-0 demolition of Real Madrid as 'awesome' after The Reds ran riot at Anfield.

The Liverpool captain bagged a brace as Rafa Benitez's side waltzed into the quarter finals of the Champions League while Fernando Torres and Andrea Dossena were also on the scoresheet.

Yossi Benayoun's headed goal at the Bernabeu two weeks ago meant Liverpool mauled the Spanish giants 5-0 on aggregate, their biggest ever defeat in the competition.

"We got the job done in the first 30 minutes tonight when I thought we were awesome," said Gerrard.

"The second half was about seeing it out and fortunately we were able to score a couple more goals.

"We're all really pleased. It was important to win and book our place in the last eight. It was a fantastic team performance tonight.

"We have to give a special mention to Yossi Benayoun tonight. He was fantastic in the first leg and was unfortunate to be injured for this game."

Liverpool face Manchester United in a crucial Premier League clash at Old Trafford on Saturday and Gerrard says the players will quickly turn their focus back to the title race.

"We have to enjoy tonight first," added Gerrard. "Some players will need some treatment after picking up knocks and we'll start concentrating on the United game tomorrow."
---
MARCH 10
Reina delighted
with Madrid demolition

By Laurent Picard - Setanta Sports

Liverpool keeper Jose Reina has expressed his huge satisfaction following the demolition of Real Madrid.

Atletico fan Reina is particularly happy to have helped The Reds qualify for the quarter finals of the Champions League thanks to a wonderful 4-0 victory over Los Merengues.

The Spanish goalkeeper has hailed Liverpool's fans for bringing 'something extra' and declared that his team's spirit can help them move mountains.

Reina told reporters after the game at Anfield: "We are very pleased with the result, happy with the atmosphere and delighted to be qualified for the quarter finals because that's what we wanted.

"We knew that our fans would give us a hand. We were on top from the very start, scored two early goals, which helped us a lot.

"Playing at Anfield is never easy [for the opponents] and we haven't lost for a while. The atmosphere [within the Liverpool team] is very good and when we keep a good spirit we are hard to beat.

"What happened is not because of Madrid but because of us."
---
MARCH 10
Rampant Reds
thrash sorry Madrid

By Toby Davis - Setanta Sports

Liverpool stormed into the quarter finals of the Champions League with a barnstorming demolition of Real Madrid at Anfield.

The Reds crushed their Spanish opponents 4-0 on the night, winning 5-0 on aggregate, in a one-sided display of superb attacking football.

Inspirational skipper Steven Gerrard bagged a brace with a goal in each half after the returning Fernando Torres had given Liverpool the lead early on.

And with the game won and Liverpool's passage to the next round already assured, substitute Andrea Dossena rounded off proceedings, hammering the final nail in the Madrid coffin.

Juande Ramos' side were outclassed, out-muscled and out-gunned by a Liverpool outfit intent on punishing their illustrious visitors.

It was one-way traffic from the first whistle and Rafa Benitez's troops did not lift their foot off the pedal until they were comfortably ahead and the tie was won.

Anfield was simmering for the arrival of the European Cup's most decorated side, who were experiencing the tumult of the Kop for the first time. And within seconds of the kick-off they were hit with the full force.

Europe is where Rafa Benitez's tactical acumen undoubtedly comes into its own. But the controlled and calculated performance on show two weeks' ago at the Bernabeu went out the window as Liverpool began at breakneck pace.

It took only three minutes for Torres to make his presence known, with a sublime turn that hinted at the gulf in quality between the two sides that would quickly become apparent.

The Spain striker's ingenuity left him one-on-one with Madrid keeper Iker Casillas who pulled off an excellent reaction save with his feet to keep the scores level on the night.

Casillas is considered by many to be the best keeper in the world and he laid a claim to the accolade barely a minute later when he tipped a left-footed volley from Javier Mascherano, of all people, onto the bar and over.

The visitors were visibly shell-shocked. If they had expected Liverpool to feel their way into the game slowly, they were very much mistaken. This was an all-out onslaught rarely seen in Europe under Benitez's tenure.

And on 15 minutes The Reds took a deserved lead. Torres, looking as sharp as ever despite his injury lay-off, chested down a long ball forward and got a toe to it ahead of Madrid defender Pepe, stabbing it into the path of Dirk Kuyt.

The Dutchman took a touch and squared the ball back to the Spaniard who had the simple task of putting the ball into the empty net.

Torres then turned provider for Steven Gerrard. Another fleet-footed spin took him away from Sergio Ramos on the left-hand edge of the area, while his cross found the Liverpool captain sliding in at the far post.

Gerrard managed to steer his effort back across goal but Casillas was again on hand to deny The Reds skipper.

Liverpool deserved to lead by more than the single goal, but the manner in which they did finally double their advantage would have left a sour taste in Madrid mouths.

Gabrielle Heinze was once courted by Benitez, but the Madrid full back was left fuming when he was adjudged to have handled in the area.

Alvaro Arbeloa chested the ball towards the Argentine, who seemed to shoulder it away only to see the linesman flagging furiously to alert the referee to a perceived infringement.

Gerrard was in no mood to be charitable and stepped up to thump the ball into the back of the net from 12 yards, sending Casillas the wrong way.

The Reds' dominance was such that Madrid were restricted to a long-range free-kick from Wesley Sneijder that Reina palmed around the post and a stabbed effort from Raul after a good turn from Gonzalo Higuain.

If the Spaniards thought Liverpool were quickly out of the blocks in the first half, they were given another lesson in quick starts after the break.

Ryan Babel has suffered with second season syndrome, failing to secure a place in The Reds starting line-up after promising so much last year.

But the Dutch forward was at his dynamic best against a Madrid side who afforded him the sort of space he thrives on.

He skipped down the left within a minute of the restart, leaving Sergio Ramos in his wake, before crossing for Gerrard to finish into the roof of the net from eight yards.

The Liverpool captain was imperious. He wasn't floating or drifting in the hole behind Torres, but hammering away at the Madrid backline as he went in search of his hat-trick.

And he nearly got it less than ten minutes into the second half. A fluid Liverpool passing move ended with Gerrard hitting a stinging shot from the edge of the area that Casillas was forced to parry wide.

The tie, however, was already in the bag and Liverpool were ready to take their foot off the pedal.

The change in pace allowed Madrid to craft some chances of their own with Raul side-footing a cross from Ramos over the bar under pressure from Reina, while Fernando Gago had a good opportunity to pull a goal back but again could not keep his effort on target.

Torres had a shot brilliantly tipped round the post by Casillas with ten minutes remaining before Dossena rounded-off the scoring late-on.

The oft-maligned full back came off the bench to bury a cross from the right past Casillas and into the back of the net.

If Madrid are considering a change of manager at the end of the season, no doubt they will test Liverpool's resolve to hang on to their Spanish boss. The Reds were simply a class above a Madrid side who lacked any of the impetus their opponents possessed.
---