---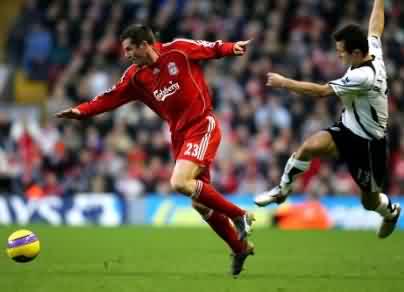 Jamie Carragher scores his first goal since 1999.
(Photo: Empics)
DECEMBER 11
Impressive Agger shows the swagger

By James Pearce - Liverpool Echo

The focus after a second successive four-goal Premiership rout was on Liverpool's new found ruthless streak in front of goal.

Just as they had done at Wigan seven days earlier, once they got themselves in front the Reds went for the jugular.

The frustration of the opening 45 minutes was forgotten as Fulham were ripped to shreds in the second half.

The goals are finally flowing, but just as satisfying for Rafa Benitez will be the fact that the Reds' recent revival is built on such solid foundations.

It's hard to believe that it was only a month ago that Liverpool were embarrassed by Arsenal at the Emirates Stadium, with the enduring image of Steven Gerrard and John Arne Riise conducting a public inquiry into who was supposed to be picking up William Gallas after the Frenchman had nodded home the Gunners' third goal.

Fast forward four weeks and, remarkably, if you take the meaningless Champions League clash in Galatasaray with a makeshift team out of the equation, the Arsenal game was the last time Liverpool's defences were breached.

That's six straight clean sheets and you have to go back to late October when Gabriel Agbonlahor scored a consolation for Aston Villa to find the last time Pepe Reina plucked the ball out of his net at Anfield.

It's no coincidence that run has coincided with the return of Daniel Agger to the side.

Since replacing Sami Hyypia in the closing stages of the defeat at the Emirates, the Dane has been ever present and he's grabbed his chance to shine with both hands.

Agger is a breath of fresh air in the modern game. A talented and hungry young man with bags of potential, but happy to stay out of the limelight and let his boots do the talking.

He turns 22 tomorrow and he celebrated in style with another fine performance against Fulham.

Agger might not have the aerial prowess of Hyypia but he reads the game well and is so at ease in possession.

He has already proved he doesn't need a second invitation to venture forward and on Saturday he played a starring role in Fulham's downfall with two assists.

First he soared highest in the box to glance Gerrard's corner to the far post, where Jamie Carragher was lurking to make it 2-0.

And then he received Riise's throw, looked up and duly clipped in the perfect cross for Luis Garcia to send a looping header into the far corner.

Agger is the fifth Dane to play for the Reds and he's certainly more Jan Molby than Torben Piechnik.

At £5.5 million he looks a bargain buy and he's continuing his footballing education alongside the perfect defensive partner.

Carragher is back to his best and capped a faultless display with his first Premiership goal in nearly eight years.

Behind the centre-backs, the air of uncertainty which seemed to effect Reina earlier in the season has been replaced by a confident swagger.

The keeper was hardly overworked but he made a crucial save in the first half to thwart Brian McBride, and his distribution was top class.

With such a solid defensive unit, the only real concern was the familiar battle of trying to break down a visiting team who arrived with their sights set on containment. Not that you could blame Fulham for coming with a game plan - they've won at Anfield as many times as Chelsea have lifted the European Cup.

The game itself followed the same pattern as the two previous home league tussles against Manchester City and Portsmouth.

The Reds dominated possession and territory but for 45 minutes rarely threatened to turn pressure into goals.

Despite the groans as countless attacks broke down, there was always the feeling the Reds only needed to lift it slightly to take control, and so it proved.

In fairness, they were given a helping hand. Firstly, when the impressive Papa Bouba Diop limped off injured, and then by Ian Pearce handling Dirk Kuyt's shot.

Diop's exit gave the hosts the ascendancy and within five minutes of him departing the deadlock was broken.

Gerrard was thwarted by Czech keeper Jan Lastuvka but when he tucked away the rebound the contest was effectively over.

Having spent the previous days going through the club's accounts, the Dubai International Capital chief executive Sameer Al Ansari, who watched from the directors' box, will have noticed that the club's two biggest assets didn't cost a penny.

Carragher became the second homegrown talent to find the back of Lastuvka's net before Garcia and Gonzalez rubbed salt into Fulham's wounds.

Significantly, victory finally lifted the Reds up into the top four of the Premiership. And with games against lowly Charlton and Watford to come before Christmas they have a great opportunity to ensure they stay there.
---
DECEMBER 11
Garcia out to climb higher

By Chris Bascombe - Liverpool Echo

Luis Garcia believes Liverpool have taken a major psychological step by finally breaking into the top four for the first time this season.

Victory over Fulham moved Rafa Benitez's side into a Champions League place.

It's been a slow, often painful process getting there, but Garcia is now anticipating the Reds will continue their winning momentum having put a demanding early fixture list behind them.

"The table looks better for us now. It looks better than a few months ago, and now we need to keep this going," said Garcia.

"From a psychological point of view it's really important for us to be back in that top four, although sometimes maybe it's better not to look too much at the table.

"The top two are really faraway from us, but all we can do is keep playing as well as we can to stay in the top four.

"It's similar to last season. We had a difficult start, and it's been even more the case this year.

"We must remember we have a lot of new players in the squad, and maybe now is the time the confidence is starting to come and people are doing a good job."

With Liverpool facing consecutive fixtures against the Premiership's bottom two, now is the time for Benitez's side to take advantage of a sequence of games which, on paper at least, seems less intimidating.

But Garcia insists no-one should presume imminent meetings with Charlton and Watford will guarantee victory.

"No game is easy at home or away," he said. "We know what we have to do and every game is important for us. At home we've kept another clean sheet and scored more goals. Now we must do more of the same away.

"We did a good job on Saturday, it was hard before the first goal but we remained calm to go on and score more.

"I was happy with my header. It's something I always try. It was similar to a goal I scored against Anderlecht in the Champions League last season.

"I also scored with my head against Galatasaray and it's something I practice a lot.

"I still don't feel 100 per cent, but I'm closer. There are still some difficulties with my fitness. I scored and everyone was happy, but five minutes before everyone was going 'ooh' with some of the plays I made.

"But this is how I play and always try to give enjoyment and do my best."
---
DECEMBER 11
Home, sweet home, banker for Benitez

By Chris Beesley - Daily Post

Just four days before Fulham's visit to Anfield, Liverpool returned to Istanbul's Ataturk Stadium - scene of their remarkable comeback victory in the 2005 Champions League final and Rafael Benitez's finest hour.

The fact that Istanbul second time around was a dead rubber and the meaningless match was a world away from the drama against Milan 18 months earlier was testament to Liverpool already qualifying as group winners.

But then Benitez's reputation as a cup manager has always been intact - especially in European competition where he is seemingly much more comfortable than domestic scene.

Well that's the usual spiel trotted out by many an observer but when you look at Benitez's record with closer scrutiny you will find that it's not exactly true.

It's fair to say that Liverpool's away record in the Premiership under Benitez was not brilliant in his debut season and it was pretty dire until a couple of games ago during this campaign.

However, such has been Liverpool's total dominance under the Spaniard at Anfield, the mixed results away from home have not led to disastrous consequences when it comes to the overall picture.

Once upon a time, the "This is Anfield" sign was almost worth a goal start as the teams emerged from the tunnel as visitors' nerves were shredded before contests had be gun.

Yet in more recent years, before Benitez's arrival, far too many lesser lights had started to arrive at the ground and help themselves to the odd point or three.

That is something that has been almost totally eradicated by Benitez's ruthlessly efficient sides and it's now more than a year since Liverpool suffered a home defeat in the Premiership.

While a much-coveted first league title since 1990 already looks out of the question for another season at least, it must be noted that Saturday's 4-0 demolition of Fulham was Benitez's 50th league victory as Liverpool's
manager.

The win was achieved in his 93rd game in charge and meant that he has reached the milestone quicker than Roy Evans, Gerard Houllier and far more crucially, the late great Bob Paisley - the most successful manager Liverpool and therefore by default, the English game has ever known.
---

DECEMBER 10
Carra reflects on rare strike

By Paul Eaton - LFC Official Website

Jamie Carragher reflected on his first Premiership goal in almost eight years and declared: "I hope I don't have to wait as long for another one!"

Carragher netted the Reds' second goal in their 4-0 thrashing of Fulham as Liverpool moved into fourth place in the Premiership table.

It was his first league strike since scoring against Southampton in January 1999 and Carra is hoping he doesn't endure a similar barren spell in the future.

He said: "It's my first Premiership goal this century which is a bit embarrassing to be honest!

"The important thing today was to win the game and so for us to do that and for me to score was the icing on the cake really.

"I get forward for more corners these days so hopefully I can get on the end of a few more things in the future.

"The big thing was the victory today and we're delighted with the result. I think we have to credit our goalkeeper though because he made a great save from McBride's shot in the first half. I thought it was going in to be honest, and if Pepe hadn't saved it then we'd have been 1-0 down and it would have been a different game.

"It's been a good day for us because we've scored four goals and kept another clean sheet. We just have to keep going, keep working hard and keep winning.

"We're probably a bit too far behind the front two now but third place is anybody's. If we can get there and then string a great run together, you never know what can happen. If both of the top two slip up and we get good results then you just don't know."
---
DECEMBER 9
Rafa: Reds learning lessons

By Paul Higham - Sky Sports

Rafa Benitez says his Liverpool side are learning how to break down stubborn opposition at Anfield after the beat Fulham 4-0 on Saturday.

The Cottagers provided another stern test of Liverpool's attacking threat as the held firm during a frustrating first half for the home crowd.

However, after Steven Gerrard had knocked in the rebound from his own saved penalty, goals from Jamie Carragher, Luis Garcia and Mark Gonzalez sealed a comfortable victory in the end.

Liverpool are now unbeaten at home since last October and have won seven out of nine this season - and Benitez says patience is the key.

With many sides now looking to frustrate The Reds at home, Benitez believes his men are learning the lessons of how to get the breakthrough.

"We knew it could be like that but I said to the players at half-time keep going, keep attacking, because we know our last experiences here against Manchester City (1-0), Reading (2-0) and Portsmouth (0-0) we controlled the game," he said.

"The first half was the same. We had two or three chances and the last pass or shot was not the best.

"In the second half, after the goal, it was easier."

Fulham manager Chris Coleman was disappointed with the award Liverpool's penalty, but Benitez unsurprisingly thought Uriah Rennie made the right decision.

"I couldn't see it clearly but for me it was a penalty," said the Spaniard.

"A penalty is always a situation which can change a game but we created enough to win, not just with the penalty.

"We had opportunities to score more goals. I think the team was creating enough and we deserved to win."

The win was a 50th in the league for Benitez in 93 matches a feat achieved quicker than Manchester United boss Sir Alex Ferguson or Arsenal manager Arsene Wenger.

"If I can win the same trophies as Sir Alex Ferguson it will be good," added the Spaniard.

"It is just a statistic but it is good because it means my team is winning, which is the most important thing."
---
DECEMBER 9
Coleman left frustrated

By Paul Higham - Sky Sports

Chris Coleman was disappointed with Fulham's second-half display that saw them beaten 4-0 at Anfield.

The Cottagers produced a promising first 45 minutes when they frustrated the home side as they set their stall out to defend from the off.

However, their good work was undone as, following Steven Gerrard's opener, Liverpool then added three more for a convincing victory for The Reds.

Coleman was left frustrated as he felt his side threw away their hard work in the first half by letting their heads drop after the first Liverpool goal.

"I thought we were okay in the first 45 minutes," he said.

"It was obvious we had to set our stall out early doors after two poor performances against Manchester City and Blackburn where the game was finished after 35 minutes.

"The defining moment was the first goal going in and after that for 15 minutes we fell away.

"We should have shut up shop then and steadied ourselves before trying to nick a goal on the break.

"Our concentration was poor, we lacked a bit of discipline and belief we could get back into it. That is something for us to go away and think about.

"Two weeks ago we beat Arsenal and everything was rosy but now we've lost two on the bounce and that's the way it is in this league - it's ruthless and any mistakes will be punished."
---
DECEMBER 9
Scoucers the heros for Liverpool

Ireland On-Line

Liverpool's Scouse heart of Steven Gerrard and Jamie Carragher scored two of the four goals which finally accounted for a resilient Fulham at Anfield today.

After dominating a goalless first half Gerrard followed in his saved 53rd-minute penalty for the first after Ian Pearce's handball.

Carragher, whose last goal came on January 16 1999, then dived in at the far post to stab in a second and Luis Garcia headed in Agger's cross. Substitute Mark Gonzalez curled in an injury time free-kick to cap the victory.

Gerrard, who along with Jose Reina, Steve Finnan, Luis Garcia and Dirk Kuyt was brought back after the Champions League defeat by Galatasaray was instrumental throughout.

However, even he needed a stroke of luck when Jan Lastuvka saved his penalty but he made no mistake with his follow-up effort.

Up until that point it appeared Fulham, playing five in midfield, would frustrate their opponents on a ground they have never won at in 95 years of competition.

In Liverpool's first real attack Kuyt combined with Bellamy and when the Wales striker's shot was half-blocked Luis Garcia stabbed an effort past Lastuvka only for Liam Rosenior to clear off the line.

Even with less than six minutes gone Lastuvka seemed intent on wasting as much time as possible but when his long clearance released Volz down the right he crossed for McBride to hit a first-time shot which Reina did well to tip around his left-hand post.

From the corner Liverpool launched a quick counter-attack down the right through Jermaine Pennant but John Arne Riise's 25-yard drive went wide.

In the 15th minute Pennant outpaced Rosenior but Kuyt's ambitious long-range shot from the winger's pass spun horribly off his right foot for a goal-kick.

Pennant, having one of his better games, broke from inside his own half and after a 40-yard run slipped the ball to Bellamy who laid it off to Luis Garcia only for the Spaniard's shot to be blocked by Zat Knight.

When Fulham did gain possession in their opponent's half they were not sure what to do with it and Papa Bouba Diop blazed a 30-yard shot well over.

At the other end Pennant just failed to get a telling deflection on Xabi Alonso's low free-kick, while Bellamy's clever dummy set up Pennant to cross but from 10 yards Kuyt could not get enough contact on the ball to divert it goalwards.

And Lastuvka was forced to save low to his left from Alonso's 30-yard curler as Liverpool continued to pressurise the Fulham defence.

A minute before half-time Luis Garcia's looping header from Kuyt's left-wing cross dropped onto the top of Lastuvka's net.

Diop, who had returned in the second half with heavy strapping on his right thigh, lasted just four minutes before he was replaced by Philippe Christanval.

In the 50th minute Pennant's cross from the right side of the penalty area saw Bellamy miss with his head and the ball bounce through Kuyt's legs - with both players no more than seven yards out.

But the long-awaited breakthrough finally came three minutes later.

Bellamy's cut-back to Kuyt saw the Holland international's shot blocked by Ian Pearce's arms and referee Uriah Rennie had no hesitation in pointing to the spot.

Gerrard's effort was well saved low to Lastuvka's left but the Liverpool captain followed up to drive home.

Agger had a great chance to make it 2-0 a minute later but he missed a free header from Gerrard's corner, while Bellamy also fired over at the far post from his captain's next flag-kick.

Bellamy's quick break from the halfway line earned Liverpool another corner in the 59th minute and when the ball came back out to Gerrard Lastuvka could only fumble it around a post.

It was to prove costly as Agger flicked on Gerrard's resulting cross and Carragher dived in feet first at the far post for Liverpool's second.

The result was assured when Agger crossed from wide on the left in the 67th minute and Luis Garcia jumped unmarked to head in the third.

Late on Gerrard was denied by the Fulham goalkeeper again when he fired straight at Lastuvka from Pennant's cross while substitute Robbie Fowler's volley was deflected wide by Rosenior.

Substitute Gonzalez curled in a 25-yard injury time free-kick to cap
the victory.
---