---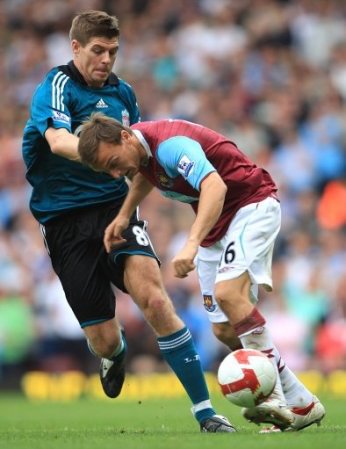 Man of The Match, Steven Gerrard fighting with
West Ham's Noble at Upton Park. (Photo: PA)
MAY 10
Gerrard: Torres partnership is key

By Mike McGrath - PA Sport

Liverpool skipper Steven Gerrard would welcome two suitable signings this summer to strengthen a squad that he thinks will challenge for next year's title based on his partnership with Fernando Torres.

Gerrard has warned the Premier League that he expects to push Manchester United even closer next season if he and Spain striker Torres stay fit.

They have only started 13 league games together this season but have scored 16 goals between them in those games, with two from Gerrard helping defeat West Ham 3-0 on Saturday.

And Liverpool's captain feels his side are not far away from being the finished article.

"We've shown this year we've made massive strides and there has been big progression," Gerrard said. "I think every squad, no matter how successful you are, still needs strengthening and changes.

"I don't think this team needs many changes because the players in the squad are very good. If we can get a couple in and get stronger, of course we want them."

Liverpool are mathematically still in the title race but United are still favourites, although that could have been a different story if Gerrard and Torres were fit for the entire season.

"The frustrating thing for both of us is that we haven't been on the pitch together far more," Gerrard said.

"Going into next season it's important that we both stay fit to give Liverpool the best chance of being successful because we feel if we are both fit and on top form we'll cause defenders and teams many problems.

"Without sounding big-headed there is a confidence when we are both on the pitch that we can win football matches. When he is on top form I don't think anyone will argue that he is the best striker in the world. To not have him fit is so frustrating, as his team-mate.

"If we are both on the pitch and fit you'll see many more goals as well."

After Ryan Babel wrapped up victory at Upton Park, Gerrard then anticipated a nervous time this week watching United play their games in hand.

Hammers midfielder Mark Noble feels Gerrard deserves a title winners' medal in his career for his setting an example to other players in his position.

Noble, who swapped shirts with Gerrard and also picked up Jamie Carragher's to pass on to former team-mate Craig Bellamy, said: "He's the best, isn't he? Let's put that straight.

"In my eyes, with the praise he does get, I still don't think he gets enough. He's obviously labelled one of the best in Europe but with the goals he scores, how he is for Liverpool, I'd say he is the best.

"He has stayed at his own club all these years. The really big teams are all interested in him but he pledged his future to Liverpool. For his sake, I hope one day he wins the title. For him and for Liverpool."

For Noble, he hopes to eventually get close to the standards set by Gerrard.

"Everyone wants to aspire to being that good," he said. "He's got a fantastic brain but he is also an athlete - he's strong, powerful and quick. He's got everything. If I can be nearly as good as Stevie Gerrard I'd be pleased."
---
MAY 9
Rafa: City can now
throw title open

By Jimmy Rice - LFC Official Website

Rafa Benitez is keeping his fingers crossed Man City can throw the title race wide open on Sunday after Liverpool maintained their charge with a 3-0 win
at Upton Park.

Steven Gerrard fired twice in the first half against West Ham, with Ryan Babel adding a third late on to elevate Liverpool to the top of the Barclays Premier League on goal difference.

United now play the first of two games in hand against City - and Benitez believes victory for Mark Hughes' men would crank up the pressure on the champions.

"We have done our job," said the Spaniard. "We have to keep winning, that's all we can do. We needed to get three points and put them under pressure, and now we will be supporting Man City.

"It's a derby and if they make a mistake they will be feeling the pressure. Man City is a difficult team to play against."

Asked if he would be watching the game in a blue scarf, Benitez joked: "Maybe. If I am at home and relaxed, I will watch it. I will be relaxed because you can't have any influence."

With time running out on Liverpool's title dream, Benitez was asked if he looked back with regret on any of the seven Anfield draws this term, notably the stalemate with West Ham before Christmas.

The boss believes this fixture was pivotal, explaining: "We can talk about some draws but especially this one. We were preparing this game and we watched clips of all the missed chances - there were a lot. It is a pity because this could have made the difference.

"Also, it's true that we've won a lot of games at the end of matches, so in the end, when you talk about nine months, you often finish where you should finish."

As things stand, Liverpool could miss out on the title having lost fewer games than the champions.

Benitez added: "I don't remember (if this has happened before), but we are doing a good job. I was talking to some people the other day and if you analyse the two games we lost - against Middlesbrough for the first 30 minutes we were on top, and against Tottenham it was one of our best away performances of the season. It's unbelievable, but that's football."

Reporters also asked the gaffer if he believed Liverpool would be champions had Gerrard and Fernando Torres started more than 12 league games together.

"We have scored a lot of goals through different players," he replied. "That's a massive positive. But if you have Torres and Gerrard on the pitch, it's a massive difference. The other team is always thinking, 'Who will score - Gerrard or Torres?' It's more difficult for them.

"But I have belief still this season."

Liverpool looked comfortable at Upton Park following Gerrard's second-minute opener but Benitez claims it wasn't as easy as it appeared.

"We were in a very good position because we scored the early goal," he said. "It made a big difference. They had to go forward and so we had more space. The penalty made it worse for them but still they played well, passed the ball and played with ability between the lines. We had to score the third goal.

"We had a lot of chances on the counter attack. We talked about it before and practised in the week, so that's good."
---
MAY 9
Stevie hoping for
United slip-up

By Paul Eaton - LFC Official Website

Steven Gerrard helped fire Liverpool back to the top of the Premier League table - and then called on Manchester City to do the Reds a favour at Old Trafford tomorrow.

Two goals from Gerrard and a late Ryan Babel strike ensured Rafael Benitez's men once again leapfrogged United into top spot, with Alex Ferguson's men playing one of their two games in hand against their city rivals on Sunday lunchtime.

United now play three times before Liverpool take to the field again - and Gerrard is keeping his fingers crossed the Reds' title dreams are still alive by the time our next match at West Brom on Sunday comes around.

"It was important for us to keep going and do our job," said the skipper. "We have to win our remaining games and put pressure on United.

"If they win their games then fair play to them and they will deserve it, but at the moment we deserve to be at the top of the league.

"They have a tough game against Man City tomorrow. City have run into a bit of form and it's a derby match which is never easy. We just have to wait and hope City can do us a favour.

"Whatever happens now, though, this season has been one of progression. We're on May 9 and we're still in the title race and we haven't been able to say that for a long time. That shows we have good players and a good togetherness.

"We're still in there fighting and we'll keep going, but if it's not to be then we'll learn from where we have gone wrong this season and look to put it right next year."
---
MAY 9
Reds on top after
nailing Hammers

By Robin Hackett - Setanta Sports

Liverpool maintained the pressure on Manchester United with a comfortable 3-0 win over West Ham at Upton Park.

Steven Gerrard opened the scoring on two minutes before adding a second before the break when he was able to turn the ball home after seeing his spot-kick saved.

Substitute Ryan Babel then rounded things off in the 85th minute to move Liverpool back to the top of the table.

West Ham went into the game needing a win if they were to keep their European qualification hopes in their own hands.

However, The Hammers had not beaten a top-four side under Gianfranco Zola and, given their need on this occasion, the Italian told Setanta: "It's something we have to do sooner or later and hopefully it will be sooner rather than later."

Yet any such hopes were instantly dented as, on 76 seconds, Liverpool were ahead. Fernando Torres released Gerrard and he was able to run through, skip around Robert Green and slide the ball home with consummate ease.

It was a slow start for the home side, and it was several minutes before they managed to muster up any composure at all.

When they did manage to find that composure, though, they enjoyed a spell of dominance.

Their best chance in that spell came on 27 minutes as Lucas Neill headed just over when Pepe Reina failed to deal with a Mark Noble free kick.

Yet their failure to take advantage of their possession was punished on 38 minutes when Alan Wiley awarded a penalty after Torres went down under contact from Luis Boa Morte.

After furious protests from the Hammers midfielder, Gerrard's initial effort was well saved by Robert Green, but the England midfielder was alert enough to turn home the rebound for his second of the game.

It looked all over at that point, but West Ham had a glorious chance to get back into it when a spectacular error from Jamie Carragher allowed David Di Michele to burst through on goal.

The Italian would have surely scored had he not made an error of similar proportions, losing his footing as he danced around Reina before picking up a booking as made a hopeless penalty appeal to spare his blushes.

On the stroke of half time, further errors nearly allowed Liverpool to make it three – a poor header from James Tomkins and a weak challenge from Matthew Upson allowed Torres to head beyond Green, but his effort just eluded the post.

In the second half, West Ham were enjoying a lot of the possession but Liverpool were creating all the chances, yet for a long time neither side really looked like breaking through.

Liverpool could have added to their lead on the hour, though, as they ran clear on the counter and Dirk Kuyt went through on goal, but Green again provided a fine stop.

The pattern continued for some time, but Babel eventually sealed the victory five minutes from time when, after seeing his header saved from Kuyt's cross, he tucked home the loose ball.

Zola may have to wait some time to get a result against the big boys, but Liverpool have again shown Manchester United that they will not give up on the title without a fight.
---