---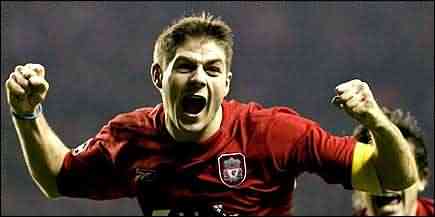 Gerrard - the matchwinner. (Photo: EPA)

DECEMBER 9
Benitez out to keep Gerrard

Sporting Life

Rafael Benitez has told his ambitious skipper Steven Gerrard that he can achieve all of his dreams at Liverpool.

The Anfield manager understands fully Gerrard's dilemma as the England midfielder contemplates the future path of his career and the need to be playing for a club who can compete among Europe's elite as well as be consistent challengers for the Premiership crown.

Gerrard, only 25 by the end of the season, already feels the passing of time as he waits for Liverpool's rebirth under Benitez to give him the chance to achieve his goals.

But, after his stunning match-winning performance against Olympiakos that sent Liverpool into the last 16 of the Champions League on a memorable Anfield night, Gerrard has been told by Benitez that he does not have to leave.

Benitez insisted: "Steven can win all he wants with us and we need him. He has seen that we have a good team and we can do more things in the future. But if we want to win more games, important games, we need Steven in the team.

"We need his strength, the strong mentality he has and his quality. I think he likes and wants the responsibility of leading this team.

"And it is important for our future, although I understand him when he says, 'OK, I want to win things.'

"But I have said to him I want him to win those things with us, I believe he can win all he wants with us."

Liverpool's delirious fans would certainly echo Benitez's plea after witnessing Gerrard's part in one of the most uplifting nights of their long European history.

The match was their 105th in the European Cup and 226th in all European competitions and is being compared to their finest ever performances.

Three previous astonishing comebacks spring to mind. The remarkable victory over St Etienne in 1977 when supersub David Fairclough stole the show in a 3-1 win that overcame a 1-0 first leg away defeat.

Then there was the UEFA Cup comeback in 1991 against Auxerre, when they recovered from a 2-0 away defeat to win the second leg 3-0, a triumph inspired by Jan Molby.

And there is also the Champions League 2-0 victory at home to Roma in 2002 when another two goal margin was required to reach the quarter finals, Jari Litmanen and Emile Heskey scoring on the night Gerard Houllier returned from his serious illness for the first time.

Liverpool fans now have the triumph over Olympiacos to add to that list, inspired by Gerrard.

And the player said: "Great credit to the two subs who came on, Pongolle and Mellor are just kids but they changed the game for us. It was a terrific team performance overall.

"We played well early on but then gave away a silly goal from a free-kick, and maybe we thought it was over. I would be a liar if I said it had not crossed my mind, I felt that to get three goals against a team who were spoiling the game and defending very well was a tough one.

"At half-time I did feel that we had a mountain to climb and it was made worse by the fact that we knew Monaco were coasting it against Deportivo. But we have climbed that mountain and achieved a great result.

"We knew Monaco were 3-0 up at the break so even if we had won the game 2-1, it wouldn't have been enough, and I felt that to get three was a big task. Thank God for that strike at the end."

Benitez also praised the Pongolle and Mellor double act, adding: "The two youngsters came on and did all we asked. I told Pongolle beforehand that he may only get 20 minutes but he had all the right qualities and needed to show them all in a short time.

"It was the same for Mellor, when you change players you have to produce something different and both of them understood what was needed.

"I was so pleased with them because they had listened to what we wanted and tried everything to achieve it.

"We know Mellor is a good finisher and we know that there are things he must improve on. But you can see that he is trying to be a better player, to improve the way we want.

"He is listening and learning, it is easy for managers to be good with a blackboard but in the end it has to be the players who show the improvement and we know that Neil is doing that."

Liverpool can be drawn against Inter Milan, Juventus, AC Milan, Lyon or Bayer Leverkusen in the next round and will be at home in the first leg in late February, with the second leg a fortnight later.

Benitez says: "We are in with the best teams in Europe, we will wait to see who we get next but we can at least enjoy the moment and what we have achieved.

"Now we have qualified we believe that we are a match for any of the other teams left in the competition.

"The result was important for the money and also for the confidence it will give us as we face other big matches. It will improve our confidence in everything else we do."
---
DECEMBER 9
Gerrard still looking for improvement

Sporting Life

Steven Gerrard maintains he wants to be winning trophies with Liverpool, not any other club.

But in the aftermath of his decisive display against Olympiakos, the Anfield skipper underlined his desire to see the club build on that success and be challenging in Europe and on the home front regularly.

If Liverpool can achieve that quickly it will give Gerrard the platform for the future he craves and end fears he could be forced to leave to further his own career.

Gerrard made his ambitions clear before the clash with the Greeks and believes he is only stating what the club's fans also believe should be the club's targets.

"I am a fan as well and I think what I have said the supporters will agree with," said the England midfielder.

"The main point I have made is I want to be in a Liverpool side which challenges for the Champions League and the title all the time.

"That is where the club needs to be. I want to be winning things with Liverpool, not somewhere else. That is the most important thing.

"We have to build on wins like this, not just settle for a great win and then not progress any further.

"My goal against the Greeks is one of the most important I have ever scored and I hope it turns out to be one of the most important for the club for a long time, especially in terms of what it means financially."

He added in the Liverpool Echo: "I know I put a lot of pressure on myself because of what I said, and I felt I needed a big performance, [but] I am not going to go around telling lies about how I feel."
---
DECEMBER 9
Anfield's high octane night to remember

By John Thompson - Liverpool Echo

"You want to see it down there," said an overjoyed Liverpudlian in one of Anfield's lounges minutes after the final whistle sounded.

"There's John Toshack, Ian Rush and Gary Gillespie all singing Fields of Anfield Road at the top of their voices."

This was the greatest night Anfield has known since St Etienne in 1977.

At half time, with Liverpool needing three goals without conceding another, this was never going to happen. Everyone just knew it was too much to ask. Including poor old Robin.

The lifelong Liverpudlian had come over from his home in Majorca, excitedly visiting Anfield for the first time in more than a decade. All I could tell him was: "Well, it will be a great night to be here if they do pull it off!" It was said in consolation more than hope.

Then someone decided to play You'll Never Walk Alone at the start of the second half to try and raise the Kop's spirits and a moment later the match was level as Pongolle pounced.

Suddenly, you could hear fans everywhere saying 'Game on!' The magnificent Olympiakos fans, who spent the first half singing their hearts out, wobbled. We'd heard the last of Jingle Bells in Greek.

But as half an hour went by with no sign of another breakthrough, they sensed Rivaldo and co had weathered the storm.

Cue Neil Mellor. He appeared with just 12 minutes left and pounced.The stadium erupted in a deafening earthquake of expectancy. At 2-1, you sensed you were about to witness Anfield history.

Gone was the gloom. Anfield's stage was - somehow - set for Mission Impossible's successful delivery. Players and fans were now in that rare, high octane harmony which elevates football to something much more than a game.

Amid the din, Steve Gerrard threw up his arms calling for an infield pass from Pongolle. He looked downcast as the youngster instead curled in a short cross to Mellor. But Mellor picked out his captain with a perfect header back.

Gerrard rose, as if in slow motion, to the moment.

He himself said these shots often end up in the stands. But he'd centred himself in that moment of disappointment, and we sensed his concentration as he found the perfect mix of power and precision to send fans as wild as they have been since that David Fair-clough stunner in 1977.

Radio commentators John Aldridge, Alan Kennedy and Gary Gillespie totally forgot themselves, leaping to their feet in the press box to embark on high fives at the reds resurgence. Even Andy Gray screamed down his mike upon Gerrard's strike.

Where Liverpool go from here remains uncertain. But the stagnacy of last season has gone and we have just witnessed Anfield's dramatic night in almost 30 years.
---
DECEMBER 9
Thompson hails Reds hero Gerrard

BBC Sport Online

Liverpool legend Phil Thompson hailed Steven Gerrard and said the Reds skipper was responsible for one of the club's greatest ever European nights.

Gerrard's late screamer at Anfield on Wednesday earned a 3-1 win over Greeks Olympiakos and booked Liverpool's place in the Champions League last 16.

Thompson told BBC Radio Five Live: "It was a truly wonderful night that brought back so many great memories.

"Stevie is a fantastic footballer and you just knew he had to score."

Thompson, who won seven league titles, two European Cups, a Uefa Cup, an FA Cup and two League Cups at Anfield, admitted it rolled back the years in front of the Kop.

He added: "I remember as a kid I watched Liverpool beat the great Inter Milan side of the 1960s, and then there was St Etienne, which was probably the greatest night in the club's European history.

"Then Gerard Houllier and I had our Roma game a couple of years ago which we needed to win 2-0, that was a fabulous achievement.

"But last night was brilliant for a lot of the young lads and particularly Rafael Benitez and some of the Spanish lads to realise the history of Liverpool.

"I think the most important goal was Florent Sinama Pongolle's, the first one, it just seemed to give everyone the belief that they could go on and do it."

Thompson, assistant at Anfield until the summer, admitted Gerrard's future may still lie away from Liverpool but hoped he would stay to bring back the glory days under Benitez.

"It was such an important result, not least because of Stevie's comments during the day and also the AGM last week," Thompson said.

"I'm sure he looks at things and sees how well Chelsea are playing and sees Michael Owen at a club like Real Madrid, but I hope he can realise his dreams at Liverpool.

"The January transfer window and their performance next summer in the market will have a big say in what Steven Gerrard does.

"He's captain of the football club, a scouser, a fantastic footballer and I hope he stays."
---
DECEMBER 9
Bajevic: Liverpool deserved their win

By Paul Eaton - LFC Official Website

Olympiacos boss Dusan Bajevic admitted his team had no answer to Liverpool's second half performance at Anfield last night.

The Greeks held the lead at the break thanks to Rivaldo's free kick, but second half strikes from Florent Sinama-Pongolle, Neil Mellor and Steven Gerrard turned the game around and took the Reds into the knockout phase of the competition.

"When you are watching a game like that you do not believe you can lose in that way," said Bajevic. "But we brought the problems on ourselves, we did not create a chance from open play during the match.

"Liverpool were faster, stronger and better than us and when we conceded so early in the second half there was always the fear that they could come back at us. If we had held the lead a little longer maybe we could have done something.

"But this was the worst we have played for a very long time. We had very little up front and the pressure told on us in the end.

"Liverpool were just better on the night, we were under so much pressure and were not able to get out of our half to really turn the pressure on them.

"We are bitter, with ten points we have still not progressed in the tournament. We did not give up but we did not lift the pressure on us.

"Liverpool's winner was a very good goal scored by a quality player who is one of the best players around Europe at the moment.

"I know we will be heavily criticised now, people will hold me responsible. If people think that it is my fault, then it is my fault. I never dodge my responsibilities."
---
DECEMBER 9
Benitez laughing all way to bank

Ananova

Rafael Benitez was ecstatic after masterminding one of the greatest comebacks in Liverpool's history to achieve a 3-1 victory over Olympiacos and ensure progress into the money-spinning second stage of the Champions League.

Liverpool, £21.9million in debt and with speculation growing that skipper Steven Gerrard will leave if his boyhood club fail to compete with the big boys in Europe, needed this result desperately. Benitez's clever substitutions and half-time rallying call did the trick and saw Liverpool hit back from a goal down at the break to secure the three goals they needed to progress, a job made more difficult by Monaco's comprehensive victory against Deportivo in the other Group A match.

Benitez said: "It is one of the proudest nights of my career. The players ran hard all the time and you see how much it means to the supporters, it is a great night. We knew before the game that it was very important for the club to gain these extra finances. Now we have a gap between the next stage and we can fight for other things, but for the club this result is very, very important."

Liverpool will pick up another £5million for reaching the second phase, after goals from Florent Sinama-Pongolle, Neil Mellor and Gerrard negated Rivaldo's free-kick opener, and that money has already been earmarked for Benitez to spend in the transfer window next month.

Gerrard had spoken before the game of the need for Liverpool to compete with the best to keep him at the club, and for some new faces to be brought in during January. He will now get his wish on the second of those demands, at least.

Benitez added: "As a manager I have had a lot of luck, and I have been in very good clubs with good supporters. At Valencia it was fantastic but it is the same here, and I hope that it continues for the five years of my contract.

"I have never experienced a result like this in the Champions League, and this result is very special to me and the whole club. We talked about what to do at half-time and the decisions on who to change, we needed something different and I had decided to put on Pongolle as the first-half finished.

"We knew that Monaco had scored three and they were going to win so we needed three goals, but I told the players we had done that at Fulham so we could do it again."
---
DECEMBER 8
Gerrard feared Champions League woe

TEAMtalk

Steven Gerrard admitted even he thought Liverpool might be going out of the Champions League - before he produced the late goal to carry them into the last 16 at the expense of Olympiacos.

Gerrard and co conceded a first-half goal to the Greeks and knew they needed to hit back with three of their own after the break to progress by the narrowest of margins.

It finally fell to the captain to strike with a 20-yard half-volley only three minutes from full-time to complete the 3-1 win required to take the Reds into the knockout stages.

Asked afterwards if he had thought Liverpool were going out, Gerrard told Sky Sports: "I would be a liar if I said no.

"At half-time I thought it was a mountain to climb. But we have climbed it - and credit to everyone here."

Events elsewhere - Monaco beating Deportivo La Coruna 5-0 in Spain - meant Liverpool had to beat Olympiacos by two clear goals, and Gerrard knew the equation at half-time.

"We heard whispers that Monaco were three up. We thought maybe we could score two but knew that would not be enough," he added.

Substitutes Florent Sinama-Pongolle and Neil Mellor each scored, before Gerrard completed the job - with a shot he feared could make him a Reds villain rather than all-time hero.

"The ball was taking ages to come down and was spinning, and I thought 'this one is going into the stands'," he said.

"It was about time I caught one sweet - and I have not caught one as sweet as that for a long time."

Gerrard, who insisted credit was due to Pongolle and Mellor too, added: "It was a massive night for me.

"My performance over 90 minutes was not one of my best - but that was one of the best goals I have scored.

"Credit to the subs. Sinama and Neil came on and have helped change the game.

"It was a terrific team performance in the second half. We played well in the first 30 minutes too but were unlucky to concede a silly free-kick."
---
DECEMBER 8
Reds through after magical night

Sporting Life

Liverpool staged a miracle comeback to beat Olympiakos 3-1 and qualify for the last 16 of the Champions League.

Things looked bleak when they trailed 1-0 at half-time needing to win by two clear goals.

But three memorable strikes in a special second half ensured a fairytale finish for the Reds and a place among the elite in the knockout stages.

Liverpool almost got the perfect start when Milan Baros had the ball in the net after just two minutes.

But referee Manuel Gonzalez ruled it out for a push on the covering defender.

Three minutes later, an unmarked Sami Hyypia headed a Steven Gerrard corner inches wide of Antonios Nikopolidis' post as the Reds started the match in top gear.

Rivaldo eased the pressure on the Turkish defence when he won a free kick 35 yards from goal.

But then he wasted the position with an over-ambitious shot that flew high into the crowd.

Liverpool came even closer after 20 minutes when Gerrard's wickedly bending free kick was touched on by Baros' outstretched leg and flew against a post before the Greeks hammered it clear.

Minutes later Baros was inches away from turning in Xabi Alonso's low cross and Liverpool pressed relentlessly for the crucial goal.

But totally against the run of play, Liverpool went behind after 26 minutes.

Rivaldo slalomed his way past two tackles before being tripped by Hyypia and the Brazilian World Cup winner stepped up to curl a 25-yard through a small gap in the wall and past a stranded Chris Kirkland.

Liverpool badly needed an early reponse in the second half and they got it from substitute Florent Sinama-Pongolle.

Kewell did the ground work with a foraging run to the byline and the French striker side-footed home the cut-back from six yards.

Unlucky Baros was again responsible for a second goal being disallowed just after the hour mark for illegal use of the arm in the build-up to Gerrard's firing past Nikopolidis.

Liverpool withdrew a tried Milan Baros and his replacement Neil Mellor set up a grandstand when he put Liverpool ahead nine minutes from time.

Mellor had a shout for a penalty and Kewell should have done better when Nikopolidis spilled a Gerrard cross.

But Gerrad had the final word drilling a stunning half-volley past Nikoplidis from 25 yards as time ticked away.
---