---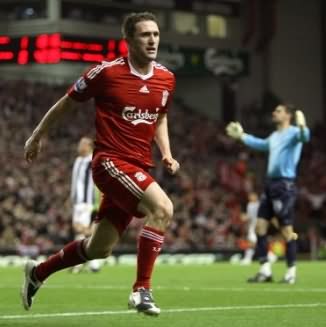 Robbie Keane - the hero vs West Brom. (PA Photos)
NOVEMBER 10
Late kick off, but job
done early for Liverpool

Comment by Chris Beesley - Liverpool Daily Post

Television demands ensured Liverpool fans had to endure another late kick-off on Saturday – but for once they were left relieved that their team had got the job done early at Anfield.

So far this season, none of Rafael Benitez's side's winning goals in the Premier League on home turf had been scored before the final 15 minutes of a game.

In the domestic opener at Anfield, Liverpool trailed 1-0 with just four minutes to go before Emanuel Pogatetez's own goal drew them level and Steven Gerrard netted a second on 90 minutes.

A first league win under Benitez against Manchester United was achieved thanks to a Ryan Babel strike with 13 minutes left on the clock.

Liverpool again trailed with just 10 minutes remaining against Wigan Athletic before Steve Bruce's tiring 10-men capitulated in front of the Kop and enabled Albert Riera and Dirk Kuyt through to nab the three points.

Also, Tony Adams's top flight managerial debut was ruined by a moment of madness by Papa Bouba Diop when the Senegalese midfielder bizarrely handled in his own area in 'volleyball' style 14 minutes from the end of Portsmouth's visit, which enabled Gerrard to stroke home from the penalty spot.

Liverpool have of course taken early leads in both of their recent visits to London – advantages that ultimately met with wildly varying success.

Xabi Alonso's 10th-minute effort at Stamford Bridge memorably ended Chelsea's record-breaking 86-game unbeaten home record.

On the other hand, when Kuyt pounced just three minutes into Liverpool's trip to White Hart Lane, Benitez's men conspired to miss a hatful of golden opportunities to extend their lead and somehow ended up falling to a first defeat of the season, as Roman Pavlyuchenko stunned them with a last-minute goal to secure an unlikely 2-1 win for a side at the foot of the table.

But for the vast majority of Liverpool's fanbase, cheering their side on home soil, this was the first time all season they'd been able to enjoy their half-time refreshment in a relaxed mood and enter the latter stages of a match without biting their nails fretting on what the result might be.

All this following a team who climbed back to the top of the table on Saturday night and have enjoyed a best-ever start to a Premier League season.

Last season, Liverpool failed to sustain a credible title challenge because too many home points were dropped in draws against teams who came to Anfield and shut up shop – playing 'compact' as Benitez likes (or dislikes) to refer to it.

In this respect, Tony Mowbray's team were, while refreshingly positive, also naïve, in adopting a bold 4-4-2 formation.

The Baggies have a wretched record at Anfield having not won on the ground for 41 years, a sequence that includes 19 matches and have just netted once in their last 10 visits through Garth Crooks 23 years ago.

Their goal difference against Liverpool since the Premier League began now stands at an incredible 0-22 – with 5-0 and 6-0 home defeats thrown in for good measure.

Given these statistics, surely it would have been a pragmatic rather than negative option for West Brom – now stuck at the bottom – to have gone with just one man up front but while such tactics away from home in a league as tough as this are likely to win them far more friends than points.

But that's not a matter for Liverpool to worry about and Robbie Keane – booed by the travelling supporters because of his roots at Black Country rivals Wolverhampton Wanderers – had no concerns as he slipped through the resultant gaping holes in the West Brom rearguard to net both his first and second Premier League goals for his new club since his £20million arrival in the summer.

The former Tottenham man has now plundered eight goals in his last six league starts against the West Midlanders and for his second he waltzed around the onrushing Scott Carson, whose flimsy attempt to stop him showed why the young English keeper was never going to come close to dislodging Pepe Reina at Anfield.

For weeks now, Liverpool fans have been hoping that their side would be able to follow Chelsea's example and give someone a damn good thrashing but while the potential for a rout after the break never materialised they will have been relieved just to have got the points safely secured with more than 45 minutes to spare.

Such was mood of relaxation at Anfield, even Benitez gave the West Brom fans the wave they'd been asking for with two minutes left.

Indeed, complacency levels were such that many fans eager to make an early dart even missed a rare Alvaro Arbeloa strike with 90 minutes on the clock.

Given Liverpool's recent record surely they should have realised something would be happening in injury time?
---
NOVEMBER 9
All is rosy for Liverpool

By Steve McManaman - Setanta Sports - blog

I think Rafa Benitez will be very pleased, it was the perfect game for Liverpool on Saturday. West Brom didn't have a shot on target, they've won by three, clean sheet, Keane scored and Torres had a nice introduction back into football.

Liverpool were very comfortable in the second half and, if anything, you wanted them to push on and get three, get four, get five and give the fans something.

Rafa's got two teams, one for home and one for away. Away from home Rafa likes to play one up front, Steven Gerrard behind and Xabi Alonso and Javier Mascherano.

At home he wants to play two up front and probably then Dirk Kuyt will become the right midfielder. At home Gerrard will sit that little bit more with an Alonso or a Mascherano and then it's perfect for Keane and Torres to function together.

I think now Torres is back – and if he's fit and stays fit for a while – Liverpool will start to sort themselves out a bit. It's vitally important that Torres' hamstring holds up.

The fixtures coming up for Liverpool are all games that you'd expect them to win with them chasing for the title. They've got West Ham, Blackburn, Bolton, Fulham – games they should be winning if they want to be challenging for the title.

At the moment they're winning games that they would have lost or drawn last year. They lost last week but they came out today and were extremely professional.

They've got a couple of games cushion now. That always helps because you've got to lose a couple before the other teams can get anywhere near you.

On top of all this, I think Benitez's contract situation will be rectified. The vibes are that they are sitting down already and we only hear about it because they're starting to talk about it.

Rafa loves Liverpool and I know his wife loves the area. He'll stay. Rafa's passionate about Liverpool and about wanting to win the championship. He certainly knows the history of Liverpool and how important it is to win The Premier League.
---
NOVEMBER 8
Rafa always had faith in Robbie

Sky Sports

Rafa Benitez insists he never doubted that Robbie Keane would score goals on a regular basis for Liverpool.

Keane has endured a lean time in front of goal since his summer move from Tottenham Hotspur and had scored just twice in 18 appearances before Saturday's game against West Brom.

However, the Irishman showed his old sparkle to score twice in the first half to set Liverpool on their way to a comfortable 3-0 win at Anfield.

The goals were Keane's first in the Premier League for the Reds and Benitez is happy that the striker is off the mark on the domestic front.

"I have always wanted to support Robbie, he has been playing and contributing to our victories," said Benitez.

"I have had no doubts that he would start to score regularly for us. Robbie has told me he has got a monkey off his back, not an expression I had heard before but I understand what he meant.

"Robbie has game intelligence and he is always a threat to defenders. It was only a matter of time before he scored in the league.

"He is quick and can punish any mistakes that defenders make, and that is what he did."

Benitez also explained his reasons for not leaving Keane on the pitch in the final stages to try to complete his hat-trick as Fernando Torres made his return from a hamstring injury.

He said: "We needed to get Fernando Torres into the game, we needed his pace to complete the victory and maybe get the third.

"Fernando is not match-fit, but we needed to get him into the action. We had some tired players out there, Robbie was trying hard but Fernando was important to us in the final stages."
---
NOVEMBER 8
Keane: I'm getting back to my best

By Paul Eaton - LFC Official Website

Robbie Keane reflected on his first league goals in a Liverpool shirt and insisted: "Hopefully I'm back to my best now."

Keane netted two first half goals to kill off the challenge of West Brom at Anfield, with Alvaro Arbeloa adding a third in the final minute as Liverpool regained top spot in the Premier League table.

Despite being satisfied with his first goals in the league for the Reds, the Irish international insists the three points were more important than any personal glory on the day.

"It was very important to get the win," he said. "It's not nice playing later in the day and watching the other results come in, but there were some good results for us and so it was important we did our bit.

"It was a good performance by the lads and we could have scored a few more. It was important we bounced back after Tottenham last week and we did that. There is a lot of resilience in this side.

"Of course it's nice to get the goals. It's been a while but I knew it was just a matter of time. I wasn't getting down about things, which is something I might have done had a been a bit younger or more naive.

"Hopefully today you have seen Robbie Keane back to his best. It's been stop start for me so far but I feel I've been getting better and better each game and hopefully that can continue."
---
NOVEMBER 8
Keane on board for Liverpool

By Chris Stanton - Setanta Sports

You wait patiently for one and then two come along at once - Premier League goals were like London buses for Robbie Keane as Liverpool moved three points clear at the top of The Premier League with a 3-0 win over West Bromwich Albion at Anfield.

The Republic of Ireland international had had to endure an excruciating wait of more than 700 minutes at his own personal bus stop for his first league goals in the red of Liverpool but the striker's 12-game duck was broken emphatically against The Baggies.

With Fernando Torres only deemed fit enough to be among the substitutes by Rafa Benitez, Keane shouldered the goalscoring burden and bore it effortlessly, striking first in the 34th minute and then again just nine minutes later.

Responding impressively to last weekend's late defeat to Tottenham, the home side were dominant throughout and Alvaro Arbeloa curled home a third goal in stoppage time.

West Bromwich Albion manager Tony Mowbray's aesthetically pleasing yet strikingly deficient side toiled but rarely troubled their opponents.

Albion had lost all six of their Premier League matches against Liverpool, conceding 19 goals and scoring none and rarely looked like stemming that sequence.

At an initially subdued Anfield, Keane was immediately conspicuous. A shot on the turn was saved by Scott Carson before Yossi Benayoun was also denied by a sprawling save from the former Liverpool goalkeeper, making his first appearance at Anfield since leaving the club permanently in the summer.

Carson was beginning to look a formidable obstacle but Keane betrayed no indecision in front of goal by steering home his side's first goal in the 34th minute. Steven Gerrard's straight pass played in the Irishman and he scooped a delicate finish.

Ironically, one of Albion's rare forays into the home side's penalty area in the first half led directly to their concession of a second goal just nine minutes later.

Jose Reina had fumbled a cross from Ishmael Miller to present the visitors with a corner but, from the subsequent Jonathan Greening delivery, The Reds broke and Fabio Aurelio's ball from inside his own half found Keane, who confronted by the rapidly approaching Carson, rounded the keeper to finish into an unguarded net.

Liverpool doubling their lead was painful enough for the visitors but the sight of Robbie Keane, a former employer of Black Country rivals Wolverhampton Wanderers, wheeling away in celebration was no less pertinent.

As against Newcastle two weeks previously when they also found themselves trailing at the interval, West Brom sought to impose themselves more forcibly after half-time and Robert Koren's shoot-on-sight policy was twice in evidence not long after the restart.

Felipe Teixeira's introduction as a substitute after six months spent sidelined through injury was greeted enthusiastically by the travelling band of Baggies.

Teixeira's more incisive passing was of some benefit to the visitors, however it was from Daniel Agger's misjudgement of a long clearance that an unexpected chance was presented to Miller, but the striker's anticipation was found wanting and the chance, like the ball, was soon lost.

Keane tormented Ryan Donk in his pursuit of a hat-trick before Benitez betrayed his miserly streak in the 72nd minute. Few in Anfield were complaining, though, with the returning Fernando Torres fondly greeted.

Another substitute, Albion's Chris Brunt, was almost rewarded for his impudence with a typically venomous left-footed free-kick skirting the right-hand post of Pepe Reina just 30 seconds after his arrival on the pitch.

With Ryan Babel already called upon for Albert Riera, the second-half showcase continued for the home side with the introduction of Xabi Alonso for Steven Gerrard.

Torres's rapier-like right foot showed little sign of its having been unused in six matches, the only surprise being that when he took aim 10 minutes from time the shot was straight at Carson.

The promptings of Benayoun and Alonso endured until the final whistle and a merited third goal was claimed by the unlikely figure of Arbeloa who cut inside to curl home a left-footed shot three minutes into time added on.
---