---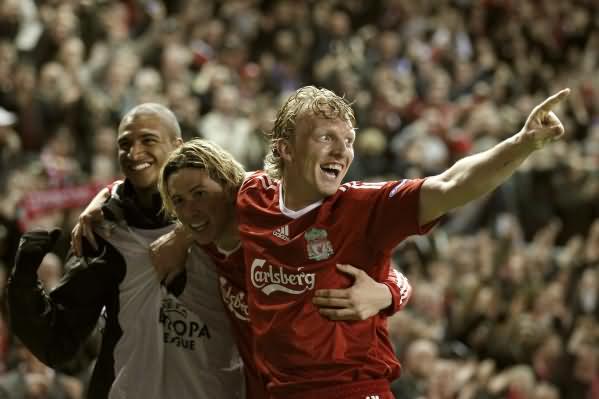 Torres celebrates with Ngog and Kuyt after
scoring against Benfica. (Photo: Reuters)
APRIL 9
Benitez has made mistakes
but Liverpool FC progress

Comment by Ian Doyle - Liverpool Daily Post

By his own admission, Rafael Benitez has made mistakes this season. And he was guilty of another last night.

After all, the Spaniard's claim he has taken his Liverpool side as far as he can was proven to be not quite accurate as they progressed to the semi-finals of the Europa League on a night of high tension at Anfield.

With co-owners George Gillett and Tom Hicks watching on from the directors' box, Benitez's men overturned a first-leg deficit in thrilling fashion with a resounding triumph over Benfica to keep alive hopes of a silver lining to a tortuous campaign.

While accepting his share of the blame for this season's failings, Benitez had chosen before the game to launch his latest broadside at the American duo over the lack of fresh investment the Anfield manager believes will see the club stagnate if not addressed this summer.

On this evidence, Hicks and Gillett might well wonder whether an influx of new players is required given the scintillating manner in which Liverpool brought Benfica's 27-game unbeaten run to a shuddering halt.

But the fact remains Benitez is right. Certainly, the American duo were left in no doubt the manager's fear is echoed by many Liverpool followers given the half-time chants against the pair and a demonstration outside the Main Stand after the game.

Benfica had ended Liverpool's reign as European champions with a 2-0 win here four years ago, but the Anfield outfit marked their 100th game in this competition with perhaps their best performance of the campaign to put Europe's in-form team through the shredder in devastating fashion.

First-half goals from Dirk Kuyt and Lucas Leiva wiped out defeat in Lisbon a week earlier with Fernando Torres extending the advantage in the second half before securing Liverpool's passage after Oscar Cardozo's deflected free-kick frayed home nerves.

Torres is now the first Liverpool player to score two goals in four consecutive home games, enough to earn a standing ovation on being substituted four minutes from time last night – a somewhat different response to that on his withdrawal at Birmingham City on Sunday.

The striker now faces a reunion with former club Atletico Madrid later this month for a place in the final in Hamburg on May 12.

For once, though, Torres had to cede man-of-the-match honours to his fellow goalscorers. Lucas will probably never be a favourite with the home crowd but this was arguably his finest performance in a Liverpool shirt, the Brazilian taking his goal with aplomb and again prospering a more advanced role.

Kuyt, meanwhile, had spoken beforehand of Liverpool's hunger for silverware this season, and he epitomised their desire with a typically industrious display allied to a neat touch that saw him poach the first goal and lay on another for Torres.

But there were heroes throughout Benitez's side; Yossi Benayoun buzzing with intent, Javier Mascherano at his destructive best and Daniel Agger solving Liverpool's left-back conundrum with a composed performance in the unaccustomed position.

The Anfield outfit felt hard done by after last week's 2-1 defeat at Lisbon, and the controversy that has dogged this tie continued in the 27th minute when Liverpool went ahead on the night.

It seemed a pretty straightforward affair when Steven Gerrard swung a corner in from the left and Kuyt, in a strike similar to that against Everton earlier in the season, stepped away from goalkeeper Julio Cesar and headed home from inside the six-yard box.

The referee and extra official stood barely yards away awarded the goal, but the assistant running the line on the far side somehow decided the strike should be chalked off for offside.

Not surprisingly, Benitez was briefly apoplectic at the prospect of a flagrant disregard of the basic rules of football before sense prevailed and the goal stood.

UEFA have experimented with two extra officials in the Europa League this season, but this was most definitely a case of too many cooks.

There was no debate, however, about Liverpool's second goal seven minutes later, a brilliantly-worked effort that cut straight through the heart of the Benfica defence.

After Mascherano almost lost possession when dallying too long, the ball was fed by the Argentine through Benayoun to Gerrard, whose sliderule pass released the onrushing Lucas to cleverly take the ball around Julio Cesar and tap into the empty net.

Despite the quickfire double, Benfica remained undeterred following a bright opening quarter and Liverpool had a fortunate escape two minutes before the break when, after a Benfica free-kick caused confusion in the penalty area, Lucas cleared Sidnei's low shot against Benayoun and the ball flew wide with Cardozo loitering at the far post.

The home side almost netted in similar fashion shortly after the interval when Luisao's clearance from a Gerrard cross struck a team-mate and solicited a fine save from Julio Cesar.

But the third came on 58 minutes with a classic breakaway goal. After a Benfica corner came to nothing, Johnson released Benayoun to run at pace at the retreating defence. The Israeli's ball wide to Kuyt seemed a touch overhit, but the Dutchman stretched superbly to deliver an inch-perfect low cross for Torres to sidefoot beyond Julio Cesar.

There was another contentious moment on 70 minutes when Kuyt was harshly adjudged to have brought down Ramires, and Cardozo struck a powerful free-kick from 20 yards that deflected off Gerrard and went in to Reina's left.

Benfica now only needed to score once to progress, and moments later Cardozo was almost the beneficiary of another fortunate deflection from a free-kick, the ball this time diverted narrowly wide.

But home nerves were eased eight minutes from time. After a strong challenge by Lucas won possession, Mascherano played the ball over the top for Torres to break the offside trap and chip delightfully over Moreira, who only seconds earlier had replaced the injured Julio Cesar in goal.

In 2001, Liverpool beat Portuguese opposition in quarter-final en route to winning the UEFA Cup. Judging by this performance, they will take some stopping this year – in this competition at least.
---
APRIL 9
Dirk praises Torres

By Al Campbell Friday - LFC Online

Dirk Kuyt praised record breaker Fernando Torres after his latest double strike.

Torres became the first Liverpool player in the club's history to score a brace in four successive home games and the latest, against Benfica last night saw the Reds through to the semi-finals of the Europa League. After the game Kuyt was quick to praise his fellow goalscorer.

"It was a great home performance and a massive result for us against a very good side," said the Dutch international, who got the Reds underway last night with his 27th minute strike.

"Almost every goal was of the highest quality. Fernando's first goal was absolutely superb and for me one of the best goals of the season. We had a corner against us which ended with a great counter attack.

"It was a good pass from Yossi and I was able to cross the ball for Fernando to score as he does always. I was happy to play a part in the goal and it gave me almost the same feeling as if I'd scored the goal myself.

"When we play well as a team and work hard for each other you can see we are a very good team and a tough side to beat.

"When they scored we knew they would have to push hard so there would be a lot of space for us to try and take advantage of, so we tried to stay focus, but when you've got Fernando in your side you don't worry because you know he will always do something special.

"He is just a a very special player and this was a great night for us."
---
APRIL 9
Benitez wants success on all fronts

TEAMtalk

Rafael Benitez will not lose sight of his top-four aim as he targets Europa League glory following Liverpool's aggreagate win over Benfica.

Benitez's side produced a stunning attacking performance to overturn a first-leg deficit and sweep into the semi-finals of the European competition on Thursday night.

Liverpool had trailed 2-1 after the first leg in Lisbon but Fernando Torres hit two goals in an emphatic 4-1 success on a pulsating night at Anfield.

It was a performance in marked contrast to the team's struggles in the Premier League, where fourth place is starting to look out of reach.

Benitez, whose side return to league action against fellow semi-finalists Fulham on Sunday, said: "Any win is important, especially at this stage of a competition.

"Hopefully we can play well, score goals, get closer to the top four and get to the final.

"We will try to win every game. We will try to do it against Fulham and try to get close to the top four.

"If we can get to the final and win the final we will be very pleased. We have two targets now and we will try to do both."

Benitez hailed the performances of Torres and Lucas. Torres' double earned him a place in club history as the first player to score twice in four successive games at Anfield.

The often-maligned Lucas produced one of his best displays for the Reds, capped by a fine second goal.

Benitez said: "We have some very good players and the value of the squad is much greater than in the past.

"Torres has a big value because he is a good player, still young and I think he can improve.

"Lucas was very hard-working. I am really pleased with him in terms of effort in every game and today he and (Javier) Mascherano were key players."
---
APRIL 8
Reds surge into semis

By Chris Burton - Sky Sports

Liverpool were able to make light of their first leg deficit as they saw off Benfica 4-1 to reach the semi-finals of the Europa League.

Dirk Kuyt, Lucas Leiva and Fernando Torres did the damage for Rafa Benitez's side, who will now face Atletico Madrid in the last four, while Oscar Cardozo replied for the visitors.

Benfica started brightly, pushing the Reds back early on, but they were undone by a controversial goal on 28 minutes which turned the tide in favour of the hosts.

Kuyt nodded home a Steven Gerrard corner from right in front of the keeper, but saw the assistant referee raise his flag.

Much discussion followed, as both sides argued their case, and in the end Dutch referee Bjorn Kuipers awarded his countryman a goal.

Buoyed after taking control of the tie, Liverpool then made it two six minutes later when Lucas raced onto a through-ball from Gerrard and calmly rounded the keeper before slotting into an empty net.

The Reds then notched a third on 58 minutes when Torres rounded off a flowing counter attack to fire home from close range.

Cardozo briefly gave Benfica hope when he drilled a low free-kick past Pepe Reina on 70 minutes, but it was not enough for the Portuguese giants.

Fittingly, Torres had the last word on the night as he calmly chipped in a fourth for the hosts eight minutes from time, securing a 5-3 aggregate success and booking a date with his former employers.

Discomfort
Torres, who was controversially substituted at Birmingham at the weekend to rest a knee injury, showed worrying signs of discomfort in the early stages.

His mobility was not helped by a crude early challenge from Rechel Sidnei and that set the tone for a night of rough treatment for the Spaniard, who had clearly been identified as the dangerman.

Benfica actually started the stronger and had an early opportunity after Jamie Carragher pushed the charging Pablo Aimar over on the edge of the box.

Angel Di Maria's free-kick went straight into the wall and was put behind for a corner.

Liverpool took time to find their stride and it was not until the 15th minute that they worried Benfica as Gerrard's whipped free-kick was headed behind by Ruben Amorim.

Gerrard then fired in a cross for Torres but the striker, who headed straight at Julio Cesar anyway, was offside.

Torres had another chance from a Glen Johnson cross but his glancing header went wide.

The Reds were taking charge and although Benfica continued to look dangerous on the break, they carried the greater threat.

They levelled the tie in the 27th minute after Yossi Benayoun won a corner on the left.

Confusion
Gerrard delivered a perfect cross for Kuyt from the resulting set-piece and the Dutchman firmly headed home from six yards.

A moment of confusion followed as the goal initially appeared to have been disallowed as the assistant referee on the far side flagged for offside.

Liverpool protested and the referee and additional assistant behind the goal agreed the goal should stand.

With an away goal in the bank, that gave the Reds the edge overall but they had the momentum and wanted more.

They followed up with a second goal six minutes later as Gerrard slipped the often-maligned Lucas in on goal with a superb ball.

The Brazilian showed great composure to swerve around Cesar and tap in his first goal in 11 months.

The job was far from done, however, and Liverpool survived a couple of scares before the break as Cardozo fired a free-kick at Reina and Sidnei had a shot deflected for a corner.

But Benfica captain Luisao almost handed Liverpool another goal early in the second half.

Kuyt won possession on the right and fed Gerrard, who delivered a low ball across the box.

Luisao slid in to make the interception but lost control and needed Cesar to palm it away.

Deserved
Liverpool's deserved third arrived just before the hour from a swift counter-attack.

Lucas was struck between the legs as the Reds defended a free-kick inside their own half and left their colleague in pain as they charged downfield.

Benayoun raced into the Benfica half and spread the ball wide for Kuyt, whose first-time cross was swept in by the onrushing Torres.

The atmosphere at this point was raucous, but anxiety soon set in as Benfica pulled one back on 70 minutes after Kuyt fouled Ramires on the edge of the area.

Cardozo, who scored two penalties in the first leg, blasted in a low shot through a gap in the wall.

Benayoun conceded another free-kick in a similar position for tripping the same player four minutes later but this time Cardozo's curling effort flew narrowly wide.

The Reds battled on and showed the resolve to kill off the tie eight minutes from time.

Lucas won the ball in midfield with a powerful challenge and Javier Mascherano sent Torres clear with a brilliant pass.

Torres made no mistake as he raced into the area and clipped the ball over substitute goalkeeper Jose Moreira, a replacement for the injured Cesar just moments earlier, with delicate poise.

Liverpool could at last breathe easily and took off Torres, Gerrard and Benayoun in the closing minutes.
---