---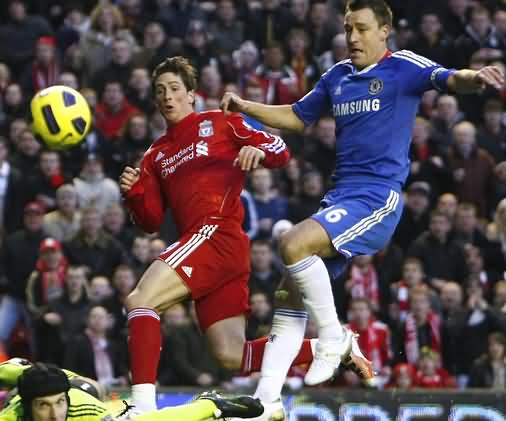 Magic Torres scores his first vs Chelsea at Anfield. (Photo: AP)
NOVEMBER 9
I believe Steven Gerrard is
Liverpool FC's greatest ever player

Comment by John Aldridge - Liverpool Echo

It's been a typical kind of week for Steven Gerrard. He led his side to a hugely influential victory at Bolton, came off the bench and scored a hat-trick against the fourth best team in Serie A, then produced another outstanding display against the league leaders.

But then I wouldn't expect anything less from Stevie, because like Jamie Carragher I believe Steven Gerrard is the greatest player to have ever pulled on the red shirt.

Now you'd expect Jamie to say that. He's Stevie's team-mate and pal after all.

But I had the good fortune to play alongside the phenomenal Kenny Dalglish, and I believe Stevie has probably surpassed even King Kenny.

What gives Stevie the edge is that Kenny actually played in a team with 10 other great players.

Stevie has probably only played in a Liverpool team with four or five great players, maximum.

He's been left to carry the can for the side so many times on his own, and has usually produced.

People say that Stevie can't be considered the best of all time until he's won a league title.

But he's single-handedly inspired Liverpool to almost every other trophy – I'm thinking of his Istanbul heroics, his incredible FA Cup final display and his goals in League and UEFA Cup finals.

He's also helped the team in a wide variety of positions, but for me the position where he is most effective is where he is now.

I think Stevie can have the biggest influence on a match from central midfield.

I particularly liked the way the team was set up against Chelsea on Sunday, with Dirk Kuyt in behind Torres.

I'd also like to see Glen Johnson come back in on the right of midfield, similar to the way Spurs use Gareth Bale and Everton are currently usuing Seamus Coleman – a youngster who I think can be a great player for Ireland in the future.

Lucas received plenty of praise for his performance on Sunday and on this occasion it was deserved.

In many respects his situation reminds me of Darren Fletcher's at Manchester United.

Early on in his career the United supporters just weren't having him.

Now he is one of their most important players.

Whether that happens with Lucas we'll have to wait and see, but there's no doubt that Rafa Benitez's departure seems to have helped him.

He has responded well to the challenge of Christian Poulsen and Raul Meireles' arrival – although it's blatantly obvious already that Poulsen is not going to be any threat to Lucas' place.

If the Brazilian continues the way he played on Sunday he could go on to become a valuable squad player for us.

But there's no doubt who has been the most valuable player for Liverpool Football Club over the last 12 years.

For me, though, Steven Gerrard is the most influential player EVER to have played for The Reds.
---
NOVEMBER 8
Lucas hopes win
will be pivotal

TEAMtalk

Liverpool midfielder Lucas hopes yesterday's stunning victory over Chelsea can prove a turning point in more ways than one.

The Reds are now finally in the top half of the Premier League after 11 games and the manner of their 2-0 Anfield success over the champions is sure to breed confidence.

Double goalscorer Fernando Torres will also hope his performance signals the start of an upturn in fortunes after a dismal start to the campaign.

And for Lucas too, the match could mark an important staging post in his Anfield career.

The much-maligned 23-year-old Brazilian produced one of the best performances of his three years at Anfield with a bustling all-round display.

Lucas said: "That will give us a really good mood and we will try to keep the same levels of performance.

"I think we believed in our team, that was the main thing.

"We played with intensity, everyone could see how intense all the team played.

"I am getting older and I think I am getting better. When you get more experienced you feel important and you want to do more.

"In the last few games I have been really pleased with the way I am playing.

"The team is winning and when the team is winning everyone has a better performance."

Lucas was often given a holding job by former manager Rafael Benitez.

That was perhaps not his preferred position but he now feels he has matured and is able to play a role that contributes in both defence and attack.

He said: "It is good to see Brazilian players are not just tricks and you can do a 'dirty' job for the team.

"That is what I am trying to do, to do the job defensive and try to get forward when I can.

"As a player I am trying to be consistent. This season I am getting better, I will just keep the same level and try to be in the team all the time."

Liverpool were in the bottom three just over a week ago but are now looking upwards after three successive victories.

They will now look to maintain their revival as they make the short trip to Wigan on Wednesday.

Lucas added: "We are happy but of course we are still not in the position we want to be.

"We want to be higher in the table but we have to keep going."
---
NOVEMBER 8
Kuyt delighted for Torres

Sky Sports

Dirk Kuyt insists the whole Liverpool squad had confidence Fernando Torres would regain his top form after his starring role in the win over Chelsea.

Torres showed signs of returning to his best with a superb first-half double to condemn league leaders Chelsea to a 2-0 defeat at Anfield.

Kuyt believes Liverpool's improved form has helped bring the best out of Torres after a difficult start to the campaign.

"We always had the confidence in Fernando, no doubt about that," Kuyt told the club's official website.

"You can see the team playing better now every week and in every game, and Fernando is also getting better and better.

"He finished his goals in a brilliant way.

"We were really satisfied with the team performance.

"I thought we played really well in the first half and then in the second we had to defend but everyone did a great job.

"Pepe had another brilliant game. He kept another clean sheet and he did a brilliant job for us."

Great day
Kuyt marked his return to action following five games out with an assist for Torres' opener and the Dutchman was delighted to make a successful comeback against Chelsea.

"For me that was a very good moment in the game," added Kuyt.

"I have worked really hard to get back to fitness and I know Chelsea isn't the easiest game to come back in but it was a great day.

"To see Fernando finish from my assist was a perfect moment.

"It's also a big plus to our medical team who have worked hard to get me fit again so quickly. They have helped me a lot and I am very thankful to them."
---
NOVEMBER 8
Ancelotti finds
positives in Chelsea loss

TEAMtalk

Chelsea manager Carlo Ancelotti remained upbeat despite his side's second defeat of the season against Liverpool at Anfield
on Sunday.

The Premier League leaders missed the chance to re-establish their five-point advantage over Manchester United after Fernando Torres scored twice in the 2-0 victory.

Both goals came in the first half and although the introduction of Didier Drogba after the interval, having been put on the bench because he was suffering with a fever, livened up the visitors they found the Reds in no mood to capitulate.

"Obviously the result is not good but the performance in the second half was really better and I am happy to see my team play like they played in the second half," he said.

"I think we had strong pressure in the second half and we deserved to score because we did a fantastic job in their half but we were unlucky not to score.

"(Jose) Reina is a fantastic goalkeeper and he saved some opportunities, defensively all the players played for the team and for this reason they deserved to win."

Ancelotti also acknowledged the quality of Torres, a player Chelsea were linked heavily with in the summer.

"He scored two fantastic goals and he showed he was fit and has come back from not a good moment. He is a fantastic striker," said the Italian, who admitted his side paid for a finely-balanced first half in which Liverpool seized the initiative and then held on.

"We didn't play quick in the first half; we didn't have time to build play from the back and we didn't have the possibility to find space in the opponents' half.

"Liverpool defended very well in the first half and counter-attacked, scoring two fantastic goals.

"For us it was very difficult to get back in the game. The second half was better when we played with strong intensity and had opportunities but it was not enough because Liverpool defensively played well for 90 minutes.

"To come here and lose can happen but we have to be positive, we played a fantastic game in the second half.

"We are still top of the table. It is impossible to win every game and sometimes you lose but the team showed the same mentality and strength.

"We don't have to react, we have to win the next game."
---
NOVEMBER 8
Dirk Kuyt's work ethic defines
Liverpool's impressive win over Chelsea

Comment by David Pleat - The Guardian

Roy Hodgson got his formation right for Liverpool against Chelsea, enabling Dirk Kuyt to be their most effective performer.

It is only in retrospect that a possible defining moment emerges. But the changes that Roy Hodgson made, whether by accident or design due to injury (Glen Johnson) and availability (Dirk Kuyt), gave Liverpool the opportunity to play with a system that showed Steven Gerrard and Lucas Leiva in the best light. Fernando Torres, too, enjoyed the day.

I recall a situation in 1986-87 when at Tottenham Hotspur. Because of the transfer of Graham Roberts to Rangers, an injury to Tony Galvin and the need to negate Glenn Hoddle's down side, a 4-5-1 system was born that glowed for the whole season. Liverpool, I feel, may have done similarly at Anfield yesterday.

Kuyt lacks guile but his work-rate is often wasted, in my view, parading the touchline on the right side. Lucas has struggled to win admirers when trying to contain midfield runners and Gerrard, certainly the dynamo, needs to be both central and deeper so he can defend and attack when the opportunity arises.

Raul Meireles and Maxi Rodríguez, who have acclimatised slowly to Premier League football, were put to better use on the outside of the five-man midfield rather than further infield.

Kuyt was the most important figure in this hardworking display, particularly in the second half when they had to quell the tide of sharp passing attacks from Chelsea. When possession changed hands the Dutchman quickly moved into a position where he could help to stifle the influence of Mikel John Obi in the centre of Chelsea's midfield. He appeared to have three lungs as he worked and challenged, always putting team before self.

Although Chelsea had plenty of possession, Liverpool were strong and solid and must have given Hodgson great heart. At Fulham he had a system that replicated the way Liverpool played yesterday. In this rearrangement Jamie Carragher went from right-back to centre-back where he is far more comfortable because he does not have to face too many passing options from the advanced positions he is forced to take up when playing at full-back.

When the ball was wide Carragher and Martin Skrtel made sure they stayed firm on the edge of the area and were always in good positions to intercept typical Chelsea-style low crosses

Hodgson may have been quietly bewildered this week at the US owners' judgment in their choice for their director of football but he will have made several important points with this vibrant display.

Meireles and Rodríguez are yet to shine, but they still did an important job denying Branislav Ivanovic and Ashley Cole advanced attacking positions. This was important, too. Crucially, it was the industry of Kuyt when Liverpool lost possession that helped Lucas and Gerrard do their work with such efficiency.
---
NOVEMBER 7
Roy: He deserves headlines

By Jimmy Rice at Anfield - LFC Official Website

Roy Hodgson heaped praise on Fernando Torres after his awesome double sank Chelsea on Sunday - but warned against any complacency heading into a critical week in our season.

The Reds climbed to ninth in the Barclays Premier League following the 2-0 win - and with six points available in the next six days, that position could soon look even healthier.

Speaking to reporters after the game, Hodgson shared his delight that Torres proved to be the headline maker after a tough start to the campaign - and now he wants to see more of the same against Wigan and Stoke.

"I'm pleased with the all-round performance and I'm also pleased that Fernando Torres will get a lot of the plaudits," said the boss.

"He's taken more than his fair share of criticism, some of which has been grossly exaggerated and certainly not fully deserved.

"Of course, when the team's not winning it's hard to defend these things but today he'll get a lot of plaudits and people will say he's back to his best. Let's hope that's the case but certainly today he was. He played very, very well.

"One always hopes that playing at this very high level that you've got that quality of player.

"Today we had the quality of Fernando Torres and that won us the game alongside a very disciplined and organised performance from the others.

"I'll enjoy ninth but you can go back to 16th again with a couple of defeats. We've got to get ourselves going again for Wednesday (at Wigan).

"The squad is looking pretty small with the sickness and injuries we've picked up. It's a long season. It's 11 games in, so we're not even a third of the way through. I prefer in football to keep my feet on the ground.

"We'll have to produce a lot more performances like this from now until May. I can't guarantee we'll do that but I know the boys want to give those performances every week."

Asked how he would celebrate beating a team he never prevailed against with Fulham, Hodgson replied: "I shall probably watch Match of the Day because I'm interested in the other games. I will watch the DVD or the game on LFC TV, possibly, if I can't sleep in the early hours.

"I didn't beat them with Fulham. Thanks for reminding me of that!

"They aren't going to lose many matches this season so I'm glad we've chalked up a victory against them."

The win was even more satisfying after two of Liverpool's first-choice defenders were ruled out just hours before kick-off.

Hodgson explained: "Sotirios Kyrgiakos called in with very severe tonsillitis, so he's very sick at this moment in time, and Glen Johnson turned up complaining about a groin problem which the physios decided was sufficiently bad that he had to miss the game."

The victory was witnessed by NESV principal owner John Henry and chairman Thomas Werner.

Quizzed by a New York journalist on the Americans' impact since arriving at Anfield, the manager said: "They have been very good for the club.

"For quite a long period of time we've been heading in the wrong direction and the new owners gave us hope that we no longer need to fear that we'll head in the wrong direction.

"I can only hope they are as successful with Liverpool Football Club as they have been with Boston Red Sox. If that's the case, we'll see Anfield rocking for a few years to come."
---
NOVEMBER 7
Torres wants Reds momentum

Sky Sports

Fernando Torres called on Liverpool to keep on winning after starring in their 2-0 success against Chelsea.

The Reds have picked up four successive victories in all competitions and now occupy a place in the top half of the Premier League after toppling the Blues at Anfield.

Torres, who scored two excellent goals in Sunday's encounter, has been pleased with the team's recent improvement.

However, he recognises that there can be no letting up ahead of this week's games against Wigan and Stoke.

He told Sky Sports: "We weren't good enough at the start of the season. But we thought from the beginning we needed time to work with a new manager and new players.

"Now we have to show against the teams in the middle of the table, or teams who are not as good as Chelsea, we can play this way - with this intensity and quality.

"We have to keep winning. We have won three games in seven days but we have to forget that now and keep getting points."

Improving
Torres has struggled with injuries during the early part of the season but believes he is getting sharper and hopes to hit top form again as quickly as possible.

He said: "It's been difficult for me with injuries but I am training every day and every day feeling better and improving.

"I don't know if I can play my best soon - but I will as soon as possible... I know the expectation I have but I can handle that."
---
NOVEMBER 7
Blues torn apart by Torres

Sky Sports

Liverpool continued their recent resurgence as Fernando Torres scored both goals in a 2-0 victory over leaders Chelsea at Anfield.

The Blues had conceded just three times in their opening 10 Premier League matches but were powerless against the class of Torres as Roy Hodgson's side rocketed into the top half of the table.

The breakthrough came after just 11 minutes as Dirk Kuyt picked out Torres with a diagonal pass and the Spaniard controlled perfectly before slotting past Petr Cech.

Torres then doubled Liverpool's advantage on the stroke of half-time with a magnificent curled finish from the left-hand side of the area into the far corner.

Chelsea laid siege to the Reds goal after the interval but were unable to reduce their arrears as Florent Malouda was denied by an instinctive Pepe Reina save from point-blank range and Nicolas Anelka hit the crossbar.

Cech also pulled off a fine stop to keep out Kuyt but for the most part it was Chelsea domination and a spirited rearguard effort from the hosts to hold on for three crucial points.

Constant threat
It was always likely the result would come down to who took their chances and with Didier Drogba left on the bench until the second half, Torres was given a head start.

He did not need a second invitation and in addition to his two expertly-taken first-half goals he was a constant threat to the Chelsea defence

Torres has been short of form this season but he has always been able to produce a performance against Chelsea at Anfield over the years and this was no different.

It took just 11 minutes for him to reopen old wounds with a classic piece of finishing courtesy of a cross from Kuyt, making a welcome return after a month's absence with an ankle injury, on the left.

The Dutchman chipped a pass over the head of John Terry and Torres took one touch before firing past Cech.

Having looked short of confidence this season the 26-year-old appeared to spring to life, immediately going on a short run and firing wide.

Possession was fairly even but Liverpool created the best chances, having a penalty shout dismissed when Terry's clearance bounced up on to Yuri Zhirkov's arm from which Raul Meireles shot at Cech.

Torres did not give the goalkeeper any such chance with his second just before half-time with a strike even better than his opener and reminiscent of his first ever goal for the club - also against Chelsea.

Potency
Meireles dispossessed Ashley Cole in the centre of the pitch and rolled the ball out to the Spaniard on the left of the penalty area.

Cutting inside he curled a shot around Branislav Ivanovic and inside Terry and the far post.

It was a fitting end to undoubtedly Liverpool's best first half of the season, which was as much down to excellent organisation at the back as Torres' potency up front.

With Jamie Carragher, restored to centre-back, barking the orders the hosts limited Chelsea to one shot on target - and that a weak Salomon Kalou header straight at Reina.

Drogba's arrival for the start of the second half was inevitable but the Ivory Coast international's first shooting opportunity saw him curl a 30-yard free-kick well wide.

Ramires headed over and Zhirkov's shot was turned around the post by Reina, who also produced a brilliant close-range stop to deny Florent Malouda.

Having got themselves into a winning position it was now a question of holding on to it for Liverpool as Chelsea ramped up the pressure.

Determination
Torres may be paid to score goals but the sight of him hoofing the ball into the upper tier of the Centenary Stand was testament to the determination of everyone to hang on at all costs.

Kuyt almost wrapped things up 15 minutes from time only for Cech's outstretched leg to divert the ball wide.

Chelsea knew it was not to be their day when Nicolas Anelka's shot squeezed under Reina, whose slight touch deflected the ball up on to the bar and then Carragher cleared from the lurking Drogba two yards out.

The win moved Liverpool into ninth, the first time they have been in the top half since the opening weekend of the season, after three successive Premier League victories.

They are still not in a position to challenge Chelsea at the top of the table - where they still have a two-point lead over Manchester United - but they proved, on their day and with Torres on form, they remain a match for any side.

It seems a corner has now been turned in Hodgson's reign, and with matches to come against Wigan, Stoke and West Ham there is a real chance for them to restore some of the damage done by their poor start to the season.
---