---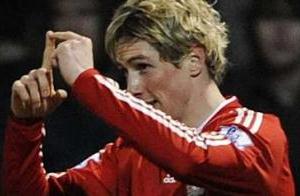 Torres matchwinner - again. (Photo: Reuters)
FEBRUARY 13
Critics of Liverpool boss
Benitez are missing the target

Comment by David Prentice - Liverpool Echo

"The smug look on Rafa Benitez's face said it all.

"No sign of relief that he had just dodged an embarrassing defeat.

"No hint of contrition that he might have got it wrong ... No glimmer of sympathy for Portsmouth ... Benitez gambled... Benitez got away with it ... etc etc etc."

I reckon you've got the idea. That was just one Monday morning report of Liverpool's last gasp win at Pompey. But it was a common theme.

In case you're unsure, Liverpool did actually win at Portsmouth. They did go back to the top of the table.

But you'd never have guessed from the way Rafa Benitez was mauled by the media afterwards.

The manner in which the Reds' title prospects were dismissed by TV pundit Tim Sherwood was bordering on the contemptuous.

Actually, forget the bordering on, it was contemptuous bordering on insulting.

It was perhaps a little easier to understand the Sunday newspaper reports. A tea-time kick-off means those assessments will have been written with the match in progress.

Liverpool were losing with six minutes to go, and even the Echo's Chief Sports Writer can't turn a 1,000 word report round in 360 seconds.

The Monday men had no such worries.

But most reports still sneered, still poked fun and still claimed Benitez got lucky.

But to do so conveniently avoided the facts.

Liverpool forced twice as many corners as the home side – not a guaranteed indicator of dominance in a match, but a reasonable one.

Attempts on goal? Liverpool 15 Portsmouth 9. On target? Again in Liverpool's favour. Possession? Comfortably Liverpool's.

Clearly this was no smash and grab raid, regardless of the lateness of the strikes.

So why the negativity?

It appears to have become a growing trend this season – from people with entrenched views and mindsets.

Every time Liverpool concede a goal from a set piece, it's because of zonal marking, and analysis instantly begins of Liverpool's defensive frailties.

Yet zonal marking has been in place at Anfield for four years – and Pepe Reina has won the Premier League's Golden Gloves award in three of them.

Then there's the attacking focus.

Saturday night's TV analysis focused on the number of times Liverpool's strikers spent outside the penalty area.

The same attacking system which scored three goals and has outscored Manchester United this season.

Imagine the reaction if Liverpool had just won eight of their last 11 matches 1-0.

It wouldn't be a celebration of goalkeeping excellence, it would more likely be how Benitez was boring his way to the title.

There is no doubt that the political in-fighting, the ill-timed outbursts and the bizarre transfer policy have made criticising Liverpool the journalistic equivalent of shooting fish in a barrel this season.

But this time, at least, the critics have missed the target.

* TEXAS RANGERS owner Tom Hicks spoke of his despair and dismay this week at learning that former Rangers' star Alex Rodriguez had used performance enhancing drugs. "I feel personally betrayed and deceived," said Hicks. Just like tens of thousands of Liverpool supporters, Tom.
---
FEBRUARY 13
Aurelio: Benitez only does
what is best for Liverpool

By David Prentice - Liverpool Echo

Fabio Aurelio and Rafa Benitez go back a long way.

So when the Reds boss is criticised for sending out unfamiliar starting line-ups, the Brazilian smiles and shrugs . . . because he's seen it all before.

The intensity of the outcry at Benitez's decision to leave Fernando Torres, Dirk Kuyt and Xabi Alonso on the subs bench at Portsmouth last weekend was strange, especially as Liverpool actually won the match.

The decision to use Aurelio in central midfield also raised eyebrows – but a polished performance, capped by a crucial goal, suggested the Reds boss got it right.

"The boss had problems in Spain, too, with people saying he makes too many changes," smiled Aurelio.

"But he is just the same now. I have been with him a long time so I know his methods are like that. He always does what is best for the team.

"He has a personality which doesn't mind what people think, which is good for the team.

"We can fight for the title, and we can win the title. If we do then the boss will be the best coach ever. But if he doesn't people will try to say it is because of squad rotation.

"The results in football are always the important thing and we got a good result at Portsmouth. We were very happy with the result.

"People don't understand the changes that he made, but he knows how the players are feeling. He knows who is tired and who is not, and he knows how to use his squad.

"We know when he selects his team for a game, it will be the best players at that moment to do the job. We are with him.

"If we had lost the game it would have been a terrible two weeks to be here, with no game. But we did a job and won the game and put ourselves in a very good position."

Aurelio admits, however, that he is bemused by the level of analysis of Liverpool's team changes.

"It is the same with the other big teams. They all have big squads with good players, so I don't understand it," he added.

"We are in a good position in the title race and are in a good position in the Champions League as well, so maybe it's people trying to find weak points to try to stop us or create trouble. But we are used to it.

"We had our job to do and we had to be focused on that and not what people were talking about."

The job Aurelio had to do was very different to the role he has filled since he arrived at Anfield in the summer of 2006.

A left-back or occasional left midfielder, injuries and suspension left him having to reprise the central midfield role he sometimes filled at Valencia.

"I felt okay because it was a good game," he explained. "The circumstances weren't great, but we had a lot of space to try and play, especially in the first half.

"It is very different playing in the centre. I had a few problems because when you play full-back you always receive the ball while you are facing the game, but in midfield you don't know what is around you so it is difficult.

"But I was ready to do it for the needs of the club and the team and we won the match.

"I think I did quite well, especially in the first half. The second half was more difficult and I was drifting back more and more to my natural position, but it was not bad.

"We have some great midfield players here at Liverpool so I think it won't be necessary to play there again!"

Regarded as a free-kick specialist, Aurelio was also thrilled to open his goals account for the season – even though he admits his equalising strike at Fratton Park was hit and hope.

"You can't see a hole there when you are going to strike the ball," he added. "Everyone was lining up on the goal line so you just try to kick it as hard as you can and say 'Please God, make way for the ball!' "

The ball flew just inside the goalpost and gave Liverpool a platform to try and build on.

That platform was quickly demolished by Herman Hreidarsson's header, but the Reds came again and the 3-2 victory was a huge morale booster for the injury-depleted squad.

"We are confident and we think that we can fight for the title," Aurelio added. "At the same time we know that it is a long race.

"The United game is like a final for us and we will have to get the points and see what United do after that."
---
FEBRUARY 13
Dalglish dismisses 'nonsense' critics

By Jimmy Rice - LFC Official Website

Kenny Dalglish believes critics of Rafa Benitez's team selection at Portsmouth are talking 'nonsense'.

The gaffer raised a few eyebrows with a 5-3-2 formation without Xabi Alonso, Dirk Kuyt, Albert Riera and Fernando Torres.

Despite the fact it took a late goal from Torres to wrap up the points, Dalglish believes victory was fully deserved.

The Kop icon told LFC Magazine: "To be fair to Rafa Benitez, in the face of yet more ridiculous nonsense, I think the formation he chose to play at Fratton Park was excellent.

"Everyone looked happy with their role in the team and when that happens you've always got a chance.

"The one thing people seem to be missing with Rafa's selection is the effect it had on Portsmouth.

"I don't know how much work Rafa was able to do with the players with this idea in mind, but by the time the players kicked off on Saturday night they all knew what it was they were supposed to be doing.

"In contrast, Pompey didn't have a clue and were taken off guard. Imagine you were Tony Adams and you saw that team - you've spent all week working on a formation, then you're up against something new and unexpected.

"If we'd taken our chances then Rafa's decision would rightly have been hailed a masterstroke. It took Pompey an hour and a sub before they got into the game.

"The two goals they got were avoidable but there was little the boss could do from the touchline to prevent those.

"The media are hailing it as a lucky result. Even if he'd picked the team they clearly believed to be the best, would we still not have needed a wee bit of luck?

"Of course we'd still have needed a slice of luck, but would anyone really argue that we didn't deserve to win that game? I don't think so!"
---
FEBRUARY 10
IAN RUSH:
Benitez had perfect response
to silence Liverpool's critics

By David Prentice - Liverpool Echo

The vultures were circling the second Liverpool's team-sheet was announced on Saturday night.

But Rafa had the perfect response with a massively important three points.

Like almost everybody else in the country, I was surprised when I saw so many influential names left on the substitutes' bench.

I would be lying if I said otherwise.

But unlike perhaps plenty of pundits, I also had some sympathy with Rafa's team selection, because I've been in exactly the same position as Fernando Torres.

I wasn't sure about leaving Dirk Kuyt on the bench, because he looks like he could play about five matches every week and still not suffer.

But resting Torres was totally understandable.

He's still feeling his way back from injury, he was clearly shattered on Wednesday night and the trip to Portsmouth came less than 72 hours later.

By introducing him when he did, Rafa ensured that Torres would be operating on a level playing field with the Portsmouth defenders.

Kenny Dalglish did exactly the same thing with me in the 1989 FA Cup final.

I'd been injured and had only made half a dozen substitute appearances before the cup final.

I thought I could start at Wembley.

I told Kenny I was fit.

I was desperate to kick-off against Everton, but he decided my energy levels weren't up to what was required and left me on the bench.

In the end Kenny did the right thing.

If I'd started the match I probably wouldn't have been able to do anything.

But when I came on my energy levels were at the same levels as the Everton defenders and I was able to make an impact.

It was the same with Torres at Portsmouth.

If he'd played from the start, when the Portsmouth defenders were fresh, he'd have been tired when the game started to open up in the last third and probably unable to take advantage of the opportunity which came his way.

As it was, he was sharp enough to find the opening and finish it in style just when it mattered the most.

It was good management, because the end result says so.

Just like Kenny got it right back in 1989.

REDS CAN KEEP UP PRESSURE

Manchester United got a very big win at West Ham at the weekend.

But so did Liverpool. And so, too, did Aston Villa.

It looks more than ever now that Liverpool are going to be the only team capable of pushing United all the way this season, with Villa the likeliest to step in if we falter.

Chelsea are starting to fall away while Arsenal are way off the pace already.

I'm still confident that the Reds can go all the way.

You have to be.

Everybody has to get behind the team and the manager until the end of the season – and if it doesn't work out discuss the reasons why then.

But for now we have to offer our total support – and I will say again that Liverpool can win the Premier League title this season.
---
FEBRUARY 9
Agger wants fewer draws

Sky Sports

Daniel Agger believes Liverpool have drawn too many games and has challenged his team-mates to stop dropping so many points.

The Reds have only lost once all season but they have slipped behind Manchester United at the top of the Premier League table following a disappointing run of seven draws in 12 games.

They have secured late victories in their last two matches against Chelsea and Portsmouth and Agger was especially buoyed by the performance at Fratton Park.

Pompey led 2-1 with just five minutes remaining but Dirk Kuyt equalised and Fernando Torres then fired home a last-gasp winner.

"You are not going to win a title if you are drawing every second game, we know that," Agger told the Liverpool Echo.

"So games like this one which we have won after going behind are a big bonus for us.

"Every game is only worth three points, you don't get any extra points for coming back but it always gives you a boost if you can come from behind.

"We worked hard for the win. The way the game turned out was not the way we had planned for it to be but the most important thing was to take the three points so we are just relieved that we did that."

Agger accepts that Liverpool will need to improve defensively if they are to wrestle top spot back from United

"The way they scored both goals was really disappointing for us and it was hard work to get back into the game," said the Dane.

"All we could do was keep our focus and continue believing in ourselves and thankfully the goals came.

"We had some really good moments in the game, passing the ball on the ground where it should be played.

"Even though it was a difficult pitch we passed it really well at times but sometimes we just needed to attack with a bit more determination.

"That's maybe the reason why we didn't create as many chances as we should have done before the goals finally came."
---
FEBRUARY 8
Kuyt: Rafa proved right

Sky Sports

Dirk Kuyt admits Rafa Benitez was proved right to drop several first-team regulars for Liverpool's 3-2 win at Portsmouth.

Reds boss Benitez sprung a surprise with his team selection at Fratton Park after leaving Kuyt, Xabi Alonso and Fernando Torres on the bench, while also changing to a three-man central defence.

Benitez's substitutions worked perfectly as Kuyt brought the Reds level at 2-2 before Torres headed home a stoppage-time winner.

Dutch attacker Kuyt concedes he would prefer to be starting games, but he understands Benitez's decision to freshen up his team.

"It's the choice of the boss," said Kuyt. "Of course, as a player you always want to play, but it is the manager's choice - and he was right."

Jamie Carragher acknowledged Benitez had taken a gamble and feels the victory at Pompey proves Liverpool's desire to win the Premier League title.

"There are a few times that we've come back, so that tells you about the spirit of the team," said Carragher.

"It's always a gamble when your big names are on the bench.

"But we had extra-time against Everton in the week, so it wasn't about big names but fresh players.

"They came off the bench to make a difference and that's what they did."
---
FEBRUARY 8
Ngog: I'm learning from Fernando

By Joe Curran - LFC Official Website

French starlet David Ngog has revealed how much he is learning from watching Fernando Torres in action.

Ngog made his first Premier League start for the Reds in the 3-2 win over Portsmouth at Fratton Park on Saturday before making way for Dirk Kuyt on 55 minutes.

El Nino was introduced to the action in place of Ryan Babel shortly after that and went on to score a last-minute header for Liverpool to snatch the three points.

Ngog admitted that at 19 years old he still has much to learn, but the former Paris St Germain forward is in no doubt he can pick up invaluable pointers from Liverpool's number nine as he looks to forge his own formidable reputation at the club.

"I have spent a lot of time watching Fernando Torres in training and in the games he has played," Ngog told 'LFC Magazine'.

"He is a great striker - he moves well, he finds space where other players would struggle, and more than anything else, he works hard for the team. I am learning a lot from him.

"Some strikers play for themselves first, they only react when the ball comes to them. I don't want to be one of those players, so I have been watching what Fernando does very closely.

"Not just Torres, but Dirk Kuyt and Steven Gerrard too - you can learn a lot from players like them. Any young player would be delighted to have these players to look up to, and I am very fortunate to learn from them every day. I am picking up things from them all the time."

With Steven Gerrard out injured with a hamstring tear, Ngog believes he is ready to step in to the breach for Liverpool and take some of the pressure of his fellow strikers.

"I am excited to be here at Liverpool, and hopefully I can impress the manager in training every day and play some more games in the second half of the season," said Ngog, who scored his first goal for the Reds against PSV Eindhoven in December.

"It is my ambition to become a player that the team needs. I am a striker, I am supposed to score the goals - that doesn't change between France and England.

"It is said that England is the hardest league for a striker to play in, especially for a player who has come from another country, but I am confident and comfortable with the idea that I can do well here.

"Scoring goals is an instinct. But to make the most of this instinct you have to take up the best positions and you must be able to understand the way that the attack is going to unfold in order to be in the right place at the right time.

"I know I have teammates who will create chances. Not just half chances, but full chances where I must look to convert them when they come along. I like to think I am a player who you can rely on to score goals."
---
FEBRUARY 8
Torres: I played too much

Sky Sports

Fernando Torres believes his incredible debut season with Liverpool has taken its toll this time around.

The former Atletico Madrid ace helped himself to a superb haul of 24 Premier League goals from 33 appearances last season.

It proved to be a lengthy campaign as Liverpool progressed to the semi-finals of the UEFA Champions League while Spain went all the way at Euro 2008.

Torres admits he was protected somewhat from burn-out at Atletico and that maybe playing too much has contributed to his numerous injury problems that have hampered his form this season.

The 24-year-old marksman is nearing his best form again for Liverpool after following up his late brace against Chelsea with a crucial late winner in a 3-2 win at Portsmouth on Saturday.

"I hadn't played a season like that before and maybe it is one reason why I've had problems," he told the Daily Star Sunday.

"I'd never played that amount of games I played last season. When I was at Atletico Madrid I would only play La Liga and cup matches.

"I would play maybe 20 games a season less than I played here.

"It was fantastic for me with no major problems but this season has been harder simply because of my injuries.

"Starting my second season this way is disappointing. It's frustrating when you can't help your team."
---
FEBRUARY 8
Aurelio hails winning mentality

By Steve Hunter - LFC Official Website

Fabio Aurelio hailed Liverpool's character and fighting spirit after the Reds returned to the top of the Barclays Premier League with a 3-2 win at Portsmouth on Saturday.

Fernando Torres' injury time winner gave Rafael Benitez's side the vital three points, and the Brazilian admitted there was a great feeling in the dressing room after the game.

"It was really important to win and we kept going right until the end," Aurelio told Liverpoolfc.tv.

"The manager made a lot of changes to the team because we had a lot of players who were tired after the FA Cup game against Everton, so everybody tried to do their best.

"We had difficulties during the game but we twice came back and we have to be really pleased with the win.

"I thought we controlled the first half but in the second half it was like the beginning of the season when we were behind and then kept coming back.

"To win a game like this will help us for the rest of the season to keep fighting right until the end.

"It was really important three points, because we have two weeks now before our next game. We have a winning mentality and it gives us a lot of confidence.

"We will keep fighting hard and keep the pressure on Manchester United."

On his superb free-kick Aurelio said: "Portsmouth had every player right in front of the goal but all I tried to do was kick the ball as hard as I could and find a space - fortunately for me the ball went into the net.

"It was a good feeling and I was pleased with the goal because it helped the team go on and get a good result."

The Reds number 12 started the match in central midfield and ended the game at left back, something which he admitted took some getting used to at first.

"It's not my natural position but I did play some games there for Rafa at Valencia," he said.

"I haven't played in the centre of midfield for quite a while and the manager told me on Saturday morning I would be playing there.

"It's always difficult when you haven't played in a position like that for some time but I tried to do the best I could, and I am happy because I could help the team get a great result."

Reflecting on El Nino's last-gasp winner, Aurelio said: "It was an unbelievable goal and a wonderful header from Fernando.

"It was a good cross from Yossi Benayoun with his left foot for the winning goal. We were joking with Yossi in the dressing room about him using his left foot. We were happy he did."
---
FEBRUARY 7
Reds need their big names

Comment by Steve McManaman - Setanta Sports

It was a fantastic game between Liverpool and Portsmouth, but it is clear to me that Liverpool need Dirk Kuyt, Fernando Torres and Xabi Alonso on the pitch.

Liverpool have got away with it today, they have scored three great goals, but they need the main men on the pitch and in the end they have come on to rescue them.

Fernando Torres, Dirk Kuyt and Xabi Alonso have not been rested today, they warmed up for most of the game and have had to come on the pitch to save the game for Liverpool.

Certainly the defensive mistakes from Portsmouth helped Liverpool and that little bit of luck is what you need at times.

Liverpool looked like they would score at will towards the end, the tempo they were playing, Portsmouth were forced further and further back. They need to keep playing like that.
---
FEBRUARY 7
Kuyt hammers home
the importance of it all

By Adam Bryant - LFC Online

Goal hero Dirk Kuyt was delighted with Liverpool's win at Portsmouth and believes the Liverpool side showed a lot of character.

"Today was a massive game for us," he said after the match. "It doesn't matter how we won today but we needed to win and we did. We showed a lot of character today and it was a great match.

"We got beat with two minutes to go at Everton in the FA Cup, which was a big disappointment for us and we knew another important game was coming up today at Portsmouth and twice coming back from behind is really good.

"The pitch was a bit rubbish. I think Ryan was really unlucky with his chance earlier on. The Portsmouth defender missed the ball and I just tried to hit the target. I was a bit lucky but sometimes you need to be a bit lucky.

When asked about Fernando Torres, who's injury time goal won the game, the Dutchman added: "I think he is really important. We are very happy that he's back from injury. He was very important against Chelsea, very important today and I'm sure he'll be very important for the rest of the season.

"It's very important to stay close behind Manchester United and hopefully they'll drop some points tomorrow, we'll see. We're just focused on our own game and that's the next game against Manchester City."
---
FEBRUARY 7
Rafa delighted with his team

By Adam Bryant - LFC Online

Rafael Benitez was happy with his inexperienced Liverpool side, after their 3-2 win over Portsmouth.

"Every victory is important but especially now when you are so close to the top of the table, in this case at the top of the table," said the Liverpool manager.

"I'm really pleased because we showed character and I think we played really well. We made some mistakes and needed to come back but it's very positive.

"We were playing well and the team was doing what we needed to do, so it shows we have enough quality in the squad. I think that we deserved to win because we were playing very well.

"It's important to see players like N'Gog, Ryan Babbel or Benayoun playing well, and after to use players like Kuyt and Torres to finish the game, that is all part of the squad. Torres is a fantastic player but without the others we wouldn't be there.

"It will be a long race and we need to keep going. We won't win the title now, and they won't win the title now so we have to keep working hard.

"United have a very good team so we need to keep working hard and keep the confidence high. If West Ham can win tomorrow it would be good for them and good for us."
---
FEBRUARY 7
Dramatic finale as
Reds pinch points

TEAMtalk

Fernando Torres came off the bench to score an injury-time winner as Liverpool won 3-2 at Portsmouth to send them top of the Premier League.

Torres only came on with 15 minutes to go and by that time his side were chasing victory after David Nugent's opener (62) had been cancelled out by Fabio Aurelio (69).

Hermann Hreidarsson then headed Pompey back into the lead with just 12 minutes remaining, after latching onto a dangerous free-kick into the box.

The Spain striker then set up Dirk Kuyt (85) before heading home in stoppage-time.

It proved to be a masterstroke for Rafael Benitez to leave Torres on the bench - but it was the closest of calls.

Torres was tired towards the end of the midweek FA Cup defeat to Everton and has international duty this week when Spain face England - but he was still fit enough to be among the substitutes at Fratton Park.

His cameo has put the psychological pressure on Manchester United as Liverpool overtake Sir Alex Ferguson's men at the summit before their match at West Ham this weekend.

The spotlight was inevitably on Benitez for his brave move.

He offloaded Robbie Keane back to Tottenham, then saw talisman Steven Gerrard injured with a hamstring strain - so resting a matchwinner like Torres for 75 minutes was a huge gamble.

Keane would have been almost certain to have played against Pompey if he was still at the club, but instead French youngster David Ngog endured a miserable first league start.

Torres was not the only change, with Benitez radically altering his team and leaving the likes of Albert Riera, Xabi Alonso and Kuyt on the bench.

He also started with three centre-backs and at first the formation looked shaky when Nugent and Peter Crouch got a couple of shots away.

But Pompey were still struggling for confidence as they looked to end a run of failing to win a league game since November - and even a second string Liverpool were bound to create chances.

Pompey goalkeeper David James, equalling Gary Speed's Premier League record of 535 appearances, was left stranded when Liverpool put their first purposeful move together.

Alvaro Arbeloa's cross from the right found Yossi Benayoun unmarked in the penalty area but his finish went into the side-netting after James had slipped.

James would have had no chance either when Aurelio's free-kick curled just wide of the upright. The Brazilian was off target again in the 17th minute when Ngog's cross found its way behind the Pompey defence.

Javier Mascherano is not known for his goalscoring but he had James at full stretch when he was given room 30 yards from goal, with the Pompey stopper diverting the effort for a corner.

Ngog's evening came to an end before the hour mark, with Kuyt brought on for the visitors - and it nearly brought an instant reward.

Benayoun breezed past Hreidarsson and Sylvain Distin before laying the ball off to Kuyt. The substitute crossed to leave an open goal for Ryan Babel from three yards out - but the winger somehow managed to nutmeg himself as he finished.

Nugent made Liverpool pay with his 62nd-minute opener. Crouch had held the ball up before playing a reverse ball to his strike partner, who slotted his finish calmly past Reina.

It was a sweet strike for the Evertonian, who taunted Liverpool fans in the first half about their FA Cup defeat this week.

Liverpool's way back into the match came after an awful backpass from Crouch.

James had to handle to stop Kuyt from finishing, with Webb alert to the offence. Alonso, on as a substitute, tapped the ball for Aurelio to smash into the bottom corner.

Kuyt had the ball in the net but was harshly given offside after racing onto Aurelio's throughball.

Torres came on for the last quarter of an hour for Babel, but Pompey were ahead again with 12 minutes remaining.

Nadir Belhadj swung over a free-kick after Glen Johnson was fouled, with Hreidarsson losing his marker and heading past a wrongfooted Reina.

Kuyt levelled in the 85th minute after Torres crossed from the right and the Dutchman finished into James' near post.

Then came the final twist, with Torres' powerful header from Benayoun's cross finding a way past James.
---