---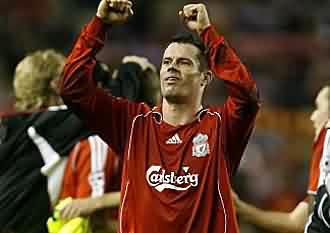 Jamie Carragher - a master in defence.
MARCH 8
Realist Benitez outshines Wenger

By Phil McNulty - BBC Sport Online

Take your mind back to the first week of January - the week when Arsene Wenger was hailed as the great visionary and Rafael Benitez as a bungler who did not know his best team.

Arsenal dumped Liverpool out of the FA Cup on the Saturday then became the first visiting side to score six at Anfield for 77 years in a Carling Cup tie on the Tuesday.

Wenger's brilliant band of youngsters ran Liverpool ragged, with Benitez accused of betraying Anfield's great traditions by fielding weakened sides.

Liverpool supporters voiced disapproval, but Benitez was unrepentant, effectively saying he had not come to Anfield to win the Carling Cup.

He wanted the Premiership or the Champions League.

Arsenal and Wenger, in contrast, were almost obliterated by the bouquets hurled in their direction. The world was at their feet.

How we laughed. At Benitez.

Turn the clock forward to where we stand after a dramatic two nights of Champions League football and who is laughing now?

Wenger's season has collapsed in the space of 10 days that have damaged Arsenal's image and left them empty-handed in their glittering new Emirates Stadium.

Arsenal were outstanding in defeat against Chelsea in a Carling Cup final that ended in acrimony, but were then promptly dumped out of the FA Cup by Blackburn.

And the Champions League exit at the hands of PSV Eindhoven capped a miserable 10 days.

Benitez, on the other hand, has been hailed as one of the finest tactical brains in football after meticulously plotting Barcelona's downfall to reach the last eight.

Arsenal went the way we always knew they would. Passing the opposition into submission, then missing the chances that should have sent them through.

The glitter has been taken off Wenger's golden generation - for now at least.

Benitez is an altogether more pragmatic figure. If you want romance, send flowers but don't look for it in his football teams.

He deals in the small details, whereas Wenger is an admirable man of footballing principle who embraces the beautiful game.

But after two seasons without a trophy, it may be time for Wenger to adopt a little of Benitez's hard-nosed realism.

No-one would suggest for one second Wenger is under pressure, but two seasons without a trophy is not good news for Arsenal as they settle into a new home.

Benitez's insistence that he was seeing the bigger picture has arguably made Liverpool the best-equipped of the Premiership trio still in the Champions League to go on and win the trophy.

And that statement is made with the knowledge that Manchester United and Sir Alex Ferguson have set their heart on reclaiming the trophy.

The Spaniard still fails to nail down the Premiership, but he has no peers when it comes to plotting a route around Europe.

And Liverpool's fans will start to see uncanny echoes of 2005, when they emerged from the shadows to win the trophy in Istanbul.

Examine the evidence.

Benitez was criticised for fielding a below-strength team in an FA Cup defeat at Burnley, but then a succession of high-quality opponents fell by the wayside in Europe.

Make no mistake, no team in the draw will want to be paired with Liverpool in the quarter-final.

And this is not just because of the prospect of facing Steven Gerrard or confronting The Kop. It is also the fact that they will have to out-smart Benitez.

Wenger will be a miserable man after their loss.

He is a bad loser at the best of times, and three hammer blows in less than a fortnight will not be well-received.

Unthinkable as it may seem, maybe it is time he put his principles - laudable though they are - to one side and put a little bit of the Benitez philosophy into his talented but flawed Arsenal side.

He must dwell on that while Benitez eyes up another Champions League crown - but wasn't that what he said he was doing after losing 6-3 to Arsenal in the Carling Cup?
---
MARCH 8
Reina: Tuesday will live
with me forever

By Mark Platt - LFC Official Website

Pepe Reina admits the memories of eliminating Barcelona from the Champions League will stay with him forever.

Liverpool secured their place in the last eight of the competition on a memorable night against Reina's former club at Anfield on Tuesday.

The Spanish keeper was helpless to prevent a 1-0 defeat on the night but the Reds held out to progress on the away goals rule courtesy of their famous 2-1 victory in the Nou Camp a fortnight earlier.

"To win the tie felt so good and it's a night I won't ever forget. I feel very proud to have been a part of such a historic night for this club," says the Madrid-born 24-year old.

"We had many chances in the first half and could have had a couple of goals.

"Barca didn't play so well in the first half because we didn't let them. But in the second half as we got a little tired they moved the ball really well.

"We knew if they scored it would be tricky. We suffered a bit towards the end but it meant so much to hold on."

Reina has also joined the growing chorus from within Anfield who believe Tuesday's man-of-the-match Jamie Carragher should be handed a regular starting place in the England team.

"Carra was a rock again and I'm really proud to play in the same team as him," he added.

"I'm not the English manager but what I do know is that he is a great player.

"He showed everyone once again how we can perform against a great team with great players.

"The most important thing is that at Liverpool we rate him very highly and he's a very important player for us."
---
MARCH 7
Benitez hails Carragher class

By Paul Walker - PA Sport

Liverpool manager Rafael Benitez cannot understand why Jamie Carragher is not one of England's first-choice central defenders.

The 29-year-old was outstanding in the 1-0 defeat to Barcelona which saw the Reds progress to the quarter-finals of the Champions League on away goals after a 2-1 win at the Nou Camp.

During a tense 90 minutes at Anfield Carragher managed to shackle the combined talents of Ronaldinho and Samuel Eto'o, drawing fulsome praise from a usually reserved Benitez.

"It surprises me that Jamie is not a regular in the England team," said the Spaniard of the player who has won 32 caps, of which only 18 have been in the starting line-up.

"I don't like praising just one player after a performance like that against Barcelona. Everyone contributed. The team, all of them, were giving something to the team in a brilliant night.

"But it was an astonishing performance from Jamie. When defenders like Jamie have to play against world-class players like Ronaldinho, it is important that they do not make mistakes - and he didn't.

"He is such a good defender against the very best players and, yes, it is a surprise that such a really good defender does not play every game for his country."

Liverpool captain Steven Gerrard agreed with Benitez's assessment of Carragher's performance and importance to the side.

He said: "Over the two legs, Carra has been phenomenal. Maybe there are a few outside Liverpool who are surprised by how good he has been but it is no surprise to me or anyone else who has seen him just get better and better every season.

"I look around at the defenders across Europe and the rest of the world, and I really do not see anyone who is better than him. I definitely would not swap him for anyone.

"I also know the England manager Steve McClaren was in the crowd at Anfield against Barcelona, and after seeing a performance like that, it is going to make his next team selection very interesting."

Benitez also praised the other members of his defence who kept Barca down to just one goal - and that coming from substitute Eidur Gudjohnsen 15 minutes before time.

"Alvaro Arbeloa, Steve Finnan, all of them were fantastic. It is not fair to talk of just one," said Benitez.

"Jamie was exceptional, I cannot disagree with that, but all of my team were fantastic on such an occasion.

"It is hard to contain Barcelona all the time. They stretched us and have wonderful players in all areas and it is impossible to maintain a high-pressure game all the time in those conditions.

"That is why individual performances sometimes hold the key."

Carragher insists Liverpool are now full of confidence as they wait to learn their quarter-final opponents in Friday's draw.

"The club has got a great history in Europe but besides winning finals this is probably the biggest result in Europe we've ever had," said the Bootle-born defender.

"Barcelona are the best club side in the world, even though we've knocked them out.

"Yes, we were hanging on with 10-12 minutes to go and we were just praying for the whistle.

"We didn't realise until a few seconds after the referee blew that it was all over with all the noise, and we got there in the end."

Benitez, too, can see belief growing within the squad.

"We deserved to win over two legs, we were really good. We pressed hard, defended high up the pitch and made it very difficult for them," he added

"Against as good a team as Barcelona with tremendous players, if you can keep them away from your box for most of the night and frustrate them like we did, that is a great performance.

"We were prepared for the examination of our quality and character. My team were focused all the time, really concentrating, and their approach to the game was one of confidence that they could win the tie.

"We now have the confidence needed to play at this level of the Champions League.

"All the games are difficult but we are proving to ourselves that we can play at this level.

"Everyone contributed. The team, all of them, were giving something to
the team."

Due to Liverpool's progression in the Champions League their Easter Monday home Premiership match against Middlesbrough has been postponed but a new date has yet to be finalised.
---
MARCH 7
Spanish media unsympathetic
to Barca exit

Ireland On-Line

Barcelona could have few complaints about their Champions League exit at the hands of Liverpool, according to the consensus in the Spanish press today.

Barcelona, the defending European champions, were knocked out by Rafael Benitez's team on the away goals rule despite winning yesterday's second leg 1-0.

Former Chelsea striker Eidur Gudjohnsen gave Barca hope with a 75th-minute strike at Anfield, but Frank Rijkaard's team were unable to get a second goal and, according to Spanish daily Mundo Deportivo, it took Barca too long to get going.

"Rijkaard's team woke up too late," said the paper, whose front-page headline was simply "The End", in English.

AS also went for an English headline for their match report, saying: "Bye bye Barcelona."

"Gudjohnsen scores at Anfield, but they lacked another goal. Rijkaard lined up with three defenders, but Barca created little danger. Liverpool could have scored a number of goals before the break."

Sport was more sympathetic to Barca's cause, saying: "They fell with honour."

"Liverpool were devastating in the first half, but in the second Barca deserved more," added the newspaper.

Sport did not seem overly impressed with Barca's formation though, saying: "The 3-4-3 was not magical."

"The reigning champion of the Champions League fell in a tie which was lost at the Nou Camp a fortnight ago."

Madrid-based Marca also noted how Barca's attacking line-up failed to fire at Anfield, despite Rijkaard starting with all three of his superstar strikers: Samuel Eto'o, Ronaldinho and Lionel Messi.

"The 'great trident' was not enough," Marca reported. "Rijkaard accommodates his three magicians, but it did not work.

"Rijkaard started with Messi, Ronaldinho and Eto'o for the first time in more than 150 days.

"With them on the pitch Barcelona had succeeded in their greatest dates in the last two years. Only in the Supercopa against Sevilla have they failed.

"Yesterday, the same as in Monaco, Barcelona fell with them on the pitch. None of the three 'cracks' showed their best level and few times could they break through the spider's web of Rafa Benitez's defence.

"Barca gave up their crown at the mythical Anfield without showing why they were the champions."
---
MARCH 7
Frankly, Benitez is a master tactician

By David Prentice - Liverpool Echo

As mind games go, Frank Rijkaard's was always doomed
to failure.

"It is great to play against a team whose manager already knows everything," he sneered, on the eve of last night's Champions League decider.

"The people who know everything and say they know everything are the ones who know the least amount."

The jibe barely registered with Rafael Benitez.

Because any irony intended by Barcelona's famous Dutch coach was exploded by one inescapable truth.

In the European arena – and particularly against Spanish opposition – Benitez actually does know almost everything.

Look at last night's evidence.

Rijkaard started with a 4-3-3 formation, just as Benitez had predicted.

Alvaro Arbeloa was handed a home debut and asked to suffocate the influence of the extravagantly talented Messi. The tactic largely succeeded.

And, with Barcelona's influence growing, as a titanically tense match wore on, Benitez introduced a series of tactical reshuffles which blunted Barca and carried his flagging team over the finishing line.

The Kop deserved its post-match plaudits, as did the utterly faultless Jamie Carragher, and the inspirational Steven Gerrard.

But this latest European triumph was largely another success for Liverpool's thoughtful Spanish manager.

Benitez is a European coach, and in the technical arena of European football he is peerless.

A pre-match like-for-like comparison would have sent most Reds fans scurrying for cover.

Eto'o or Bellamy? Ronaldinho or Kuyt? Messi or Pennant?

No contest really.

But football is an XI versus XI contest, and Benitez's tactical acumen has the knack of totally negating the influence of some of the finest footballers in Europe.

Indeed, during a one-sided first half, only one team carried the fight.

Barca boasted the better possession – 59 per cent to 41 per cent – but did nothing with it.

Liverpool, however, rattled the woodwork twice, boasted 10 shots to Barcelona's one, and totally outhustled, outmanoeuvred and outplayed their illustrious visitors. It set the scene for another famous Anfield occasion.

And while the morning after a memorable night before is perhaps not the best time to introduce negatives, the same arguments still hold true as during Saturday's, less celebrated, 1-0 defeat.

Eidur Gudjohnsen's second half strike means Liverpool have just lost two home games they largely controlled.

Simple bad luck certainly comes into the equation. But so, too, does a lack of a potent, world class finisher.

Liverpool peppered the Barcelona goal for 45 minutes last night, when a goal would have rendered the remainder of the tie redundant, but they were kept at bay by the woodwork and Victor Valdes.

A man capable of finishing off the sterling approach play might have put the seal on a wonderful first-half performance.

But that's a search for the summer, after this Champions League campaign has ended.

The men with the deep pockets were inside Anfield to witness last night's occasion first hand.

And once the memory of the ear-bashing atmosphere has subsided, they will start to apply their keen analytical eye to what is needed to take this resilient side even further. Or rather, they'll ask Benitez.

His task in unearthing such a figure is an unenviable one.

Eto'o has for a long time been regarded as Europe's premier marksman – and there's more than a suggestion he'll be a gun for hire this summer.

But his impact this season has been less notable than previous campaigns, while for much of last night he cut a forlorn figure.

Possibly Rijkaard's decision to bizarrely isolate him on the left flank in the opening 20 minutes (an unsuccessful attempt to curb Steven Gerrard's penetrating runs down the right, maybe?) created a confused mindset from the off.

Even the two-times World player of the Year has looked mortal in recent months. Ronaldinho was wasteful in the moment which proved pivotal to last night's match.

With 41 minutes still remaining he spun cleverly away from Arbeloa, advanced menacingly on Reina, then clipped a glaring opportunity against a post.

It was a further 22 minutes before Barcelona finally chiselled a way past the Reds rearguard – and that was too little, too late.

A little like Rijkaard's attempts to undermine Liverpool's learnéd Spanish coach.
---
MARCH 7
Rijkaard: If Reds have the luck
they can beat anyone

By Nick Peet - Liverpool Echo

Frank Rijkaard conceded that the intimidation of playing in front of a packed Anfield played a part in his European champions crashing out of the Champions League.

The Barcelona boss also admitted that, while he does not like Liverpool's style, he believes the Reds are capable of winning the European Cup for a sixth time in May.

Rijkaard saw his side surrender their European crown last night on away goals, having won the second leg of their last 16 tie at Anfield, thanks to a late Eidur Gudjohnsen goal.

The Dutchman said: "Liverpool produced a great performance. I do not see it as being progressive. They are very direct while being mentally strong and motivated.

"Other teams will not like playing them. With luck, they can beat anyone."

Rijkaard once again lost the tactical battle with Rafa Benitez, and admitted his side were unable to get into the box to be really dangerous, despite plenty of possession.

But he accepted the loss of Barcelona's European crown with good grace, saying: "We won this leg, but maybe we were lucky considering the amount of chances they created in the first half.

"We tried everything possible and I am proud of the spirit and effort my players put in. They worked hard, but Liverpool are a difficult team to play against.

"They are strong, direct and are mentally tough. That is the way it goes. Sometimes it is like that in football, however hard you try.

"I can only congratulate Liverpool. They are a vigorous side and for the neutral it must have been a game full of good, attacking football.

"From Liverpool it was a great performance. Their style is very difficult to play, but we were not at our best.

"We fought to the very last seconds, but Liverpool were highly motivated and they defended in such a way to stop us getting close to their goal.

"Anfield is such a difficult place to play in."
---
MARCH 7
Reds need striker to launch title tilt

TEAMtalk

Liverpool have progressed in the Champions League, but TEAMtalk's Anthony Bullick feels they need a big-name striker to challenge domestically.

Steven Gerrard was spot on with his view that Rafael Benitez "is one of the best managers in the world." One trophy which continues to stay out of the Spaniard's reach is the Premiership though.

However, that will all change now they have the financial backing of their new American owners to get that 20 goal-a-season striker they need to finally take the league title back to Anfield.

With Samuel Eto'o likely heading for the exit at the Nou Camp following his fall-out with Barcelona, his name has consistently been linked with a switch to the Merseysiders.

But it is another striker plying his trade in Spain who will be a better fit to fire Liverpool to Premiership glory. That man is Valencia's David Villa.

Over the past couple of seasons, the Spanish international has seen his name linked with moves to Europe's finest. Los Che's desire to keep hold of Villa have seen the club insert a mega buy-out clause of £100million into the player's contract.

If Valencia do relent and sell their star player, the sum received will certainly eclipse the £8million they parted with to land his services from fellow La Liga outfit Real Zaragoza - a fee which drew much scepticism.

From unknown to first name on the Spanish team sheet in three seasons, Villa is now being linked to the biggest clubs in the world and rightly so.

El Guaje (the kid) hit 38 goals for Sporting de Gijon in Spain's second tier. A £1.8million move to Real Zaragoza, who had only just won promotion back to La Liga after a one year absence, in 2003 represented his first season in Spain's top flight. His 17 goals helped Zaragoza to a mid-table finish and a win in the final of the Copa Del Rey in his first season. Villa scored in the final as Real Madrid, boasting the likes of Zinedine Zidane and Luis Figo, were beaten 3-2 after extra time.

Another season and a further fifteen goals later, Valencia took the plunge and secured the services of the young striker.

And he repaid them with 25 goals last season, just one behind top-scorer Samuel Eto'o. Not bad considering Villa didn't have the likes of Ronaldinho and Deco setting up chances for him.

It's his pace, deadly finishing and the ability to poach goals that have seen him linked with a big money move. He is not a Ruud van Nistelrooy who needs to hope that a chance drops his way inside the area. Villa can drop deep, pick the ball up and create something out of nothing. A deadly combination as Thierry Henry has shown on a regular basis.

Liverpool haven't had a striker break the 20 league goals in a season barrier since 1995/96 when Robbie Fowler found the back of the net 28 times. To win the title for the first time since the 1989/90 campaign, in which John Barnes scored 22 goals, then Liverpool need Villa.

Villa hasn't let the transfer speculation go to his head once and is the ultimate professional. At all times he has stated that he is "flattered" by the interest shown in him and not once demanded a transfer.

With Chelsea, Real Madrid and Juventus all likely to enter the race for him in the summer, Villa is hot property and won't come cheap. But with the injection of funds into Rafa's transfer kitty, the five-time European champions finally have the financial muscle to compete.
---
MARCH 7
Gerrard trusts 'brilliant' Benitez

TEAMtalk

Steven Gerrard hailed Rafael Benitez as "one of the best managers in the world" as Liverpool reached the Champions League quarter-finals.

And striker Craig Bellamy, who was in hot water for his antics at a training camp ahead of the first leg against Barcelona, believes it was the team spirit many critics felt he had shattered that carried Liverpool into the last eight.

Liverpool are coming to terms with beating the European champions, on away goals, despite their 1-0 defeat at Anfield on Tuesday night.

And Gerrard spelt out the togetherness in the camp and the trust the players have in Benitez.

Gerrard added: "We all have total respect and confidence in Rafa Benitez. He has shown he is one of the best managers in the world, and he shows it with the tactics he used in Europe.

"We always trust him to get it right, and he did it again this time.

"It was all about hard work, in both legs. The effort put in by everyone has been rewarded. We were unlucky not to go in ahead at half-time in the second leg.

"But Barcelona are so good going forward, they play such nice football, but we stuck in there and are in the last eight now.

"We have got great spirit, grit and determination - people were throwing bodies about - and that's one of the reasons we're through.

"This now gives us great confidence, going through against the best side in Europe over two legs."

Prior to the first clash with Barca a fortnight ago, it was Bellamy's alleged brandishing of a golf club in a row with colleague John Arne Riise that threatened to splinter the team bonding Benitez had so carefully planned at a Portuguese training camp.

But Bellamy has salvaged his Liverpool career with a match-winning display in the Nou Camp, and a hard-running, selfless performance at Anfield on Wednesday.

Now Bellamy says: "Over two legs usually the best team goes through and we were the best team. Did we prove people wrong? It wasn't an issue, not many of the critics get it right anyway.

"But that is the beauty of the game. You never know what is going to happen.

"In a great competition like this against a great side like this we still had a chance. In the first half we hit the bar twice and really took the game to them.

"The second half was very difficult. They really stepped up a level and we were hanging on a bit."

He added: "It was an amazing occasion and the biggest night of my life. It was incredible when you consider the tempo and everything about the match. I have never experienced a game at this level.

"It is all about team spirit. When you come to a club like Liverpool, with what they have won like the European Cup the season before and then the FA Cup, it is all about spirit.

"There is always a great team spirit anyway. But when you arrive and mix with these players, you know it is a family club.

"You come in and you are all together. Against a team like Barcelona everyone has to contribute and that is what has happened.

"Now I will watch the other games tonight and see who goes through, see who we get on Friday in the quarter-final draw. But it is going to be a tough game, that's for sure."

Bellamy admitted the tension almost got to him as he watched from the bench after being substituted.

He said: "Hopefully we can carry on the momentum as we have just beaten the European champions. I was a little bit worried on the bench late on, and didn't know whether to go inside and watch it on the telly.

"But I can't remember them having a proper chance after the goal. There were not that many nervous moments, but Barcelona can cut you open.

"We had to concentrate all the way through but credit to our defence as well. That was my first start in the Champions League at Anfield so it was really special."
---
MARCH 7
Benitez salutes Liverpool courage

TEAMtalk

Rafa Benitez paid tribute to his players and the club's fans for the performance which put Liverpool into the Champions League quarter-finals.

On a night of wild celebrations in front of the club's new owners Tom Hicks and George Gillett Liverpool produced a display of defiance that saw them reach the last eight on away goals at the expense of reigning champions Barcelona.

Barcelona tried everything but could not recover from a 2-1 first-leg defeat, winning the return 1-0 thanks to an Eidur Gudjohnsen second-half strike.

"I am really proud of my players, they produced almost a perfect performance, but the fans too played their part," said Benitez.

"In those final minutes when we were under so much pressure, their singing and the noise meant that none of my players just had to keep running."

Barcelona boss Frank Rijkaard once again lost the tactical battle with Benitez and admitted that his side were unable to get into the box to be really dangerous, despite plenty of possession.

Benitez added: "I do not like to talk of battles with managers, I was happy with the way I set up my side and everyone played their part but it is about what players do, not what managers do.

"We should have been ahead at the break and even in the second half when they attacked us we were controlling the game and hitting them on the break.

"We deserved to score, we coped well under that level of pressure and over two legs we have shown we are better than a team considered the best in the world.

"Maybe that will give my players confidence for the future. There will be seven very good sides left in the draw with us and we will be a match for anyone."
---
MARCH 6
Damage was done in
the Nou Camp, says Rijkaard

By Mike Collett - Reuters

Barcelona manager Frank Rijkaard praised his team for their fighting spirit and determination against Liverpool on Tuesday but said the damage was done in the 21- home defeat in
the first leg.

A late Eidur Gudjohnsen goal gave the holders a 1-0 win at Anfield but Liverpool advanced on the away goals rule.

"Lets not forget that we did actually win tonight's game, a little luckily maybe but that was not enough we know," Rijkaard told a news conference.

"We made our own destiny because of what happened at the Nou Camp two weeks ago when we lost 2-1."

Liverpool were by the far the more adventurous side on Tuesday and the Dutch coach recognised that his team had met their match.

"We had a lot of the ball in the first half, but they defended well and it was difficult for us to create danger around their box. They are a very good side and I think they will be more than a match for anyone left in the competition," he said.

"The fact is we weren't dangerous enough and had put ourselves in such a difficult position from the first leg, that always meant it was going to be hard for us tonight. But I offer them my congratulations.
---
MARCH 6
Reds survive Barca fightback

Sporting Life

Liverpool reached the Champions League quarter-finals after a 1-0 defeat by Barcelona at Anfield saw them win on away goals after a 2-2 draw.

The hosts' superb 2-1 victory at the Nou Camp proved decisive for Rafael Benitez, who had selected the exact same team who reigned in Spain and saw the two away goals depose the European kings after a 2-2 draw on aggregate.

Benitez's counterpart Frank Rijkaard had fielded a three-pronged attack of Ronaldinho, Lionel Messi and Samuel Eto'o - but it was the Reds who posed the greater threat, hitting the woodwork twice in the first half.

Eidur Gudjohnsen came off the bench with 20 minutes left and coolly converted on 75 to set up a tense finish - but the 2005 winners held on.

John Arne Riise had the first chance of the second leg, skidding a low 20-yard drive inches wide of the upright - and he was at it again on 11 minutes, rattling the crossbar with a thumping 20-yard volley.

Ten minutes later, Rafael Marquez glanced a Deco free-kick narrowly wide - but was flagged offside anyway.

And then Barca keeper Victor Valdes pulled off a stunning double save on 26 minutes, parrying Craig Bellamy's shot and saving Dirk Kuyt's follow-up with his knee before also seeing Carlos Puyol clear Riise's goal-bound header off the line.

Valdes nearly went from hero to villain minutes later as his poor clearance went straight to Momo Sissoko, whose first-time sidefooted lob looped towards the open net but clipped the top of the bar.

Ronaldinho had been kept subdued by the brilliant Jamie Carragher, and steered a long-range volley high over the bar on 36 minutes.

But after the break, the Brazilian produced a flash of magic to create an opening and thudded a rasping drive against the upright minutes after testing Pepe Reina with a curling free-kick.

That chance galvanised the visitors and after Reina saved Messi's low shot, sub Gudjohnsen grabbed Barca's goal when he broke into the box, coolly rounded the home keeper and tapped into an empty net.

That set up a nerve-jangling finish but it was Liverpool who went closest to adding to the scoreline, with Valdes twice denying fierce Steven Gerrard strikes.
---