---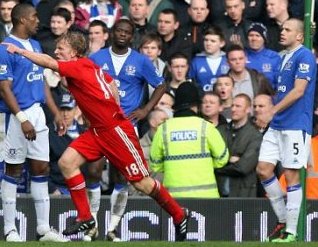 Dirk Kuyt celebrating his goal vs Everton.
(PA Photo)
FEBRUARY 8
Why Dirk Kuyt's never
fishing for compliments

Comment by James Pearce - Liverpool Echo

When he was a child Dirk Kuyt had his heart set on following in his father's footsteps and becoming a fisherman. How thankful Liverpool are that the Dutchman turned his back on North Sea trawlers and focused his energy on netting goals rather than cod.

Outside of Anfield, Kuyt is often unfairly derided. When things aren't going well he's an easy target.

After all he's not blessed with great pace, there is no box of tricks and at times his first touch is so heavy his second is a tackle.

However, what he lacks in those departments he makes up for with his selfless dedication to the cause.

Rafa Benitez's admiration for one of his most trusted lieutenants is well documented.

After all when he brought him to Anfield for £9million from Feyenoord in 2006 it was the end of a two-year chase for his signature.

Kuyt stands for everything the Spaniard looks for in a player. Of course there is natural talent but, crucially, it's coupled with intelligence and a work ethic which ensures he strains every sinew for the cause.

For Kuyt the team always comes first. Whether out on the right, playing behind a striker or in the lone frontman role his commitment to the challenge facing him is total.

The 29-year-old loves a battle and on Saturday he epitomised everything that was best about Liverpool.

When Sotirios Kyrgiakos was dismissed for his two-footed lunge on Marouane Fellaini, the Reds were facing the prospect of a first home derby defeat for 11 years.

But rather than be deflated by that setback, they were inspired.

All over the pitch Liverpool redoubled their efforts and none more so than Kuyt.

His blonde locks grew increasingly sweat-stained as he chased down every loose ball and helped ensure the Blues never looked like making their numerical advantage count.

And when a rare chance presented itself, Kuyt made no mistake.

It was an opportunist strike as he was somehow allowed to get himself in between Tim Howard and Phil Neville to guide home Steven Gerrard's pin-point corner.

Kuyt has made a habit of scoring vital goals and this was another one for his growing selection.

It was his 50th Liverpool goal in his 181st appearance – an impressive statistic for a player who has spent a large chunk of those games out on the right flank. It was also his fourth derby strike – how Evertonians must be sick of the sight of him.

When Fernando Torres limped out of the embarrassing FA Cup defeat to Reading last month there were real fears Liverpool's season had gone with him.

After all Benitez isn't blessed with an array of striking options and two months without their top scorer could have been a hammer blow to their hopes of Champions League qualification.

But in their hour of need, Kuyt has stepped up to the plate. He has netted four times in the last four games and is now into double figures for the campaign.

Kuyt's renaissance has mirrored that of Benitez's team. In the first half of the season he looked desperately short of confidence and in need of a rest.

Now there is a spring in his step and a belief coursing through the side which was so lacking in those dark days before Christmas.

Kuyt has never been one to bask in the glow of personal glory. And just moments after breaking the deadlock on Saturday he was tracking back to pull off a goal-saving defensive header from Landon Donovan's cross.

The Dutchman had been left fuming early on when Fellaini's boot caught him in the face after he had been brought down by Steven Pienaar.

But while others lost their heads in the heat of derby battle, Kuyt took his retribution in the best possible way by ensuring the Blues' barren Anfield run continued.

A bit of spilt blood was a small price to pay for three priceless points.

Of course there were other starring roles in a Liverpool performance full of passion and character.

Jamie Carragher's thunderous challenge on Pienaar inside 10 seconds set the tone for a fiesty afternoon and after the red card forced a defensive reshuffle he was rock solid at the heart of the home rearguard.

Emergency right-back Javier Mascherano refused to be beaten and after being pulled back into a central midfield role Gerrard was able to pull the strings.

Alongside the skipper Lucas won over more of his many critics as he ran himself into the ground but there was no denying the man of the moment and Kuyt departed in stoppage time to a standing ovation.

No monster haul can compare with the buzz of being a derby hero.
---
FEBRUARY 8
No love lost between
Liverpool and Everton

Comment by David Randles - Liverpool Daily Post

You can choose your friends but not your neighbours, although if money's no object you can live wherever you want.

Unfortunately for both Everton and Liverpool it's a little bit tight at present and so thoughts of moving into that dream home have been put on the back-burner.

True to form, the 213th Merseyside derby provided the usual neighbourly disputes.

Two red cards, seven yellows, a black eye and a trip to the hospital.

Love thy neighbour? Not a chance.

It hasn't become the most volatile fixture in Premier League history for nothing.

The dismissals of Sotirios Kyrgiakos and Steven Pienaar made it 18 red cards in the last 36 meetings between the Mersey rivals.

Meanwhile, off the pitch, there's more chance of Liverpool's co-owners George Gillett and Tom Hicks seeing eye-to-eye than David Moyes and Rafael Benitez.

And so it came as little surprise when the opposing managers offered different takes on the first-half dismissal of Kyrgiakos.

"Two footed tackle, both feet off the ground," was Moyes' blunt assessment.

Benitez, after saying he'd prefer not to be drawn on the subject, couldn't actually resist.

"It was difficult. There were too many tackles in the first half.

"Then we had 10 men where it should have been two yellow cards.

"Everybody was surprised with the sending off."

Everybody but Moyes and his followers, that is.

The real surprise was that Kyrgiakos was the only player punished from the ugly incident.

There is no question Marouane Fellaini came off worse. Fortunately scans have shown nothing more than severe bruising.

But in the heat of the 50/50 challenge that would ultimately end his involvement in the game, Fellaini appeared to go over the ball and stamp on Kyrgiakos' shin.

Was it an accidental consequence of trying to lift his boot away from the incoming studs, or a pre-meditated attempt not to be outdone in the heat of a fierce derby battle?

It was a question that fuelled much debate at half-time.

Another centred on how referee, Martin Atkinson – standing a mere 10 yards away – could punish one offence but not the other.

As Moyes and Benitez were quick to highlight, it's a matter of interpretation, although the Yorkshire official did himself few favours.

Atkinson's inability to stamp his own authority on the game early on created a rod for his own back.

As is typically the case in the frenzied atmosphere of these high octane affairs, the tone is set with the first tackle.

On Saturday it took just 10 seconds for the first bone-crunching example to arrive.

After Jamie Carragher had left Pienaar in absolutely no doubt he was there, a free-kick was duly, and sufficiently, awarded providing the precedent for Atkinson to work from.

For reasons unknown, he then appeared reluctant to enforce the laws of the game when things threatened to get out of hand.

Perhaps the swirling fog inside Anfield impaired his vision.

First, Javier Mascherano went unpunished for an X-rated challenge on Fellaini before the Belgian escaped censure for clattering into Dirk Kuyt's head.

Beforehand, Benitez had encouraged his players to remain calm and use their heads; Kuyt can count himself fortunate that his remained attached to his neck to nod in the only goal of the game.

By then, the Dutchman had become the first name into Atkinson's notebook for a cynical trip on Landon Donovan as the American bore down on goal.

It was a correct decision by the referee.

But it was the failure to act soon enough on the ones that make you wince that led to Atkinson's dilemma.

How Pienaar was still on the pitch by the time he was eventually sent off is a mystery.

The South African's knee-high challenge on Mascherano was as dangerous as you'll see, and not too dissimilar to the foul that saw the Argentinean take an early bath at Portsmouth in December.

Different ref, different decision.

Pienaar took a booking instead but then the incident that eventually saw him red carded was innocuous.

His mistimed jump into Steven Gerrard was nothing more than that and certainly didn't warrant another yellow.

While most Evertonians might rightly point out the diminutive South African was simply giving back a little of what he received, Moyes remained philosophical about Pienaar's punishment.

"I've no complaints about Steven's sending-off as there was a tackle earlier in the game where he might have been fortunate to stay on," admitted the admirable Blues manager.

It was the final booking of the afternoon, taking Atkinson's total to for the season to 84 yellows in 20 Premier League games.

Saturday brought his first red cards, however; a statistic that was perhaps an indication of his reluctance to reach for his pocket too soon.

In his defence, though, he will no doubt have been mindful that once it starts it's difficult to stop.

It was no coincidence that Carragher had his name taken for scything down Pienaar just 30 seconds after the Everton midfielder's lucky escape with Mascherano.

Therefore, had Atkinson started brandishing cards too soon there was every chance the game could have been ruined as a spectacle.

As it happened, the referee's decisions buoyed Liverpool while conspiring against Everton, who found it difficult to break down a resolute 10 men.

Despite his own manager's protestations, then, maybe this is why Gerrard was quick to give Atkinson the thumbs-up afterwards.

"I thought the ref was superb," said the Liverpool captain.

"He let tackles go. Yes, there were some mistimed tackles but we're certainly not complaining and I don't think you'll hear Everton complaining either. That's what derbies are all about; passion, commitment and fight. That's what the fans love."

At last, something we all agree on.
---
FEBRUARY 7
Carragher: Clean sheets win games

TEAMtalk

Jamie Carragher reckons Liverpool are getting back to their defensive best after claiming a sixth clean sheet in seven games on Saturday.

A resolute rearguard action in the 213th Merseyside derby, for which they played more than 55 minutes with 10 men after Sotirios Krygiakos' dismissal, earned the Reds a 1-0 victory thanks to Dirk Kuyt's 50th goal for the club.

A seven-match unbeaten Premier League run has now brought 17 points and six clean sheets, lifting them into the top four for the first time since early October.

But they face a tough test on Wednesday when they travel to Arsenal, where they have not won in the league in a decade.

Rafael Benitez will allow his players a couple of days to enjoy the derby victory, their fifth in the last six, before concentrating on the Gunners.

Bootle-born Carragher, who played in his 25th meeting between the near-neighbours on Saturday day, knows how important the victory was for morale.

"It is not just three points, it has a massive impact and everyone is buzzing," said the 32-year-old.

"But that can change if the result doesn't go our way at Arsenal.

"We beat Manchester United (in the league) and then played Arsenal in the Carling Cup and lost.

"It is important we keep that feelgood factor after the Arsenal game and that will be by making sure we get a good result.

"We are going into the game in a great frame of mind but Arsenal away is always difficult.

"We have been to the Emirates for a couple of years now and I don't think we've won there yet so it is something we are going to have to do sooner or later and hopefully Wednesday will be the time.

"For the last four or five years we have been good defensively under Rafa and we are just getting back to our normal selves.

"If you keep clean sheets you are going to win games."

That may be easier said than done against Arsenal as none of the last 11 matches between the two have finished goalless, producing an astonishing total of 46 goals.
---
FEBRUARY 7
Kuyt proud

By Al Campbell - LFC Online

Dirk Kuyt is proud of his half-century of goals.

Kuyt admitted it was a proud personal moment to score his 50th goal for the club and it being a derby winner made it even sweeter.

"It's a great feeling and I'm really happy to have scored 50 goals for the club, especially in a game like this," he said.

"But I don't think it mattered who scored, just that we got the win.

"I think we showed belief when we had 10 men and that comes from the confidence we have built up over the last few games. We had to believe that we could still win the game and we did that.

"Out of the last seven matches we have taken 17 points and have kept six clean sheets, so you can see from those results that we are playing better and our confidence is up.

"Now we have to keep going and make sure we are ready for the next game at Arsenal."
---
FEBRUARY 6
Moyes wanted derby point

Sky Sports

Everton manager David Moyes felt his side deserved to take something from the 213th Merseyside derby with Liverpool at Anfield.

The Reds took all three points in a fiery encounter as Dirk Kuyt nodded home early in the second half from Steven Gerrard's precise corner.

Rafa Benitez's men played the vast majority of the match with only 10 men after defender Sotirios Kyrgiakos saw red following an X-rated challenge with Marouane Fellaini.

The Toffees midfielder escaped punishment - strangely as he went into the tackle over the top of the ball - but could not continue as he limped out of the action.

Steven Pienaar, who earlier escaped with only a booking following a nasty foul on Javier Mascherano, did not make it to the final whistle either following a second booking in the closing seconds for jumping into Steven Gerrard.

Moyes felt both red cards were fully justified and bemoaned his side's lack of creativity, although felt they were worthy of a point.

He said: "I think there have been lots of derbies very similar; quite feisty and that's why fans like them because they sometimes have a little bit extra in them.

"The first sending-off (Kyrgiakos) was a two-footed tackle, both feet off the ground. Fellaini has been for an X-ray but we think it is clear, which is good news.

"I've no complaints about Steven's sending-off as there was a tackle earlier in the game where he might have been fortunate to stay on.

"I thought we certainly didn't deserve to lose the game. We might not have deserved to win it but we shouldn't have lost it.

"We didn't create enough chances with the extra man but, saying that, Liverpool didn't either and their goal came from one set-piece - which in the past would have been us that might have done that but it was Liverpool today."
---
FEBRUARY 6
Rafa revels in vital win

Sky Sports

Rafa Benitez applauded Liverpool's 'massive' victory following their derby success against Everton.

The Reds were reduced to 10 men when Sotirios Kyrgiakos was sent off for a foul on Marouane Fellaini before half-time but they stayed strong to cope with the numerical disadvantage.

Dirk Kuyt then headed home the only goal of a fiercely-contested encounter before Steven Pienaar's late dismissal meant Everton also finished without their full complement of players.

The result boosted Liverpool's chances of securing fourth place and Benitez was delighted with the three points.

"It was massive for us. To win in a derby is really important - to win in a derby with 10 players at Anfield is more important," said Benitez.

"I was really pleased for the players and the fans because everyone was working so hard that I think at the end we deserved to win.

"From the beginning we were doing well in terms of work-rate and after [the sending-off] it was amazing to see all the players working so hard, defending and also going forward and trying to score."

Benitez refused to be drawn on either the performance of referee Martin Atkinson or the ferocity of some of the challenges which went in on his players.

"I think there were too many tackles which you can analyse so I prefer not to speak about the referee," he added.

"You can talk about 20 different tackles today and you will have different opinions so I prefer not to say anything.

"We were trying to win, they were trying to win - it is always the same in the derby.

"We knew it could be tough but we tried to do our best, we tried to control things and play with our heads not just with our hearts but sometimes it is difficult."
---
FEBRUARY 6
Gerrard highlights Liverpool passion

TEAMtalk

Liverpool captain Steven Gerrard paid tribute to his side's commitment after they beat Everton 1-0 in the Merseyside derby at Anfield.

The Reds had Greece defender Sotirios Kyrgiakos sent off for a badly-timed challenge on Marouane Fellaini, with the Belgium international being fortunate not to see red himself for his role in the challenge.

Dirk Kuyt headed the winner from Gerrard's 55th-minute corner to move Rafael Benitez's side up to fourth in the Premier League, with Everton's Steven Pienaar seeing red in injury time.

Gerrard told Sky Sports 1: "That is what derbies are all about. There was passion, commitment and fight. We beat a very good Everton side today with 10-men and we should enjoy this result.

"We played some good football and had a great attitude, sticking together. We knew we would be up against it at times and if we had the chance at a set-piece we could grab a goal."

Gerrard also praised the performance of referee Martin Atkinson during a typically feisty clash between the local rivals

"The ref was superb," said Gerrard.

"He let tackles go and that's what fans pay their money for. There were some mis-timed tackles but we can't complain and I don't think Everton will either."
---
FEBRUARY 6
Deadly Dirk seals derby glory

Sky Sports

Dirk Kuyt headed 10-man Liverpool to victory in a fiery 213th Merseyside derby clash with Everton at Anfield.

The Dutchman was on hand to nod home Steven Gerrard's precise corner from close range in the 55th minute of a blood-and-thunder encounter, with Toffees goalkeeper Tim Howard at fault.

The Reds were reduced to 10 men in the 34th minute when defender Sotirios Kyrgiakos and Everton midfielder Marouane Fellaini were involved in a crunching challenge.

Greek defender Kyrgiakos went in two-footed, while Fellaini was far from blameless as he caught his opponent high on the leg, but it was only the Reds defender who was dismissed.

Fellaini was unable to continue, with Mikel Arteta coming on in his place, but Everton failed to take advantage of their numerical advantage and struggled to create any meaningful openings.

Referee Martin Atkinson dished out his second red card of the game in the dying seconds as Steven Pienaar, who had earlier been booked for a heavy challenge on Javier Mascherano, saw red for jumping into Gerrard.

Liverpool have now gone seven Premier League matches without defeat, keeping six clean sheets in the process.

By contrast, Everton's nine-match unbeaten run came to an end. The last team to beat them before today had been Liverpool at Goodison in late November and they have now won just two of the last 21 league derbies.

Tone set
The tone for the match was set in the opening 15 seconds with Jamie Carragher's strong but fair challenge on Pienaar which left the South Africa midfielder rolling on the ground holding his shoulder.

Unfortunately, it was only to get worse in the first half as Atkinson's leniency saw a number of over-the-top tackles escape the required action.

Fellaini, competing for the ball, kicked Kuyt in the face as the Dutchman lay on the ground without censure, while Pienaar was only cautioned for a challenge which started at Mascherano's right knee and worked its way down.

Carragher went into the book for going through the back of Pienaar in retaliation while the other booking of the first half went to Kuyt for tripping Landon Donovan.

In between all the flying tackles there was very little football played in the opening 45 minutes.

Gerrard's inswinging fourth-minute free-kick forced Tim Howard to punch out from under his own crossbar while Daniel Agger, on his first appearance for nearly a month, fired a right-foot shot a couple of yards over from a corner.

David Ngog fired a shot well wide after Maxi Rodriguez and Gerrard had combined while late in the half the Liverpool captain rattled Howard's crossbar with a 25-yard free-kick.

For Everton, Leighton Baines' left-footed free-kick was tipped over by Jose Reina while Tim Cahill directed a free header over from seven yards in added time.

Rewarded
Liverpool began the second half well and Ngog saw an early left-foot shot deflected wide by Sylvain Distin.

And they were rewarded in the 55th minute when Kuyt, despite being clung onto by Phil Neville, nodded in Gerrard's corner from three yards with Howard left flapping.

Johnny Heitinga's foul on Rodriguez earned him a booking but Gerrard hit the free-kick straight at Howard.

In the 63rd minute Ngog was replaced by Ryan Babel, who was given a rare outing in his preferred position up front.

Everton manager David Moyes sent on Aiyegbeni Yakubu and Victor Anichebe for Saha and Leon Osman in an attempt to find the equaliser.

A scuffle broke out seven minutes from time when Gerrard caught Pienaar after clearing the ball and bizarrely Atkinson, having not blown for a foul, booked the Liverpool captain and then Anichebe for his part in the retaliation.

Liverpool were content to defend their lead and counter-attack when possible but Reina had to be alert to tip behind Yakubu's shot on the turn.

In the fifth minute of added time Pienaar was sent off after jumping into Gerrard as the hosts hung on to maintain their momentum going into an equally-important match at Arsenal on Wednesday.
---