---

Kuyt celebrates his winning goal
at Manchester City. (Photo: PA)
OCTOBER 8
Rafa buoyed by Skrtel positives

By Joseph Caron Dawe - Setanta Sports

Liverpool boss Rafa Benitez is grateful defender Martin Skrtel's knee ligament injury did not turn out worse than it has done, and is taking heart from the Slovakian's proposed pre-Christmas return.

Skrtel sustained the injury in The Reds' 3-2 win over Manchester City at the weekend and initial fears were that he would be sidelined for a far longer period than the 10-week lay-off he now faces.

After meeting with a knee specialist on Tuesday it was decided Skrtel did not require surgery, and now the 23-year-old can concentrate on working towards his comeback which could be as early as December.

"It is a big loss for us because Martin has done very well for us since joining from Zenit St Petersburg," said Benitez. "He was playing very well and we were very pleased with him so it is a real pity that he has got injured now.

"But we also know that it could have been worse and the fact that he could be back for our games towards the end of the year is positive for us."

Benitez is also not concerned that Skrtel may return a weaker or more inhibited player than the one he has become accustomed to selecting.

"Martin has a very strong character and he trains hard so I am sure that when he does come back he will be the same player as before he got injured," added the Spaniard, who is confident in the cover he has in defence,

"It is a positive for us that we have both (Daniel) Agger and (Sami) Hyypia because they are both players of experience and quality," Benitez continued.

"Last season when Agger was injured we had to play Sami and Carra (Jamie Carragher) together in too many games and sometimes we had to play (Alvaro) Arbeloa at centre back.

"Now it is different because even though we are without Skrtel we still have three other experienced centre backs so there will still be competition for places.

"It is up to us to manage the situation and I am sure that the players will do their jobs and hopefully that will mean that the bad news we have had about Martin will not affect the team too much."
---
OCTOBER 7
Ian Rush: Spirited Reds
are teaming with defiance!

By Ian Rush - Liverpool Echo

Liverpool's incredible comeback against Manchester City at the weekend showed the strength of their team spirit.

When you go two goals down away from home there is a temptation to think that it's game over and you won't get back into it.

But Liverpool have already shown several times already this season that going behind does not mean you can't win the game and this shows the togetherness in Rafa Benitez's squad right now.

When I was a player Liverpool had a reputation for playing until the final whistle and never giving up and it's great to see this sort of commitment and determination back again.

No doubt City thought they would be the first team to beat Liverpool this season when Javier Garrido put them 2-0 up. But from the moment Fernando Torres got a goal back you could sense that the balance of power had shifted. I think anyone who has seen the Reds play this season half expected them to go on and win the game.

The thing that should stick in the minds of every Liverpool player is that when they turned it on City just couldn't live with them.

They went to a level that Mark Hughes' side could not match and that's a very clear sign that Liverpool are turning into a genuinely good team.

The only disappointing thing is that they gave themselves an uphill battle because even when your spirit is as good as Liverpool's, you can't keep asking yourselves to make comebacks.

There might come an occasion when they give themselves too much to do and to stop this from happening they are going to have to look to take games by the scruff of the neck earlier.

But having said that, I genuinely do not worry too much if the opposition takes the lead against Liverpool these days.

Middlesbrough, Manchester United, Marseille and Manchester City have all scored first against them this season and all four have ended up losing the game.

This is why the time has come for Liverpool to believe – 12 points gathered from losing positions is an incredible record and one that everyone at Anfield should be proud of.

So cruel for Martin Skrtel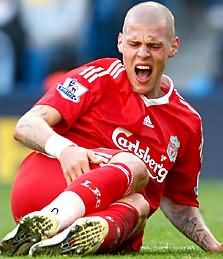 Martin Skrtel's injury was the only disappointment on otherwise an excellent Sunday afternoon for Liverpool.

You knew something was wrong as soon as he went down because he fell so awkwardly and when he stayed down I think many of us feared the worst.
Skrtel injury a big blow for Reds.
(Photo: Getty Images)
The diagnosis has confirmed Skrtel suffered damage to the posterior cruciate ligament of his right knee but hopefully that will sound worse than it really is and he will be back sooner rather than later.

Skrtel has done really well for Liverpool since signing in January and he has formed an excellent partnership with Jamie Carragher so I'm sure Rafa Benitez will be hoping to have him back as quickly as possible.

The thing with football is that one man's misfortune is another's opportunity and the injury to Skrtel will give Daniel Agger the chance to come back into the team and show what he is capable of.

Agger has had to remain patient over the last few weeks while Benitez has stuck with the in-form Skrtel and Carragher but that will have to change if, as expected, Skrtel faces a spell on the sidelines.

If he does get his chance it is up to Agger to make it as difficult as possible for the manager to leave him out once Skrtel is fit again.

That's what being at a top side is all about – doing enough to keep your place even when there are other quality players challenging for your position.

Torres is proving a lucky charm too
Some nice memories stirred for me this week when someone mentioned Liverpool are yet to lose a league game in which Fernando Torres has scored.

In the 21 Premier League games he has scored in, the Reds have either won or drawn.

I had a similar record when I was at Anfield and it ended up lasting for seven years so I know just how much of a positive impact such a run can have on the whole team.

The big thing for us was that every one of the players was given a psychological boost when I scored because we all felt that we couldn't lose after that.

It was also a nightmare for the opposition because an Ian Rush goal almost inevitably signalled the best they could hope for was a draw. There were actually times when opponents visibly wilted if I scored.

The best example of this was the 1986 FA Cup final when Gary Lineker gave Everton the lead only for me to equalise early in the second half.

We went on to win the game and afterwards Lineker said he should have known we would win as soon as I scored.

That's how much of a psychological effect my record was having on teams and no doubt the same thing will happen for the modern day Liverpool side the longer Torres (right) can continue his run.

No doubt his team mates are starting to see the Spaniard as a lucky charm and hopefully his goals will carry on being as important to Liverpool as they have been already.
---
OCTOBER 6
Skrtel could be out until Easter

By Matt Ladson - This is Anfield

Defender Martin Skrtel is expected to be out for the rest of the year at least, after suffering damage to his PCL (Posterior Cruciate Ligament) in the 3-2 win over Man City on Sunday.

The PCL is one of the main ligaments in the knee and although it is thought to be one of the strongest ligaments in the knee (the ACL is more commonly damaged) it accounts for around 20% of all knee injuries.

Typically, cruciate knee injuries require 6 months before returning to competitive sport, with the player not being able to run and work in the gym properly until 3 months after surgery.

No timescale has been set by the club yet for Skrtel's return, with the Slovakian international meeting with a specialist on Tuesday morning. Spokesman Ian Cotton said "He will see a specialist on Tuesday to assess the extent of the injury. We will then have an accurate idea of the timescales involved before he is back playing again."

Skrtel's injury will now open up an opportunity for fellow centre backs Daniel Agger and Sami Hyypia. With Hyypia not registered for Europe, Agger will begin all Champions League games alongside Jamie Carragher in the Reds' defence, while Hyypia may get a chance in some Premiership games.

Agger had recently been linked with a move to Real Madrid in January, that now seems almost certain not to come to fruition.

It is fortunate that Rafa Benitez has assembled such a strong squad at the club where we have impressive cover for such occurances as this. When Man United's Nemandja Vidic was suspended last month, youngster Jonny Evans was required to replace him.
---
OCTOBER 6
City riches worthless as Liverpool
bank on self belief in fightback

Comment by Ian Doyle - Liverpool Daily Post

When Dirk Kuyt was asked in midweek whether Steven Gerrard would consider a move to Eastlands, his response was emphatic.

"I don't think any player from Liverpool would go to Manchester City because Liverpool is a much bigger club," said the Dutch striker.

A rollercoaster afternoon yesterday gave the perfect reason why.

City may have the new-found riches but it's Rafael Benitez's side that possess the greater immediate promise of silverware given the evidence of this latest remarkable fightback.

Fernando Torres was among several players City's new Abu Dhabi owners had supposedly earmarked during a frantic transfer deadline day last month.

At least their judgement can't be questioned.

As against Everton the previous week, the Spaniard spent much of the first half on the periphery and gradually bemoaning his lot before exploding into life after the interval.

Torres scored twice as Liverpool dragged themselves back into the match after having gone in at half-time in disarray and two goals down, and then played a part in Kuyt's dramatic injury-time winner.

Benitez claimed before the game that victory at Eastlands wouldn't necessarily underline his team's title credentials.

But if Liverpool do sustain a genuine championship challenge, they will surely look back at this result as a significant moment in their campaign.

The self-inflicted first-half wounds of Stephen Ireland's volley and a magnificent Javier Garrido free-kick seemed enough to send Benitez's side tumbling to a disappointing first defeat of the season.

That, though, didn't take into consideration the huge self-belief and determination that is coursing through the veins of the Anfield outfit at present, qualities typified by a typically tireless performance of Kuyt.

Certainly, Benitez's side are doing things the hard way this season, this being the fourth game, following similar victories against Middlesbrough, Manchester United and Marseille, in which they have had to come from behind to win.

Of course, the Spaniard will be aware such a trend cannot last forever.

Despite having conceded only two league goals before yesterday, some of Liverpool's defending left much to be desired, both full-back areas a particular area for concern.

Quite why Liverpool were so off the pace in the opening 45 minutes is a mystery to rival that of the recent fortunes of goalscorer Ireland's hair. And they still haven't netted in the first half of a Premier League campaign this season.

Both sides ended the match with 10 men, but for contrasting reasons.

City were reduced midway through the second half when, for the second successive week, Xabi Alonso was the victim of a challenge deemed worthy of a red card, although this time even home manager Mark Hughes could have no complaints with the dismissal of Pablo Zabaleta for a two-footed challenge.

Liverpool, though, were hampered by the loss of Martin Skrtel during the closing moments when the Slovakian departed on a stretcher with what at first glance seemed a serious knee injury.

Albert Riera – intent on making an impression on his return to Eastlands, where he spent six-month loan spell in 2006 – was a rare bright spot during a miserable first half for Liverpool.

The visitors actually started well and should have been ahead in the 17th minute, when Riera's trickery bewildered Micah Richards only for his inviting low cross to be sliced woefully over by Kuyt from 10 yards.

But a catalogue of defensive errors gifted City the lead two minutes later.

After Shaun Wright-Phillips caught out an over-elaborate Fabio Aurelio, the ball was crossed in to the feet of Jo. Alonso made the tackle, but possession fell fortuitously back to Wright-Phillips to again feed into the area where Alvaro Arbeloa dallied in clearing from Robinho and allowed the approaching Ireland to thrash home.

It got worse for Liverpool four minutes before the interval. Again, it was sloppy defending, Wright-Phillips nipping ahead of Aurelio before being bundled over from behind by Riera 20 yards out.

Up stepped Garrido to curl a fine left-footed free-kick into the top corner that gave Reina little chance.

With City dangerous on the break and Torres shackled by Richard Dunne, a Liverpool revival looked unlikely. But Benitez's side were a different beast after the break.

Kuyt claimed a penalty after tangling with Dunne and then shot wide before the visitors found a way back into the game on 55 minutes with their 1,000th Premier League goal.

Javier Mascherano found Steven Gerrard on the right, who then played the ball between Garrido's legs and on to the overlapping Arbeloa to cross low into the six-yard box where Torres swept home.

Robinho should have restored the two-goal advantage when somehow volleying a Wright-Phillips cross over from six yards. Yet it was a rare City foray as, their task made more difficult by Zabaleta's expulsion, the home side were pressed back.

Liverpool's equaliser on 73 minutes was a more straightforward affair. Andrea Dossena, on for the hapless Aurelio, won a corner on the left and, from Gerrard's delivery, Torres sneaked in between City substitute Gelson Fernandes and goalkeeper Joe Hart to head in at the near post.

The Spaniard netted at only three away grounds in the Premier League throughout the whole of last season, but all five of his top-flight goals so far this campaign have come on the road.

Robbie Keane and Yossi Benayoun were thrown into the fray as Benitez sensed victory, and Torres missed a glorious chance for a hat-trick when he turned over Keane's cross from four yards out.

However, the pair combined – albeit somewhat unwittingly – for the winner in injury time. Dossena and Benayoun raided down the left for the latter to pull the ball back to Torres, and the Spaniard's goalbound shot was diverted off Keane into the path of Kuyt to force home from close range.

It was the Holland international's first Premier League goal since netting at Newcastle in November.

And it underlined just why, for all City's wealth, Liverpool is the place to be right now.
---
OCTOBER 6
We must keep on
winning says Dirk

By Ian Doyle - Daily Post

Dirk Kuyt believes Liverpool have made another statement of their Premier League intent with last-gasp victory at Manchester City.

Kuyt netted Liverpool's third and decisive goal in stoppage time with his first in the league since netting at Newcastle United on November 24 last year.

The win keeps the Reds level on points with league leaders Chelsea going into the international break.

Kuyt said: "We try to make a statement every week. Every three games we have a big game. We had Everton and PSV last week, and our target is just to win every game and try to be there by the end of the season.

"But it was vital to keep pace with Chelsea before the internationals. We can leave with a good feeling.

"We've already had one international break and come back in our first game after it and beaten Manchester United.

"We'll just keep on going and see how we do against Wigan in our next game."

First-half goals from Stephen Ireland and Javier Garrido had given Liverpool a mountain to climb.

But, for the third time this season, Benitez's men fought back to secure the three points with Fernando Torres scoring twice before Kuyt's late decider.

"We had a feeling at half time that we could get back in the game if we scored a goal," added Kuyt. "We got that and were back in the game and I think we deserved to win.

"All of the players worked really hard, even the players who came on as substitute did their bit. It shows what a good squad of players we have here."
---
OCTOBER 5
Rafa salutes comeback heroes

By Steve Hunter - LFC Official Website

Rafael Benitez praised the character of his players after the Reds came back from 2-0 down to beat Manchester City 3-2 following a fantastic second half performance.

Goals from Stephen Ireland and Javier Garrido gave Mark Hughes team a commanding interval lead, but inspired by Fernando Torres and Dirk Kuyt the Reds roared back to complete a memorable victory.

Torres scored twice, making him Liverpool's record overseas goalscorer in the Premier League, and Kuyt netted a stoppage time winner for his first strike in the top flight for over 10 months.

The only blemish to a great victory was Martin Skrtel forced off on a stretcher with a knee injury.

"I'm really pleased with the result but am disappointed for Martin Skrtel with his injury," said Benitez.

"The positive thing was the reaction of the players after a bad first half. We made two mistakes for both goals and the reaction and character we showed in the second half was for me the key to winning the game.

"I told the players at half-time to try and score one goal and then we would be right back in the game. That was the idea and the character and determination of the players was much better than the first half.

"We were pushing hard in the second half and the determination of the players was fantastic.

"The problem in the first half was we were making mistakes against players with ability and pace.

"It's better for me that we don't concede goals but at least if you can win it shows the players are ready for winning every game. Physically we are in good condition so credit to our fitness coach. We also have great belief and mentality."

The Reds boss also felt the sending-off of City right back Pablo Zabaleta was justified after a late challenge on Xabi Alonso.

"Xabi is okay," added Rafa. "It was a clear red card, no doubt about this and very clear.

"At this point we were controlling the game and were on top of them. We were creating chances and we were better than them."

On Torres' brace, the boss added: "We know how important Torres is for us. He is always a threat to the defenders and can score goals. He also gives space to his teammates and Torres is a fantastic boy with a good mentality. He was unlucky not to get his hat-trick."

Benitez also defended his decision to start Robbie Keane on the bench and said it was for tactical reasons.

"City have a players with pace and a lot of skill so we were trying to control this in the middle of the park and give freedom to Gerrard," added the gaffer. "It wasn't bad but we made some mistakes. In the second half the attitude changed and everything was different.

"Against good teams it's always important to do the right things and we know we can beat anyone. They are a good team with a lot of good players and a good manager, so the belief of our players was the key."
---
OCTOBER 5
Liverpool's football was excellent

By Ben Blackmore - Setanta Sports

Like a criminal who has just been caught by the cops, I hold my hands aloft.

I got one very quick – very restricted look at the Pablo Zabaleta challenge on Xabi Alonso, and it looked good. If it wasn't, the hands are up and the cuffs are on. I'll admit my guilt.

But let's not let the incident overshadow what was a superb Liverpool comeback.

Sometimes when writing a post-match blog, it can be easy to look past the main point. It can be easy to go searching for a hidden meaning to a game, when the overwhelming truth is: Liverpool played some classy football.

Rafa Benitez's style of football has taken a battering on occasions during his time at Anfield, with accusations of Liverpool being 'too direct, 'too negative', 'too cautious', yet today there were times when they tore City's defence to shreds.

Benitez's purchase of Albert Riera – a flop at City ironically – was also much maligned, yet the Spain winger has brought a new dimension to Liverpool and he enjoyed easily his best game on Sunday.

Even when Liverpool were 2-0 down, the football was pretty good – from both sides in all fairness – with The Reds playing one-touch stuff while City broke swiftly through the pace of Robinho and Wright Phillips.

It seemed that The Reds' only fault would be a fatal lack of numbers in the box.

The first half saw Riera hit the byline at will, yet too often Fernando Torres was playing catch-up after playing an earlier part in the move, and Dirk Kuyt was proving less than deadly.

That changed second half as Torres became the pivotal figure, and with Riera, Aurelio, Gerrard and Arbeloa all bombing down the flanks, City became overwhelmed.

Fair play to Benitez too, who threw on Robbie Keane and Yossi Benayoun to provide the cunning, while the left foot of Andrea Dossena (rather than the right-footed Ryan Babel) made sure City's 10 men were stretched to breaking point.

In the end, Keane and Benayoun created match-winning chances, and it is no exaggeration to suggest Liverpool deserved their victory.

This is now a Liverpool team that is not only winning, not only showing the fight to come from behind, but it is a Liverpool team who are playing good football too.
---
OCTOBER 5
Kuyt keeps Reds flying high in table

TEAMtalk

Dirk Kuyt scored his first Premier League goal since November as Liverpool came from two goals down to win 3-2 away to 10-man Manchester City.

The Holland striker rattled the ball home in stoppage time at Eastlands on Sunday to preserve the Reds' unbeaten start to the season.

The home side had raced into a two-goal lead in the first half through Stephen Ireland and Javier Garrido.

Fernando Torres pulled a goal back before City's Pablo Zabaleta was sent off.

The momentum was then with Liverpool with Torres adding a second before Kuyt, who was guilty of a shocking earlier miss, having the final word.

Liverpool almost went ahead as early as the fourth minute when Albert Riera got a good touch and goalkeeper Joe Hart had to look alert to turn his effort around the post.

The visitors kept up the pressure and launched a swift counter-attack in the 15th minute. Javier Mascherano, who was preferred to Robbie Keane tried to send Steven Gerrard clear.

However Shaun Wright-Phillips showed his defensive qualities to get in a crucial challenge.

Three minutes later Kuyt should have put Liverpool ahead only to sky his shot over the top in front of the post after Riera had set up the opening.

City made the breakthrough a minute later thanks to Ireland's third goal of the season.

Wright-Phillips did well to cut the ball back from the by-line but it seemed to get stuck under Robinho's feet.

However it eventually fell to Ireland and the ever-improving midfielder rifled an unstoppable shot into the corner.

Whenever Liverpool did break forward City were defending in numbers from front to back.

Xabi Alonso tried his luck from distance in the 38th minute but Hart was equal to his effort.

City extended their lead three minutes later after Wright-Phillips was bundled over Riera, who had a spell on loan at Eastlands.

Garrido stepped up and sent a superb free-kick over a stunned Reina for his first goal for the club.

However it was game on the 56th minute with Liverpool pulling a goal back through Torres.

England midfielder Steven Gerrard, a subdued figure in the first half, began the move by releasing Alvaro Arbeloa.

He skipped to the byline before delivering a cross into the path of Torres, who scored from close range.

It was the Spain striker's fourth goal of the league campaign and came on the back of his brace in the victory over Everton.

This was now a test of character for City, whose own form in the domestic campaign has been a little bit inconsistent.

However they hit back and Wright-Phillips skipped down the wing in the 65th minute, leaving Liverpool players trailing in his wake.

He picked out Robinho but he was unable to test Reina, his effort going over the bar.

The game took a dramatic twist in the 68th minute when City were reduced to 10 men.

Zabaleta was sent off by referee Peter Walton for what the official deemed as a two-footed lunge on Alonso, who needed brief treatment.

Keane was introduced at the expense of Mascherano in the 72nd minute and a minute later Liverpool were level.

Torres peeled away from his marker as Gerrard swung in the corner and thumped home a header.

He had a chance of completing his hat-trick in the 82nd minute only to send his effort at the back post wide of the target.

Kuyt then secured the points in stoppage time, smashing the ball high into the net after Torres' shot had bobbled off Dunne and into his path.
---