---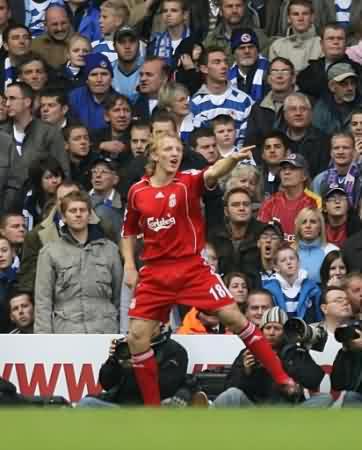 In focus: Dirk Kuyt with a double vs Reading. (Photo: Empics)
NOVEMBER 6
New double act hitting the mark

By David Prentice - Liverpool Echo

It is perhaps asign of the earnest desire to reclaim past glories at Anfield that sees promising players instantly compared to greats from yesteryear.

Hence Dirk Kuyt being likened, apparently, to a latter day Kevin Keegan.

For me, the resemblance is still only physical - both possess bandy legs and flowing hair - and the Dutchman still has some way to go before he can become a European Footballer of the Year.

But if Kuyt can be called a Mighty Mouse for the new millennium, what about his lanky pal being labelled Tosh II?

He's tall and awkward looking, but with a defter touch than he's given credit for - and on Saturday Peter Crouch played the crucial role in both of Kuyt's poacher's finishes.

He towered over Marcus Hahnemann to head the ball neatly into Kuyt's path for the first, then had an on-target header parried by the goalkeeper for the Dutchman to turn in the clincher.

It's not time to start dealing playing cards yet and ask Crouch to guess what his partner is staring at, but there's undoubted signs of a partnership developing.

And Rafa Benitez hinted afterwards they may get the opportunity to work at it.

"The understanding between them is pretty good. We know that to control Crouch in the air is very difficult and when we have good movement on the second ball from Kuyt it is really difficult for defenders," he said.

Alright, it wasn't exactly a statement that Crouch and Kuyt are going to be given the next dozen games to work out their double act, butit's amore positive pointer than was on offer earlier in the season.

Saturday was only the fifth time the duo have started together. Their goals return currently stands at six. That's a Tosh and Keegan tally.

And while we're talking Seventies icons, who slipped the 'Best of Becken-bauer' video under Sami Hyypia's room door on Friday night?

Such was Reading's lack of ambition at Anfield that the centre-back had more time on the ball than any other player all afternoon. He usually made good use of it.

Several rangyruns forwardended with accurate passes - a raking left footer in the 59th minute was Alonso-esque - while a dipping shot from Alonso range swerved onto the roof of the Kop goal.

He overdid it a couple of times, but Reading's desire only to avoid humiliation meant there was never anybody on hand to take advantage. But youcan only beat what's put in front of you, and Liverpool did a thoroughly professional, polished job.

But they will have far tougher Anfield tasks than this to negotiate in the months ahead.

Steve Coppell's team came north intent on damage limitation, refusing to break their rigid 5-5 formation, even when Dirk Kuyt scored a 13th minute opener.

Perhaps the Reading boss remembered the harrowing night in 1989 when he brought a Crystal Palace team to Anfield - and lost 9-0.

It's not at Anfield that Liverpool have any problems.

Their home record in the past 12 months has been outstanding. It's the woeful record on their travels which is the problem, and with Arsenal and the eternally inconsistent Middlesbrough next up in the Premiership, there's no better time than now to show that this recent revival is not just a foible of the fixture list throwing up a glut of back-to-back home games.
---
NOVEMBER 5
Kuyt: I had to prove snipers wrong

TEAMtalk

Liverpool striker Dirk Kuyt is "vying to prove the snipers wrong" after he was written off as 'not good enough for
the Premiership' in Holland.

Back home in Holland there were many who were quick to claim the £10million striker did not have the class, technique and quality to make the jump to the summit of the Premiership.

It was a slur that annoyed Kuyt at the time, but five goals in his last six Premiership matches suggests he can make a major impact for Liverpool.

Two against Reading - neither spectacular but the sort of bread-and-butter finishing that marks out a true goalscorer - gave Liverpool their fourth successive home victory in 11 days, and sent them up to seventh place.

Kuyt may not be the perfect technical player, but his energy, running, belligerence and instinct for an opening has already made him a Kop hero.

He said: "I know people in Holland were doubting I could play here when I joined, but I just intend to give 100% every time and I believe I can play at this level.

"I did well in Holland, although I accept the pace is much greater in England and the Premier League is a higher level.

"But I knew what to expect. I watched the Premier League on television in Holland for many years before I came here. I knew how fast it all was and that it was one of the world's best competitions.

"I wanted it so much and now I am here and scoring goals. Now I just want to show what I've got."

His first effort to deflate organised, purposeful but limited Reading, finished off a Peter Crouch knockdown in the box and the second was scooped home from a few feet in a melee following a corner.

Nothing pretty about either, but teams even at the top level live or die by their ability to profit from the mundane.

And Kuyt has done that throughout his career, and it is continuing at Anfield where fans can see glimpses of a former Kop idol in the all-action Dutchman.

Kevin Keegan was never the world's greatest striker but he forced himself to high levels with tenacity, workrate and sheer willpower. Kuyt can follow that example.

Manager Rafael Benitez believes Kuyt is becoming the complete striker claiming: "Dirk is a very good worker. I knew the player when he was at Vitesse Arnhem and Utrecht before he moved to Feyenoord. He always worked hard and scored goals giving defenders a lot of problems, the complete striker.

"He created much for his team-mates and now his understanding with Peter Crouch is very good and he can also create space for Steven Gerrard and Xabi Alonso to exploit with their runs."

Kuyt said: "It was a difficult game because they were defending a lot. Myself and Peter (Crouch) had three defenders on us all the time so I am happy with the result and the two goals for me.

"But the most important thing is to play well for the team. Then I know the goals will come for me and everyone.

"The most important thing for me is winning, not how many I score.

"I have settled well, it's getting better and better on and off the field. I love playing at Anfield and I like the city and the people.

"We can still produce more, not only me. I have played three matches on the trot with Peter and that partnership is getting better. It was the same with Craig Bellamy. We were improving together so there are now two partnerships we can use knowing they work well.

He added: "I can work with both players. Things are improving although I know there is still a big gap between us and the top sides. But if we can win at Arsenal next week then things will start to change for us.

"That will be the big test after four home wins and the bad start we have made in our away games."
---
NOVEMBER 4
Rafa: Kuyt is the complete player

LFC Official Website

Rafael Benitez labelled Dirk Kuyt as the complete player after seeing the Dutch international score both goals in the 2-0 win over Reading at Anfield.

The Liverpool manager said he has been delighted with the contribution of Kuyt since he arrived at Anfield from Feyenoord and has backed him to score a lot of goals in a red shirt this season.

"I have followed Dirk's career for a long time and he is a very consistent player and you could say the complete striker," enthused Benitez.

"He is a good worker, he scores goals, causes defenders a lot of problems and he can bring other players into the game. His understanding with Peter Crouch was really good.

"I was really pleased to get the three points and the second goal was very important for us because Reading caused us some problems with long throw-ins.

"I expected them to play with five defenders and it was difficult at times to find the space to play but once we got the second goal it settled us down more and we created more chances."
---
NOVEMBER 4
Coppell has no complaints

By Peter ORourke - Sky Sports

Reading boss Steve Coppell had no complaints with his side's 2-0 defeat at Liverpool.

The Royals fell to their fourth successive Premiership defeat courtesy of Dirk Kuyt's double for the improving Reds.

Coppell was happy with his side's spirit as they ended a tough run of fixtures against the top four teams in the last few weeks.

"Coming here it was always going to be difficult, but I was quite pleased with the way my team played," said Coppell.

"We set out to make it more difficult for Liverpool who have been irresistible of late and we made life hard for them.

"We just needed a break and we had a couple of opportunities in the first half, but could not take them.

"In the second half we pushed more forward and got up a head of steam, but failed to take our chances."

Coppell insists he is not frustrated at his side's recent run with the defeat to Liverpool being their fourth Premiership loss on the trot.

"We are battling away and we are enjoying the experience of being in the top division, there is no frustration.

"Yes we want to play against the top teams and it is no disgrace to be beaten by them.

"We want to compete in this division and for periods today we were very competitive, but their quality on occasions was just too good.

"We had a go and we have got to make sure we are ready for the next game and be prepared to try and win three points."
---
NOVEMBER 4
Kuyt flies high as Reds keep up run

TEAMtalk

Liverpool's renaissance continued as Dirk Kuyt hit a double to earn them a 2-0 win over Reading and their fourth victory at Anfield in 11 days.

They went go-karting in midweek for a spot of team bonding but they took a long time to get revved up as Reading set out to spoil from the start.

But the win stretched their unbeaten home league record to 22 matches, dating back 13 months to the hammering by Chelsea last October.

For Reading their early season promise is beginning to wane as they fell to their fourth successive league defeat.

Liverpool relied on two more goals, one in each half, from their Dutch summer signing as they toiled for victory.

Rafael Benitez's side were without Luis Garcia because of a hamstring problem and Mohamed Sissoko was rested on the bench, which meant Jermaine Pennant and Bolo Zenden came into a side unbeaten at home in the league for 13 months.

Reading, who lost 4-3 at Anfield in the Carling Cup last week, brought in Glen Little and Sam Sodje for their first Premiership starts.

And they started as if they had taken to heart Reading boss Steve Coppell's pleas that his team should not to be frightened of Liverpool.

Little got away on the right after seven minutes and found Bryn Gunnarsson 10 yards out but his crisp shot hit Jamie Carragher and bounced just wide.

That shocked Liverpool out of their initial lethargy and with Steven Gerrard back into central midfield they went ahead after 14 minutes.

Gerrard's neat chip into the box was nodded down by Peter Crouch and with Marcus Hahnemann in two minds whether to come for the ball Kuyt fired into an open goal from six yards.

For the rest of the first half Liverpool sought to string together their passes and another Gerrard flighted ball into the box was met by Kuyt's flicked header with Hahnemann saving well to his left.

Pennant tested the Reading keeper from 20 yards and then Jamie Carragher - on his 300th league appearance for the club - ventured into unchartered waters as he raced from the back to drive just over the angle.

Reading strung five across the back and left Kevin Doyle up front, attempting to deny Liverpool space, but it was an increasing struggle to halt the flow of the home side.

Kuyt had a long-range strike deflected wide and saw two headers bounce across goal, and Reading did well to survive until the break without further damage.

Carragher had to be sharp to force the ball away from Stephen Hunt in the box but Liverpool were soon back on the offensive with even Sami Hyypia coming forward to boost the attacking numbers.

Steve Sidwell was booked for dissent as Reading made the most of their best ammunition from set-pieces and there were some anxious moments in the Liverpool defence.

It was a horrible match to watch, lightened by another run from Hyypia which ended with another 20-yard shot flying just over.

Sodje was then booked for clattering into the back of Kuyt but it was no surprise when Mark Gonzalez replaced Zenden after 65 minutes in an attempt to add some variety and movement.

Gerrard headed wide from Pennant's corner before Ibrahima Sonko forced the ball home from a corner only for the effort ruled out because of a foul on Reina.

Liverpool's second goal came when Pennant's 73rd-minute corner was diverted by Crouch's head into Hahnemann and it dropped for Kuyt to force home from three yards.

It secured the points, albeit not with the sort of flowing style Liverpool would have hoped for.
---