---
APRIL 5
Houllier: Real Liverpool on show

Sporting Life

Gerard Houllier believes we are now seeing "the real Liverpool" as they battle it out for the final Champions League spot.

The 4-0 hammering of an admittedly poor Blackburn on Sunday was their biggest win of the campaign and their most fluid attacking display in months.

But with just seven highly charged games left, the Anfield chief insists "there is no margin for error now."

Considering the tension in the battle with Newcastle for fourth place, Liverpool's display was their most relaxed and entertaining in months of stilted, worried performances.

Houllier said: "We have seven games to go and we will be up for it. It is not a matter of pressure, I have told them it is a matter of enjoying ourselves.

"A lot of players would like to wear the Liverpool shirt and a lot of teams would want to be in the position we are in.

"And with the number of injuries we have had this season, I just take my hat off to the players that we are still competing at this level. Since everybody has been back, just look at the results."

Liverpool have lost just two of their last 15 in the league -and taken 10 points from the last 12 against teams in the relegation zone - as their injured stars have slowly returned to what has been a painful, frustrating season.

Houllier said: "We have seen something of the real Liverpool recently, but even now it is not always there. Michael Owen didn't play at Leicester last week but showed how much we have missed him with those two goals against Blackburn.

"So often we have been without the right players, and we have suffered from that."

Liverpool and Newcastle both scored four at the weekend and swapped places in 24 hours, with Liverpool taking a precious one-point lead into the tough Easter programme where both clubs have to meet champions-elect Arsenal.

Houllier said: "I still do not see it as just a battle between two clubs. Aston Villa have good fixtures to come and we still have to go to Birmingham right at the end of the season and that will be a very interesting game.

"We have some difficult games to come, but we will be all right. Each of our final games now has the pressure of a knock-out fixture, where there is no margin for error and when one result can shape the course of the entire season. Cup finals are like that, that is why we must win them all."

Liverpool seemed to have overcome the anguish of their UEFA Cup exit last month, with the French coach saying: "After the exertions when we lost with 10 men in Marseille, our draw last weekend at Leicester was not a bad result.

"I will not try to kid the fans by pretending the result was good because we missed opportunities to have won it, but with it being so tight between ourselves and Newcastle, that point could be decisive in the end.

"We now must take advantage of the four home games left in our last seven because if we win them we are in a position to dictate our future."

One relief for Houllier will have been the successful reunion of the Owen-Emile Heskey partnership up front.

Heskey has had an awful time of late but produced his best display of the campaign against Blackburn, scoring and taking his tally to 10 for the season. He also won praise from Houllier, along with full-back Jamie Carragher.

Houllier said: "Emile did very well. He made the third for Michael and scored one. His performance was very good. But both Michael and Emile, because of the way Blackburn play, needed to do other things for the team.

"You always need one of your strikers to drop and to challenge Tugay, their playmaker, who plays behind the strikers.

"Our attitude and focus pleased me. The game had tension but we also showed true grit out there to stop them and work hard for everything we wanted.

"Carragher was also outstanding. He had played a full game for England in Sweden and still performed like that. The boy has totally changed, he is looking after himself, he is focused in his work and is technically better.

"He is always going forward now as well as defending well. He epitomises the way the side are now performing.

"I have said that when everyone is back we will have a totally different side and that is what is happening."
---
APRIL 5
Well done, Reds

By Chris Bascombe - Liverpool Echo

If everyone with doubts about their future responds like Emile Heskey did yesterday, Liverpool will finish fourth with points to spare.

The Liverpool striker has deserved a lot of the criticism which has come his way, but there's no doubt he has admirable qualities too.

Perhaps one of the most worthy is the way he ignores whatever's said or written about him, never holds grudges and simply gets on with his job.

He's not someone who you'll ever hear using the good days to justify the bad ones.

Heskey was ordered to use the imminent arrival of Djibril Cisse as motivation to save his Anfield career. Given the way he responded against Blackburn, perhaps it won't do any harm to parade the French striker at the stadium before the next home game too.

Indeed, maybe a string of world class players ought to be interviewed, declaring their love for the club before 'officially' signing. If it will give a few others the necessary kick up the back-side to keep this standard up, everyone will be happy.

This was probably Heskey's most accomplished home performance of the season as he became both goalscorer and provider.

He used his strength, his pace, his power and his willingness to run to cause havoc.

If his bid to ensure he stays a Red this summer is already doomed, at the very least he'll ensure rich praise for his professionalism and conduct if he performs to the best of his ability in the season's finale. He could yet leave a hero.

The irony of Heskey hitting a rich period of form at a time when he looks most vulnerable will not be lost although, like his team, he's got to play like this consistently before the pats on the back are frequent enough to allow any 'I told you so' speeches to have meaning.

After all, it didn't go unnoticed that although the horses were at Aintree, the donkeys were wearing blue and white at Anfield yesterday.

Never has the chant 'can we play you every week' seemed so appropriate.

Whenever Liverpool meet Blackburn they look a different side to the one struggling to secure fourth place.

Whether it's down to extra motivation when facing an ex-manager, or simply because Graeme Souness' team is so poor, the men from Lancashire seem to bring out the best in Liverpool.

For the third time this season, the Reds took Souness' men to the clean-ers. His quest to inflict further damage on the club's Champions League ambitions failed miserably.

It's a few seasons since the Reds scored four times in a Premiership game at Anfield and after just 25 minutes it was a safer bet than Amber-leigh House they'd repeat the trick.

The goal spree here was timely. So tight is the battle for fourth, goal difference may yet prove decisive.

The only bad news is Birmingham and Fulham have to play Rovers as well and on this evidence they'll get a hiding wherever they go.

That said, it was refreshing to see Liverpool demolish the opposition, even if the 9-0 result depicted on the scoreboard was a little over-enthusiastic.

It could have been nine though, given the number of easy chances Liverpool created.

The feel good factor was established early.

Michael Owen may not have been playing had this game been on Saturday. The Grand National worked to Liverpool's favour as Owen was declared a runner and he showed how important he is with the first half double which made the game safe.

Liverpool were straight out of the traps. Steven Gerrard's rampaging run was blocked by Craig Short on three minutes and Heskey could have finished the skipper's cross from six yards a minute later.

The imagination and confidence which flowed through the team was in stark contrast to the Walkers Stadium last week.

Heskey's act began early with the unselfish pass which allowed Owen to drive the ball beyond Brad Friedel on seven minutes.

After Andy Todd deflected El-Hadji Diouf's cross beyond his own keeper, Diouf turned supplier, providing more ammunition for Owen with a clever pass which was volleyed home in stun-ning style.

Just 25 minutes had been played. The most surpising feature of the next 65 minutes was the Reds added just one more to their tally.

Heskey shot over the bar, Riise came close and subs Milan Baros and Danny Murphy will still be trying to work out how they didn't get in on the scoring act in the second half.

Fortunately, the second period surpremacy was rewarded when Heskey received Baros' pass and blasted in the fourth.

The most comfortable home victory of the season was complete. For the first time in a while, relegation strugglers were ruthlessly exposed and the supremacy Liverpool possess in terms of talent was visible.

There were good performances all over the park. Gerrard, as usual, led the midfield while the forward partnership of Owen and Heskey worked in tandem for the first time in ages.

The recalled John Arne Riise is also showing signs of a steady return to the kind of form he showed when he first signed and Harry Kewell displayed some magical fleets of foot.

Even Diouf, who seems to enjoy playing Blackburn, earned his ovation.

At the back, Sami Hyypia, Jamie Carragher and Igor Biscan snuffed out the young Blackburn strikeforce.

If Liverpool dominate opponents in their next seven Premiership games as they did yesterday, there'll be no last minute nerves as they seek to protect fourth.

Clearly, it's going to be a lot tougher than this, however. It's much too early for anyone to claim the critics, or the fans or even the least important people of all, the Press, have been wrong to be worried for the last 18 months.

Still, as morale-boosting, confidence instilling, belief inspiring and hope restoring victories go, this wasn't bad.
---
APRIL 4
Houllier hails rampant Reds

Sky Sports

Liverpool boss Gerard Houllier was delighted with his side's performance in the 4-0 destruction of Blackburn.

The Reds moved back into fourth place ahead of Newcastle following their most comprehensive win of the season to date.

"Yes I am happy we created many more chances like we have in other matches, but have not sealed the game as we did today in the opening 25 minutes," beamed Houllier.

"We had a very good first half, passed the ball around well with a lot of movement and interchange.

"Our key players played at a very high level and there was a good feeling of togetherness among the players before they went onto the pitch.

"We knew Newcastle had won to go into fourth place which is also our target and the boys showed good intent today.

"We could have won by more as we created a lot of chances and Milan Baros, Danny Murphy, John Arne Riise and Jamie Carragher all could have scored.

"I am pleased with the attitude and commitment of the players and I am really pleased we kept a clean sheet as well as the goals scored.

Houllier had special words of praise for Michael Owen after he marked his return from injury with two goals.

"I thought he was fantastic, he worked extremely hard after coming back from injury," added Houllier.

"That's why I substituted him as I did not want to take any risks with his fitness as the games are coming thick and fast, but I probably deprived him of a hat-trick.

"It will be battle right to the end with seven games to go and as I have said before we need to play them as seven cup finals and hopefully we will be as good as we were today."
---
APRIL 4
Reds run Rovers ragged

Sky Sports

Liverpool moved back into fourth place in The Premiership with a convincing 4-0 win over Blackburn Rovers at Anfield.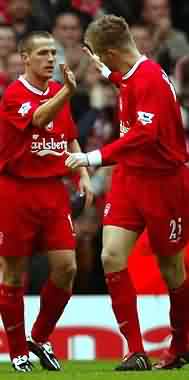 Michael Owen marked his return from injury with two goals with an own goal from unfortunate Rovers defender Andy Todd and a late Emile Heskey strike giving Liverpool all three points to lift them above Newcastle into the coveted fourth spot.

Liverpool tore into Rovers from the first whistle with Steven Gerrard and Emile Heskey testing Brad Friedel in the opening five minutes.

The hosts did go in front on seven minutes with Owen marking his return from injury with the goal.

Harry Kewell fed Heskey and he unselfishlessly squared the ball for Owen on the edge of the box to curl his shot past the despairing dive of Friedel.

Biscan congratulates Owen with the opener.
Owen should have doubled the lead just two minutes later when he raced clear onto Heskey's flick-on from Igor Biscan's long ball, but he got his shot all wrong blazing wildly over the top.

Gerrard should have done better after 11 minutes when the ball broke to him unmarked wide on the left, but the Reds captain dragged his shot well wide.

Blackburn were struggling to get out of their own half and it took them until 20 minutes for them to register their first real effort at goal with Jon Stead heading Brett Emerton's cross well wide.

Liverpool doubled their lead two minutes later when El Hadji Diouf broke down the right and sent a dangerous cross into the six-yard box which the unlucky Todd diverted into his own net.

The hosts were enjoying themselves and they added a third on 24 minutes with Heskey heading down a ball into the path of Owen and he smashed his shot on the half volley past a startled Friedel.

Heskey was causing the Rovers defence all sorts of problems and he went close on 33 minutes latching onto a mistake by Garry Flitcroft before firing a powerful shot just wide of the upright.

On-loan defender from Liverpool Marcus Babbel almost pulled a goal back for Rovers on the stroke of half time when flashed a header wide from Emerton's corner and there was still time left in the first half from Sami Hyypia to head a corner from Gerrard into the ground and over the crossbar.

Rovers came out in determined fashion for the second with Graeme Souness's words probably still ringing in their ears after a disappointing first period and substitute Steven Reid dragged a shot well wide when well placed.

Liverpool understandably took the foot off the gas, but Kewell went close with a shot from the edge of the area just wide.

Owen, who was looking for a hat-trick, was denied his treble on 64 minutes by Friedel when he fired a powerful free kick from the edge of the box towards goal, but Friedel tipped the effort over the crossbar.

Liverpool boss Gerard Houllier decided to take Owen off on 75 minutes with his job done and it was Owen's replacement Milan Baros who was the creator of the fourth goal after 79 minutes playing in Heskey to drive home under Friedel from 12 yards.

John Arne Riise missed a glorious chance four minutes from time to make it five when he burst clear on goal, but Friedel did well to keep out the Norwegian's shot with his legs.

Substitute Danny Murphy had two chances to add to the score within the space of a couple of minutes, dragging his shot from the edge of the area just wide and then somehow blazing over from eight yards with the goal at his mercy.

Baros also watsed a fine chance in the dying seconds to grab the fifth firing well over the top after racing clear on goal.
---