---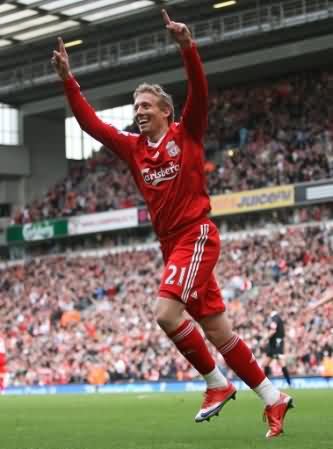 Lucas Leiva celebrates after scoring
his sides third goal of the game. (PA Photos)
MAY 4
Newcastle bad joke
lapped up by Liverpool

Comment by David Prentice - Liverpool Echo

What's the difference between Alan Shearer and Newcastle? Shearer will be back on Match of the Day next season.

Alright, it's a bad joke – but so too was the performance at Anfield yesterday of the football club currently masquerading as Newcastle United.

There was a time when Liverpool versus The Barcodes would guarantee goals and drama.

Now it's just goals – all of them into a Newcastle net.

Liverpool duly delivered the most predictable home win of the weekend with an ease which bordered on the contemptuous.

Newcastle weren't at the races, Blaydon or otherwise.

This wasn't a craven surrender from the Geordies.

They actually opened positively. But they were simply just not good enough – and there were signs all around Anfield that Newcastle knew it.

"You should have stayed on the telly!" The Kop told Alan Shearer.

After smiling at a rare moment of personal levity he appeared to nod in agreement.

The travelling fans were in self deprecating mood, too, while the contrast in attitudes amongst the players was stark.

It was highlighted early in the second half.

Sebastien Bassong – the latest in a long line of hapless Newcastle defenders – headed a clearance straight to Steven Gerrard.

After the Reds skipper fizzed a shot narrowly wide, the defender was patted sympathetically on the shoulder by keeper Steve Harper.

Seconds later Fabio Aurelio sliced a clearance into touch.

It hardly posed a similar level of danger, but the Brazilian's ears were left burning by a Carragher broadside.

Liverpool were embarrassingly in control all afternoon.

It was almost as if Newcastle had accepted their most realistic route to safety lay in home games with Middlesbrough and Fulham, not in a testing assignment at a motivated Liverpool.

Which is an insult to the self-proclaimed best supporters in the world.

The truth or otherwise of that oft-quoted statement could be put to the test next season.

Manchester City, Leeds and Wolves have all attracted enormous gates in the lower leagues.

Newcastle may soon get the chance to show they can improve on the 21,125 who watched the Magpies lose to Tranmere Rovers at St James' Park when Alan Shearer was still a Blackburn striker.

That was in the formative years of the brand new Premier League before King Kevin began to wave his magic wand around St James Park and before black and white stripes became the mandatory matchday uniform for your average Geordie.

Those die-hards of the early 90s were nothing if not fiercely one-eyed, though.

It's an attitude which persists to this day. You can only hope that the distance between the Anfield Road and the Kop touchline – and a blurred view of the incident – was the reason for the sympathetic applause afforded Joey Barton by the Newcastle supporters after his thoroughly merited red card.

Barton and Xabi Alonso had bickered and niggled all match, then Barton left the Spaniard on a stretcher with a spiteful lunge.

If Barton was genuinely surprised by the colour of the card which followed – as his reaction suggested – you can only wonder at his sense of perspective.

It was the health of his central midfield duo – Javier Mascherano also exited before the final whistle – and his primary striker Fernando Torres which gave Rafa Benitez his only moments of concern all afternoon.

Torres wasn't risked after reporting a tight hamstring in training on Thursday. In truth he wasn't needed.

Dirk Kuyt appeared to prove the wisdom of his switch to right midfield with a right winger's header in the 18th minute, which flashed horribly wide of the target, closely followed by a decent cross for Yossi Benayoun's poacher's finish.

But then he swooped to bury a proper centre-forward's header six minutes later and that, bonny lads, was that.
---
MAY 4
Hair-raising display proves
Benayoun is beyond the fringe

Comment by Andrew Gilpin - Liverpool Daily Post

There's a myth that fringe players don't improve at Rafael Benitez's Liverpool. That if a squad man went to Manchester United or Arsenal they will get better before being sold for at least as much as they were bought for.

But at Liverpool they'll either be ignored or the confidence will be rotated out of them and they're shipped off in a cut-price deal to Portsmouth.

Well, one fringe man is going a long way to battle against that notion… Yossi Benayoun.

Brilliant against Arsenal, he carried on where he left off against an admittedly shocking Newcastle.

Of course it doesn't hurt that he's started four of the last five games, but the little Israeli certainly seems to have grasped form from almost nowhere.

He's gone from a player that no one would really care about if he left, to one of the main men in recent weeks.

Against Newcastle he got the first in the 3-0 victory – albeit off his knee – but it was his all-round threat which was really impressive.

Switching positions with another impressive performer in Dirk Kuyt, the Newcastle defence just couldn't cope with the pair.

In truth the Newcastle defence probably couldn't cope with the Chuckle Brothers at the moment, but that's not to do down Benayoun's contribution.

When he first joined Liverpool he looked every inch a player bought for a modest fee to try and plug a few gaps.

He was the king of losing the ball, but getting the crowd back on side by winning it back straight away. Now he doesn't lose it in the first place.

While before he used to drift out of games, now he is a constant outlet, whether it be on the right, left or through the middle.

His first touch has improved, and so has his crossing. In fact he seldom wasted a ball yesterday.

Whether this is down to Benitez grabbing hold of him in training or just a little more confidence, most Liverpool fans don't care

The end result is they've got a player worth more than the £5m they paid West Ham.

When you buy players for that sort of money there is always something missing, be it a little bit of skill, physicality or mental toughness.

You just have to hope that something wakes up in them and they fix the faults.

This is the case for Benayoun, while it never will be for the likes of Jermaine Pennant.

So with Benayoun stepping up to the plate, it negates the almost constant loss of one of Liverpool's two talismans.

It's amazing to think that Liverpool are still in a title chase with Fernando Torres and Steven Gerrard having only started 10 Premier League games together.

And as the captain returned after missing four games, Torres was left out as a precaution due to a hamstring injury.

Frustrating – especially if the title comes down to goal difference – but it's not like they really needed them against Newcastle.

They defend like lemmings and, in the case of Joey Barton, tackle like animals.

There was just no need for his second half lunge at Xabi Alonso. The guy has a self-destruct button he constantly presses.

All this added up to another miserable afternoon for caretaker manager Alan Shearer.

"You should have stayed on the telly" chided the Liverpool fans at the end of the comprehensive 3-0 victory.

Shearer could only smile and agree on the touchline.

You've got to love Newcastle supporters' optimism though, even after this.

They'll still think they can stay up, that they've got the best fans in the world and that they are a massive club.

As one wag said, they could pretend the Championship was in fact the Premier League. Cardiff could be Chelsea if you squint and Barnsley's kit looks a bit like Manchester United's from a distance.

Going down also means they could actually win something, although they'll be sad to learn the Anglo-Italian Cup is no longer running.

Or they'll probably just go through a few managers and even more centre-halves trying to get back up.

Enough sniggering at Newcastle though, they'll be plenty more time for that during the rest of the season.

For now, let a fringe man have his day.
---
MAY 3
Rafa waits for United errors

By Elliot Ball - Sky Sports

Rafael Benitez still expects Manchester United to slip up after Liverpool's gap-closing 3-0 win over Newcastle.

First-half goals from Yossi Benayoun and Dirk Kuyt followed by substitute Lucas Leiva's late header saw the Merseysiders shorten the Red Devils' lead to three points at the top of the table.

Xabi Alonso, who was on the receiving end of Joey Barton's reckless two-footed tackle, twice struck the crossbar with Steven Gerrard also hitting the framework in what could have been an even greater humiliation for Alan Shearer's Magpies.

And Benitez called on his players to be ready to pounce on any United errors as the season reaches its finale.

"There were a lot of positives from that victory," the Reds boss said. "We could have scored more and we are closer again at the top and still pushing.

"Manchester United are a good team with good players, and they will need to make two big mistakes to let us in. But I still believe they can be caught and they will make mistakes.

"All we can do is to continue to win our matches and see how they handle pressure. We must win all our games to see how that effects them at the top."

Alonso has heavy bruising on his leg following Barton's wild lunge, while Javier Mascherano has turned an ankle, but Benitez believes both will be fit for Liverpool's trip to West Ham.

The Spaniard also expects Fernando Torres to play against the Hammers. He added: "Fernando has suffered a slight hamstring problem. He was nearly ready for this one but certainly would not have started.

"That would have been too big a risk. And then to put him on the bench and maybe have him not warmed up enough to come on would also have been a risk."
---
MAY 3
Shearer: Time's running out for us

TEAMtalk

Alan Shearer admitted "time is running out" for Newcastle's survival bid after their 3-0 drubbing by Liverpool at Anfield on Sunday.

Joey Barton was sent off for a crude challenge on Xabi Alonso in the second half but the result was already in little doubt, with goals from Yossi Benayoun and Dirk Kuyt in the first half and a late header from Lucas sealing it.

Defeat leaves 18th-placed Newcastle three points from safety, with fellow strugglers and local rivals Middlesbrough next up.

Shearer told Setanta Sports News: "Did anyone really expect us to come here and get anything? I did. We did in the dressing room. Maybe our fans didn't but they came out again in their thousands.

"Whether we had enough to come here and win is a doubt but we felt we could come here and get something out of the game.

"Time is running out but we've still got two very important home games which will decide our fate, no doubt about that.

"The game with Boro...whoever loses that will find it very difficult to come back. But I believe we will get something from our next two home games."

Asked if Barton's lunge deserved a red card, a visibly angry Shearer simply answered: "Yes. He has apologised but it's been done and he is out for the rest of the season."

Pressed on whether he believed the former Manchester City midfielder had let him down, Shearer again answered in the affirmative.
---
MAY 3
Far too easy for Liverpool

By Steve McManaman - Setanta Sports

I predicted 4-0 or 5-0 so why didn't that last one go in from Steven Gerrard?

It was far too easy. I said before the game I wanted to see a little bit of spark from Newcastle to give me hope for next week but I didn't get that.

Initially, when I saw Joey Barton's tackle, it didn't look that bad but, having seen it again, he's off the floor and the referee is right behind it and can see that.

You knew the referee would send him off, he's lunging in with one foot first but the other is following it. He's seen it and sent him off.

It was a comfortable performance from Liverpool but they were quite slow in the second half as they knew it was at a canter today. It's hard to pick the pace of the game up when there's no pressure from the opposition.

It could have been anything, if Liverpool had got a third earlier in the second half. They got the third in the end to show how emphatic it was.

Fernando Torres will be sitting there saying he could have scored two, three or four today, with the space that was on the pitch. The best player on the park, arguably in the country, Steven Gerrard had more space than anybody.

Didn't they watch Chelsea man-mark him? Don't let him kick the ball, follow him around the pitch. How Gerrard didn't score today, it was only because he didn't have his shooting boots on. The one that hit the bar was the closest one.

Nobody closed him down whatsoever. Any other day, it could've been a disaster and six or seven.

You wanted one of those great shots to go in as three hit the bar and they were wonderful efforts that deserved better.

Liverpool are in a rich vein of form and finishing off the season well so it's a pity there's not another 10 games left. They're scoring goals and looking very comfortable.

There's so much confidence in the team, whoever comes off the bench slots into the game straight away. They have clicked and it's what Rafa Benitez wants.

Unfortunately, the games we'll talk about are Fulham, Hull and Stoke here. They were not creative enough and now we'd see them give them all a hammering probably.

Teams shut up shop and the likes of Stoke have drawn twice against them yet you'd expect Liverpool to beat teams of that standard.

Everybody is going to be bitterly disappointed if Liverpool do finish second. They'll be looking forward to next year with renewed confidence though as they've been so close.

They've only lost twice so they're doing something right. They are a hard team to beat and just need to make a few signings. You can see that already, they have three left backs so you know people will be moved on.

There's only Jamie Carragher on the wrong side of 30. If Gerrard and Torres are fit and well, it's important they play the majority of games together, then we will see a better Liverpool side.

If anything, though, Manchester United have come to the fore with the kids they play that got to the Carling Cup final. It means I can say they have the better squad now after seeing the full year.
---
MAY 3
Reds give Newcastle
a 3-0 mauling

Liverpool Echo

Alan Shearer's Newcastle are staring relegation in the face after a 3-0 mauling against Liverpool at Anfield.

And for the former England captain, in temporary charge of the Geordies, there was even the humiliation of hearing the Kop chant: "You should have stayed on the telly" and "Alan Shearer, football genius."

To his credit, Shearer saw the funny side, and strolled to the touchline from the bench to applause from his tormentors.

But there was no funny side for his team, who were tormented by a Liverpool side that kept their own title dreams alive and maintained pressure on leaders Manchester United.

Liverpool scored in the first-half through Yossi Benayoun and Dirk Kuyt, with substitute Lucas heading the third in the final minutes.

Newcastle's misery was compounded by having Joey Barton sent off in the second-half for a crude foul on Xabi Alonso.

Liverpool were without striker Fernando Torres, due to a recurrence of his hamstring injury, while Lucas, Martin Skrtel and Emiliano Insua were also out from the side that won at Hull last week.

It meant the return of skipper Steven Gerrard following a groin problem, while Daniel Agger - fresh from agreeing a new four year contract - replaced Skrtel in defence. Albert Riera and Fabio Aurelio also returned.

Newcastle dropped former Liverpool striker Michael Owen to the bench, while Jose Enrique was out with a hamstring injury. Joey Barton came into midfield with Peter Lovenkrands up front.

The seriousness of Newcastle's position in the table was evident from their vibrant start to the game.

Obafemi Martins fired over from 15-yards while Barton's drive smashed into Agger's face. Barton, Alan Smith and Nicky Butt were snapping away in midfield as Newcastle took the game to their hosts.

Liverpool's first effort was a Gerrard free-kick from 25 yards after he had been pulled down by Fabricio Coloccini. Then Gerrard unleashed a 30-yarder that Steve Harper palmed away at full stretch.

Next it was Dirk Kuyt, with a far-post header from Aurelio's cross, who failed to hit the target.

Newcastle needed something to justify their efforts, because Liverpool were ominously coming into the game.

It almost came when Barton put Lovenkrands clear in the box, and after rounding Jose Reina, slid in a shot that Alvaro Arbeloa stopped in the six-yard box.

Liverpool's pressure finally produced a goal after 22 minutes. The ball had fizzed into Newcastle's box from both left and right flank before Kuyt claimed possession.

He moved towards the bye-line before squaring the ball into the six-yard box. Three defenders watched as Yossi Benayoun slid in to forced the ball home from a yard out, his fourth in seven games.

Newcastle appealed for offside, and it was mighty close, a matter of inches and the sort of decision that goes against a struggling side.

The goal was the 300th in the Premier League under Rafael Benitez, and the side have now managed the highest league tally in a season under the Spaniard.

But there was no doubt about the second after 28 minutes when Kuyt's diving header from Gerrard's corner left Harper with no chance. The Newcastle marking was dreadful, with Habib Beye allowing the Dutchman a virtual free run at the ball for his 15th of the campaign.

It could have been worse for Newcastle when Xabi Alonso saw a curling 30-yarder bounce down off the bar with Harper beaten after 39 minutes.

Harper saved at full-stretch to his left as Agger crashed in a 24-yarder, Newcastle having allowed him to advance unchecked from his own half.

Newcastle sent on Jonas Gutierrez for Lovenkrands at the break, but this was a tall order now for a side who had managed one win in their previous 17 games.

Gerrard, Agger and Riera went close as Liverpool moved the ball around with efficiency and pace.

Newcastle's remarkable fans had been singing themselves hoarse, but their team were getting nowhere.

Smith was booked for a foul on Arbeloa and Ryan Babel replaced Riera, Liverpool seemingly moving towards three more points.

Alonso struck the bar again, this time from the edge of the box, and Babel created a good chance for Gerrard.

It got worse for Newcastle after 77 minutes when Barton received a straight red-card for a two-footed lunge at Alonso right in front of the Kop.

Alonso was eventually carried away on a stretcher, with Lucas taking over.

Owen and Kevin Nolan came on after 80 minutes for Mark Viduka and Martins. Coloccini was booked for a foul on Gerrard with eight minutes left.

There was time for Lucas to head the third from Aurelio's free-kick after 88 minutes.

David Ngog then replaced a limping Javier Mascherano and Gerrard hit the bar in the finals seconds.
---