---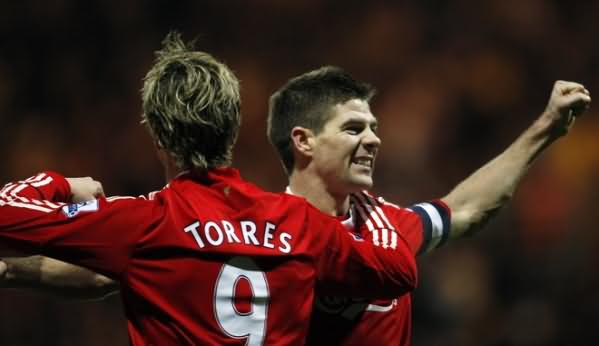 Torres and Gerrard celebrate at Preston.
(Photo: Getty Images)
JANUARY 5
Torres return will boost Reds

By Al Campbell - LFC Online

Fernando Torres' return to fitness is a huge boost says Jamie Carragher.

Torres made a goalscoring return as a subsitute against Preston on Saturday following five weeks out with a hamstring injury. Jamie Carragher believes the striker's return will give everyone at the club a boost as they look to maintain their position as Premiership leaders.

"Having Torres back has given everyone a big lift. It is great when you see a player of that calibre coming back for the second half of the season," said the vice-captain.

"Hopefully, the time he has been out will refresh him because he had a long season with the Euros.

"A lot of players have played a lot of games this season because the manager hasn't changed it around so much and it will be good to have someone like him to come back in.

"It has been a feather in the cap for everyone concerned with the club that we have reached the top of the table without having the best striker in the world over the last 12 months for periods.

"You miss a player of that quality, but it will give us a lift to have him out there."
---
JANUARY 5
Torres glad to be back

Sky Sports

Liverpool striker Fernando Torres is hoping his injury troubles are over after marking his comeback with a goal.

Torres had been sidelined for six weeks with a hamstring complaint, but came on as a substitute in Saturday's FA Cup tie at Preston North End.

He tapped in Steven Gerrard's pass in injury-time to seal a 2-0 win in the third round and is happy to be back on the pitch.

With Liverpool leading the Premier League, Torres is now eager to play a full role in the club's bid to win the title for the first time since 1990.

"Always it is frustrating when you are not playing and missing games," Torres told the Liverpool Daily Post.

"You want to be out there helping your team-mates and working hard, but the injury is in the past now.

"I have forgotten about it and I am only looking forward.

"I hope all my hamstring injuries are over and that I can keep playing and scoring for Liverpool.

"The team has shown they can win without Stevie and without me. That is very important. It shows that we play as a team."
---
JANUARY 3
Gerrard earns Lee praise

Sky Sports

Sammy Lee hailed Steven Gerrard as a 'model professional' following Liverpool's 2-0 victory over Preston.

Gerrard was charged with assault and affray earlier this week following an alleged nightclub incident.

But he was named in the starting line-up at Anfield and turned in an impressive display as Liverpool booked their place in the fourth round of the FA Cup.

Assistant manager Lee said: "Steven is a top professional, he has had the full support of this club, and you see what he is after that performance.

"He is a great footballer, he produced a terrific performance. Things have been written about him, but we know that he is a terrific professional, a model professional and this club will put all our support behind Stevie Gerrard.

"But he is a great servant for this club, a great ambassador and we will continue to support him throughout, he's a terrific guy."

Preston boss Alan Irvine hoped his men would learn from playing against the likes of Gerrard and Fernando Torres, who came on as a substitute in the second half.

"People said they were disappointed that Steven Gerrard was playing, and I suppose I was pleased initially to see Fernando Torres on the bench," said Irvine.

"But then again our lads have been excited ever since the draw, and that was because they wanted to play against Liverpool's big stars.

"It has been an education for them. For Sean St Ledger to be facing Torres was a great education for him.

"I knew Steven Gerrard would play well, he is fantastic, top class, and I knew he would do that. I have very rarely seen him do anything less than that."
---
JANUARY 3
Torres seals Reds return with goal

By Ciaran Baynes - Setanta Sports

Robbie Keane missed a hatful of chances at Preston, but the returning Fernando Torres netted in Liverpool's 2-0 FA Cup win.

Albert Riera put Liverpool in front in the first half, a period where Liverpool and returning captain Steven Gerrard in particular, set Keane up with numerous clear-cut opportunities that the £20 million man spurned.

After surviving some shaky moments, including a disallowed Preston goal, Gerrard raced clear on the break in injury time and instead of shooting himself squared the ball for subsitute Torres to nudge home from close range in his first game since November.

Keane's first gaffe came after 12 minutes when Riera got to the by-line and pulled back to the Irish striker but from six yards out he the shinned the ball well wide of goal.

Midway through the half, Liverpool did take the lead when Riera picked up a ball on the by-line on the right wing and then cut back inside two men before firing an arrow into the roof of the Preston net past the unsighted Andy Lonergan.

The Preston keeper did not do Keane any favours when he made himself big and parried away the Liverpool striker's attempted lob after he had turned well in the area to set himself up.

He had no one to blame for his next miss though when Gerrard, who put his weeks' problems behind him with a superb performance, crossing superbly from the left wing only for Keane to sidefoot a woeful effort perpendicular to the target.

Another Gerrard run and cross set up Keane with a chance to make amends on the stroke of half time but the Irishman, with no confidence, tried to square the ball to Riera whose effort was quickly snuffed out.

Liverpool began the second period with a good chance as Daniel Agger sent a free header wide from a corner.

Another fine Lonergan save denied a curling Gerrard effort from 20 yards after which Preston got back into the game and the home fans thought they had got back on level terms when Sean St Leger headed home from close range.

Their joy proved short-lived as Jon Parkin was penalised for an infringement as the striker, who was lying on the floor with Jamie Carragher after the initial cross, pulled the Liverpool defender back as he tried to rise to his feet to clear the ball.

The decision was infuriating to the home fans but undoubtedly the correct one.

Preston had half-chances as the game went on from Richard Chaplow and Youl Mawene but could not trouble Diego Cavalieri in the Liverpool goal.

As the Championship side sent everyone forward in search of an equaliser, Gerrard and Torres raced forward unchallenged in the fourth minute of injury time when the Reds skipper allowed the Spaniard - who replaced Keane with 17 minutes remaining - to get himself back in the scoring groove.
---