---
NOVEMBER 2
Murphy: Reds back on track

PA

Match-winner Danny Murphy believes Liverpool are moving in the right direction after collecting their third straight win at Fulham this afternoon.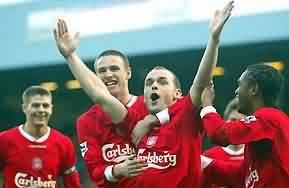 Murphy converted from the penalty spot two minutes from time to seal a 2-1 win for the Reds, after Zat Knight was penalised for a foul on Liverpool substitute Florent Sinama-Pongolle.

Murphy and Reds celebrate his
winning goal. (Photo: Empics)
Earlier England striker Emile Heskey had fired Liverpool into the lead, only for Louis Saha to level the scores from close range, before Luis Boa Morte was dismissed in the dying seconds for a crude challenge on Sinama-Pongolle.

And Murphy told Sky Sports Premiership Live he was not nervous about the late responsibility.

He said: "I like taking penalties – I actually enjoy it.

"Luckily for me Michael (Owen), who would have taken it, had gone off about 10 minutes earlier.

"More importantly for us it was a great win because we've had a sticky patch lately. But that's three wins on the spin now – and that's a good confidence booster.

"Maybe a point wouldn't have been a bad result for us – but we always though we had it in us to win the game."

Murphy is pleased Gerard Houllier's decision to play more attacking football is paying off.

He said: "We've started trying to play a bit more attacking football and you saw that in the formation today.

"Hopefully we've got the balance right now, winning games is what we want to achieve."
---
NOVEMBER 2
Captain praises Dudek

By Gary Purvis - LFC Online

Steven Gerrard has praised Jerzy Dudek for his performance that enabled Liverpool to overcome Fulham today.

"It was two good teams, up and down," said Gerrard. "You can always expect that at Fulham.

"We were confident coming here that we could get three points. We were very disappointed after the Portsmouth game to have lost our fourth game of the season so it's time to go on a run now and pick up three points and I thought we deserved the three points here today.

"Jerzy was brilliant. He's bounced back after his bit of a blip last season and he's been very strong for us this season. Hopefully he can continue that for us as we go on this run."
---
NOVEMBER 2
GH delighted with Fulham win

LFC Official Website

Gerard Houllier was delighted with his side's performance in the 2-1 win against Fulham, and praised the character of his players.

The Reds manager believes Fulham are a good side and had special praise for Sami Hyypia who was excellent at the back and goalkeeper Jerzy Dudek for some brilliant saves to deny Louis Saha.

Houllier said: "It was a very good performance and a very good result. They are a good side and you can see why they beat the champions last week at Old Trafford. They have some very skilful players.

"We controlled the majority of the play in the first half then couldn't get the second goal. They scored and it made us a bit nervous. Jerzy Dudek made some fantastic saves, especially one from Saha at the start of the second half and I thought Sami Hyypia was brilliant for us at the back.

"Florent Sinama-Pongolle did very well again when he came on and he would have scored had he not been brought down for the penalty."
---
NOVEMBER 2
Liverpool edge past Fulham

BBC Sport Online

A late Danny Murphy penalty denied Fulham the chance to move into the top four of the Premiership as Chris Coleman's side lost for the second successive time at Loftus Road.

Emile Heskey scored his third goal in two games to give Liverpool the lead but Fulham's Louis Saha equalised just before the interval.

With the game heading towards a draw the match was changed by Gerard Houllier's introduction of Florent Sinama-Pongolle.

The French youngster was brought down by Zat Knight to secure the penalty and a minute later a brutal challenge on the Liverpool substitute by Luis Boa Morte saw the Portuguese international red-carded.

Last weekend Fulham surprisingly beat Manchester United at Old Trafford and after a shaky start on Sunday, Chris Coleman's team again put on an impressive display, only to be let down by indiscipline in those frantic closing stages.

In the opening exchanges Fulham had struggled to cope with the movement of Vladimir Smicer, Harry Kewell, Michael Owen and Heskey and Steven Gerrard's domination of midfield.

Heskey almost profited from a neat interchange between Kewell and Smicer, but the Czech Republic international's pass was just too strong for the England striker.

The reprieve for Fulham proved all too brief as Liverpool deservedly took the lead when Heskey nipped in front of Andy Melville and volleyed Steve Finnan's left-footed cross past Mark Crossley.

Just after the hour Heskey almost claimed a second as he pounced on the rebound from a Smicer shot, but the England striker screwed his shot wide.

Fulham threatened intermittently, primarily through Liverpool's susceptibility in central defence to the long ball.

Twice Louis Saha almost capitalised as Sami Hyypia and Igor Biscan pushed up, notably on the second occasion after Jerzy Dudek slipped as he came to claim the ball.

Soon after Heskey's goal Saha also went close from a corner, but he put his header wide.

Saha's persistence was finally rewarded as the Frenchman claimed his sixth goal of the season.

Moritz Volz ran half the length of the pitch to reach the penalty area and poked the ball back to Steed Malbranque.

The Frenchman's cross was deflected off Gerrard into the path of Saha, who stroked the ball past Dudek.

Emboldened by his goal, Saha then had a low shot pushed on to the woodwork by Dudek in the first half's closing stages.

Within minutes of the restart, Saha drew an even better save from Dudek, when his fiercely hit shot was superbly parried one-handed by the Polish goalkeeper.

Crossley made an equally impressive one-handed save to push a Smicer chip over the bar.

Houllier's decision to bring on Sinama-Pongolle proved a masterstroke.

With two minutes remaining the Frenchman nudged the ball past Knight, who brought the Liverpool striker down and Murphy made no mistake with his penalty.

Then Boa Morte's dangerous tackle on Sinama-Pongolle saw the Fulham winger receive a red card from referee Rob Styles.
---