---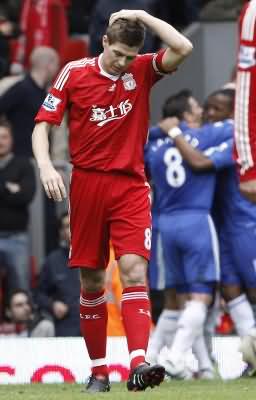 Gerrard frustrated after his Chelsea gift.
(Photo: Reuters)
MAY 3
Rafael Benítez demands answers amid
uncertainty over Liverpool's future

guardian.co.uk

Liverpool's manager, Rafael Benítez, has called on officials at the club to "answer a lot of questions" about the future direction things will take.

The Spaniard has a meeting scheduled this week with the chairman, Martin Broughton, in which he expects to be given detailed information about what plans are being put in place for next season and beyond.

Broughton, also the chairman of British Airways, has been brought in by the co-owners Tom Hicks and George Gillett to oversee the sale of Liverpool but it has taken him nearly three weeks to schedule a meeting with Benítez.

That has not pleased the manager, who would like to stay at Anfield despite strong interest from Juventus.

Benítez, 14 months into a five-year contract, wants an enhanced transfer budget in order to bring in the five players he feels they need to get back into Champions League contention, never mind a title challenge.

"We have plenty of time in this season, I still have four years of my contract left and I still I have to talk to the new chairman," said the Spaniard. "It [the meeting] is to talk about the future. Everyone is asking about my future but the future of the club is more important.

"Still I do not know what is going on in the club. I don't know if we will have any investors so there are a lot of questions – not just, for me, one question. For me the club has to answer a lot of questions. It is very clear: we have to wait and see what is going on. The future is maybe tomorrow or maybe one week; at this moment it is something we don't know."

Benítez refused to clarify his future plans after Sunday's 2-0 home defeat to Chelsea, which ended their hopes of Champions League football for next season. But he expressed his frustration at the campaign which appears to be going on around him concerning his future. He is unhappy about the way Juventus have publicly targeted him but also hinted there were may be factors at work within Liverpool to try to force his hand.

"If I have a conversation with him [Broughton] we will try to keep it private," said Benítez in his now-familiar cryptic style. "At this point we have to concentrate on next Sunday's game at Hull. There are too many rumours in the press and I know some people are just trying to create a mess.

"To be fair we were trying our best last week, signing [Charlton's two-footed midfielder] Jonjo Shelvey because still we have the same mentality – to improve the club and do the best for the club. I try to do my best every day."

Benítez has received the backing of Yossi Benayoun, although the Israel international added to the uncertainty by stating he did not know whether he would be around for the start of next season. "When you are at a big club and things go bad, it is normal for the pressure to be put on the manager," said Benayoun, who was linked with a move away in January. "Rafa has done a great job and we are trying not to look at what has happened in the past. Rafa has proven himself, he is a big manager. The people above will make the right decisions."

Benayoun admitted the squad are disappointed with the way the season had turned out, with early exits from the Champions League and FA Cup compounded by a failure to finish fourth. But he stressed the off-field situation needs to be sorted sooner rather than later.

"We have tried to do our best but it hasn't been good enough," said the midfielder, 30 on Wednesday and who has yet to decide his future. "Liverpool are a great club and I enjoy it but a lot of things are happening in this moment and we will have to see it. A club like Liverpool must do everything they can to keep players like Steven Gerrard and Fernando Torres but a lot of things can change and in a few weeks we will know better."
---
MAY 3
Liverpool are facing an uncertain
future and need an overhaul

Comment by Alan Hansen - Telegraph.co.uk

A title race may never be over until it is mathematically decided, but Chelsea can certainly head into the final game of the season knowing they have done all of the hard work.

Carlo Ancelotti's side have faced the toughest test of their run-in and emerged as convincing winners.

The question, in reality, was never likely to be whether Liverpool had the right attitude to beat Chelsea, but whether they had the right attributes.
In the end, they offered as bad a performance as they have produced this season.

That should not detract from the fact that Chelsea played extremely well at Anfield, inspired by the two players who have added to their squad most this season, Florent Malouda and Salomon Kalou. Both excelled on Sunday. Malouda has had an excellent season and Kalou has had a great four or five weeks as the campaign reaches its climax.

There was a stage when neither looked like they would be a Premier League player, when you assumed both would be shipped out, judged to be of insufficient quality. Malouda, though, has blossomed this year, and Kalou's recent contribution towards Chelsea's title push has been hugely important.

Manchester United had a similar situation at the start of their run of three league championships in as many years with Patrice Evra and Nemanja Vidic.

They struggled to impose themselves on the side when they arrived, but with time they have developed into great players. Both were awesome at Sunderland, as Sir Alex Ferguson's team secured the win which takes the title race to the final weekend.

Whatever happens next week, the differences between Chelsea and Manchester United are not vast by any means. While it has been a terrific campaign in terms of the interest and intrigue across the league, it has not been a great one for quality, as has been proved in the performance of the English teams in the Champions League.

United, Chelsea and Arsenal have all been a lot easier to beat this season than in previous years, as their defeat tallies show. It is among Europe's elite that such a weakness is truly exposed, though. If you are easy to beat in the Champions League, then you will get beaten.

That is why, regardless of whether Chelsea maintain their lead on Sunday to win the title or United manage to overhaul them, both need a considerable revamp in the summer.

Chelsea will no doubt look to strengthen their midfield, but it is their squad that has been weakened most noticeably over the years.

Under Jose Mourinho, it was always said that Chelsea's second string would finish in the top six in the Premier League, but that is simply not the case any more. They require four or five players to return them to that sort of level. Winning titles and, particularly, winning the Champions League is not about 11 players, it is about 20, and there is no question both sides need new personnel if they are to continue to be successful.

At least Ancelotti and Ferguson will only have to look to buy a handful of players this summer. Liverpool, on the other hand, may need to go into double figures before they have a squad worthy of returning them to where everyone at the club feels they deserve to be.

The worry now that their exclusion from next season's Champions League has been confirmed is whether they will be able to attract the right players to help rebuild the club.

Liverpool's supporters are the best in the world, but players do not join clubs because of the fans. They come first for money, and then for what is on offer. Without the lure of the world's biggest club competition, Liverpool simply cannot compete.

The only solace is that Liverpool are still Liverpool; they still have the history and tradition to attract players. That will only last so long, though. Should they go three or four seasons without Champions League football, even that lustre will fade.

That is why this is the most crucial period in the club's history. At the end of last season, it would have seemed impossible that they would be in the position they are now. That is the nature of football, though. It is easy to fall from grace, but extremely difficult to rise to prominence again.
---
MAY 3
Benayoun: Liverpool FC board
must get big decisions right

By Dominic King - Liverpool Echo

Yossi Benayoun today urged Liverpool's board to "make the right decisions" as he lifted the lid on the uncertainty in the dressing room surrounding the club's future.

The Reds were beaten for the 19th time this season yesterday when they lost their final home game 2-0 to Chelsea, a result that finally ended their hopes of a top four finish.

Speculation continues to swirl around Rafa Benitez's position, while the fact Liverpool have no substantial transfer kitty and are unable to offer Champions League football means some players might have to consider their future.

Benayoun is not actively looking to leave Anfield, nor does have a desire to uproot his family, but he is unsure whether there will be wholesale changes this summer that mean he will have no choice to move.

That's why he hopes the board can complete the sale of the club in order to give Liverpool the best chance of leaving the inadequacies of this campaign behind.

"It is difficult to speak about next season, as we don't know what changes there will be with the players and the staff – it is too early," said Benayoun.

"Personally I don't know whether I will be here or if I won't. A lot of things can happen. We will have to wait and see.

"When you are at a big club and things go bad, it is normal for the pressure to be put on the manager.

"Rafa has done a great job and we are trying not to look at what has happened in the past (this season).

"We have tried to do our best but it hasn't been good enough. Rafa has proven himself, he is a big manager. The people above will make the right decisions."

When pressed on the ambiguity of what his thoughts for next season are, Benayoun replied: "Liverpool is a great club and I enjoy it.

"But a lot of things are happening in this moment and we will have to see it.

"A club like Liverpool must do everything they can to keep players like Stevie (Gerrard) and Fernando (Torres) but a lot of things can change and in a few weeks we will know better.

"If it depended on me, I would stay here and retire in Liverpool. The fans are the best in the world but it depends on a lot of things.

"It will be very clear soon."
---
MAY 3
Surrender proves Rafa is
hindrance to Reds' recovery

Comment by Kevin Garside - Irish Independent

The urgent changes required at Liverpool might start with the message over the tunnel steps: this is not Anfield. Championships have been decided in favour of Liverpool and others in front of the Kop but never like this. Anfield was on its back having its tummy tickled by a Chelsea team playing the game at exhibition pace.

The stubborn defiance of Manchester United means Carlo Ancelotti must wait until Sunday to celebrate a championship in England. He will. Wigan would struggle to spoil that party were they to bring their rugby team with them. The undeniable conclusion hammered out here was of one team being led and another abandoned.

In his moment of crisis following the Champions League defeat to Inter Milan in March, Ancelotti looked first to himself for an explanation and then to everybody else for a response. His counterpart, Rafael Benitez, inverts that process. The fault for Liverpool's demise lies not with him but the owners, the bankers, the chairmen, the board, the stewards, the ball boys, blah, blah.

The damning verdict on Liverpool's season was given by the steward at the gate. And that was on the way in. Well, what do you reckon today? "I don't care," he said. "There is nothing doing for this team any more."

The indifference of those with Liverpool in their hearts condemns Benitez to his bootstraps. He walked into the post-match press conference with a smile on his face after parading around the pitch with the Liverpool family. Maybe he knows something we don't. At least Jamie Carragher had the decency to look embarrassed as he limped across the field in his sandals and suit.

Benitez resisted all questions about his future, saying only that in the past two years the responsibility for running this club had been his alone. "That is not normal," he said.

He awaits a meeting with the chairman this week. He could not name which day club chairman Martin Broughton would designate for Liverpool duty. He is busy in his main role with British Airways for most of the week, apparently.

Benitez has become one of the structural impediments to recovery at Liverpool. He plays cat and mouse with the emotions of the fans for reasons known only to himself, while leaving a trail of dubious clues as to what the future might hold. Meanwhile, as England's most decorated club shrink from view, Tottenham and Manchester City gather at the gates to fight for the ground Liverpool have surrendered.

Chelsea were not even made to fight here, which shames the club that Bill Shankly built. And to think that on that insane night five years ago in Istanbul, Benitez allowed the idea to pollinate that he might be the man to fill Shanks' boots. He couldn't lick them now.

Ancelotti is a different matter. Managing in the house of Abramovich requires tact as well as well as daring. He was told by expert opinion that his tenure would be short after the Jose Mourinho show blew through Stamford Bridge in March.

Ancelotti impressed in the immediacy of the Mourinho eclipse. He accepted with grace a result earned deservedly by his nemesis. Chelsea looked like a team who had reached the limit of their potential that night, or perhaps worse, a team who were in decline. The draw at Blackburn five days later was not the emphatic response which Abramovich was seeking. The phone-ins groaned with calls for Ancelotti's head.

Those same constituents were screaming his name at Anfield, though it took the intervention of Ray Wilkins to help their voice get through. "Carlo, they are asking for a wave," Wilkins said, interpreting English football culture from the dugout. Wave he did. It was that kind of afternoon.

This has not been a vintage season. Liverpool were never contenders. United tried their best not to be before Christmas and Arsenal showed their glass jaw too many times. Chelsea's win at Anfield completed the double over Liverpool, the same medicine handed out to Arsenal and United. On those grounds alone Chelsea deserve the major prize.

It does not mean they start favourites next year. United will not be so vulnerable again and Arsenal will be stronger for the additions planned over the summer. The future for Liverpool is not so clear. The mood around Anfield yesterday was surreal, as if the occasion were loaded with significance but all were sworn to secrecy.

Benitez did not look interested. Perhaps wife Montse has spotted something nice in the Juventus brochure. Steven Gerrard looked fed up before he passed the ball to Didier Drogba for Chelsea's opening goal. Was he playing his last game in front of the Kop? Nothing can be discounted. This was not Anfield.
---
MAY 3
Liverpool FC facing
a dark future ahead

Comment by David Randles - Liverpool Echo

As the World Cup approaches, a debate will be rekindled as to whether Steven Gerrard and Frank Lampard can play together.

With a goal and an assist between them yesterday, Franco Baldini will report back to FA headquarters with differing reports.

Fabio Capello's number two was at Anfield to see Chelsea move to within a whisker of their fourth league title.

It is this very accolade that is said to have turned Gerrard's head southwards a few years ago.

For a boyhood Liverpool fan, though, winning the league with Chelsea would probably be tantamount to an Italian winning the World Cup with England.

But in keeping with the conspiracy theories emanating from the other end of the East Lancs Road last week, there can be no question Gerrard did his bit for their title bid here.

Gerrard's defence splitting pass that found Didier Drogba instead of his intended target, Pepe Reina, evoked memories of a similar gaffe that gifted Thierry Henry the winner at Highbury four years ago.

While the difference between Gerrard's couple of uncharacteristic mistakes is that the first left Liverpool little time to respond whereas yesterday's indiscretion came in the 33rd minute, they are similar in that they both effectively killed each game.

Carlo Ancelotti, Rafa Benitez, and Drogba himself all admitted afterwards that this was the turning point in what, until then, had been a closely contested match.

Once the ball hit the back of the net, though, it was like sticking a pin in a balloon.

Shattered mentally from a damning season; and physically from the energy sapping demands of extra-time in the Europa League semi-final less than 72 hours before, Drogba's sucker punch exhaled the last breath from Liverpool's terminal Champions League hopes.

The half-time announcement that Liverpool ladies have won the Premier League Northern Division was greeted with ironic applause.

And yet Benitez's side can claim to have been involved in the title race with just two games remaining.

Only this wasn't what anyone had in mind back in August.

In was on the penultimate day of last season that Liverpool finally gave up the chase and Manchester United were crowned champions.

That the best Liverpool can now hope for is to come some 21 points behind last season's record points haul highlights how far the Reds have fallen.

Like it or not, the bottom line is that Liverpool are simply no longer good enough to compete with the likes of Chelsea, Arsenal and Manchester United.

It was as clear yesterday as it has been all season.

If this season is a blip, perhaps last year was an anomaly, when certain players exceeded expectations to produce the club's closest title challenge for the best part of two decades.

Liverpool were unbeaten among the top four clubs last season, taking 14 points in the process.

Twelve months on and they've taken just three, from October's win over Manchester United.

The absence of Fernando Torres can't be blamed either given how he's figured in four of these matches this season while missing last season's wins at Stamford Bridge and over United at Anfield.

Of course, having him fit and available increases your chances demonstrably but, as Benitez alluded to following what was an 11th Premier League defeat of the campaign yesterday, Liverpool don't have the strength-in-depth to compete in the top four anymore.

After six years at the club, there are those that will point the finger at the manager for that. Apart from Gerrard and Jamie Carragher, they are all his players.

There are others who will nod to a lack of appropriate investment from the club's American owners.

In truth, it's a bit of both.

But as the political manoeuvring continues at Anfield deep into general election week, it remains nigh on impossible to determine who is counting the votes anymore let alone casting them.

Regardless, the deficiencies within the squad are as glaring as Joe Cole's bald patch that was evident as he warmed up in front of the Main Stand yesterday.

That is why, instead of wondering how Chelsea, Arsenal and United are doing, Liverpool must now concern themselves with the likes of Aston Villa, Tottenham, Manchester City and perhaps Everton next season.

Although the club's interest in fourth place has finally been extinguished, Liverpool must still keep a watchful eye on the situation and hope beyond hope that Spurs clinch it.

Their game at Eastlands on Wednesday has been billed as the £100 million match.

Should the Abu Dhabi backed billionaires take the Champions League place vacated by the Reds, there is a real danger they won't be surrendering it for some time.
---
MAY 2
Rafa refuses to commit to Reds

Sky Sports

Rafa Benitez has again refused to commit his future to Liverpool amid mounting speculation that his days in the Anfield hotseat are numbered.

Benitez watched his side suffer a 2-0 home defeat by Chelsea on Sunday to finally extinguish any lingering hopes they had of achieving the fourth-place finish which was 'guaranteed' by the Spaniard earlier in the season.

The Reds have endured a dismal campaign by their own high standards, with Thursday's Europa League semi-final exit at the hands of Atletico Madrid cutting off their final route to possible silverware in the continent's second-tier competition.

Benitez, who has completed just 12 months of the five-year deal he signed in 2009, has been strongly linked with a move to Juventus this summer.

Finish
But the former Valencia boss has consistently evaded questions over his future and again passed up the opportunity when asked after the Blues defeat if he would still be at Anfield next season.

"Now we have to talk about the game, it is better than to be talking about the speculation," he told Sky Sports.

"I understand really well [fans' concerns over his future], but the speculation is something we cannot control. So we have to talk about the games, the football and what happened today on the pitch."

And when pressed again, he responded: "Don't carry on, don't carry on. Finish."

The clash with Chelsea turned on an error by captain Steven Gerrard in the 33rd minute when his attempted backpass to Jose Reina was seized upon by Didier Drogba to slot home, with Frank Lampard adding a second after the break.

Not the best
Benitez admitted the blunder was the turning point in the clash and was prepared to accept that Liverpool's season has not reached the levels they would expect.

He said: "These things can happen in football. It is a pity because we were more or less in control. It changed the game and it changed the result at the end.

"It is not the best, that is clear. We were expecting to be higher in the table, we have had too many problems.

"I have shown my commitment with the fans and the club in the past and this year. We still have one game to play so we will try and be ready for this game.

"I have four years on my contract and we have to carry on."
---
MAY 2
DD: Gerrard gaffe
gave us momentum

TEAMtalk

Didier Drogba admitted Steven Gerrard's mistake gave Premier League leaders Chelsea the momentum they needed to claim victory at Anfield.

Drogba nipped in to intercept Gerrard's back pass to put Chelsea ahead and Frank Lampard added a second after the break.

Drogba told Sky Sports 1: "He made a big mistake. I was lucky to be there and score. It was good because this goal gave us a lot of confidence to play well."

The Ivory Coast striker claimed referee Alan Wiley should have given the visitors a penalty when Salomon Kalou appeared to be fouled.

Drogba added: "It's not easy to make a decision like this but when it is a penalty you have to give it."

Man-of-the-match Lampard was pleased to get a difficult match out of the way.

He said: "This was a huge game for us, if we had dropped points today we would have given the advantage to Man U."

Lampard also had some sympathy for Liverpool, who were knocked out of the Europa League at the semi-final stage by Atletico Madrid on Thursday.

"It's been a difficult week for them, getting knocked out of the cup, and they gave everything they had."
---
MAY 2
Gerrard gift lifts Chelsea

Sky Sports

Steven Gerrard's astonishing blunder allowed Chelsea to take a giant stride towards the Premier League crown with a 2-0 victory over Liverpool at Anfield.

Gerrard was left with his head in his hands in the 33rd minute after his attempted backpass to Jose Reina was seized upon by Didier Drogba, with the Ivory Coast international rounding the goalkeeper before slotting home.

Chelsea felt they should have had a penalty moments before the interval with Salomon Kalou going down after tangling with Lucas, but referee Alan Wiley was uninterested, much to the Blues' fury.

But they did not have to wait long to double their advantage after the interval with Frank Lampard sliding the ball home from close range after Nicolas Anelka's low cross from the right.

Carlo Ancelotti's men now boast a four-point cushion over nearest challengers Manchester United, who must beat Sunderland at the Stadium of Light later on Sunday to keep the title race alive, given the Blues' superior goal difference.

Liverpool, who had more than matched their opponents until the opener, rarely looked like getting back into the match from that point and saw their faint UEFA Champions League hopes finally extinguished.

Chelsea were undoubtedly the better side in the end but the match may have turned out differently had they not been gifted a 33rd-minute lead in a moment which will allow the conspiracy theorists to have a field day.

Bustling
Some fans had been suggesting all week they would rather Chelsea win at Anfield than beat the Stamford Bridge side and hand United the chance to eclipse the club's tally of 18 league titles.

However, even they could not have prophesied the manner of Chelsea's goal as Gerrard failed to notice Drogba when he passed back to Reina and the Ivory Coast international nipped in to score.

Prior to that, the early exchanges had been open. Lampard shot wide and Anelka forced Reina into a low save while Liverpool's Maxi Rodriguez and Javier Mascherano, standing in at right-back because of Glen Johnson's calf injury, saw shots deflected wide.

There were also three penalty claims in what was a bustling first half, with the two for Chelsea involving Kalou.

His first looked to be a dive in the ninth minute under Mascherano's challenge but referee Wiley allowed that to go unpunished, and the official was again unimpressed after the tangle with Lucas just before the interval.

Alberto Aquilani had a 26th-minute penalty shout rejected as he went down under Branislav Ivanovic's challenge as he raced on to Rodriguez's chipped pass.

The loss of Rodriguez to injury just before half-time, when he was replaced by Ryan Babel, was a blow to Liverpool as the January signing had looked lively.

Influential
Six minutes into the second half Kalou muscled his way past Mascherano to drill a cross into the six-yard area, where Anelka failed to get the touch which would certainly have brought a second Chelsea goal.

But the Frenchman played a more influential role in the 54th minute when his cross picked out Lampard who bundled home from close range.

If that was not bad enough for Liverpool, they then lost Carragher to injury which meant 19-year-old Daniel Ayala was thrust into the action.

It would have been 3-0 in the 67th minute had it not been for Reina's excellent one-handed save from Florent Malouda's well-struck low shot.

David Ngog replaced Aquilani for the final 15 minutes but Liverpool were a spent force with only Reina keeping Chelsea at bay, punching away Michael Ballack's 25-yard free-kick and then producing a smart double save from Anelka and then Kalou.

The defeat meant Liverpool will finish the season with their lowest points total in five years, since accruing 58 in Rafa Benitez's first campaign in charge back in 2004-05.

Whether the Spaniard, strongly linked with Juventus, is around next season to rectify that remains in doubt.
---