---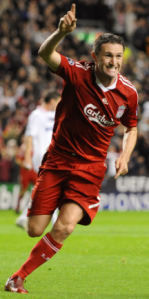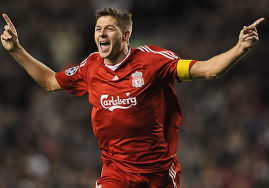 Gerrard's celebrating his 100th goal for Liverpool. (Photo: Getty Images)
...while Keane's celebrating his first goal for the Reds. (Photo: Empics)

OCTOBER 2
Gerrard the man for all seasons

TEAMtalk

Steven Gerrard this week scored his 100th goal for Liverpool in the win over PSV. TEAMtalk waxes lyrical about the Anfield lynchpin.

The net billowed and Steven Gerrard ran to the touchline and slid on his knees in trademark celebration.

His 100th goal for Liverpool Football Club had been safely dispatched, albeit in a routine Champions League victory against PSV Eindhoven, and not for the first time the thought came to mind that rarely could a footballer have given a club more distinguished service.

For 11 years, Gerrard has been shedding buckets of sweat in Liverpool's cause - 21 years if we count his time in the Liverpool youth set-up where his talent was identified not too long after his seventh birthday.

In an age when footballers change clubs at the drop of an agent's contact book, that is some achievement.

You would go a long way to find a more stirring example of loyalty in a sport which erased that particular word from its lexicon about the same time it retired laced-up footballs.

We know Gerrard could have gone to Chelsea where by now he would have two Premier League titles to his collection and an even bigger bank balance.

In truth, Gerrard could have gone anywhere. Real Madrid, Manchester United, Barcelona. They would all have been delighted to pay whatever it took to take a midfielder of his calibre.

But Gerrard has stayed at Liverpool, his hometown club, his first and only love, where he has the memory of that incomparable night in Istanbul in 2005 when he played the pivotal role as the club added their fifth European Cup to their haul of silverware.

He also has winning medals from two FA Cups, two League Cups, a UEFA Cup and two European Super Cups on his impressive CV.

A tidy haul of silverware by any standards but the big one in the eyes of Liverpool fans, the Premier League, is missing.

That is what confers bragging rights. That is the true measure of dominance, especially since the English league has become by far the richest and most powerful in football.

And for the first time in 18 years Liverpool appear to have a real chance.

For the first time manager Rafael Benitez seems to have ditched his obsession with rotation in favour of playing his strongest side. The defence is solid, the midfield creative and Robbie Keane and Fernando Torres show signs of gelling into a formidable striking partnership.

And, best of all, Gerrard at 28 appears to be in the prime of his career.

How good? Benitez is in no doubt.

"For a midfielder to score 100 goals is very impressive," he says.

"He is among the very best offensive midfield players anywhere."

Here we need to resort to midfield statistics, but stick with it, it is revealing.

Gerrard's 100 goals came in 446 matches.

By contrast French midfielder Zinedine Zidane, who some believe to be the best player who ever lived, scored 94 goals in 507 games for the four clubs he played for.

That is the company which Gerrard keeps, although it should be noted that Frank Lampard has scored 115 in 378 matches for Chelsea and 155 in 576 if we count his other clubs, West Ham and Swansea. No wonder successive England managers have attempted, come what may, to shoehorn both of them into the same midfield.

Both still have some way to go to match the feats of France's Michel Platini, who scored 224 goals in 433 games for Nancy, St Etienne and Juventus while Sir Bobby Charlton managed 249 in 758 appearances for Manchester United. In numerical terms Gerrard has some way to go to catch those goal-scoring feats.

But goals, as with Zidane, merely garnish the lung-bursting runs, the passing vision, the thunderous shooting, the tough tackling and the inventive work of Gerrard.

We could go on. Suffice to say that Gerrard is the heartbeat of Liverpool.

This week he proffered 100 reasons why he is as near to irreplaceable as a footballer gets.

In truth, there are many more.
---
OCTOBER 2
Gerrard joins Liverpool FC
ton-up heroes in style

By James Pearce - Liverpool Echo

It was a fitting way to reach an impressive milestone.

Steven Gerrard has never been one for tap-ins and Anfield erupted as he brought up his remarkable century with a trademark pile-driver in front of the Kop.

When Fabio Aurelio touched a 25-yard free-kick into his path 14 minutes from time, there was a sense of inevitability about where it would end up.

PSV Eindhoven keeper Andreas Isaksson had no chance as the skipper's unstoppable right-footed drive tore into the net.

Fists clenched, joy pumped through the inspirational captain's veins as he slid on his knees towards the corner flag before being mobbed by his team-mates.

He has scored many more important goals for the Reds but few have been as sweetly struck.

It was the 28-year-old's 100th goal for Liverpool in his 448th appearance.

The boy from Huyton has come a long way since he opened his account for the Reds with a stunning individual effort against Sheffield Wednesday at Anfield back in December 1999.

For the best part of a decade, Gerrard has been the heartbeat of the side, frequently taking on saviour status as he almost single-handedly dragged the Reds to glorious triumphs.

From the crucial late strike which secured Champions League progress against Olympiakos, to the header which kick-started the miraculous comeback against AC Milan in Istanbul and his two-goal heroics against West Ham in the 2006 FA Cup final.

Gerrard remains the only player to have scored in the Champions League, UEFA Cup, FA Cup and League Cup finals.

He only managed 28 goals in 240 games under Gerard Houllier but during Rafa Benitez's tenure he has been transformed with the midfielder netting 72 in 208 appearances.

Last night's was his 55th goal at Anfield and his fourth of the current campaign.

Gerrard is now level with Kevin Keegan in 15th place in the Reds' all-time scoring list and his manager has challenged him to double his tally.

Benitez said: "100 goals is always a very good figure, but it is especially good for a midfielder.

"Steven is one of the best offensive midfielders in the world. We saw it tonight and hopefully we will see it again in the future.

"He is still young and he can maybe score 200 goals."

It was a clash littered with significant milestones, as in Benitez's 250th game in charge Dirk Kuyt scored the Reds' 100th European goal under the Spaniard and Robbie Keane finally ended his goal drought.

But last night was all about Gerrard, who became the first midfielder in Liverpool's history to take his place in Anfield's exclusive 100 club.

Anfield's 100 Club:

1 Ian Rush 346, 2 Roger Hunt 286, 3 Gordon Hodgson 241, 4 Billy Liddell 228, 5 Robbie Fowler 183, 6 Kenny Dalglish 172, 7 Michael Owen 158, 8 Harry Chambers 151, 9 Sam Raybould 130, 10 Jack Parkinson 129, 11 Dick Forshaw 124, 12 Ian St John 118, 13 Jack Balmer 111, 14 John Barnes 108, 15 Kevin Keegan 100, STEVEN GERRARD 100
---
OCTOBER 2
Kuyt: League record not a concern

By Jimmy Rice - LFC Official Website

Dirk Kuyt claims he does not worry about converting his European goals record into domestic football.

The Dutch forward has scored an impressive 10 goals in 27 Champions League games for Liverpool, an average of one every 2.7 games. In the Premier League, however, Kuyt's record is one every 4.8 games after plunging 15 from 72.

After netting another Euro goal against PSV on Wednesday night, the 28-year-old told Liverpoolfc.tv such statistics were not a concern.

"You know, a lot of people talk about scoring goals in the Champions League or Premier League, but for me it's just about winning the games," said Kuyt, who more often than not plays on the flanks these days.

"We have made a really good start to the season here at Liverpool. We're joint top of the league and have six points in the Champions League. This is the most important thing.

"We can talk every week about goals but the most important thing is winning games.

"I know I'll score goals in the Premier League but to me, whether or not I get an assist or a goal, it doesn't matter that much. I just want to win games."

Kuyt's goal, which was deflected into the net on five minutes, paved the way for a comfortable 3-1 victory over the champions of his homeland.

He added: "It's always special to play and score against a side from your own country. I think PSV are the best side in Holland and have been for a few years.

"I had a bit of luck after the corner but sometimes you need that to score a goal.

"I don't think we played our best game but we were in control for 90 minutes. PSV aren't the same side they were a few years ago but they are still a decent team.

"Tonight we passed the ball very well and deserved to win the game and it's quite different from last year. That is what we wanted, that is what we talked about.

"I don't know how many points we need to qualify but hopefully we'll get another three points in Madrid, though it will be difficult because Atletico are a tough side.

"Anything can happen in the Champions League. Last season we only had one point from the first three games and we still went through, so you never know. We can't relax."

On Robbie Keane getting his first Liverpool goal, Kuyt said: "It was great to see Robbie get his first goal and see how happy he was. He deserved it. He has played really well in these last few games for Liverpool and I am sure he will score a lot more for us."
---
OCTOBER 2
Keane: I had to leave Spurs

By Chris Hatherall - Daily Mail

Robbie Keane insisted he was right to follow his dream and leave Tottenham after finally breaking his duck for his boyhood heroes Liverpool last night.

Keane quit White Hart Lane for Anfield in a £20.3m transfer in July after telling manager Juande Ramos that he had always wanted to play for Liverpool since he was a football-mad boy in Dublin.

He has been under intense pressure ever since, having gone 10 games without scoring. But he got off the mark with the second goal in a 3-1 Champions League victory over PSV.

Keane said: "I knew I was making the right move, I always knew it was right for me. This is why I came to Liverpool for games like this and to be challenging for the big honours.

"Since I've come here everyone at the whole club has been great to me. The fans have been fantastic and hopefully I've paid them back a little bit now.

"It's nice to get the first one out of the way because it stops people talking about it. That's been the annoying thing because as a player I don't worry about it. I know I'll score goals and I don't get myself down about it when it doesn't happen. But now I'm getting more confident every game and I know more goals will come."

Keane's strike came after 34 minutes at Anfield, when Fernando Torres burst down the right to send over a low cross for his team-mate to sweep home first time.

"It was a nice ball by Fernando and I caught it first time and, luckily enough, it went in," said Keane, who has also helped Liverpool to the top of the Premiership.

"It's been a great start for the team this season. We can't count our chickens but at Liverpool we're looking to win trophies."

Last night's match also featured an opening goal from Dirk Kuyt and a late free-kick from Steven Gerrard - which was the 100th goal of his Liverpool career.

Keane said: "It's great for Stevie, what he's done for this club is unbelievable. I'm glad he scored because I know what it's like being on 99.

"I was in the same situation last year at Spurs, with everybody talking about getting my 100th and it took a while to come. So it's nice to get it out of the way."
---
OCTOBER 2
Gerrard dedicates goal to Kop

Sky Sports

Steven Gerrard has dedicated his 100th goal for Liverpool to all the club's fans.

The Reds skipper reached the milestone with a trademark fierce free-kick in front of the Kop end during Liverpool's 3-1 win over PSV Eindhoven in the UEFA Champions League.

Gerrard was delighted to reach the century mark and paid tribute to the support he has received during his time at the club.

"It was great to get my 100th goal in front of the Kop to say thank-you for all the support the fans have given me over the years," Gerrard told Sky Sports 2.

"But the most important thing tonight was to get another win to put ourselves in the driving seat in the group.

"We are a very confident group this season and there is a good bond between the players on and off the pitch.

"But we have not won anything yet and it's important we do win some silverware this season."
---
OCTOBER 2
Why Dirk Kuyt is
Liverpool FC's unsung hero

Comment by Ben Thornley - Liverpool Daily Post

It's not only Anfield that is transformed by the floodlights and the Champions League anthem. So often the unsung hero of Liverpool's domestic success, Dirk Kuyt's contribution in Continental action is always more tangible.

Robbie Keane last night brought an end to his Liverpool duck with a smart finish and a series of somersaults after Kuyt had begun the scoring on five minutes by grabbing Liverpool's 100th European Cup goal under Rafael Benitez.

However, the Irishman's goal drought was not the most glaring of Anfield's marksmen.

Kuyt's opener may have been his second of the season, but the Dutchman has failed to register in the Premier League since netting against Newcastle in the November of last year.

A shocking statistic even for a striker continually played out of position on the right wing.

Of his 27 goals for the club since his £9m move from Feyenoord in 2006, 10 have arrived in this competition.

They have often been vital, too.

Liverpool owe their presence in Group D to the Holland international's decisive strike against Standard Liege in the qualifying round.

And last night he was again the architect of a comfortable victory over a disappointing PSV Eindhoven, scoring the first before playing a significant role in the build-up to Keane's maiden strike in a red shirt.

The Champions League is undoubtedly Kuyt's stage. But why is there such a disparity between his European and Premier League form? Admittedly, it's a question that has often been asked of Liverpool themselves.

The problem certainly isn't a lack of application.

Perhaps it's because many of the attributes which are responsible for Kuyt's success in the Champions League and previously for Feyenoord, where he became a fans' favourite by scoring 71 goals in 101 appearances, are unspectacular in England.

In Holland, Kuyt's work-rate was unparalleled in a country that delights in touch and technique rather than toil and tenacity.

He was also among the best headers of the ball.

Both are significant factors in why he was able to dominate the Dutch goal-scoring charts in the manner he did.

In the Premier League, however, such qualities are a pre-requisite. The defenders are also bigger, meaner and also more dominant in the air.

Strikers with his unselfish approach are commonplace in English football – think Mark Hughes, the Manchester City manager taking his place in the directors' box just in time to see Kuyt ripple the net.

The 28-year-old is unlikely to be on the Eastlands manager's shopping list this summer, given City's resources, but he will have appreciated Kuyt's performance.

It may be hard for many observers to understand his importance to this Liverpool team, but certainly not for his team-mates or his manager Benitez.

Unpleasing on the eye his style may be, but more often than not when Benitez's side score, Kuyt is more often than not involved, as he was in the first of Fernando Torres's Merseyside derby goals at the weekend, his relentless running creating space for more gifted colleagues.

Of which Keane, who nevertheless possesses the same work ethic, is one.

It proved to be a night of milestones for Liverpool, Kuyt scoring Liverpool's 100th in Europe under Benitez, Gerrard collecting his 100th career goal.

But it was the Anfield club's 101st continental strike of Benitez's reign which could prove to be the most significant. Keane, it is fair to say, has one of the more ludicrous goal celebrations but it proved a welcome sight here at Anfield last night – especially for his manager.

It certainly won't prove to be the last time it is given an airing at this stadium.

The Irishman has endured a slow start to his Anfield career but his performances against Everton and last night against PSV suggest he is now ready to justify the £20m Benitez paid Tottenham Hotspur for his services.

If Keane can master the Premier League in the manner Kuyt has Europe, it will prove to be money well spent.
---
OCTOBER 1
Benitez hails 'perfect night'

By Gareth Bicknell - Liverpool Daily Post

Rafael Benitez hailed Liverpool's best start to a Champions League group campaign, after their convincing 3-1 victory over Dutch champions PSV Eindhoven.

It is the first time Liverpool have taken six points from their first two matches - and they and Atletico Madrid are strong favourites to reach the knockout stage from Group D.

Benitez saw Robbie Keane score his first goal for the club and captain Steven Gerrard his 100th, before substitute Danny Koevermans grabbed a late consolation for the visitors at Anfield.

"It was almost the perfect night," said the Reds boss.

"It was a really good game for us with lots of positive things, a solid performance with balance and quality.

"Now we must keep on winning. This is a very good start for us - different maybe from last season when we did not start our group matches that well."

Keane and Gerrard came in for particular praise from the manager.

"I was pleased for Robbie Keane," he added.

"Now he has got his first European goal for us, I hope he will now score his first Premier League goal.

"I know Robbie will score a lot more goals for us in the future, so this was just the first step for him.

"I was pleased also for Steven Gerrard. For a midfielder to score 100 goals is very impressive. He is among the very best offensive midfield players anywhere."
---
OCTOBER 1
Keane helps Reds past PSV
Gerrard also on target on a landmark night

By Chris Burton - Sky Sports

Liverpool breezed to a 3-1 victory over PSV Eindhoven on Matchday Two of the UEFA Champions League.

Dirk Kuyt opened the scoring early on, before Robbie Keane and Steven Gerrard ensured a solitary strike from Danny Koevermans was nothing more than a consolation.

The hosts dominated proceedings from the off and it came as no surprise when they opened the scoring after just four minutes.

Fernando Torres' volley from a Gerrard corner was well kept out by Andreas Isaksson, but the former Manchester City was unable to prevent Kuyt smashing the rebound through his grasp and into the roof of the net.

PSV produced little going forward and looked lacklustre throughout, before falling further behind on 34 minutes.

Torres did well to create space on the right and the Spaniard swung over a cross for Keane to volley home his first goal for the club.

On a landmark night, Gerrard then bagged his 100th goal for the Reds on 76 minutes when he smashed a 30-yard drive past a helpless Isaksson.

PSV snatched a lifeline two minutes later when Koevermans restored some respectability to the scoreline, but the game had long since gone for the Dutch outfit.

With their side previously unbeaten this term, it was no surprise that there was an air of expectation around Anfield at kick-off, and after four minutes the Kop got the start they wanted.

Gerrard's first corner, from the right, was met by a Torres first-time shot. He was criminally left unmarked with Jeremie Brechet hopelessly adrift of his prey.

Somehow Isaksson blocked the Spaniard's effort, only for Kuyt to ram home the rebound from 10 yards.

Xabi Alonso tried another of his trademark 60-yard efforts, with Isaksson having to back-track to catch the ball, before Keane had a good penalty shout turned down when he was caught by Carlos Salcido.

Kuyt tested Isaksson again, this time with a 20-yard effort on the turn that the Swedish goalkeeper held low to his left.

Torres then headed wide from a Fabio Aurelio corner, before setting up Keane for his first Liverpool goal.

It came after 34 minutes when Kuyt's hard work sent Torres away down the right.

When the low cross arrived in the box, it was met by Keane first-time, his shot speeding into the far bottom corner of the net.

PSV needed to do better after the break to rescue some pride. They brought on young defender Erik Peters for Brechet, and at last started to come forward with some conviction.

Otman Bakkal saw a 25-yard shot fizz just wide, before Salcido's tackle on Torres sent the Spaniard spinning to the turf, and a hush fell over the stadium until he struggled painfully to his feet.

Nordin Amrabat, who had battled away bravely on his own in attack, then unleashed a fierce 20-yard effort which thudded just wide.

Torres should have ended the debate after 65 minutes when Jan Kromkamp's wayward pass put him clear - but his flick past Isaksson drifted inches wide of the far post.

The game was seemingly meandering to an inevitable conclusion, with Yossi Benayoun now on for Albert Riera.

Gerrard was the next to try his luck, lifting a shot over from just outside the box, before Lucas replaced Keane.

Dirk Marcellis was booked for a foul on Torres, and that paved the way for Gerrard to grab his 100th goal for Liverpool after 75 minutes, smashing a fierce 25-yarder past Isaksson, to the acclaim of the Kop.

But PSV hit back three minutes later, when substitute Balazs Dzsudzsak crossed from the right.

The ball cleared Jamie Carragher to allow Koevermans to get to it ahead of Martin Skrtel, and he headed past Jose Reina from 10 yards.

Ryan Babel replaced Gerrard with nine minutes to go - and the Reds comfortably saw out the closing stages of the match.
---