---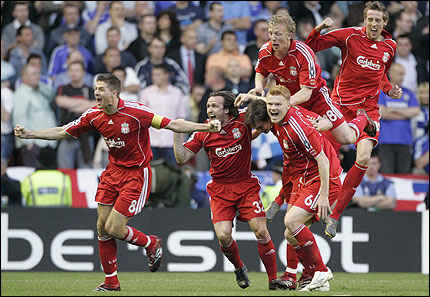 Reds celebrating a new Champions League Final.
(Photo: Reuters)
MAY 2
Reds won't let stars depart

By Andrew Scurr - Sky Sports

Liverpool co-owner Tom Hicks is adamant there are no plans to let any of the club's star players leave.

Following The Reds reaching the UEFA Champions League final, the new owners want to build on their success.

That means not letting the likes of captain Steven Gerrard and defender Jamie Carragher depart Anfield at any price.

Hicks, fellow co-owner George Gillett and Rafa Benitez have already discussed players' futures, with Gerrard high on the agenda.

"As far as keeping our players, that is on-going. We have sat down with Rafa a few times now and know what he wants," Hicks said.

"But I cannot imagine Steven Gerrard playing for anybody else but Liverpool.

"He will be here for a long time - we have already been speaking to his agent and those of our best players."

Meanwhile, Hicks also updated the situation surrounding the club's new Stanley Park stadium, which is due to be completed in time for the 2009/10 campaign.

He added: "On the new stadium, we will honour the plans already in place but things are being changed. We have talked to people and we do not want to start over with the plans again.

"So far we have worked on its insides, the outside is next, but we are near to being able to announce our new plans.

"We have to compete with Manchester United who can get over 70,000 in their stadium, while Arsenal's new ground has 60,000, and with London prices.

"Liverpool has a unique market. We have a huge waiting list of fans wanting to buy tickets so we want a bigger stadium than the one previously envisaged."
---
MAY 2
Benitez the master of Europe

By Phil McNulty - BBC Sport Online

Rafael Benitez may struggle to return the Premiership to what Liverpool regards as its spiritual home - but a journey to the Champions League final on a regular basis more than makes up for that gap in his collection.

Benitez was quizzed about his lack of a title in the after-glow of yet another semi-final triumph over his arch-rival Jose Mourinho.

He admitted it was tough with Manchester United and Chelsea winning almost every week, but he can more than handle the demands of the Champions League.

And so it proved again as Anfield celebrated another wild European night in front of The Kop.

Benitez knew his team had got it wrong at Stamford Bridge - but he scented blood once Chelsea only established a one-goal lead.

He spoke with an open confidence he rarely demonstrates, and his team backed his words once the slipshod and nervous early exchanges were over.

Benitez is not always the amiable nice guy seen by the cameras. He is ruthless and does not take kindly to being crossed, which is clearly what he felt he had been by Mourinho.

This was no footballing classic. It was never going to be.

But Benitez once again confounded those of us who looked at his team-sheet and questioned his approach.

No Xabi Alonso. Two wingers in the inconsistent shape of Jermaine Pennant and the largley ineffective Bolo Zenden.

And yet it all became clear very quickly.

Steven Gerrard was restored to a marauding midfield role after spending time on the margins, while Javier Mascherano was biting and snapping in around Chelsea's heels.

The pairing of Alonso and Mascherano was too similar at Chelsea, too deep. Benitez remedied the problem and was rewarded with a bristling display from the Argentine.

Mascherano's distribution is not perfect, but he loves a tackle, as several Chelsea players discovered.

It was impossible to recognise him from the dispirited figure witnessed at West Ham earlier this season.

Benitez regards himself as an arch-strategist, and the two-leg format suits him and Liverpool perfectly.

They proved it against Juventus and Chelsea in 2005 and this year favourites Barcelona and Chelsea again have perished on Benitez's drawing board.

Liverpool were the team creating the clearer chances, despite Mourinho's claim that Chelsea were the better side.

As for the final, Benitez will have to make some tough tactical choices whether they play AC Milan or Manchester United.

But he can usually be relied upon to fashion a result when an occasion demands it - and is occasionally followed by the odd stroke of good fortune every successful manager needs.

Manchester United would provide a sterner attacking test than Chelsea did, and Benitez's choice in midfield and attack will be key against either them or the Italians.

But after winning the Uefa Cup in his final season with Valencia and already claiming one Champions League for Liverpool, don't bet against another winning strategy in Athens.
---
MAY 2
Reds chiefs blown away by Benitez

TEAMtalk

Liverpool co-owner George Gillett admits he and Tom Hicks had no idea just how good a manager Rafael Benitez was when they bought the club.

The American sports mogul, together with Hicks, watched Liverpool's incredible Champions League semi-final triumph over Chelsea at Anfield on Tuesday night and then hailed the Spanish coach who has taken the club to their second European Cup final in three seasons.

After the penalty shoot-out victory Gillett was seen hugging and kissing fans who besieged the directors' box.

He even walked into the crowd, shaking hands and embracing everyone in sight as he was mobbed by delirious fans, who are now eagerly awaiting Liverpool's seventh European Cup final as they bid to win the trophy for an amazing sixth time in Athens on May 23.

But when the uproar had died down, Gillett revealed his dedication to the Benitez cause, saying: "We knew he was good - but not this good!"

Gillett revealed he and his co-chairman have been blown away by the quality of the manager they have inherited.

"Rafa has been tremendous. My sons and I followed the sport here before we came; we knew about Rafa Benitez and what he had done in Europe.

"We knew of him but I don't think we realised how good he was, and not just as a coach.

"Not only was he a brilliant coach but he is a very sharp, savvy businessman. He knows what he wants and how to get it.

"The more we have seen of him the more impressed we have become. We have talked money but that is not the main point. We have discovered that the way people operate privately is not always the same as in public.

"We will be supporting him during the summer but it is not about money, it is about athletes and giving people opportunities."

Gillett, revealed his reaction on Tuesday was prompted by the warmth of support he had received from fans since the takeover and that he would definitely be at the Champions League final later this month.

"You bet I will be in Athens, I have seen some marvellous games already in Europe and that will be another," he said.

"I have worked in the States for many years but football in Europe is like any other sport I have seen but on steroids!"

He added: "I am hugely impressed by the way myself and my family have been received here, it is truly wonderful, that is why I wanted to share the moment with the fans.

"They are amazing. Everywhere Tom and I go it is the same, people are pleased and so welcoming. I wanted to shake their hands, to embrace them at the end because they had been magnificent for their team.

"It is all about them, it is not about us. The success since we have been here has been marvellous, I just wanted to thank them. I suppose chairmen don't do that sort of thing usually but it is just how I feel about them."

And while Gillett was gleefully enjoying the moment, Hicks was making it very clear the new stadium plans are close to being unveiled and that he has no intention of allowing any of the club's star names - particularly Steven Gerrard - to leave.

"And as far as keeping our players, that is on-going too. We have sat down with Rafa a few times now and know what he wants," he said.

"But I cannot imagine Steven Gerrard playing for anybody else but Liverpool. He will be here for a long time - we have already been speaking to his agent and those of our best players."

He added: "On the new stadium, we will honour the plans already in place but things are being changed. We have talked to people and we do not want to start over with the plans again.

"So far we have worked on its insides, the outside is next, but we are near to being able to announce our new plans.

"We have to compete with Manchester United who can get over 70,000 in their stadium, while Arsenal's new ground has 60,000, and with London prices.

"Liverpool has a unique market. We have a huge waiting list of fans wanting to buy tickets so we want a bigger stadium than the one previously envisaged.
---
MAY 2
Parry reveals final 'concerns'

By Ben Rumsby - PA Sport

Liverpool chief executive Rick Parry has expressed security concerns should the Champions League final be an all-English affair.

Manchester United will set up just such a scenario if they manage to overcome AC Milan in the second leg of their semi-final.

"There will be concerns from a security point of view if it's two English teams, sadly," Parry told BBC Radio Five Live the morning after his side booked their place in the Athens showpiece.

"There will be issues we'll have to address. There will be a lot of supporters from both teams travelling without tickets, which the authorities will have to deal with.

"A lot of careful thought and planning would definitely be required."

Parry also taunted Chelsea boss Jose Mourinho following Tuesday night's dramatic penalty shoot-out win at Anfield.

Mourinho was reported to have described Liverpool as a small club and a cup team before the game.

"I don't care what he says, I don't listen," Parry said.

"I guess when you've invested £500million, it's a fantastic season to win the League Cup. He's welcome to his opinions, we care about Liverpool."

Parry described the atmosphere at Tuesday night's game as the equal of any he has witnessed at Anfield, including the 2005 semi-final against the same opponents.

"It was another fabulous Anfield night," he said.

"I thought we'd never see anything to beat the atmosphere in 2005, but I think this equalled it.

"It was very, very special and I think you only get these nights in Anfield.

"The supporters were fantastic and the players and manager have done a fantastic job and done us proud. It was magnificent to be there."

But Parry admitted that despite the club reaching their second Champions League final in three years, the club's ultimate ambition was to win the Barclays Premiership title.

"For us, the big prize is the Premier League, we've made no secret of that," said Parry, whose side have not been league champions since 1990.

"Every one of us wants to be a Premier League contender. We're not quite there, but we'll do everything in our power to make sure we get there."
---
MAY 2
An unbelievable night
for this incredible club

By Tommy Smith - Liverpool Echo

Nothing can compare with a European night at Anfield.

It was a privilege to be a part of the atmosphere generated by the best fans in the world for an occasion to rank with the Inter Milan semi-final, the St Etienne tie, the 2005 win over Chelsea and the heroic night in Istanbul.

Now, it can be repeated all over again in another Champions League final this month in Athens.

The fans were absolutely unbelievable last night in what was a pulsating, absorbing game that kept you on edge throughout.

The football at times might not have been the best, but this was blood and thunder, no-holds barred stuff, where the stakes were high and everyone knew one mistake could spell the end of their European dreams.

In fact, there were occasions when neither side seemed to have a midfield as long balls were pumped up the middle but, irrespective of what Jose Mourinho thought, the Reds battled together as a team and deserved their night of glory.

Chelsea, I thought, relied too much on Didier Drogba, the star of the first game. But the combination of Jamie Carragher and Daniel Agger reduced his threat considerably as they produced excellent displays.

It was a case of the unexpected when Rafa Benitez's side went ahead. Instead of the curled free kick from Steven Gerrard, the skipper worked a neat pass across the edge of the box and Agger clipped a low left footer into the corner.

It was just reward as the Reds dominated for long periods, without creating too many chances.

Drogba had one sight of goal, but his terrific shot was well saved by Pepe Reina, whose moments of pure theatre were to come later.

Another fine show came from Dirk Kuyt, who worked tirelessly all night, saw one header smack the crossbar, was unlucky to be ruled offside when he followed up Alonso's drive to score, but his reward came with the penalty clincher in the shootout.

For Benitez, this was another triumph for tactical brilliance. He sprang a surprise by leaving out Xabi Alonso until late in the game, but there is no doubt he is the best European manager I have seen in the modern era.

He understands the European game inside out and to take the team to a second final within two years is magnificent. A top four finish will do this year, but the fans will be looking for a big improvement in the Premier next time around.

What of Mourinho? Well, he's just an idiot. His team suffers through his rantings because of the hatred he has built up through his arrogance and egotism. He tried to play mind games with Benitez like he has done at Manchester United, but it doesn't work at Liverpool.

Anfield on nights like this is just outstanding. The crowd is undoubtedly an important "twelfth man". It was noticeable how some Chelsea players just didn't raise their game.

I just sat in the stands thinking how glad I was to be a Liverpool fan. I would not take a million pounds to be a Chelsea fan, that's for sure.

Next up? Who cares? Bring 'em on. Liverpool and Euro finals are made for each other.
---
MAY 2
Chelsea pay the penalty for caution

TEAMtalk

Liverpool have beaten Chelsea for the second time in three years in the Champions League semi-finals. TEAMtalk reflects on the Anfield clash.

So the proud red shirts of Liverpool once more will contest the final of Europe's most prestigious cup competition.

For the seventh time. Quite possibly against their greatest football rivals Manchester United. What a mouthwatering prospect for English football fans.

And even a serial moaner like Jose Mourinho could surely not contest the justice of that.

Great sporting prizes are won by daring deeds and a sense of adventure. And not for the first time this season Mourinho's Chelsea side displayed too little of each as Liverpool earned their right to a Champions League final date in Athens later this month.

True, it was won via the lottery of a dramatic penalty shoot-out when Liverpool scored four in a row while their goalkeeper Jose Reina saved from Arjen Robben and Geremi.

But for too long on a nerve-shredding evening Chelsea sought to contain rather than add to their 1-0 first-leg advantage, while Liverpool always were the more positive.

In the end that lack of swagger on the pitch might yet cost Mourinho his job. Owner Roman Abramovich did not invest £500million not to deposit the European Cup in the Stamford Bridge trophy cabinet.

It was not a pretty match. Anyone expecting to witness the beautiful game in all its technical splendour would have been disappointed.

It was more akin to a slugfest. Two heavyweights swinging away. Hugely competitive. Full of brawn but not always too much brain. Too many long balls. Too much hit and hope.

Not the greatest advert for the Premiership, but then the pre-match sparring had also left much to be desired.

The feuding between Mourinho and Benitez had descended to the level of the playground, the Chelsea boss intimating that Liverpool were no longer a big club while Benitez suggested Mourinho's tinkering had cost Chelsea the title.

Mind games or just a simple dislike for each other? Take your pick. Once the players passed the famous 'This is Anfield' sign, however, none of that verbal jousting mattered.

More important was what effect virtually surrendering the Premiership title on Saturday might have had on Chelsea, plus the pressure of knowing that the Champions League trophy was the priority of owner Roman Abramovich.

Not surprisingly, Chelsea were slow to get started. There was more drive and determination about Liverpool. Red shirts invariably were quicker to the ball with the 'Kop factor' supplying that extra fix of adrenalin as it has so often in Liverpool's proud past.

Steven Gerrard, playing in his favoured central role, and Javier Mascherano formed a crucial partnership in the Liverpool engine room.

Gerrard, as always, was as close to indispensable as it gets in football with his crunching tackles his surging runs and his ability to make things happen.

When the Liverpool goal came it was a brilliantly-worked free-kick, rolled by Gerrard into the path of defender Daniel Agger who clipped it home precisely. A reward for invention even if it was aided and abetted by a Dirk Kuyt foul on Salomon Kalou.

With the scores level Mourinho had no choice. No longer would his famed pragmatism get the job done.

And slowly, with John Obi Mikel and Frank Lampard prominent, they began to wrest a foothold in the game.

But there was always more width and zip about Liverpool.

Kuyt rattled the crossbar, then went and put the ball in the net in the first phase of extra-time only for the 'goal' to be ruled out for a marginal offside.

The tension lurched towards the unbearable but at times the feeling was that Chelsea, in particular, were playing for penalties, ironic that considering Mourinho recently facetiously insisted his team were forbidden from winning them.

To penalties it went. A dreadful way to settle a match of such importance but what drama.

And Mourinho must wonder what might have been if only he had been a shade more daring.
---
MAY 2
'Special ones' take centre stage

Comment by Nick Smith - Liverpool Daily Post

Rafael Benitez, like the rest of us in Anfield last night, couldn't help but hear the stirring songs and shuddering screams of the his newly-christened 'special ones'.

But thankfully for them, as the team news started circulating, it was clear he had already been listening to them intently. They had influenced one important outcome long before they helped their heroes into a seventh European Cup final.

Because Steven Gerrard was back where everyone wanted him. Where he wanted to be. Where he should have been in the first leg when Liverpool's midfield withered without him along with hopes of an away goal, given the subsequent lack of natural width.

You wouldn't dare ignore fans of the type of ferocity that created the swarming, swirling sounds that swept the players up in another tidal wave of Anfield European euphoria last night – and even the single-minded Spanish manager was ready to bow to their do-or-die demands.

It was a red-tinted campaign that Tony Blair's would-be successors will do well to match for lack of subtlety when the Prime Minister steps aside next week.

So picking Gerrard in the centre was a defiant message not just to Chelsea but to the red masses: "I've done my bit now you do yours."

Benitez remains king of all he surveys and, like everything he asked on the night, his subjects delivered. They and Gerrard did everything right and repaid his faith in their raw Scouse inspiration.

In truth, crowds don't pick teams, decide tactics or even, despite Bill Shankly's efforts to convince us otherwise, suck the ball into the net.

What they can do – and what only Liverpool fans can do – is create the pressure, the terror, the wall of noise that can torment the coolest mind when the nerve-crushing penalty shoot-out takes hold.

It's why Chelsea fatally missed two-thirds of their spot-kicks. Arjen Robben and Geremi had simply never heard anything like it and this ultimately proved their downfall.

But penalties are just the crowd-pleasing freak show that underlines the main event.

It's how that dramatic conclusion is reached, how Liverpool repelled the Chelsea away goal most assumed was inevitable for a full two hours while holding on to Daniel Agger's wonderfully-guided strike.

And it was that tactical switch, that allowed Gerrard to flourish in his more familiar surroundings, that laid those foundations.

Benitez has always maintained that the complete midfielder can play anywhere across the middle but surely few more talented than Gerrard are wasted in the practising of this theory.

Like a schoolboy being dragged to the dentist's, Gerrard will trudge over to the right and give his all there any time he's asked to, but there's always that sense he's shuffling impatiently in the wings for a bigger stage.

The fact is he has the ability to play the complete game wherever he is, but the closer you get to the whitewash the further you are from the places you can truly influence.

This was apparent from the start last night. Within six minutes Gerrard was stood centrally and in the ideal position to have the first shot of the game, although he dragged it well wide.

The difficulty Gerrard has often had, however, is convincing his manager that he can be disciplined enough to resist those surges into goal-scoring areas, leaving those behind him prone to counter attack.

But Benitez's message had clearly got through, even if it was with mixed results.

Like when a loose ball dropped inside the box and the home fans immediately had flashbacks to Olympiakos 2004 as they pictured an action replay of their captain storming in to unleash another first-time thunderbolt.

But there was just one small detail missing – Gerrard, holding his position tentatively 20 yards further back.

Not that this defence-minded attitude was having a detrimental effect.

Liverpool knew that conceding one would mean them having to get three so keeping the Chelsea midfield in check was a priority throughout the initial 90 minutes.

And one achieved so convincingly that even Peter Crouch stood on stilts would have had to crane his neck to judge the trajectory of the balls Didier Drogba and Salomon Kalou were having to make do with.

Long punts upfield were masquerading as service as Joe Cole, John Obi Mikel and Frank Lampard struggled to get on the ball – but everyone knew why Gerrard was really restored to the middle.

You just have to know when your moment will come and this instinct paid off to the full when Liverpool launched their comeback with a Daniel Agger strike from a square free-kick that his captain both won then delivered to perfection.

The second leg was not yet halfway through the first half and Gerrard's knack of driving the team when they need it most it most had already come to the fore. Selection decision justified. But an early goal to bring the tie dead level meant Gerrard couldn't then dominate – an individual called 'fear' was the only one this situation was reserving that distinction for.

Even Benitez caved in. No amount of trickery followed by delivery could keep Pennant's flame flickering and Xabi Alonso stepped into the fire to signal the end of Gerrard's central starring role.

And his first action on the right kind of hammered home the original point as he won a good tackle but then conceded a throw-in courtesy of some wobbly-legged distribution.

Those precious few chances to win it did come and go for both sides but even those who feel the Kop is worth a goal on its own still had to steel themselves for another half-hour.

It doesn't change the fact, however, that Liverpool got the one scoreline that could inflict that unwanted extra workload on those already over-burdened with a quadruple assault.

And achieving that alone means Benitez's utilising of Gerrard in the face of public demand as overwhelming as last night's atmosphere – and thus staking his entire season's hopes on it – turned the master tactician into the master gambler.

And the ultimate jackpot is poised to drop again...
---
MAY 2
Mourinho the deluded one

By Phil McNulty - BBC Sport Online

Jose Mourinho was stripped of his self-appointed status as the special one and became the deluded one as Liverpool visited another Champions League nightmare upon Chelsea.

Mourinho's disappointment was understandable, as he had to swallow a second semi-final defeat in front of an Anfield gallery that has taken particular exception to his unique, outspoken personality.

But it took all of Mourinho's brass neck and some very thick blue-tinted spectacles to sit and declare - without any sign of his tongue drilling a hole in his cheek - that the best team lost and that Chelsea were truly deserving of a place in the Athens final.

Nonsense. Every word of it.

If Mourinho truly believed Chelsea were the stronger team, the team pressing inexorably for victory, the team throwing men forward at set pieces to secure the goal that would have made a final place certain, he kids no-one but himself.

Mourinho's self-belief is iron-clad, but in this instance he simply used it as a shield against what was a grim reality for Chelsea.

"Chelsea tried to win it in 90 minutes. Chelsea tried to win it in extra time. The best team was the team in blue," he said.

And on it went in an assessment that was nothing short of bemusing.

Liverpool were the side that deserved the win, even if it came in the awful lottery of penalties.

Rafael Benitez's side showed the greater verve and variety - just look at the work-sheet of the two goalkeepers if you want proof.

Pepe Reina, before his penalty heroics, made a fine save from Didier Drogba and endured the odd skirmish around the six-yard area.

Chelsea counterpart Petr Cech was beaten by Daniel Agger's first-half strike, saved brilliantly from Peter Crouch and watched Dirk Kuyt's header hit a post.

Dutch striker Kuyt also saw a goal ruled out by a marginal offside and brought a fine save from Cech in the final seconds after he was played in by Robbie Fowler.

Chelsea, in the real world away from the place Mourinho appeared to be occupying, were brave, resilient, and only the hardest heart would not feel a tinge of sympathy for men like John Terry and Claude Makelele.

But they were pedestrian, unambitious, and seemed to have a simple plan A aimed at securing a goalless draw.

Once that went west, plan B was a horribly basic approach of hoofing the ball in the general direction of Didier Drogba and crossing fingers that these scraps would lead to a feast.

It did not work and never looked like working, hence general astonishment at Mourinho's swiftly drawn up attempt to re-write history.

Chelsea ultimately paid the price for failing to kill Liverpool off in the first match at Stamford Bridge, a game Mourinho was well within his rights to say his team dominated.

This game was Liverpool's and Benitez's. They will not care one jot for the somewhat bizarre analysis offered up by Mourinho.

Liverpool, fuelled by another firecracker of an Anfield atmosphere, deserved their place in the final.

And after the miracle of Istanbul in 2005, who would bet against Benitez making it a remarkable two Champions League wins in three seasons at Liverpool?
---
MAY 2
Kuyt wants Man Utd in Euro final

By Phil McNulty - BBC Sport Online

Liverpool hero Dirk Kuyt has set his sights on a "historic" Champions League final meeting with rivals Manchester United in Athens.

Dutch striker Kuyt scored the decisive spot-kick as Liverpool beat Chelsea 4-1 on penalties in their semi-final.

He told BBC Sport: "AC Milan and Manchester United are two great teams and clubs.

"But a meeting between two big clubs from the Premiership in the Champions League final would be historic."

Liverpool won their semi-final second leg clash at Anfield 1-0 thanks to Daniel Agger's first-half strike.

With the tie finishing 1-1 on aggregate after extra-time it went down to penalties.

Kuyt scored the decisive spot-kick to put Liverpool through to a second Champions League final in three years.

The forward added: "It is fantastic for us to reach the Champions League final. There is no bigger game in European club football and to do it in my first season here is an amazing feeling.

"We felt we deserved to win after the 90 minutes and extra time. We were very strong and to see that last penalty go in was a great feeling.

"It is just fantastic for us. We had chances. I hit the post and had a goal disallowed, but we got there in the end and Pepe Reina was sensational for us in the penalty shoot-out.

"You come to clubs like Liverpool for nights like this.

"We wanted to do it for our fans as well because they were fantastic in the way they supported us.

"We have beaten some very strong teams to get to the final, like Barcelona, PSV Eindhoven and now Chelsea.

"It is not up to us who we play, Manchester United and AC Milan have to fight for their place, but certainly two English clubs playing each other would be history.

Win tickets to the FA Cup final in our photo competition
"Now we have to get ready for the final because we want to win it now. We have come this far so we want to win it and we think we can.

"We have shown we can win over two legs against the best sides, now it is down to one match."
---
MAY 1
Gerrard hails brilliant Reds

By Paul Eaton - LFC Official Website

Steven Gerrard tonight hailed his team-mates after the Reds booked their place in the Champions League final.

Daniel Agger's goal in normal time was enough to cancel out Joe Cole's first leg opener and then Pepe Reina proved to be the hero from the penalty spot as he kept out efforts from Arjen Robben and Geremi to leave Dirk Kuyt to net the winning kick and take the Reds to another final.

"The first time round was special but to do it again after being a goal down to a magnificent team like Chelsea. It is unbelievable - together we achieved it," said Gerrard.

"The atmosphere helped, the managers' tactics, everything was spot on. But we crossed the line and we stuck together.

Gerrard also admitted the pre-match comments from Jose Mourinho helped spur the Reds on.

"That's Jose for you - he's been a credit to English football, he makes us laugh now and then," he added.

"I think he was a bit disrespectful calling us a little club. Two finals in three years - not bad for a little club."

Kuyt added: "It was very special for me - it will be my first final in my first year at Liverpool.

"We just believed in it. Pepe was fabulous."
---
MAY 1
Carra: I don't care
who we meet in Athens

By Paul Eaton - LFC Official Website

Jamie Carragher reflected on Liverpool's semi-final success over Chelsea and declared: "I don't care who we play in Athens."

Liverpool will meet the winners of Wednesday night's clash between AC Milan and Manchester United following their dramatic shoot-out success over Jose Mourinho's men at Anfield.

It's the second time in three seasons the Reds will be contesting European football's biggest match and Carragher insists Rafael Benitez's side deserve their place in the final.

He said: "It's a great achievement to beat a team like Chelsea over two legs. We thought there weren't going to be a lot of chances in the game and that's the way it turned out.

"Fortunately for us Daniel scored a great goal and then when it went to penalties we knew we had one of the best goalkeepers in the world and so we always had a chance.

"Of course we had the fans on our side and they again rose to the occasion. They were brilliant from start to finish and once again proved what a difference they can make.

"To reach the final again is brilliant and we're going to enjoy the fact that we're there again. That's the third year running we've beaten Chelsea in a semi-final.

"It doesn't matter who we play. We can relax now and all watch the game on Wednesday night."
---
MAY 1
Mourinho: We were better

By Graeme Bailey - Sky Sports

Jose Mourinho insisted Chelsea were the best side during their UEFA Champions League semi-final defeat to Liverpool.

The Reds came through 4-1 on penalties with Dirk Kuyt firing home the winner, after Liverpool had won the game 1-0 with Dan Agger pouncing in the first half.

Chelsea rarely threatened at Anfield, but Mourinho was adamant that his men should have progressed.

"I respected Liverpool always in my words. I don't need to say more and today I think the best team was Chelsea," he told ITV.

"It is a moment when everybody has to be strong.

"They (the Chelsea players) have a lot of reasons to be proud. They did a great run in the Champions League.

"We were the best team today, even against a team only playing for the Champions League.

"In extra-time we were the only team who tried to win, but football is like that and the penalty shoot-out is part of the game."
---
MAY 1
Rafa pays tribute to Anfield factor

ITV Football

Rafa Benitez praised the Anfield crowd as Liverpool defeated Chelsea, but Jose Mourinho claims his side were better on
the night.

"We had confidence because we had players who practice in every training session - they like to do it."

Of hero goalkeeper Jose Reina, he added: "He is a player that's always good with penalties."

The Spaniard also hailed the workrate of his team - and the Anfield crowd.

"Every player and every supporter (deserves the win) - the atmosphere was amazing today."
---
MAY 1
Kuyt fires Reds to Athens

By Graeme Bailey - Sky Sports

Liverpool booked their place in the UEFA Champions League final after defeating Chelsea on 4-1 on penalties at Anfield, after they won 1-0 on the night.

The Reds went into their second leg semi-final tie 1-0 down, but after just 22 minutes they had levelled when Steven Gerrard's clever free-kick found an unmarked Dan Agger on the edge of the box, and he fired home.

After a frantic and entertaining opening, the game became a glum contest at best and from the first-half a long evening was always on the cards as both sides showed little in the way of invention - albeit the odd sporadic venture forward.

It was though Liverpool who showed much of what little ingenuity was on show and they deserved to book their second final in three years - following their success in 2005, with Chelsea's search for the quadruple well and truly ended.

Liverpool began the game with their backs to the Kop and the footballing landmark was seemingly pushing their team on from the first whistle.

Indeed the home side dominated and created early openings with Steven Gerrard flashing a shot wide, and Peter Crouch just failing to make contact with a dangerous cross from his skipper.

Liverpool pressure continued to build and the deadlock was broken with a delightful set-piece. The Reds won a free-kick on Chelsea's right and Gerrard line-up to curl the ball into the box, but instead he squared the ball into the path of Agger and he finished with great aplomb with a low shot which curled just inside Petr Cech's post.

With the game level Chelsea finally woke from their malaise - although they did not have sight of goal until after the half-hour mark, but they should have levelled as John Obi Mikel dinked a precious ball into Didier Drogba's path but the Ivorian could only fire his shot straight at Jose Reina - making the Spaniard's save all the more easy.

Chelsea were now in charge of the ball - but they could not break through and created little. One chance which did come their way before the break was a Frank Lampard free-kick, but his in-swinging effort from wide on the right was punched clear by Reina under pressure from Drogba.

Joe Cole was doing his best to inspire early in the second half with one good run which was soon followed by a shot from range which was always going wide - but that was all the visitors could muster.

Indeed Liverpool broke to the other end and almost snatched the lead in the tie. Jermaine Pennant found room to cross and this time he found Peter Crouch at the back post who beat Paulo Ferreira and Michael Essien with ease, but fortunately for Chelsea he could not find a way pas Cech - who saves excellently with his feet.

Moments later and Cech was beaten, but the woodwork came to Chelsea's rescue as Dirk Kuyt's header from John Arne Riise's cross slammed against the crossbar.

All the real chances were coming Liverpool's way and Pennant had the next sight of goal and only a brilliant saving tackle from Michael Essien denied the former Arsenal man.

Chelsea lack of width was prevalent throughout and it was not until 75 minutes that Ashley Cole got into the last third with any meaning and his attack almost paid dividends as he broke into the box and lashed a cross into the six-yard box - but somehow Jamie Carragher did enough to put Drogba off.

Liverpool were still the most likely to score again and Cech was again needed to produce a good stop low-down to his right, this time from a testing Bolo Zenden effort - but with more than ten minutes to go, it was clear both sides were happy to go to extra-time and indeed their wish was granted.

Into extra time and Liverpool were still the only side appearing to be willing to ask any questions - but neither team lucky duly concerned about wasted energy or possession.

The Reds finally had the opening salvo on 99 minutes and it seemed they had claimed a crucial second as Kuyt pounced on a rebound as Cech spilled Xabi Alonso's long-range effort - but as Anfield celebrated, they finally noticed the assistant linesman's raised flag.

Half-time added time saw speed merchants Shaun Wright-Phillips and Craig Bellamy duly introduced.

And it was Wright-Phillips with five-minutes left who almost opened the home side up as he broke down the right, he crossed into the six-yard box for Drogba - but again he run was well checked by Carragher and the chance was gone.

With minutes left, both sides had penalties on their minds and the two Iberian tactitians brought on specialists in the guise of Geremi and Robbie Fowler.

Although Fowler almost helped create a winner as he played in Kuyt, the Dutchman came back inside and unleashed a stinging effort - but Cech was able to push clear and that was it, the game - as it looked from the moment Liverpool scored - was to be decided by penalties.

Chelsea had won the toss before kick-off and the Anfield Road end, opposed to the Kop had unsurprisingly been chosen by The Blues. The Reds opened up with Zenden scoring with ease - but Arjen Robben could not follow suit as his effort was well saved by Reina diving to his left.

Alonso, Lampard and Gerrard all converted - before Geremi saw his tame effort parried, which allowed Kuyt the chance to send Liverpool to Athens and he duly obliged as he tucked his penalty into the corner of the net.

Liverpool will now wait 24 hours to see if they will meet Premiership rivals Manchester United for the first ever all-England European Final - or if they will have a re-run of their Istanbul success by facing Milan.
---