---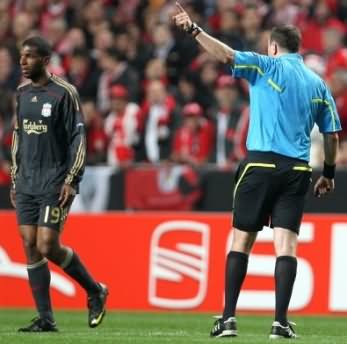 Ryan Babel is pointed off the pitch by referee Jonas Eriksson after being shown a red card. (Photo: PA)
APRIL 2
Babel sorry for red card

Sky Sports

Ryan Babel admits he feels guilty about his sending off against Benfica after Liverpool lost 2-1 to the Portuguese side in their Europa League quarter-final.

The Dutchman was given his marching orders for raising a hand towards Benfica captain Luisao following a confrontation with the Brazilian after a foul on Fernando Torres.

The sending off proved costly as Liverpool were leading 1-0 at the time before Benfica made their numerical advantage count with two second half penalties to gain a lead for the second leg at Anfield next week.

Babel felt the dismissal was harsh and he apologised to his team-mates for leaving them to play for over an hour with just 10 men.

Harsh
"The referee told me the red card was for touching Luisao's face - that was it," Babel told the club's official website. "It was clear that Luisao had made an awful foul and all I wanted to do was back up Fernando. Luisao came over all loud and in my face.

"All I wanted to do was try and back him off. I just told him not to come too close. But the referee still gives me a red card. But I did it.

"I think maybe it was a little bit too harsh. It might have been a stupid, silly thing for me to touch him in the face but I thought a yellow card would have been fair enough. But if they are the rules, what can I do? Luisao came too close to me. He was pushing and very loud, straight in my face but they (Benfica's players) made it bigger than it was."

Mistake
Babel added: "I will learn from the mistake and it won't happen again. As a team, we were in control in the first 30 minutes and we had got our goal.

"For myself, I had felt good. I felt a bit unlucky with a couple of my early dribbles but I was confident that I could grow into the game.

"I have spoken to the lads and said sorry. But it is good and I felt they were behind me. They fought all the way and I am confident we can do well in the next game.

"I feel very guilty that we lost but a big complement to the team is that we were still comfortable with 10 men. Hopefully we will get the good result we need."
---
APRIL 1
Babel red baffles Rafa

Sky Sports

Rafa Benitez admits it is 'difficult to understand' why Ryan Babel was sent off in Liverpool's 2-1 Europa League defeat by Benfica.

Babel was dismissed just after the half-hour mark in Lisbon after putting his hand in the face of Benfica defender Luisao, who had just committed a poor challenge on Fernando Torres.

Liverpool were leading at the time of the incident and Reds boss Benitez felt Luisao's tackle on Torres was a more serious offence than the one which led to Babel's red card.

"I was surprised because a foul from behind is more serious for me," said Benitez.

"I would like to analyse the foul before. And after, when one player is shouting in front of the referee after he already has a yellow card.

"It is a big difference when you kick a player from behind to a player touching another in the mouth.

"It's difficult to understand and impossible to change so we have to move forward and think about Anfield and our fans behind the team.

"Always when decisions are made against your team, you don't like it. But you cannot change it and the only way now is to try to be positive and think about our fans behind the team and playing with 12 men at Anfield."

Good result
Oscar Cardozo scored two second-half penalties to earn Benfica a first-leg victory, but Benitez remains confident Liverpool can reach the semi-finals of the competition.

He added: "It is half-time for us. We have one more game and we have to be confident we can progress.

"The performance was good as we played for 60 minutes with 10 players. I am disappointed because we had some chances and could have done better.

"We knew Benfica are a good team with quality and pace and they were dangerous.

"To concede two goals to two penalties and have one goal disallowed is disappointing, but still it is a good result."

Benitez also explained his decision to bring off Torres and captain Steven Gerrard in the final stages of the game despite Liverpool trailing.

"Both were really tired and we needed some fresh legs," he said. "Yossi and Ngog were doing their jobs because it was not easy to keep the tempo. They were attacking and had to go back.

"You can see from the chance of Fernando he was really tired."
---
APRIL 1
Lucas hails 'important' away goal

TEAMtalk

Lucas Leiva is hoping Daniel Agger's early goal in Liverpool's 2-1 Europa League quarter-final first-leg loss to Benfica could prove decisive.

The Denmark defender opened the scoring at the Estadio da Luz but the Reds went down to two second-half penalties, both converted by Oscar Cardozo, after Ryan Babel was dismissed on the half-hour for thrusting a hand in Luisao's face.

Lucas told Five: "We are really disappointed. We started really well in the game and scored an early goal. We created some chances even with 10 men.

"Now we have to keep going and try to go through at Anfield. The away goal always is important, we knew that.

"We'll try to score one goal at Anfield and go to the semi-finals.

"We worked really hard. It's always difficult to play with one less player but I think we showed character and quality."

The Liverpool team appeared far from impressed by the display of Swedish referee Jonas Eriksson, not only for his decision to send off Babel but also for letting several hefty challenges on Fernando Torres go unpunished.

Centre-back Luisao took exception to a tackle by Babel and subsequently hacked right through the back of Torres, who had already been on the end of some severe punishment.

A melee ensued in which Luisao continued his protest at Babel and the Dutchman responded by pushing the Brazilian in the face.

On the red card, Lucas said: "The referee just said it was 'hands to face' - something like that.

"To be honest, we don't want to talk about the referee.

"I think everyone saw the game and you can analyse better than us. We'll just keep going now. We have an important game in the Premier League and then we'll try to go through to the semi-finals."

He added: "For both penalties, the linesman told the referee it was a penalty. We can't argue now. The game is gone."
---
APRIL 1
Night of terror for Reds

BreakingNews.ie

Ten-man Liverpool were undone by two harsh penalty decisions and an at-times shambolic refereeing display as they lost 2-1 to Benfica in a hostile Europa League quarter-final first leg in Lisbon.

Daniel Agger gave his side the perfect start in the ninth-minute but things took a turn for the worse when Ryan Babel was dismissed on the half-hour for thrusting a hand in Luisao's face.

Oscar Cardozo wasted numerous chances before converting two spot-kicks but with an away goal Rafael Benitez's side still have hope for the return leg.

Benitez had said before the game he did not expect the Portuguese league leaders to target striker Fernando Torres – but he was wrong.

The Spain international was on the receiving end of some hefty challenges which Swedish referee Jonas Eriksson seemed content to leave unpunished.

It was no surprise to see Torres withdrawn before the end, firstly to avoid injury and secondly to prevent him getting a booking which would rule him out of the second leg at Anfield.

Playing against a backdrop of a cacophony of noise and, in the second half, a stream of fireworks aimed at Jose Reina's goal, Liverpool had the ideal start.

Maxi Pereira's ninth-minute foul on Steven Gerrard gave the Liverpool captain a chance to whip in a dangerous free-kick from just left of the penalty area.

However, with the hosts massed around the six-yard area the midfielder fooled everyone by rolling a low pass in towards the penalty spot where Agger produced a classy backheel into the corner of the net.

It was reminiscent of a similar move which saw the Denmark defender score in the Champions League semi-final against Chelsea in May 2007, although that one was hit with more power.

Fortunately for Liverpool, Benfica's European top scorer this season, Cardozo, could not show the same composure as he squandered three good chances in quick succession.

The profligacy was contagious as Pablo Aimar's usually reliable first touch let him down as he looked to beat Reina, making his 250th appearance for the club.

Ramires was next to head over at the far post from a cross by Di Maria, whose shot from 25 yards fizzed just over Reina's crossbar in the 28th minute as the pressure built.

The highly-charged atmosphere exploded on the half-hour when referee Eriksson appeared to completely lose control.

Centre-back Luisao took exception to a tackle by Babel and subsequently hacked right through the back of Torres, who had already been on the end of some severe punishment.

A melee ensued in which Luisao continued his protest at Babel and the Dutchman responded by pushing the Brazilian in the face.

The Swedish official showed the Benfica defender a yellow card and then flashed a red at Liverpool's Holland international – sparking a sustained but fruitless protest by Liverpool's entire team.

David Luiz was next to go into the book for clattering Torres in the 37th minute and the Spain striker thought he had exacted the perfect revenge when he volleyed home Julio Cesar's weak punch from Gerrard's free-kick – only to be denied by an offside flag.

Emiliano Insua was booked for pulling back Di Maria just before the break, ruling him out of the second leg.

Within four minutes of the restart Cardozo planted one header straight at Reina and the other over from five yards and you sensed just maybe it was going to be Liverpool's night.

But, after a stray firework landed close to the fourth official next to Reina's goal, their luck changed.

Cardozo's 59th-minute free-kick rattled back off the right-hand post and when Aimar went down under Insua's tackle chasing the rebound Eriksson pointed to the penalty spot.

This time Cardozo finally hit the target to beat Reina.

In the 76th minute Torres had a glorious chance to put his side back in front - and score his first Liverpool goal on foreign soil since March 11 2008 – but with only Cesar to beat he dragged his shot wide from Kuyt's pass.

It was to prove costly as two minutes later Di Maria's cross hit Carragher as he slid in to tackle and the fourth official signalled a penalty for handball.

The defender was booked and Cardozo scored his second spot-kick of the night.

With more fireworks raining down behind Liverpool's goal towards the end Benitez's side were fortunate to leave Lisbon with just a one-goal deficit.
---