---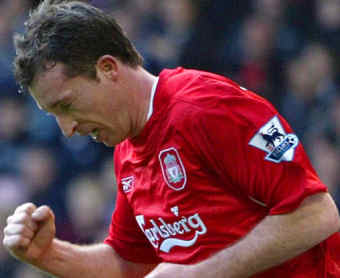 Fowler celebrates a goal for the history books. (Photo: EPA)
APRIL 4
Classy Alonso is pass master

By Ian Rush - Liverpool Echo

Xabi Alonso is the kind of player I'd have loved to play in front of during my time at Liverpool.

His ability to see and execute a pass reminds me of Jan Molby.

I was lucky to have Jan and Kenny Dalglish supplying me with regular opportunities, and we saw another glimpse of what Alonso is capable of against West Brom.

The pass for Djibril Cisse's goal was the best I've seen this season.

The absence of Steven Gerrard put more responsibility on Alonso and he's risen to the challenge against Everton and West Brom.

When you have strikers with pace and movement, players like Alonso and Gerrard will always be capable of playing such decisive balls.

Such are Cisse's assets, he should be benefiting far more from the kind of service the midfield can provide, but it's up to the forwards to make the right kinds of run.

It's clear Cisse doesn't enjoy playing on the right, but if he analyses Saturday's game, he'll see how effective he can be.

Just because you're on the right of midfield, it doesn't mean you can't drift into striking positions.

Cisse is at his best when using his pace, and he should be making the kind of run which led to his goal more often. When he gets it right, as he did at the weekend, he can be unplayable for a defender.

When you see such quality, it makes you a little frustrated it's not been evident more often.

Obviously, I was especially pleased to see Robbie Fowler grab another goal.

I spoke to Robbie last week, and it's clear he's still not sure if he's going to get another contract.

I don't think he should be worried. He's done more than enough and needs to just keep working as hard as he has been.

You've got to think of the situation from Rafa Benitez's point of view. He'll want to keep Robbie as motivated as possible for the remainder of the season and will see no advantage making any decision public until then.

Like any player, Robbie is desperate to play as much as possible. He feels the best way to earn a contract is to score loads of goals.

Privately, Rafa must be delighted with Robbie since he returned, and his latest strike was a particularly poignant one.

To score more goals for Liverpool than Kenny Dalglish, you've got to be a particularly special player.

Robbie is too modest to consider himself a legend, but that's because he's not big-headed about his ability.

When people talk about 'legends' they tend to be referring to players who've finished their career. In years to come, there's no doubt Robbie will take his place among the club's greatest. For now, he'll still feel there's a lot more for him to contribute, and more medals to be won.
---
APRIL 3
Benitez: Proof we're not one-man team

By Ian Doyle - Daily Post

Rafael Benitez believes Liverpool have now proven they are more than just a one-man team.

The Anfield outfit overcame the early sending-off of talismanic skipper Steven Gerrard to claim local bragging rights in last week's home derby win over Everton.

The midfielder's two bookings inside a minute mean he must sit out Liverpool's Premiership visit to struggling West Bromwich Albion this evening.

But Benitez claims the victory against the odds last Saturday demonstrated his play-ers can cope without Gerrard.

"The team proved we can play without Steve," said the Spaniard. "He is a key player who scores goals, but the team now has the confidence to play without him.

"We showed people we were working really hard to win and we have gained confidence because we have shown we can win without him sometimes.

"We are scoring goals from the strikers and midfielders - and they are working really hard as a team.

"For me as a manager, if they are playing well and working really hard it will be enough."

Peter Crouch was on target in December when Liverpool beat West Brom 1-0 at Anfield. And their last two visits to The Hawthorns have seen them triumph 6-0 in 2003 and 5-0 last season.

Benitez appreciates his team will not have it so easy this time around against a side battling to stave off relegation.

"It will be totally different from last season," he added. "They are trying to stay in the Premiership and are working really hard. When you are playing teams in the middle of the table and you start with a high tempo and score they know it is not as important. Against teams at the bottom and top is always more difficult."

Liverpool continue to chase third-placed Manchester United but are now five points behind having played a game more. But Benitez is refusing to give up on the chance of securing an automatic place in the Champions League, although victory this evening would move Liverpool to within three wins of securing third spot.

"Our next responsibility is to try to win the next six games," Benitez said.

"We will try to fight for the second place.

"I know it will be really difficult, but we need to approach every game thinking we can win.

"Manchester United have a good team and good players - and they are continuing to win.

"But it is possible (to catch them)."
---
APRIL 3
Fowler joy as goal tops his big believer

By Carson Wishart - Daily Post Staff

Robbie Fowler is expecting to receive a congratulatory call from Liverpool legend Kenny Dalglish after surpassing his all-time Anfield goal record on Saturday.

The veteran striker helped Liverpool cruise to a 2-0 win over relegationhaunted West Bromwich Albion by firing home after just six minutes before Djibril Cisse added a second before half-time.

Fowler's second goal in his second spell at Liverpool was his 173rd goal for the club, but needs another 56 goals to by-pass the great Billy Liddell to move up to fourth in the scoring charts.

The Toxteth-born striker, who formed part of a four-prong attack at The Hawthorns with Cisse and Harry Kewell joining him and Peter Crouch at will, is now looking forward to speaking to his former mentor Dalglish.

Fowler says the former player and manager has often rung him with words of encouragement during the tough times in his career.

"For me to get anywhere near him is a fantastic achievement and to surpass him by one - I'm delighted," said Fowler who turns 31 on Sunday when Liverpool face Bolton at Anfield. "I grew up an Everton fan but Kenny is a proper Liverpool legend and to get anywhere near him is fantastic."

He added: "All through my career when things have gone well he's called me and when things have gone bad he's given me a ring so I'll probably get a call. I don't think Kenny will begrudge me getting the goal because he wants what's best for Liverpool.

"When I was a schoolboy at Liverpool Kenny was manager. I met him a few times. When you are growing up you know that Kenny was a fantastic player and when he comes into the dressing room he's just got a presence about him. He used to look after the younger players."

Fowler insists that he's not worried who exactly is next on the goalscoring list, but instead is relishing his second chance at Anfield following his surprise move from Manchester City during the January transfer window.

"I haven't got a clue who is next on the list," he smiled after making his fifth start for Liverpool this season. "I'm just happy to be scoring goals for Liverpool.

"To get anywhere near KD is an achievement which I am greatly proud of. I thought the chance had passed me by and to get the call in January asking me to come back here was fantastic.

"I am talking about being happy to surpass Kenny but I'm just happy about being here.

"I've kept in touch with Kenny all through my career wherever I've been, along with a few other Liverpool strikers of the past."

Fowler rebuffed West Brom manager Bryan Robson's complaint that he was off-side for his goal.

"I don't think I was offside, anyway the ref gave it," he said.
---
APRIL 3
Robbie spying Reds stay

By Alex Livie - Sky Sports

Robbie Fowler is targeting a new deal at Liverpool and manager Rafa Benitez has offered him some words of encouragement.

The scouser returned to his roots in January when signing a six-month deal after being allowed to leave Manchester City.

Fowler has understandably taken some time to find his match sharpness, but he fired out a warning with the opening goal in Liverpool's win over West Brom on Saturday.

Having produced an impressive display, Fowler confirmed his intention to earn an extended stay at Anfield.

"Without a shadow of a doubt I want to stay," said the 30-year-old. "Having waited so long to come back, I'd love to make my second spell here a long one.

"Nothing has been decided yet. I've just got to wait for the manager. Nothing has been said and I'll just keep trying to play my football until something happens.

"I've not scored as many goals as I would have liked but I've been relatively pleased with my performances. But it's not for me to say who should get a new contract - that's the manager's decision."

Benitez has been pleased with Fowler's contribution and admits a couple more goals could see a deal being put in front of the forward

"His future is not a problem," said the Reds boss. "If he scores one or two more goals then that is fine, but the question will be what he can give to us as a club and a team.

"We do not have to make that decision now. We're in no hurry to do so because we still have a few weeks left."
---
APRIL 1
Rafa still fancies second spot

By Graeme Bailey - Sky Sports

Rafa Benitez still has one eye on second place following Liverpool's win at West Brom.

The Reds claimed a comfortable success at The Hawthorns thanks to first half goals from Robbie Fowler and Djibril Cisse.

"In the first half we played very well," Benitez said.

"We deserved to score and controlled the game all the time.

"In the second half we were a bit under pressure and we could not score the third goal and finish the game but it was a good result for us."

Benitez is still hopeful his side can catch in-form Man United, but they remain five points adrift of their Lancashire rivals.

"We need to keep going to the end," he added.

"Manchester United continue winning but our idea is to do that also, and maybe we can finish second."
---
APRIL 1
Fowler bypasses King Kenny
in all-time scorer list

By Adam Bryant - LFC Online

Liverpool have beaten West Brom 2-0 at The Hawthorns, but it was the first goal by Robbie Fowler that was important for the record books.

The goal was Fowler's 173rd for the club in only 341 games and lifts him above Kenny Dalglish to fifth in the all-time scorers list.

"It's fantastic for me. Kenny Dalglish is a proper Liverpool legend and to get anywhere near him is an achievement," he said after the game. "To go one past him makes me very happy.

"We had a good result last weekend and it was important to come here and do a good job. We got off to a good start and I think we fully deserved the three points again. The early goal has been good for us and we've taken it from there.

"We've got to try to win as many games as we can from now until the end of the season. It's going to be difficult but if we continue to win games and the teams above us slip up then obviously we've got to try to account for that."
---
APRIL 1
Liverpool brush Baggies aside

By Graeme Bailey - Sky Sports

Liverpool look to have just about sealed their place in The Premiership's top three after a comfortable 2-0 success
at West Brom.

The Reds were by far the better side at The Hawthorns and grabbed the win with goals from Robbie Fowler and Djibril Cisse in an entertaining first half.

The three points, coupled with Tottenham defeat earlier in the day at Newcastle, means Rafa Benitez's men are now some 12 points clear of their nearest rivals.

At the same time West Brom are only out of the relegation zone on goal difference as Portsmouth joined them on 27 points.

Liverpool had dominated the opening period and should have had more than the two goals they came out with.

Harry Kewell had the games opening effort blocked, but it was not long before the West Brom defence was unlocked for the first time.

The majestic Xabi Alonso started the move as he fed Cisse down the right, the French striker unselfishly squared the ball for the onrushing Fowler to slam into an empty net.

Peter Crouch was then heavily involved and his run on 17 minutes should have seen another Fowler goal, but the gangly forward kept the ball instead of playing his strike-partner through on goal and the chance was gone.

Crouch was then unlucky as he broke into the box, only to see his goal-bound drive blocked by Paul Robinson.

Up at the other end just moments later and Robinson registered his side's first shot on goal after good work from Diomansy Kamara saw him freed on the left - but the right footed effort was never going to trouble Jose Reina.

Seven minutes before the break and Liverpool doubled their advantage.

The goal was route-one, but was a high-class effort as Alonso picked up the ball just outside his own area - he spotted the run of Cisse and picked him out with a 60-yard pass which allowed the Frenchman to just touch the ball past the advancing Tomasz Kuszczak and into the empty net.

A clearly unhappy Bryan Robson introduced Hungarian ace Zoltan Gera at the interval and it almost paid dividends immediately.

His first contribution was a cross-come shot which only just sailed wide of Reina's upright and then just moments later the Liverpool number one had his palms stung by a rasping left-footed volley which he managed to grab at the second attempt.

Liverpool were still in cruise control and could have added further to their lead, with Cisse breaking clear - but unlike the first half - Kuszczak was equal to it and saved.

Gera had yet another chance after the hour mark, but again Reina was equal to it.

A rare piece of sloppy defending from Liverpool almost allowed West Brom a route back into the game as Kevin Campbell got the wrong side of Sami Hyypia, he took it past Reina but his touch was bad and it came to Jonathan Greening who blazed over.

Benitez was now happy for his side to play the game out at 2-0 and the was highlighted by the introduction of Jan Kromkamp for Cisse.

Indeed West Brom failed to muster anything and it was Liverpool who should have added to their lead.

The best chance came for Kewell as he broke into the box and he had the chance to pick out Fernando Morientes and Luis Garcia - but instead the Australian could only find the advertising hoardings.

West Brom did have a late appeal for a penalty waved away by Uriah Rennie as the ball struck Momo Sissoko's hand - but it would have been harsh on the Liverpool man and also probably meant West Brom could have got something their play did not deserve.
---