---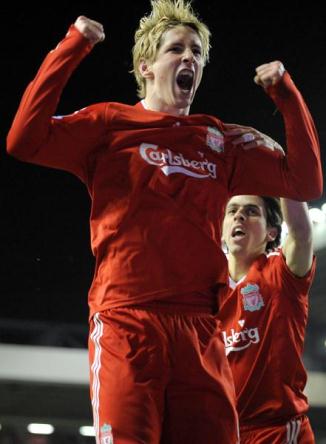 Torres and Benayoun celebrate. (Photo: AFP/Getty Images)
FEBRUARY 2
Big decisions which put
Liverpool on a winning trail

Comment by David Prentice -Liverpool Echo

Rafa Benitez will, no doubt, suggest otherwise.

He will claim that Liverpool's title-reviving victory was the product of perseverance. He will say it was a victory for patience. And he will claim it was the result of a never say die spirit eventually grinding Chelsea into the snow sodden Anfield turf.

Some of that assessment may be true.

But it was also a result of leaving an inspirational skipper on the pitch until the 95th minute.

It was a product of making an ambitious substitution with 10 minutes to go – replacing a defensive midfielder with an unpredictable winger.

But most importantly of all, it was a direct result of not substituting his best striker until the 94th minute, even though he had started to flag.

So has Rafa had a Road to Damascus style conversion?

Of course not.

Mike Riley's reckless decision making meant the Reds boss had the luxury of facing 10 men for half an hour intent on holding what they had.

And Liverpool were able to take ruthless advantage.

Riley called Frank Lampard's 59th minute red card hopelessly wrong. The Chelsea midfielder might have led with his studs raised, but he clearly connected with the ball.

But then the Old Mother also missed Jose Bosingwa's passable impersonation of Bruce Lee auditioning for Enter The Dragon.

The official had an unsatisfactory afternoon, but it's a moot point whether his decisions changed the outcome of the game.

Chelsea will claim he robbed them of any chance they had of winning the match. In truth, the sum total of Chelsea's ambitions appeared to be to hold onto the point they started with.

Pepe Reina's first save of the day came from Didier Drogba, who wasn't introduced as a substitute until the 69th minute.

But the most telling statistic was that Liverpool finally ended their mediocre run of results with a significant victory.

And it was achieved with a couple of goals from a player who will be crucial if they are to kick on and start clutching onto Manchester United's shirt tails.

Fernando Torres had just begun to resemble the player who took the Premier League by storm when his vulnerable hamstring tore in October.

A couple of goals in a one-sided derby match and two more at Manchester City suggested he had finally recovered from his Euro 2008 exertions and was ready to run riot once again.

Yesterday's brace hinted that the Spaniard has once again started to find his sharpness in front of goal.

The decisive 88th minute header was classic centre-forward stuff.

Fabio Aurelio's left wing cross was inviting, but still left three Blue shirts in closer proximity to its parabola than Torres.

But the number nine was panther like in his movement, and his flashing header back across goal left a strangely fragile looking Petr Cech clutching at fresh air.

That single moment meant that the looming fixture list suddenly seems to open up a myriad of opportunities.

An FA Cup replay and Champions League commitments apart, Liverpool's next assignments see them face a quartet of the country's most hapless and confidence sapped sides.

Portsmouth, Manchester City, Middlesbrough and Sunderland. If Alex Ferguson could have his wish to handpick his ideal fixture list, he might have plumped for that selection.

So the title chase appears to be back on – for now.

But it wasn't all sweetness and light for the Anfield faithful.

The worry for the Reds fans is that the visiting Americans – the Gillett camp anyway, who were stretched in a row in front of the Press Box – appeared to thoroughly enjoy themselves.

They stared in awe at The Kop, they whooped and hollered when a player ran offensively, most of them even made it back into their seats within five minutes of the second half restarting.

They certainly didn't look like a group of individuals wondering what the hell have we shelled out on this lot for?

But that's a concern for another day. For now, Liverpool are back in the title-chasing pack, and the good news is that it's no longer January.

The miserable month which hasn't produced a league win for Liverpool for two years has become a historical footnote.

And February is traditionally a happier month.

Roll on the green shoots of Spring.
---
FEBRUARY 1
Big Phil not living the Life of Riley

By Tom Kell - Setanta Sports

Luiz Felipe Scolari expects referee Mike Riley to reconsider the red card he showed Frank Lampard during Chelsea's 2-0 defeat to Liverpool on Sunday.

Lampard was dismissed for tackling Xabi Alonso with his studs showing but subsequent footage of the incident seems to suggest that he won the ball and can count himself mighty unfortunate to have been given his marching orders.

Liverpool had been dominant even up until that point but the discrepancy in numbers served to propel the hosts on their way to a victory which came courtesy of two late Fernando Torres goals.

"Liverpool had more possession overall, but once Frank Lampard was sent off they had more chances and got into our box much more," said Scolari.

"I do not want to criticise the referee, all I ask is that he looks at the video with the men from The FA. If they agree that Lampard did not commit a foul for his red card, maybe they will change the decision."

Jose Bosingwa could also be subject to video analysis after he appeared to raise his studs up to Yossi Benayoun's midriff during the game.

"What Bosingwa did was not correct, he made a mistake. But if he is punished when The FA look at the video, maybe they will change the decision over Lampard," Scolari added.

"When he was sent off it changed the game for us one million percent. We lost the middle and did not have the ball.

"They created more chances and had more possession. And they were able to score the goals after that decision.

"I have not spoken to the referee, it was his decision. I hope though that he will look at the TV and see that he should change the decision."
---


FEBRUARY 1
Hungry Reds deserved Anfield win

TEAMtalk

TEAMtalk feels Liverpool deserved their 2-0 win over Chelsea because they showed a much greater will to win than the disappointing Blues.

As well as being the motto of the SAS it has always been the characteristic of a team which lifts football's greatest prizes.

And Liverpool deserve to be back in the race for their 19th league title because they dared when Chelsea did not.

A simplistic explanation for the 2-0 victory at Anfield which saw Liverpool peg back Manchester United's lead to two points?

Perhaps. But, make no mistake, it was daring to win which was at the heart of Liverpool's triumph, even if the two goals from Fernando Torres which won the game came so late.

True, Chelsea were unlucky to see Frank Lampard sent off on the hour mark for a lunge in which he played the ball in a tackle with Xabi Alonso.

Referee Mike Riley got that decision wrong, badly wrong, and it had an obvious bearing on how Chelsea played out the rest of the match.

But Chelsea manager Luiz Felipe Scolari had professed this to be a must-win game. He had acknowledged that their title hopes would be severely damaged even if they drew.

Yet at no stage did it appear that Scolari was prepared to gamble.

Chelsea's full-backs were shackled short of the halfway line, as if yanked back like dogs on some imaginary chain if they attempted anything approaching adventure. The team itself barely had a shot of note during the entire 90 minutes.

That is not the hallmark of champions. To win, sometimes you have to be prepared to lose. And Chelsea's caution was set in stone long before they went down to 10 men.

At least Liverpool set out to win. At least they looked like a side intent on erasing the introspection of the past few months which had so damaged their stirring start to the current season.

Just a couple of months ago Liverpool were eight points ahead of United.

Since then we have seen Benitez's rant against Sir Alex Ferguson. The alienation of Robbie Keane. The row over transfer control. Seven draws from 10 league matches.

In rapid time Liverpool had gone from a club with high hopes of their first league title for 19 years to a club seemingly set on internal combustion.

Yet this was a must-win match. This was now or never. There were times when 'never' looked favourite, especially in a first half in which both sides appeared to be trying to pilfer a goal, rather than manufacture one from good, honest pressure of numbers.

Liverpool, however, deserved to win because they possessed the superior invention, the drive of Steven Gerrard and the guile of Torres, whose sharpness for the first goal, in particular, suggested he could be a force in the title run-in now he has recovered from his hamstring injury.

They deserved to win because they dared to win. It is something Scolari should ponder.
---
FEBRUARY 1
Rafa salutes two-goal hero Torres

By Steve Hunter at Anfield - LFC Official Website

Rafael Benitez saluted Fernando Torres' double blast and admitted the striker's return to form could prove crucial in the remainder of the season.

The Reds got back to winning ways with their first win in the top-flight in 2009 after the Spaniard hit his first Anfield goals of the campaign in a last gasp 2-0 win over 10-man Chelsea.

"I am really pleased with my players because we deserved to win," said Rafa.

"When we were playing 11 against 11 I thought we the better team and then when they went down to 10 we had more control and we had more opportunities.

"We got what we deserved when we scored near the end and we deserved to win. We were better than them.

"I think it was important for the team and also for him to see Fernando score.

"It's very important for the rest of the season and to see Fernando back with two goals was very important for us.

"It was a crucial win but every game is like this. For me it was a long race before this game and now it's the same.

"We are in a very good position and there is a long way to go."

Asked whether Robbie Keane would still be at Anfield after the transfer window closes on Monday, Benitez replied: "Yes, I think so. He's here, he's our player and that's it."
---
FEBRUARY 1
Nando: We have confidence now

TEAMtalk

Fernando Torres admitted Liverpool's confidence has been lifted after his two goals secured a 2-0 win over Premier League title rivals Chelsea.

The Spain international struck a late brace to sink the Blues, who had been up against it following Frank Lampard's controversial dismissal after challenging with Xabi Alonso in the 60th minute.

Liverpool bossed much of the game but found Chelsea goalkeeper Petr Cech in good form - but Torres finally broke the deadlock in the 89th minute as the Reds ended a run of three league games without a win.

"We knew before the game we had to win and we have more confidence now," said the former Atletico Madrid striker, whose goals were his first in the league since October following a string of injury problems.

He added on Sky Sports 1: "They are my first two goals after the injury; to score at home this season for the first time and against Chelsea is fantastic.

"With one player less Chelsea had to defend. A draw was good for them but we had to win. We worked very hard and with determination, but we know we have to improve."

The three points lift Rafael Benitez's troops to second place in the table, two points behind Manchester United having played one game more.

Torres added: "We know that Manchester United is favourite at the top of the table, and we will fight until the end."
---
FEBRUARY 1
Late Torres brace seals win

Sky Sports

Fernando Torres scored a last-gasp brace as Liverpool beat 10-man Chelsea 2-0 at Anfield to keep up the pressure on Manchester United at the top.

After a goalless first period, Frank Lampard was controversially sent off in the 60th minute after going in for a challenge against Xabi Alonso, but the replay showed he got the ball.

Alonso then had an effort deflected by Alex onto the crossbar before Torres scored an 89th minute header from a Fabio Aurelio cross.

He then scored with a tap-in deep into injury-time after latching onto a loose ball from an Ashley Cole error to help the Reds close the gap on leaders United to two points, having played a game more.

Liverpool made three changes from the side which drew at Wigan in midweek, with Albert Riera, Dirk Kuyt and Alonso returning in place of Yossi Benayoun, Ryan Babel and Lucas.

Striker Robbie Keane was omitted from the 18-man squad, with teenage striker David Ngog on the bench.

Keane did not attend Anfield the last time he was left out of a squad, but was all smiles going into the home dressing room this time, and sat in the directors' box later.

But suggestions that he is on his way out of the club cannot be discounted and there was plenty of interest in the other goings-on in the stands before the game, with co-owners George Gillett and Tom Hicks sitting well apart in the front row of the directors' box.

The pair will be re-opening talks with Rafa Benitez over his new contract and attend a board meeting together on Monday.

On the pitch, the game started in swirling snow, with Steven Gerrard surging around midfield as Liverpool took the game to Chelsea, who fielded the same side which beat Middlesbrough 2-0 in midweek, with Salomon Kalou passed fit.

Alonso forced the first save from Petr Cech after 11 minutes, seeing a 20-yarder tipped over, while Javier Mascherano then fired in a low 30-yarder that Cech parried away, with no Liverpool man nearby to take advantage.

The midfield battle started to get tasty with tackles flying in. Mascherano was booked for flattening John Obi Mikel and soon after Cole was cautioned for a foul on Dirk Kuyt.

Torres and Riera both tested Chelsea with their direct running, but it was a very tight contest.

Michael Ballack and Lampard were quick to support Nicolas Anelka, putting Jamie Carragher and Martin Skrtel under severe pressure.

After 41 minutes Riera fired in a fierce drive that was again pushed out by Cech, with Cole slicing the ball narrowly wide of the post as he cleared.

The second period was just a minute old when Alonso was cautioned for a foul on Kalou and Mikel was soon to be in referee Mike Riley's book for a foul on Alvaro Arbeloa.

Liverpool were attacking the Kop end now, and Gerrard, despite the bitter cold, was warming to his task. One run produced a corner, with Kuyt hooking wide while off balance. Then Torres saw a shot blocked by Terry.

Then on the hour Lampard was shown a straight red card for a tackle on Alonso. He connected with the ball, and John Terry was booked for protesting, while Chelsea will point out that Gerrard was only warned for a similar tackle a few minutes earlier.

Alex then deflected an Alonso drive onto the bar as Liverpool sought to claim the advantage.

On 69 minutes, Chelsea sent on Deco and Didier Drogba for Florent Malouda and Anelka.

Gerrard was booked for diving as Liverpool cranked up the pressure, with Torres having a shot hooked away by Kalou.

Benayoun then replaced Riera after 74 minutes, Liverpool searching for some invention to unlock Chelsea's rearguard. It almost came when Benayoun tested Cech from 20 yards before hooking another effort inches over.

Babel replaced Mascherano after 83 minutes and Chelsea sent on Miroslav Stoch for Kalou soon after.

And in the 89th minute, Liverpool grabbed the lead with Torres' first goal in front of the Kop this season when he arrowed a near-post header past Cech from a cross from Fabio Aurelio.

In injury-time Benayoun got away in the box after Cole failed to control and Torres fired home from eight yards.
---